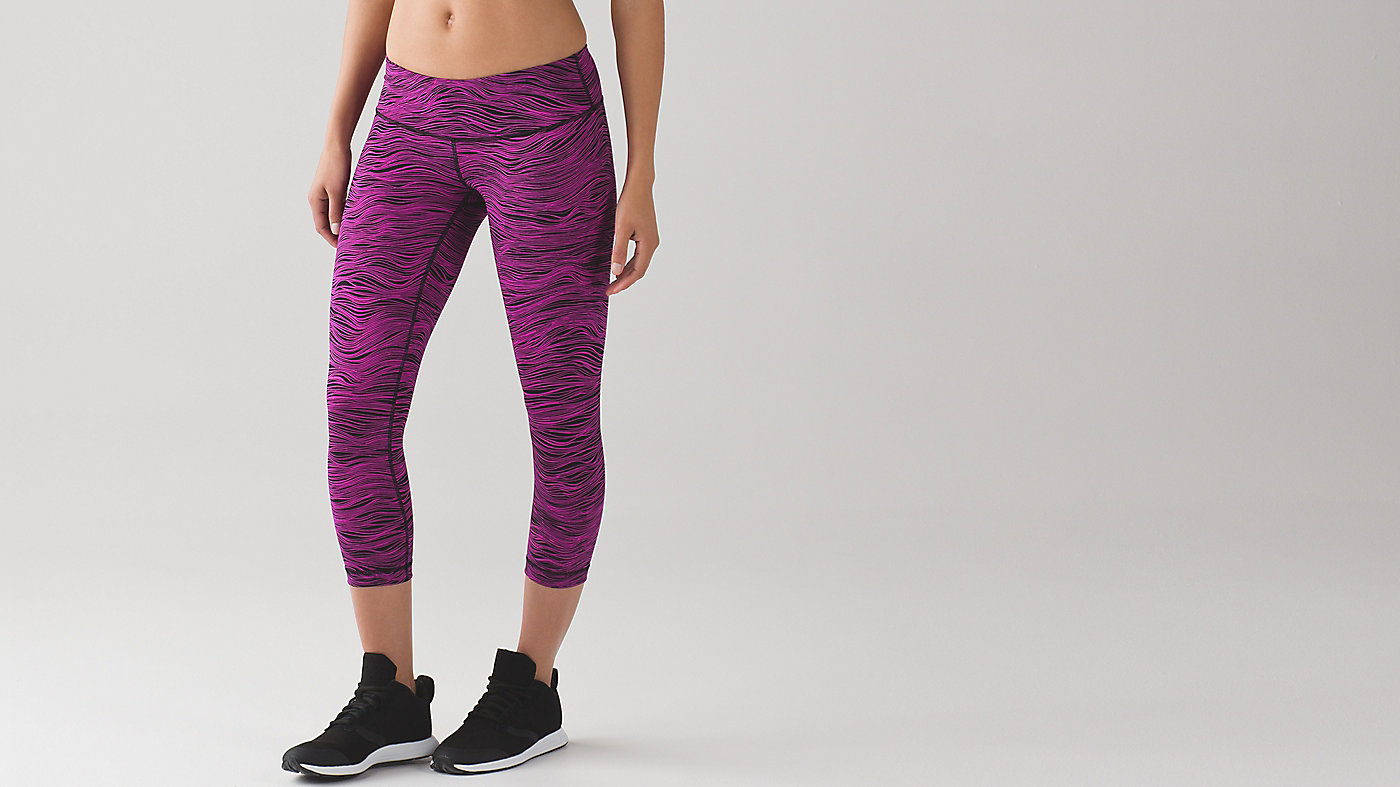 ---
hidden pocket
Stash your essentials in the hidden waistband pocket
---
medium-rise
For coverage and cool comfort
---
---
hugged sensation
Engineered to feel like a comfortable embrace throughout—it holds you close and moves with you

Wunder Under Crop III *Full-On Luxtreme
is rated out of
5
by
47
.
Rated

5

out of

5
by
danielleeeee6
from
My favorite leggings
I have several Lulu leggings and these are by far my favorite. They're classic and can be worn both to the gym/while working out and as a casual bottom. These are very comfortable and well-made and have lasted me a long time so far.
Date published: 2017-07-15
Rated

2

out of

5
by
OceanRunner
from
Disappointing
I bought this leggings on a group order and was very excited to finally try a pair of lulu pants. However after one run I found they had pilled around the inner thigh on both legs and I was extremely upset. After all the hype around these leggings I was expecting the material to be more durable. I am 5'10 and weigh roughly 145 pounds, and have never had this issue with other leggings brands before. On top of that after only two washes they began to stretch out and fall down on me in everyday use. I did like the cropped length but I would not recommend these for the price.
Date published: 2017-06-10
Rated

4

out of

5
by
DocRunner
from
like the color, yoga or running
I bought the black and white ones, they are unique color and do not show sweat marks, the compression quality of the material makes them a little tough to get on but if you like compression they've got that down, would not want them any smaller I bought my usual size. I've had no trouble with degradation of the fabric and have washed them > 10 times
Date published: 2017-05-24
Rated

1

out of

5
by
Annie25
from
waste of money
These pants pilled after about a month
Date published: 2017-05-19
Rated

1

out of

5
by
Jamber28
from
Slip!!
I was so excited about these. At the time I paid full price. The first time I used them they slipped off all during my work out. I tried to take them back but I guess only new with tags can be returned. Very disappointed what a waste of money.
Date published: 2017-05-18
Rated

3

out of

5
by
joey123
from
Doesn't stay in place
I wore these while on the treadmill and during a barre workout. Unfortunately, they just don't stay in place. I may have ordered a size too small for me, but I just really couldn't get them to stay as I was running or jumping. The design is really cute, and I like the feel of the fabric. The compression is quite nice, but these features are kind of pointless if they won't hold up during a workout.
Date published: 2017-04-27
Rated

2

out of

5
by
AmeliaS
from
Started out as my favorite pair..
These were my first pair of lulu leggings. I got them as a birthday gift last year so i was very excited to wear them. As they started getting worn more they started getting very pilly in the crotch area and than it spread to the legs. I have stopped wearing them as often as I used to because they have become saggy in the butt and when I run on the treadmill I am constantly pulling them up. I just sent in another pair of lulu leggings due to a hole in the butt. I am very close to finding another place to get my exercise clothes from after these experiences!!
Date published: 2017-04-19
Rated

2

out of

5
by
KelBelleB
from
They're OK
These were my first pair of Lulu leggings. I was so pumped about them! I tried them on in the store, and I loved the feel of them, and they looked great. I have not had an issue with pilling, but I have been underwhelmed by their performance. I know these aren't intended for vigorous exercise, so I wear them around the house or for walking or running errands. I have to pull them up constantly, and it becomes rather annoying, so I find that I never wear them unless it's the last thing that's clean in my drawer! I wouldn't buy them again.
Date published: 2017-04-19
Rated

1

out of

5
by
shred2wed
from
TERRIBLE quality!
I, like many on here, am a lulu enthusiast and these are the first pair of leggings that I have been INCREDIBLY disappointed in. The fit is the usual fit. The pattern is super cute. However, I am currently wearing them for only the SECOND time since purchasing them and there are multiple strings unraveling from the buttocks area. I'm not even sure if I can wear them to spin lest I want to bare my butt in the middle of some tap-backs. Lulu, I am usually a huge fan and pretty much wear exclusively your leggings to work out in and I expected way more from you in this legging.
Date published: 2017-04-10
Rated

2

out of

5
by
solana58
from
very poor quality
I have been purchasing Lulu's for over 10 yrs and have many pairs of Wunder Under's. Found these on WMTM on sale and wish i had paid attention to the poor reviews. These are the thinnest pair of Wunder Under's I think i have ever owned, and i own plenty. I haven't even cut the tags off nor worn them so i cannot speak to their performance but I can say the material is super super thin. Not even the sale price justifies the lack of quality. If Lulu wants to put them on sale this should be deeply discounted, these are like a cheap bulk buy store quality.
Date published: 2017-04-06