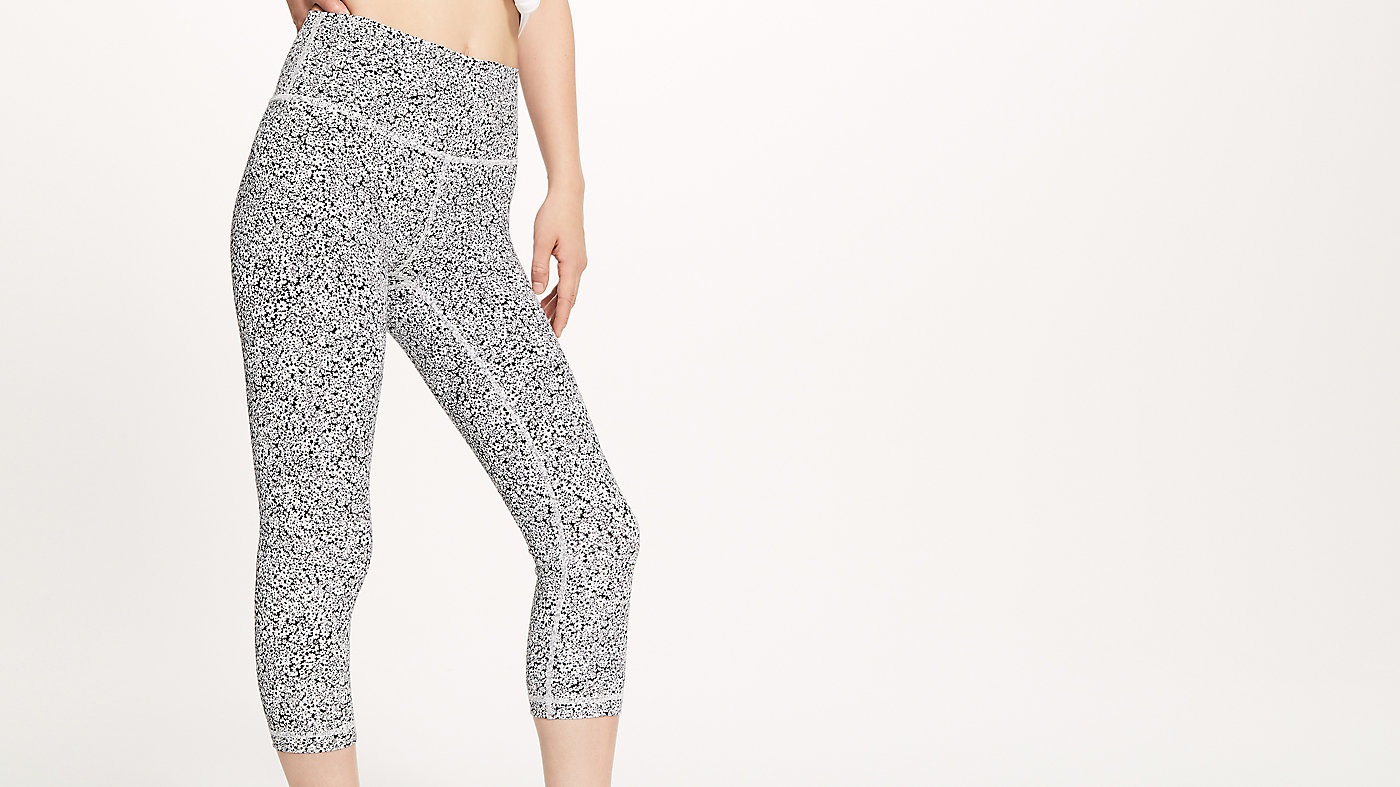 ---
hugged sensation
Engineered to feel like a comfortable embrace throughout—it holds you close and moves with you
---
high-rise
Keeps you feeling covered and secure
---
hidden pocket
Hidden waistband pocket holds a key
---
no-dig waistband
Soft, no-dig waistband lies flat against your skin
---
lycra®
Added Lycra® fibre for stretch and shape retention
---
Comfortable waistband
Lies flat against your skin and won't dig in
---
hugged sensation
Engineered to feel like a comfortable embrace throughout—it holds you close and moves with you
Wunder Under Crop (Hi-Rise) *Full-On Luxtreme
is rated out of
5
by
71
.
Rated

5

out of

5
by
a1isme
from
the cutest excercise leggings ever
I LOVE these leggings! They feel like cotton but the material is a lot stronger and is great at holding shape. I wish I had 5 more pairs!
Date published: 2017-06-21
Rated

2

out of

5
by
weightforme
from
Wunder Under Crop (Hi-Rise) *Full-On Luxtreme
My college graduation gift to myself was my first lulu purchase; I bought these pants in black, and love everything about them! To address some of the common concerns, these fit pretty true to size, they do have a tendency to roll down, and they do fit like heaven. I'm not a big reviewer, but I was given a second pair of these in the dark purple (black currant, I think?) for my birthday and on my FIRST wear I found a long thread dangling from my waistband, the entire row had been pulled! I realize that fabric wears over time, but it is so disheartening to pay so much for a product that you believe to be good quality, only for it to come apart before you wear it. I have been so torn about recommending lululemon to my friends since this; my first purchase had me raving to everyone, but after finding more unraveling threads in my dark purple ones, I'm not so confident in lulu's products... I'm hoping lululemon addresses this (apparently) common issue, and remedies their customers flawed purchases!
Date published: 2017-06-15
Rated

1

out of

5
by
bellablue2
from
Poor quality, worse customer service.
I bought these pants and initially loved them because they were so soft. Since they were so expensive, I babied them, washed them by hand, and let them air dry. However, already after the first wash, the seams began to unravel. After the 3rd wash the pants looked years old because the seams were all frayed, and the fabric itself looked pretty worn, too. This was after only 3 months owning them and ONLY wearing them 1-2 a week. I went for a couple of 2-3 mile hikes in them as well and the manager tried to insist I couldn't go hiking in them since they were yoga pants!! She was sure I ruined them that way!! Anyways, I went to the store because after 3 washes the pants look so bad I can't wear them. I brought them to the store at Alderwood. After trying to blame me for the state of the pants, they said they'd do a 'seam repair'. A seam repair?? I've had a ton of yoga pants and NEVER have I needed a seam repair!!! Are you kidding me? What kind of pants need a seam repair after only 3 months of owning them!! Also, I didn't want to have to deal with the hassle of going back and forth. What happened to Lululemon standing behind their product?? By the way, same day I just returned hiking poles to REI. The tip broke off one of them. I brought them back and they let me exchange them, no questions asked. I left the store happy and will most definitely return. Lululemon, you have lost me as a customer. I will NEVER buy anything from lululemon again. I'm happy to spend a lot of money on a good quality pair of pants when the company stands behind their product. Apparently, that's not the case for lululemon. The manager here at Alderwood did not hear my concerns, belittled me, and I left the store hugely embarrassed and upset. Yeah, DEFINITELY won't be back. TERRIBLE customer service.
Date published: 2017-06-13
Rated

2

out of

5
by
DanceTeacherChelsea
from
Blue 21" does not fit well
I generally love this style and I own 5 of them in various lengths and colors. Love all of them except my 21" blue ones, I've only worn them twice and they are so loose they won't stay up.
Date published: 2017-06-05
Rated

4

out of

5
by
lovemesomelulu22
from
Love!
I love these crops! Love the fabric and the way they look when they are on. My only problem is I have worn them so much they have a random whole in the side of them. Disappointed with that and will try and find a way to fix it but other than that I love them.
Date published: 2017-05-31
Rated

4

out of

5
by
CPB20165
from
Still Great
I still order from Lululemon despite the loads of negative reviews. I bought this style in the dark purple color (forget color name). The waist does roll down slightly, but I figured out an easy solution to that. Just buy some seamless underwear & work up a sweat in them (which is what they're made for...EXERCISE) & they will stay put, no problem. Some slight pulling of threads on seams, mostly just at calves, but barely even noticeable. I find it funny that people gripe about sweat showing & being embarrassed I feel that if you're not sweating & it's not showing through your gear, maybe you're not using it for what it's intended for.
Date published: 2017-05-31
Rated

1

out of

5
by
bfscgym
from
AWFUL
These pants in the blue, are horrible the material does not feel like the black ones, and it get static, and every piece of dirt sticks to it, and starting to become too sheer. biggest waste of money!
Date published: 2017-05-30
Rated

3

out of

5
by
hikingwoman
from
Feel like cheap spandex
I found these to be way, way too small (I'm between a 2 and a 4, and I ordered a 4) and difficult to get into. I felt like the waistband or something would rip. They look good, but they feel like cheap spandex leggings from Target or something. They are very thin and light, and would be good for kayaking or other water sports, but I have a feeling the stitching would rip or become uncomfortable. I returned these.
Date published: 2017-05-24
Rated

5

out of

5
by
hellestorm
from
perfection
I love these. The rise is nice and high (but not weirdly so) and the fabric is amazing - so light but very supportive. I will buy these in more colors.
Date published: 2017-05-24
Rated

3

out of

5
by
LaceyBeth
from
Great fit, but poor stitching
I recently purchased these pants in black and love the fit, but after wearing them 3 times and washing them once, the stitching at the waist has started to unravel. It's so unfortunate because I love everything else about these pants, but having the stitching unravel so quickly is very disappointing.
Date published: 2017-05-24