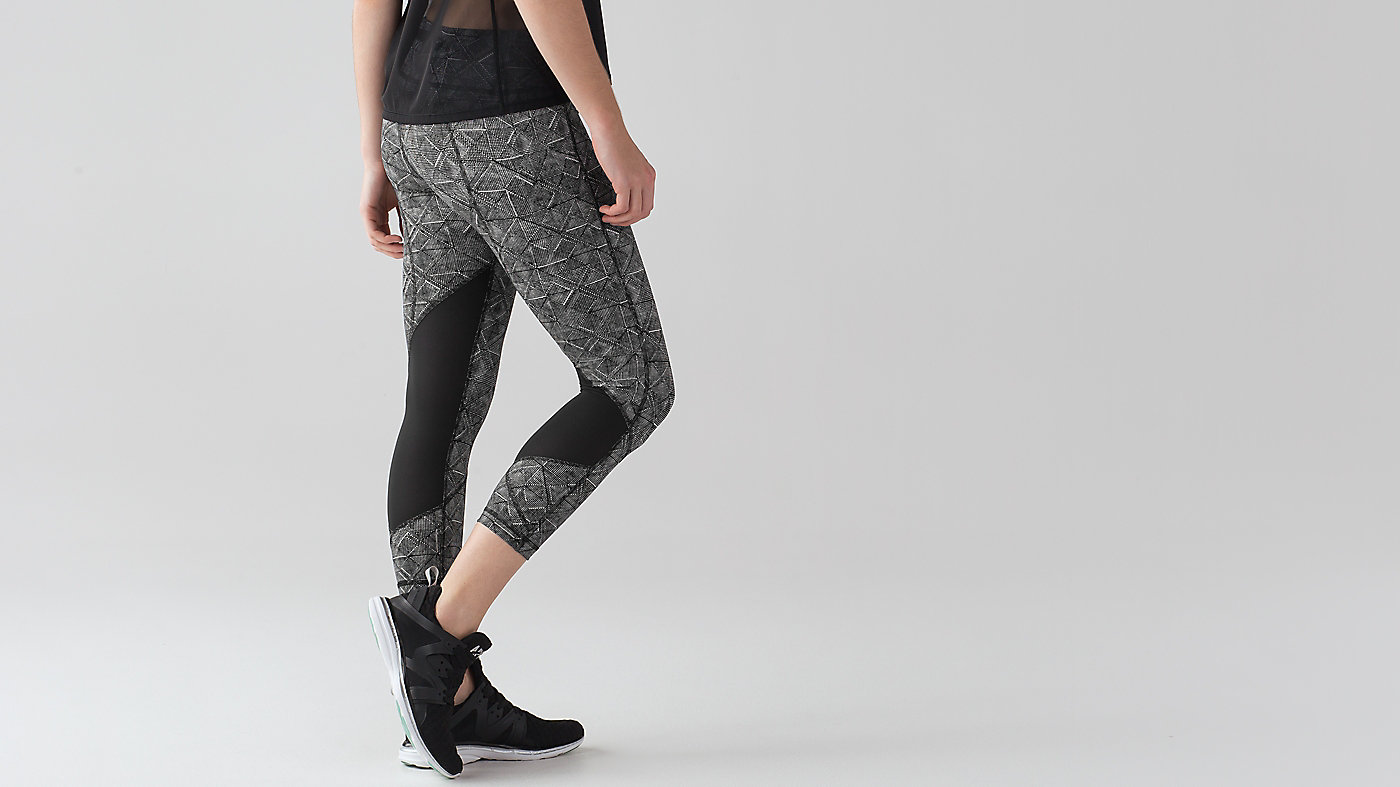 ---
---
lycra®
Added Lycra® fibre for stretch and shape retention
---
drawcord
Customize the fit with the drawcord in the waistband
---
medium-rise
Higher rise increases coverage and comfort
---
hugged sensation
Engineered to feel like a comfortable embrace throughout—it holds you close and moves with you
---
three-pocket waistband
Gives you plenty of storage options

Pace Rival Crop
is rated out of
5
by
633
.
Rated

1

out of

5
by
yycmegp
from
Quality issues
I've purchased these pants before and love them! I recently bought another pair and the quality was not the same at all. The second time I wore them the seam in the crotch completely split leaving a gaping hole (this happened putting them on so didn't even get a second wear! I usually find lulu to be high quality and own multiple items, maybe this was just an odd pair but I am definitely disappointed and feel like I wasted my money.
Date published: 2017-06-18
Rated

5

out of

5
by
TheyCallMeSweaty
from
My Go-To!
The only reason I could ever be sad in these crops is because I'll have to part with them while they're in the wash the next day! My go-to lulu pant for spinning, dancing, teaching, (and of course foodie funs after my workouts!). I sweat like crazy in my workouts and these crops are so breathable and I love how soft the mesh is as well (not at all a scratchy sort of mesh). I ran into issues with the inner-leg seams coming undone at one point, but after bringing it to the attention of guest education, they immediately replaced my pair -- which is why even with this issue I have to give it 5-stars!
Date published: 2017-06-16
Rated

1

out of

5
by
helladisappointed
from
disappointed
I got the Pace Rival Crop as a birthday present and it was my first pair of lululemon leggings. I was really excited to wear them. After washing it once, I noticed a hole on the mesh part. I was really disappointed because I only wear them once.
Date published: 2017-06-16
Rated

3

out of

5
by
TamiDG
from
Loved them at first....
I loved these crops at first. (own 3 pairs) However, after 6mo of use...1 pair has a hole in the inner thigh on the seam and a second pair is starting to unravel at the seam. Slightly disappointed!
Date published: 2017-06-15
Rated

2

out of

5
by
SadMother
from
Loved but Really Sad
I got these for mother's day from my husband and daughter. I washed them once and now they have a hole in the mesh part. I was super sad esp since these were a gift. I would recommend, but not if you plan to wear them more than once.
Date published: 2017-06-14
Rated

4

out of

5
by
ChlorineLuver
from
Life-changing Leggings
These were the first leggings i ever bought from lulu, and let me tell you. I'm never going back to those cheap leggings you buy cause you need 'em. My rear end is in places i never thought it would go, the leggings lift yet aren't too tight. The leggings smooth out everything, I love them so much. I would have given them 5 stars but the seams, on the side by the pockets are coming undone, after just my second wear. I still love them and will continue to wear the perfect pants.
Date published: 2017-06-13
Rated

3

out of

5
by
NorthernMichKat
from
Great Until You Try To Pair
These pants have everything I think I would want for running...at first. I agree with other reviewers that the fabric falls down some, but a little sweat will solve that problem. My big problem is that they built a wonderful pocket for my cell phone, but the moment my phone goes in the pants, the bluetooth connection is shot and my earbuds don't work. I suspect it is the tech fabric, but it is a total buzzkill. You get ALL ready to go for a run, everything is set, and then you can't get your music to work. So warning - for those using bluetooth headphones, these amazing pockets will just make you angry.
Date published: 2017-06-09
Rated

2

out of

5
by
customerisnothappy
from
Poor Quality at a High Price
I was very excited to wear these leggings because when I tried them on in the store, they fit well and looked great. However, I have only had these leggings for about 2 weeks and have worn them about 4 times and they already have a hole. I am very disappointed in the quality, especially at the price of these leggings.
Date published: 2017-06-06
Rated

4

out of

5
by
hspin91
from
Perfect for working out
As an avid Lululemon fan I was very happy to see my favorite crops in the store. I have multiple pairs of these, differently named, from 5 years ago but couldn't find them until recently. I will admit- the fabric is different than the other ones I have, it has a different texture (it's hard to describe, it's not like the Wunder Under crops but it's not their old stuff either) and not as "slinky" feeling as the past, but it works! I'm a spin instructor so I'm in leggings ALL THE TIME and these have held up! I can see how people would say the quality isn't what it used to be BUT they changed their fabric on a lot so that's the new "Lululemon" now! The sizing is different than the other ones though, be aware, I wear a size 4 but those felt like my legs were going to be squeezed off so I went up to a size 6 and it's so much better (no squeezing where it shouldn't be squeezing at). They're not sheer at all either- I did the bend over in the mirror test and it was good. I did notice the seems to be a different stitch also, I've washed them twice so far and they seem to be fine but it does look different than the other ones in the past. Follow the directions on how to wash them, make sure you check the size, and wear these bad boys because they're great!
Date published: 2017-06-06
Rated

2

out of

5
by
CurlyyQ
from
(W)holy Leggings
I have multiple pairs of leggings and these were without a doubt one of my favorites. I recently purchased these and they are super faltering and great for running errands (or actually running.) Unfortunately, the seam on the inner thigh came unstitched and the hole is quite big and I am now unable to wear them anymore. I wash all my leggings as instructed and I am disappointed that the stitch came undone.
Date published: 2017-06-06