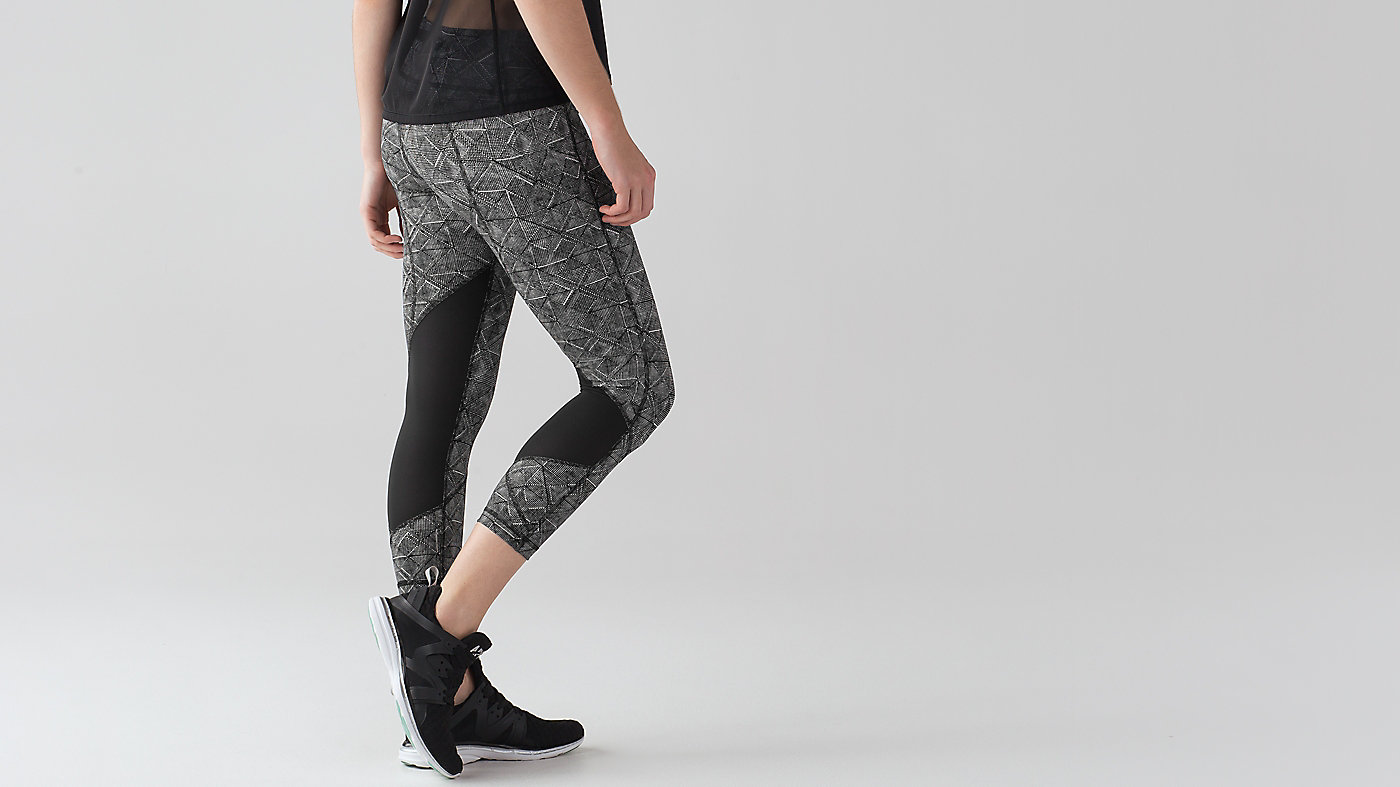 ---
---
lycra®
Added Lycra® fibre for stretch and shape retention
---
drawcord
Customize the fit with the drawcord in the waistband
---
medium-rise
Higher rise increases coverage and comfort
---
hugged sensation
Engineered to feel like a comfortable embrace throughout—it holds you close and moves with you
---
three-pocket waistband
Gives you plenty of storage options

Pace Rival Crop
is rated out of
5
by
610
.
Rated

2

out of

5
by
KB4694
from
Wanted to love, poor quality
I have own a few pairs of these crops and on every single pair the stitching has come out along the seams in multiple places. I sized up thinking that could be the problem, but they continue to come apart at the seams. I want to love these so badly because the fabric and pockets, but the quality is just not there.
Date published: 2017-05-22
Rated

2

out of

5
by
mommaof4babes
from
very disappointed!!!
I love everything about these tights! From the pockets to hold my phone during boot camp, to the length in which they hit, the feel and away they look on and then the different patterns, they are great. BUT!!!! I have now purchased three different pairs since January and ALL have holes appearing somewhere on the leg seam. One I have even taken in to the LuLu store and they had it resewed and mailed to me only for a different area to unravel literally while wearing at the gym the next dayl. For the money, I would expect them to hold up longer than a few workouts! Although I really do like them like I shared above, save your money!!!!
Date published: 2017-05-22
Rated

2

out of

5
by
mjc5937
from
disappointing
These crops are soft and breathable I loved them! But after about 4 wears and hand washes they got a hole in the leg. Which is very upsetting because these were my favorite crops.
Date published: 2017-05-18
Rated

2

out of

5
by
peanutbutterandbananas
from
Great Fit Low Quality
When i first bought these i loved them. They are incredibly comfortable, fit super well and didn't sag when i ran or worked out in them. After a few wears and washes (hang dry) the seams have started to pull and tear. Im disappointed because these are the best fitting leggings I own, i just wish that they would hold up a little better and not pull along the seams.
Date published: 2017-05-16
Rated

5

out of

5
by
justkeeprunning22
from
My favorite lulus
I'm so surprised by the bad reviews on these lulus. I literally only buy these leggings. The fabric is amazing, the side pockets are the literal best, and I can fun for miles and never have to pull them up or adjust. They are ridiculously comfortable and I live in them. I've had weird sizing issues with other styles but I am 5 8, 135 lbs and wear a size 6 in these gems. The one thing I will say is that yes. some threads have come loose, but I have trimmed them and have no issue with holes or pilling.
Date published: 2017-05-15
Rated

5

out of

5
by
Angie9727
from
Good, standard Lulu leggings
I'm so surprised by all the bad reviews on these leggings. I have had tons of lulu leggings over the years, and I've tried some really bad ones, and these are definitely not one of them. I've had these since they first came out. They have not stretched, all the seams are intact, there is absolutely nothing wrong with them over many, many uses. They are really comfortable, good for spin, or HIIIT classes or crossfit. Great pair of crops.
Date published: 2017-05-13
Rated

2

out of

5
by
FitnessFanatic92
from
Sweat Shows! :(
I have the heather grey ones and i love the color and style but after working out in them, i noticed visible crotch sweat. I NEVER realized that i sweat in my crotch/butt area until i bought lululemon pants. None of my other nike or underarmour leggings revealed noticeable sweat marks from a workout. Which is extremely unfortunate because of the insane price of all their products. I have pictures to show, but i see that lululemon does not provide the option to post pictures along with the review. I took a picture of the sweat marks about 45 minutes after my workout and they were still noticeable.... so much for "sweat wicking".. i am so disappointed. I am not the type to wear leggings every where i go, i strictly bought these for the purpose of having high quality, efficient, comfortable leggings to work out in, but its a true disappointment that i will probably never work out in them again in fear of sweat showing through...
Date published: 2017-05-13
Rated

2

out of

5
by
AlexD2
from
bad first impression
Im so disappointed. I had never bought a pair of Lululemons because of the price. However, after a friend told me the quality was amazing, I went for these pants because they were super cute and fit awesome in the store. After not even 5 wears (I wash these on delicate and hang them dry), they seemed they have stretched out and they won't stay up!! Also, the seams on the bottom are starting to stretch out and tear. Im really upset, these were my favorite pair of leggings and thought it was totally worth the money. I want to love Lululemon because I know their quality is great, so Im just hoping these leggings are an outlier. This first purchase was really disappointing.
Date published: 2017-05-12
Rated

2

out of

5
by
recordaras
from
Heathered Black is see-through and shows sweat
I really wanted to love these, since I really, really like the heathered black color. Unfortunately these pants were see-through even when I went up a size. I'm normally between 4 and 6 in bottoms, and the 6 was still see-through, but the waist was loose enough that slipping would have been an issue. I went with the 4 and have to be careful to wear nude underwear and not bend over while I'm out in these pants. Unfortunately they also show sweat quite a bit, although they do seem to dry quickly. I do find that they stay up well even without using the drawstring, the waist is really quite comfortable and well designed. The mesh isn't super soft, but it hasn't bothered me on runs so far. I don't feel like they give much compression, but they breathe quite well. The cut is very flattering and is probably the best thing about them after the color! Overall I ended up keeping them because I could not find a pair of running crops in a similar color that I would have liked more than the Pace Rivals. But the fact that they are see-through is just not okay for a premium brand like Lululemon and at this price point.
Date published: 2017-05-09
Rated

2

out of

5
by
kr1234
from
Rip easily
I loved these leggings at the store so I just had to get them. I have bought from lulu lemon before and their clothing is so cute and very good quality, but I began to notice the seems began to rip after just the second third wear and there were lots of loose threads with proper washing. I was really hoping these would last a while like my other pair of leggings from lulu lemon. :(
Date published: 2017-05-09