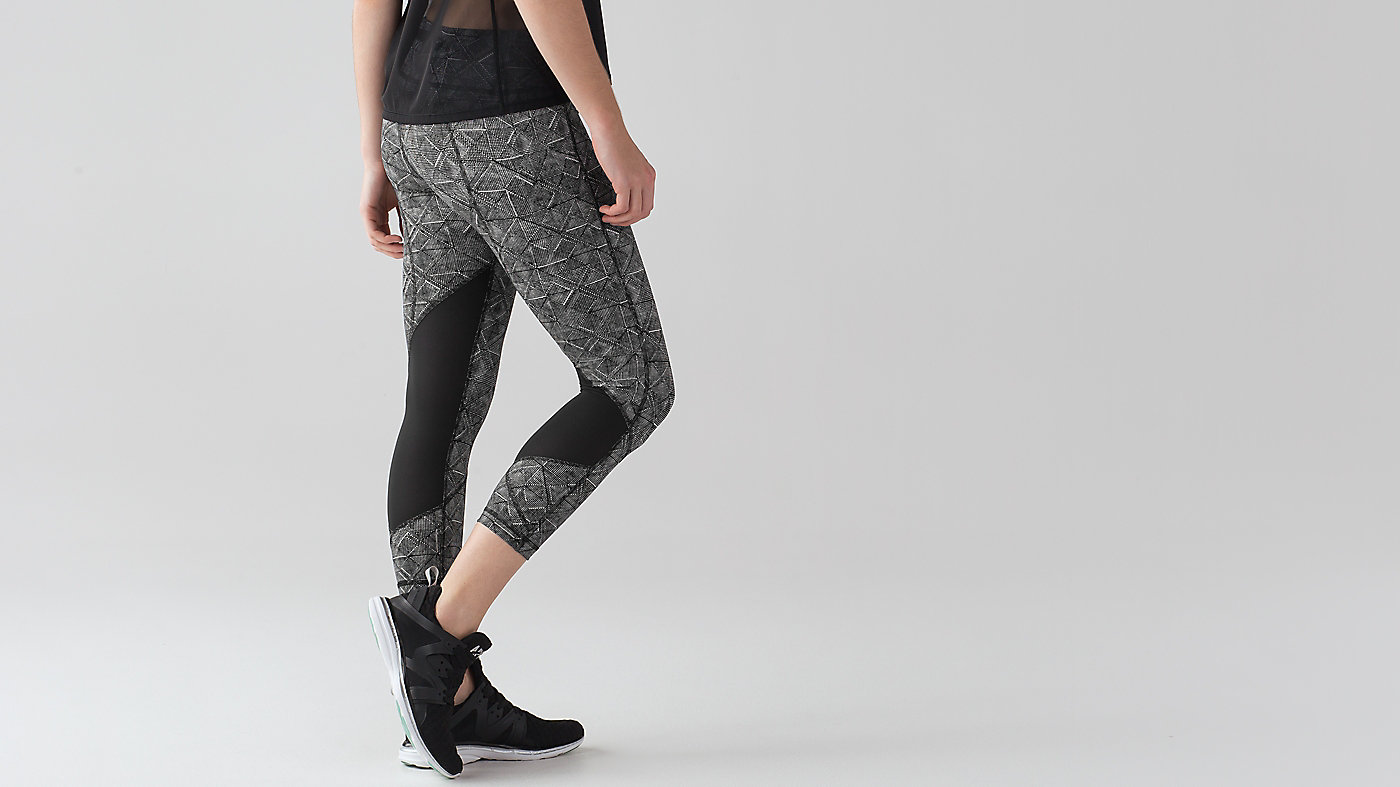 ---
---
lycra®
Added Lycra® fibre for stretch and shape retention
---
drawcord
Customize the fit with the drawcord in the waistband
---
medium-rise
Higher rise increases coverage and comfort
---
hugged sensation
Engineered to feel like a comfortable embrace throughout—it holds you close and moves with you
---
three-pocket waistband
Gives you plenty of storage options

Pace Rival Crop *Full-On Luxtreme
is rated out of
5
by
30
.
Rated

2

out of

5
by
CoachAli
from
So Saggy!
Loved these when I tried them on in the store, I was able to pick the perfect size. The size above was too loose and the one below was uncomfortably tight. Within 30 minutes of wearing these they began to sag and slip down my hips even with them tied above the hip. I found myself pulling these up every few steps.. not very graceful. I wouldn't recommend these pants, from the sounds of it this is common and sizing down doesn't help. Not sure what to do with mine, now they collect dust in the closet.
Date published: 2016-10-19
Rated

5

out of

5
by
luludawg
from
I love these
I went to my local store's "fall preview" event with a little - but not a lot of - spending money on hand, so whatever I came home with had to be perfect. I tried these on (in hounds camo) and liked them, but I ended up carrying them around for an hour looking for something I loved better. Even as I walked out of the store with my purchase, I wasn't totally sold. Now, though, after a road run and a few sessions at Orangetheory, these have become my absolute favorites. First, for fit - I am 5'6" with a 150# build. I default to size 8, and 8 fits perfectly in these. I also take 8 in CRB (the original - bring it back!!) or 6 on a good day. I take 8 in Inspire Tights but 10 in Run Times Shorts. Usually 10 in bra tanks and 8 in singlets. If you're on the fence about what size to order, I recommend going with whatever you feel is your true size. Occasionally I receive compliments on my lulu stuff, but I've gotten compliments each time I have worn these to OTF so far. I also love them because they function perfectly for everything I need to do there. They stay put while on the treadmill and in the weight room, and they don't chafe my arms on the rower like some of my other crops do. My only complaint is that I'm not crazy about the mesh on the back. I have some older Pace Rivals that don't have it. I don't find it necessary for function, and it definitely - DEFINITELY - detracts aesthetically. So let me take this moment to speak out and say no. more. mesh. As for these crops, I love them in spite of the mesh.
Date published: 2016-10-15
Rated

4

out of

5
by
lovegettingfit
from
Love the Purple look of the hounds camo emperor blue black/black
Purple is by far, my favorite color. I saw the purple color before I saw that the name of the color was blue, so that didn't bother me at all. I really like the way they fit, but they do get slightly loose in my knees as I am wearing them. I don't love that, but they are so nice other than that, it's not a deal breaker. That's why I had to rate them a 4 rather than a 5. Love the pockets on the sides for my phone when I am running.
Date published: 2016-09-27
Rated

4

out of

5
by
Katemonaco
from
Love the pace rival
I just bought my first pace rival in mini hounds camo emperor blue because I love the print. Before this I used to buy the inspire crops but those are no longer in production. I have to say that I think this is a great substitute for the inspire crops. The fit is tight and super comfortable but the zip in the back pocket does get in the way when I have to lie on my back to do ab work. I will definitely get more if it comes out in prints that I like. For size reference, I am 5"5, around 110 pounds and wear a size 4.
Date published: 2016-09-08
Rated

2

out of

5
by
AyBean17
from
Baggy after on wear
Pros: Finally a cute crop in material that's not sheer when I squat and doesn't show sweat (I sweat a LOT) Still miss the Inspire Crop, but these are close. CONS: After less than a half hour of wear the material got loose and baggy. I washed them (cold, delicate, hang dry) to see if maybe that would help at all. It didn't. Same result on second wearing. Baggy in the knees, thighs, and hips. NOT the most attractive look and annoying because they don't stay up either. Now I'm stuck with an expensive pair of crops I can't wear unless I gain a bunch of weight. Maybe sizing down from your normal size would help, but for the price tag it would be nice if the product functioned the way it was supposed to.
Date published: 2016-09-05
Rated

1

out of

5
by
cwilliams
from
pills and stretch!
I bought 2 pairs of these pants and I loved them..until they started to tear apart. The checkout women and my local lululemon store assured me that these pants would not pill. I wore them running 3 times and the have pilling all down the seams and tiny rips on the seam as well. I do not recommend these pants. I love lululemon and shop their very frequently, but I am NOT impressed by these. I may have to question where to shop now.
Date published: 2016-08-11
Rated

5

out of

5
by
PintSizePowerHouse
from
Color not as pictured
Love the Pace Crop Rivals. They fit really nice and are TTS. I was however disappointed that the Hounds Camo Emperor Blue is not at all blue. They are purple. They are nothing like the website picture. They are beautiful but I am disappointed since I loved the "blue".
Date published: 2016-08-04
Rated

5

out of

5
by
ematulis01
from
Pace Rivals are my Favorite Crop!
I absolutely love the Pace Rivals so much so that I have 4 pairs. These are my go to crop, I find myself consistently reaching for these over my Top Speed Crops. I'm an avid spinner and never have any issues with them not staying up. The coverage is good and I don't see my sweat as I'm working out which is nice. I feel absolutely amazing in these and it makes me work harder!
Date published: 2016-07-27
Rated

1

out of

5
by
Jenrek
from
Do not stay up! Baggy in the knees, terrible to workout in!
I just bought these at my local store and they are terrible for doing anything active in. I wore them for a light jog and noticed the pants were falling down in my calf and thigh area while I was jogging, and it was super annoying to pull them up constantly. Also, after an hour of wear, the fabric around my knees were baggy and very unflattering. I'm not sure if the black color is in a different material, but I did notice it had little bit of sheen to the material. I got my regular size 4, I am 5'3", 112lbs. Overall, I do not recommend these, they are only cute to look at but not functional at all! Very disappointed.
Date published: 2016-07-15
Rated

5

out of

5
by
Plauche
from
Breathable, stay put pants
In the heat of summer, I'm still grabbing these from the top of my pile. I absolutely love them. They seem to get more and more comfortable every time too. The mesh backing allows breathability so your knees aren't sweaty. They're stretchy enough for full range movement, and snug enough to never move during your work out. I'm a 4 or 6 at Lulu depending on styles, and I have these in a 4. These have great lines, and a pocket on the side, perfect for your phone while running.
Date published: 2016-06-05