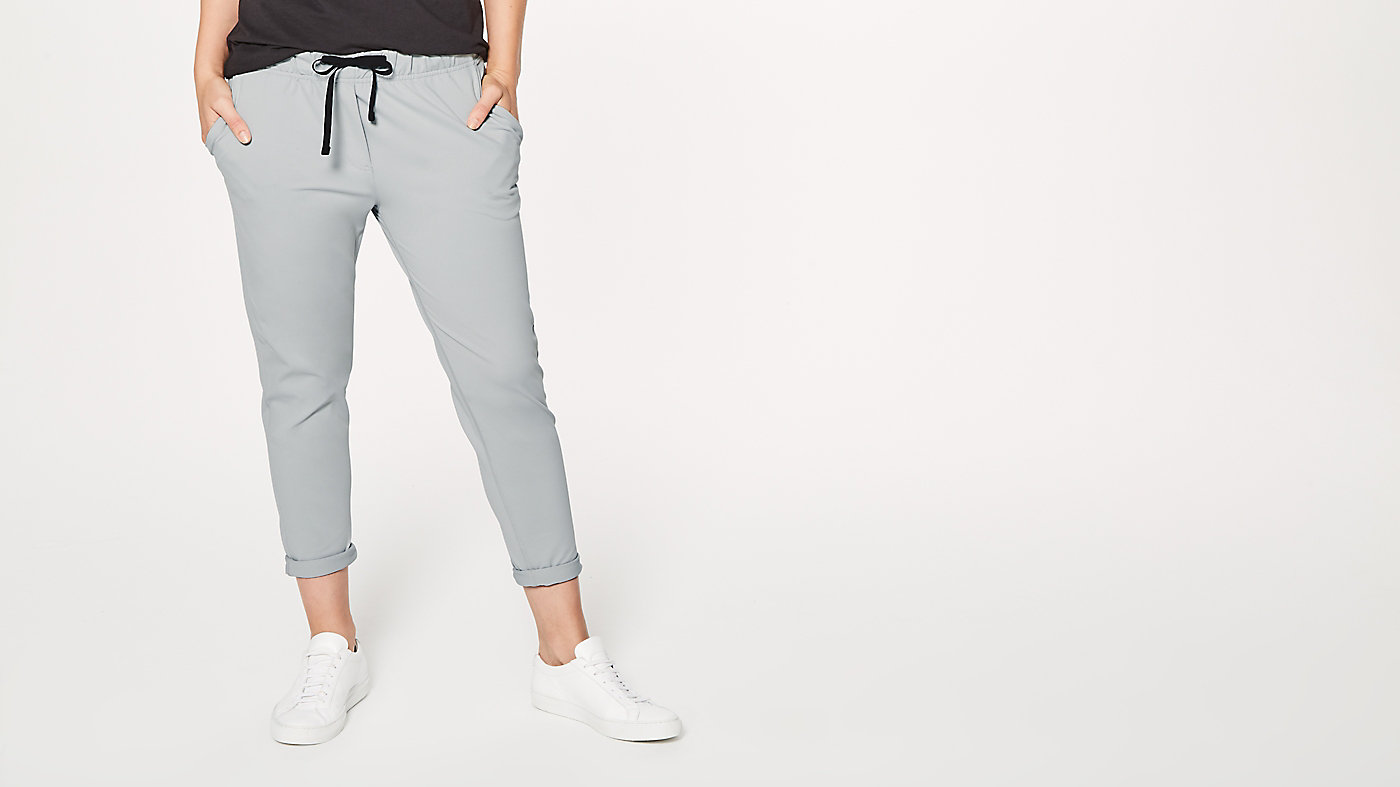 ---
lycra®
Added Lycra® fibre for stretch and shape retention
---
hidden pocket
Perfect for stashing your essentials
---
relaxed sensation
Gives you the ultimate feeling of nothing in your way—it sits away from your body to give you maximum room to move
---
7/8 length
Stays out of your way
---

Jet Crop (Slim) *Luxtreme
is rated out of
5
by
100
.
Rated

5

out of

5
by
Notkillingmesmalls
from
I can't live without these
My biggest regret of this year has been not buying backups of the blue and black when there are available. I own one of each - the black i had altered to look more cropped, which changed them from a "slim" leg to more of a "straight." The blue I left original. I love them both ways - they look great with a sporty shoe. I love them on weekends to run errands and walk around, and I can even get away with them on Fridays at work. I just bought grey, and am super excited. But please bring back dark colors! I would love backups of what I have, and an oxblood as well.
Date published: 2017-06-15
Rated

5

out of

5
by
N1982573
from
Favorite pants
I am so so so sad that these are sold out. I have actually bought the normal jet pants and gotten them tailored to fit like these jet crops. I hope someone will read this and try to bring these back!!!
Date published: 2017-01-05
Rated

4

out of

5
by
DeloresKyle
from
Almost perfect.
I could live in these pants. They're so silky & sensuous! I just wish they came in extended sizes, the 2 is quite large because they are "relaxed sensation" fit. Also, they are too high rise for my taste. Major MOM JEANS look. I have to roll the waist down. I'm 5'4, 115, petite-curvy, 37-25-36.
Date published: 2016-10-26
Rated

3

out of

5
by
haycandace
from
Jet Crop Slim Vs Jet Pant
I am in love with my Jet Crop Slims for the most part. I love the look and the material even more. One huge problem is that the Jet Crop stretches out and I end up with a baggy crotch. It is awkward pulling them up all day! Does anyone know if the Jet pant is better about this problem? I don't live close to a store so I typically order online, thanks!
Date published: 2016-10-21
Rated

5

out of

5
by
laurenacx
from
revoloutionary
These pants are absoloutley amazing in every way. I love that the material isn't clinging to my body throughout the day, and are extremely breathable. These pants are very opaque and perfect for school, the grocery store, or just relaxing at home. I love that you can dress them up or dress them down and are sooooo flattering! I couldn't ask for a better pair of pants!
Date published: 2016-10-03
Rated

4

out of

5
by
toandfromum
from
Love these pants, however wish they wouldn't get baggier throughout the day!
I bought these pants several months ago in black in a size 4 (I am between a 2 and 4 in lululemon and wanted these to be on the looser, more relaxed side so ultimately went for a size 4) however, I am experiencing the same issue as several other reviewers - they fit really well initially but then begin to get very baggy on me throughout the day. I would love to purchase them in the navy color, however, I don't know if I should go with a 2, knowing that they will get big on me, or get the 4 for a more relaxed fit. I wound not even hesitate about purchasing the navy color but I don't know how the fit will be. Would love some advice.
Date published: 2016-10-02
Rated

5

out of

5
by
CardioWeightsAlyson
from
LOVE the Jet Crop (Slim) Luxtreme!
I have three pairs of this pant (black, hero blue, black/grey thin stripes) and wear on average two pair/week. They are great for travel and date nights. I've worn the black pair with silver wedges and a white tee out on a Saturday night for drinks and all three to work. I really like how you can change the look of these pants just by the shoes and jewelry you decide to wear. I love these pants so much that I'm purchasing my fourth pair tonight. I also love the slim fit through the calf and right above the ankle. I usually wear an 8 in Lulu gym pants (Align, Pace Rival, Inspire) but I buy this pant in a 10 since it's meant to be more relaxed.
Date published: 2016-10-01
Rated

5

out of

5
by
Hapaidol
from
Love, love, love!
I have three pairs of these pants. Of course they are all different colors. The first pair I got were not the "slim" and I do prefer them much more. The fabric is softer and seems to have alittle more give then the two others which are the "slim". I got a pair for my mum and she loves them too. You can either dress them up or down. Not available in the store in her city in Los Angeles so I'll have to order them via online. Highly recommend these pants!
Date published: 2016-09-14
Rated

5

out of

5
by
MinniP
from
amazing pants can dress up or down
Love those pants, it is very chic and you can dress up with a blazer or dress down with T shirt. the slim cut is very flattering the petite frame or slim legs, remember to size down if you are petite and have kind of slim legs. I love Lulu is making those pants you can wear from Monday to Friday, please make more chic colors, the grey is the best in my opinion. please make a version for short girls so we can truly wear it as 7/8 pants
Date published: 2016-09-12
Rated

4

out of

5
by
ashmack
from
Living in these pants.
I recently purchased the gray color in the Jet Crop Slim and I absolutely love them. I love how they can be dressed up or down. They are extremely comfortable and I've gotten numerous compliments on them. I originally bought them in the store and tried to buy them online in black but they are out of stock in my size. I started a live chat with Lululemon to see if there was any way to find a pair of these in black and in my size. Unfortunately, I wasn't given much help and was told that no store within the entire USA has them in black & in my size. Also, I was told they weren't sure if they would ever come back in stock. I find this extremely disappointing and would hope that if demand for a particular product is high, that customers needs would be met by producing more quantities of the product.
Date published: 2016-09-11