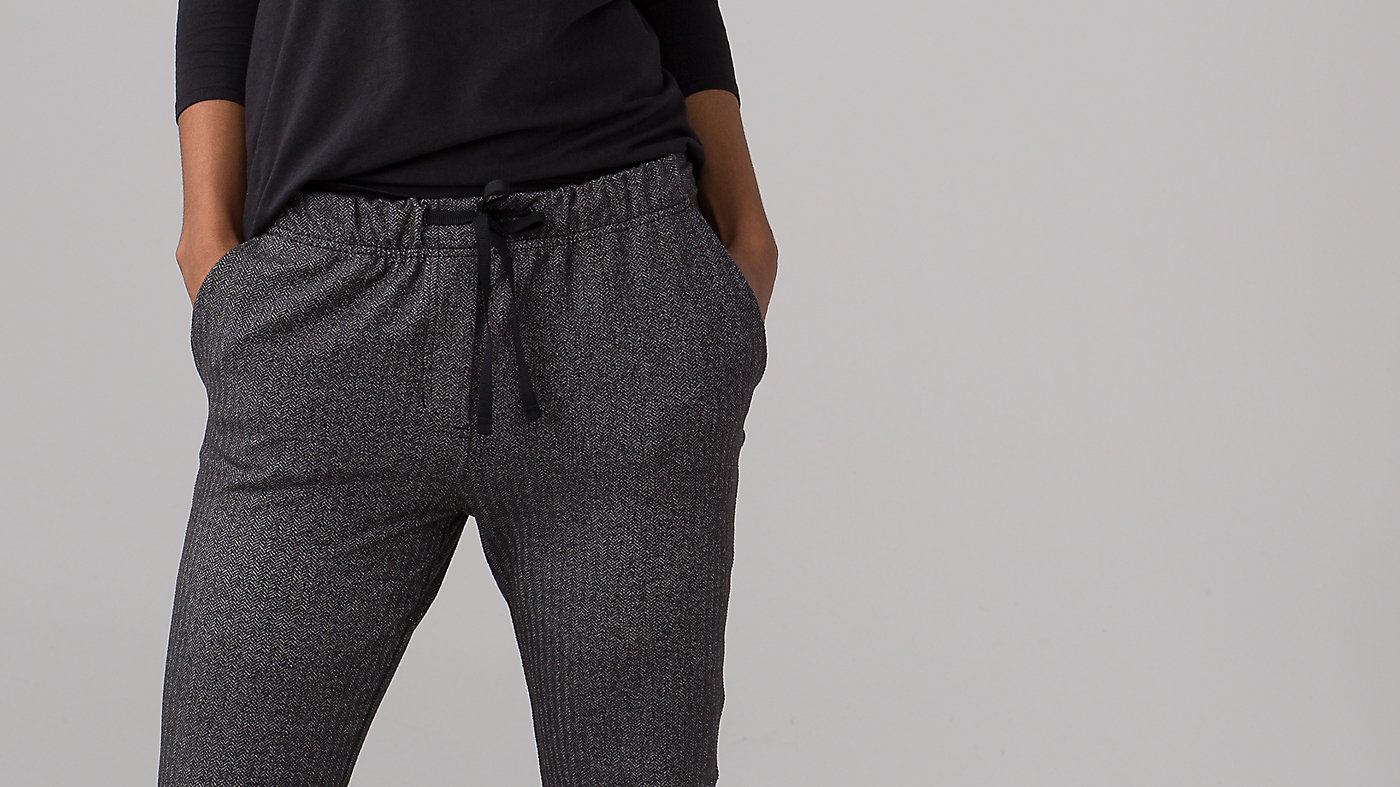 ---
lycra®
Added Lycra® fibre for stretch and shape retention
---
hidden pocket
Perfect for stashing your essentials
---
relaxed sensation
Gives you the ultimate feeling of nothing in your way—it sits away from your body to give you maximum room to move
---
7/8 length
Stays out of your way
---

Jet Crop (Slim) *Luon
is rated out of
5
by
20
.
Rated

1

out of

5
by
yoga1977
from
Worst Lulu purchase ever!
I am so bummed I bought these pants they are see through. I am 5 6" 110 pounds and always wear a size 2 in Lulu, I have 20 or so pairs of pants that fit great. There is something wrong with the pair I got they are see through and the back pocket fabric is wrinkly and shows through they look awful and there seems to be a defect in the front. Maybe they are just a bad pair but they are final sale I feel like I just threw 75.00 in the trash as these are not even wearable.
Date published: 2017-07-18
Rated

3

out of

5
by
CardioWeightsAlyson
from
Disappointed...
I have three pair of the Jet Crop Slim in Luxtreme and LOVE them so thought I'd try the Luon in the very pretty light grey and white stripes. They arrived today and they will be used more for lounging around the house and going to the grocery store because they look more like pajama pants than To & From. This is the first time I made a WMTM purchase without seeing the product in person first and I'm upset with the decision. Lesson learned. I'm sticking with the Luxtreme -- that material is so much nicer and with its sheen, can be dressed up more. Off to buy my fourth Jet Crop Slim in Luxtreme!
Date published: 2016-10-01
Rated

5

out of

5
by
sburrows
from
Perfect Pant!
These are by far the best pant Lululemon has made to date! The matte finish on the Luon material is amazing and can be dressed up or dressed down easily! I've found that the Luon fits a bit looser than the Luxtreme which I love - I'm usually a size 8 in pants and the 6 fit me perfectly. Highly recommend this pant and hope they bring back MORE!!
Date published: 2016-08-25
Rated

5

out of

5
by
NoWiggles523
from
More!!
I love the jet slim crop even in Luxtreme but this Luon version is out of this world for comfort and overall looks. The waist is half elastic in front and set in the rear which I just find flattering and oh so comfy!! I throw this on after yoga class and find myself wearing them for everything else. I hope these new version of the jet will be out in more colors!!! PLEASE!!! I ordered a size 8 but a 6 will fit too.
Date published: 2016-07-11
Rated

4

out of

5
by
Going
from
Polished Casual
I have had these pants a week and find them really comfy. I am not sure if I bought the correct size though? I purchased the smaller size so that they were a bit more fitted. However I have a mom ponch and have to cover my ponch with a longer shirt.. The larger size fit a bit better on the top but the legs were a bit too baggy. I would have liked help in choosing the right size but the SA's were too busy talking about their goal sheets or something? I would recommend these pants for comfort and a nice look. They are a nice quality pant and would fit many different body types. I a short with skinny legs and a rounder mid section. The length is perfect for my height I bought a size 6 . I am 5"1" and 145 lbs.
Date published: 2016-06-24
Rated

2

out of

5
by
canadianlululover
from
See-Through
This is a very comfortable pant to have! It looks nice and fits well, except the pair that I have is very see through if I bend my knee or bend over. I am a little disappointed since I love this pant overall but I can't wear it out in case I have to bend over!
Date published: 2016-02-24
Rated

5

out of

5
by
canadianstarr
from
LOVE!
I love these pants so much I bought 2 pairs. Though I had to get 2 sizes for the different materials - size 4 in the luon and 6 in the other. Question about the pockets though - do they open up? I think so, but DH doesnt and I dont want to risk it without the right answer!
Date published: 2016-01-09
Rated

5

out of

5
by
laurenmonique
from
Wonderfully versatile pants
I love lululemons, but honestly, these are better than anything I've ever purchased from brand! Extremely comfortable and incredibly versatile. I'm a high school teacher, and I can go from dressing these up for school to changing my top and being ready for my after school zumba class. I wear them to work, to work out, and to relax at home! I'm 5'4, so I roll them up to make them 7/8 length, but they roll down to a perfect pant length when I'm cold. As a bonus, they don't seem to pill and attract hair like my regular lulus do. Highly recommended!
Date published: 2015-12-10
Rated

4

out of

5
by
Fanster
from
Very comfy and cute
Love the material. Soft to the touch. It's great to wear in warmer weather as well as cooler temperatures of Autumn. I wore it in 50-75degrees Fahrenheit temperatures and was very comfortable. In fact, these are great for hiking. Took it to the Smoky Mountains and they performed quite nicely. The material is unlikely to withstand harsh treatment though if you're going to be scooting across rock and tree stumps (which I avoided anyhow) - LuluLemon didn't design this pant for rugged wear, so don't expect that from the pant. However, it is made of a great comfy material and looks great on petite frames. I did not have a crotch bunching problem like other reviewers, perhaps I lucked out here. I have a 23 inch waist and the elastic waist band with the ties work out great for me. As you can see form other reviews that petite women as more partial to this pant because of its shorter length. I'm 5'0" tall and these 7/8 pants fit like full length pants on me, which is fine for my outdoor goals, but if I wanted a to-and-from yoga look, I'd like a 7/8 length, which these wouldn't be for me. I'd give the product 5 stars if it were offered in shorter inseams. I would suggest that LuluLemon start offering "short" inseams so that petite women can wear cropped and 7/8 pants the way they're supposed to look like on taller people, or to even buy full length pants without the need to hem off several inches. We all come in different shapes and sizes. Though Lulu offers hemming service for some products, which I'm not convinced I trust to the spritely, flighty employees in the store to even measure me correctly...there are many styles that aren't amenable to hemming. Overall, I have to hand it to LuluLemon to make clothes that generally will fit petite frames and shorter people, unlike most brands out there. Thank you Lulu for all my high quality athletic wear that performs, lasts long, and helps me look and feel great!
Date published: 2015-10-25
Rated

4

out of

5
by
getbackinstock
from
comfy casual pants
These fit me like long pants since I'm short (5'2"), which I like just fine. To make them into crops, I just fold them up once a few inches. I got a size 2 (I'm 101 lbs). Made of cute, comfy fabric (I got the black/white color). The back pockets make the pants look less like athletic than casual wear, which is what I wanted them for. Nice deep front pockets. Like others have noted, I wish the front didn't bunch up as much as it does. That being said, I like them enough to buy and keep them.
Date published: 2015-10-07