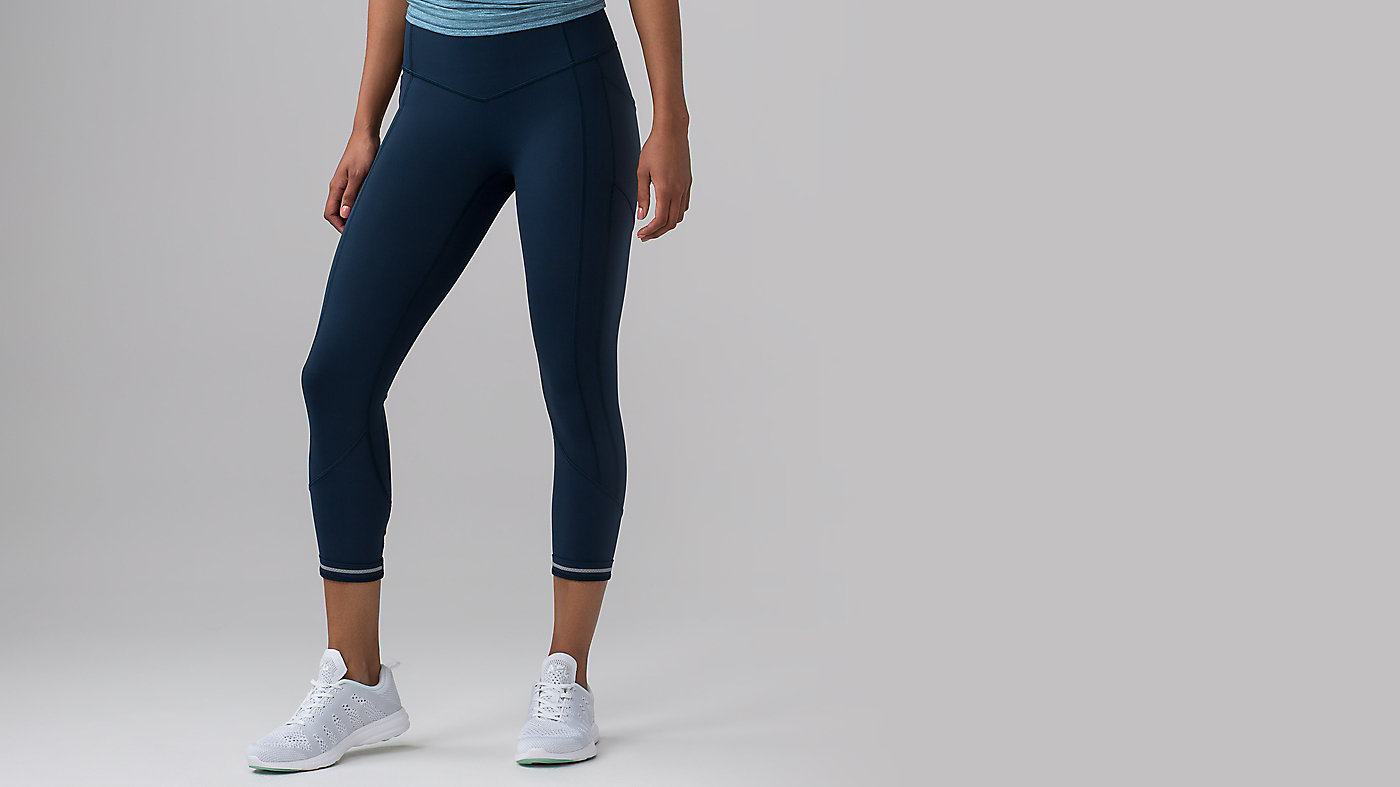 ---
lycra®
Added Lycra® fibre for stretch and shape retention
---
no front seam
Keeps camel toe in check
---
held-in sensation
Provides support to your key muscle groups—strategically placed zoning keeps you feeling secure through your abs, hips, bum and thighs
---
Reflectivity
Flip up the cuffs to expose reflective details
---
waistband pocket
Stash your essentials in the waistband pocket
---

All The Right Places Crop II
is rated out of
5
by
360
.
Rated

2

out of

5
by
jpakey
from
Constantly pulling up waistband
Initially loved these leggings when I tried them on because of the snug fit, they were very flattering and fit perfectly. I was extremely disappointed when I first worked out in them because I had to stop and pull them up every minute. I'm a college student and even just walking to class every day I have to stop 3 or 4 times to pull them up. It got so annoying that I just stopped wearing them altogether. I usually love Lululemon and I hate to spend so much money on a pair of leggings just to find out that I can't even wear them if I want to be active at all or even walk around.
Date published: 2017-06-23
Rated

5

out of

5
by
LittleRed
from
Fantastic fit and function
I love to have pockets in my run shorts/crops/tights and these ones met the needs. The fit is TTS though I must say when I pulled them out of the package I thought the waistband looked small but it was all good once I tried them on. The cut and shape is very flattering and super comfortable. So glad to get them on sale, can't seem to get my head around paying more then $100 for a pair of pants. Just can't justify that.
Date published: 2017-06-22
Rated

4

out of

5
by
JeansQueen
from
Love these crops so far
Although I thought these crops were too plain (prefer mesh inserts or fun details) tried these on in the store anyway because the pockets got my attention. Didn't expect to like them, especially for the price for a pair of crops, but these crops are great! Nice supported feeling without being too tight, constricting or uncomfortable at all. The seaming on these crops is the best, very flattering and slimming, but not overdone like I thought the full length version of these pants were. (full length had an extra diagonal seam across the front of the thigh). And of course the pockets! So handy and tight enough that I don't even notice my giant phone in the pocket. Wish these crops were not so spendy, but other than the price they're great. Got my usual size in these, seem to fit TTS. The only thing I would change about thsee is to give them a high waist, which I personally prefer, though others may like it as is
Date published: 2017-06-22
Rated

1

out of

5
by
monterey
from
Change the material please
Can these be made in "Full-On Luon"? The Luxtreme material is an unflattering display of butt dimples on even the most toned derriere. I would really appreciate the pocket design on a pair made out of a longer-lasting and more flattering material.
Date published: 2017-06-22
Rated

2

out of

5
by
LongLeanSexy
from
No Where Near
I had to have these pants. Everyone on youtube and social media were raving about these leggings. So I got a pair.....I hate them. First of all, not even an hour of wearing them(before my workout even started), the inner seams started to unravel. So I went ahead and worked out in them anyway. The fit was uncomfortable. I had to keep tugging at them and re-situating them. I shouldn't have to do that. I dont do it with any of my other lulus. AND they show my sweat stains BAD!!!!. I wont wear these again
Date published: 2017-06-22
Rated

5

out of

5
by
NYCSleepwalker
from
Favorite leggings
This legging is one of my favorite go-tos, so much so that I own several pairs.. Why? Love the high-quality non-flimsy feel, the compression, and absolutely LOVE LOVE LOVE the anti-camel toe feature! Why can't more leggings be built like this? Just wish it came in more colors like gray and white.
Date published: 2017-06-20
Rated

2

out of

5
by
Hagen
from
Not worth $118
I bought two pairs of these pants because I loved the feel and the pockets. I have had both for less than two months and maybe worn them at most once a week. They are made for training, yoga and running which I do. I had to take both pairs into store today because seams are coming loose and while store is repairing for free (I would have preferred new pair given repairs needed) I got a lecture from the store clerk for wearing them for yoga when they are made for that type of training. I did not appreciate being told I was wearing them for the wrong sport when I specifically asked when I bought them what they were made for. I own a ton of lululemon products and these by far have worn the worse. Don't spend the money. Not worth it.
Date published: 2017-06-19
Rated

5

out of

5
by
christinal827
from
Great for curvy figures
Love the material of these pants! Very high quality and they make my curves look perfect! I love the tight, held in feeling. I really do feel like I look like a million bucks in these pants. I own both lengths and I am on the shorter side, 5'2", but I don't think the little extra fabric at the ankle is a nuisance. The pockets are nice for small thin items. I wouldn't use them for anything more than some paper money, gym card or a key. No piling and I have worn each pair a ton of times. I would definitely try these out if you like a nice held in feeling--like a glove!
Date published: 2017-06-18
Rated

3

out of

5
by
Kristen26
from
Sagging :(
These are such cute pants, until you try and wear them for longer than an hour or so. The sagging issue is real and so disappointing. The pockets and length are amazing but I find myself pulling them up constantly. I think the attempt at a "no camel-toe" seamless design still needs a little work, because in theory, it sounded awesome.
Date published: 2017-06-15
Rated

5

out of

5
by
Noorla
from
My favorite workout leggings
I was worried about getting these because they had awful reviews. I have had them for over 2 months now, and I absolutely love them. I have probably washed them over a dozen times, and even then they stay snug on my hips when I workout, and there is no piling. They are definitely expensive, but if you wear them enough you will get your money's worth
Date published: 2017-06-08