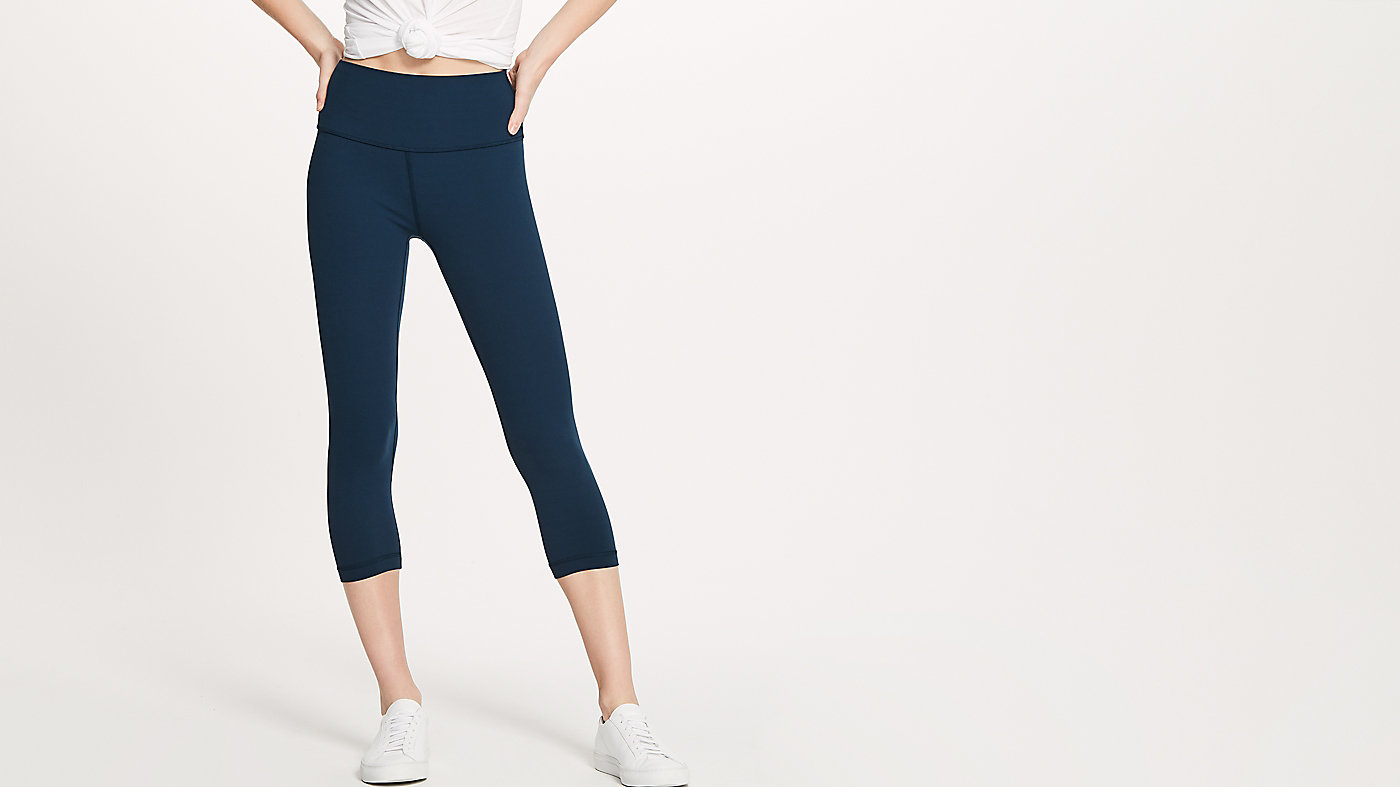 ---
Comfortable waistband
Lies flat against your skin and won't dig in
---
Waistband storage
Pocket on the waistband holds your key or card
---
high-rise
Keeps you feeling covered and secure
---
naked sensation
Engineered to feel like your go-to, lightweight, second-skin layer—you'll forget you're wearing this next-to-nothing sensation as you move
---

Align Crop
is rated out of
5
by
640
.
Rated

2

out of

5
by
tlaine
from
Great at first, not so much anymore
When I first bought these I was in love with them. I was telling everyone that these were the best leggings ever and felt amazing. They were my first pair so when I fell in love with these I then bought three other different types of leggings. Once I wore them about 10 times I noticed how much they started to pill in the thighs. I always washed them with my other lulu pants and let them air dry. I loved them so much I didn't want anything to happen to them. My other leggings have not pilled like this and I rotate them out. I was so impressed at first but now I am disappointed.
Date published: 2017-06-25
Rated

1

out of

5
by
dfrancis12
from
Disappointed :(
Bought the align crops last summer and was instantly obsessed with them. They were piling so much between the thighs and on the back. I tried bringing them to a store where I was told that it was my fault and I wasn't caring for them properly. However, I own 20+ pairs of lulus and have never had this problem. Last week I went out in my align crops and when I got home, I found two holes in the seams of the thighs were the stitching had come out and looks like its going to happen on the other leg too. Overall was obsessed with these pants and I'm extremely disappointed in the product!
Date published: 2017-06-23
Rated

2

out of

5
by
skills
from
So soft but pills too easily
I fell in love with these in the store and I bought 2 pairs on the spot! They are so so soft and I loved them. But, I wish I had gone online and read the reviews before purchasing because it is true that these pill very fast. If I'd known this I wouldn't have bought them because it makes them look old and worn in a matter of a couple wears. Wish this wasn't a problem because I love the color selection.
Date published: 2017-06-23
Rated

2

out of

5
by
savvyp21
from
Great at first, not great overall
I initally fell in love with these pants. I thought they were the best leggings I had every purchased, but after about two months of wear I noticed a large amount of pilling between the thighs. The pilling has even begun on the rest of the leggings. I washed as per care instructions and I always hang dry my clothing. I'm majoring in product development and it is clear to me that these leggings would not have passed an abrasion resistance test if they had been exposed to one during developmental stages. I am so disappointed that my boyfriend knew how much I liked my first pair that he got me another pair before the first ones had started to pill or else I would have told him not to waste his money. Overall, if you want a pair of leggings that are great for two months these will work for you, but if you want something that will have lasting quality these are not the leggings for you.
Date published: 2017-06-22
Rated

2

out of

5
by
dancerv
from
Quality is not worth the price.
These crops are extremely comfortable and they feel like your second skin, but i noticed there were 2 snags after wearing them twice. I hand washed them and hang dried them once, but I noticed that a little bit of the colour has faded already (I have the black ones). I just wished that the quality of these pants would have been worth the $88 price tag.
Date published: 2017-06-22
Rated

1

out of

5
by
Lyeesh
from
Disappointed
I bought these just over a month ago and loved them, they are super comfortable and flattering to wear. Unfortunately, they filled up with lint between the legs and ripped. As much as I love these they are not the best quality for the price that I paid...
Date published: 2017-06-21
Rated

3

out of

5
by
Perla2ca
from
Hapiness only lasted a couple weeks
I bought these leggins a couple of weeks ago not more than a month ago. Wore them a couple of times and fell in love with how comfy they felt, it felt like I was wearing no pants. After wearing them a couple of times I noticed 2 small holes on my bum. I knew they were too good to be true... :(
Date published: 2017-06-21
Rated

4

out of

5
by
crombie
from
life changing tights
I have had my align pants for about a year and I love them! They don't look brand new after a year but they still look good! They run a bit long for me so I only get the cropped ones and they look like a 3/4" crop for me. I wear them all the time, the fabric feels buttery soft, they keep me cool on hot days. The waistband is anti-roll.
Date published: 2017-06-21
Rated

3

out of

5
by
EMIC
from
Just Okay
I just received these in the mail today. Sadly, these will be returned to the store. The fabric is soft, thin (but not see through), stretchy, and has very little compression. They are honestly really comfortable, but I wouldn't feel like they are appropriate for working out. They show cellulite, which I have never had a problem with. I saw these exact pants (in the same purple color) at the gym today on someone else and they looked so cute. I have a feeling on someone more petite these would work great. Also sizing down might help.
Date published: 2017-06-20
Rated

4

out of

5
by
Bcaldwell34
from
Perfect everyday
I absolutely love these crops for every day. They are so smooth and comfortable. I am a little disappointed with the quality though, when I pulled them out of the bag a seam was unraveling at the waist.
Date published: 2017-06-20