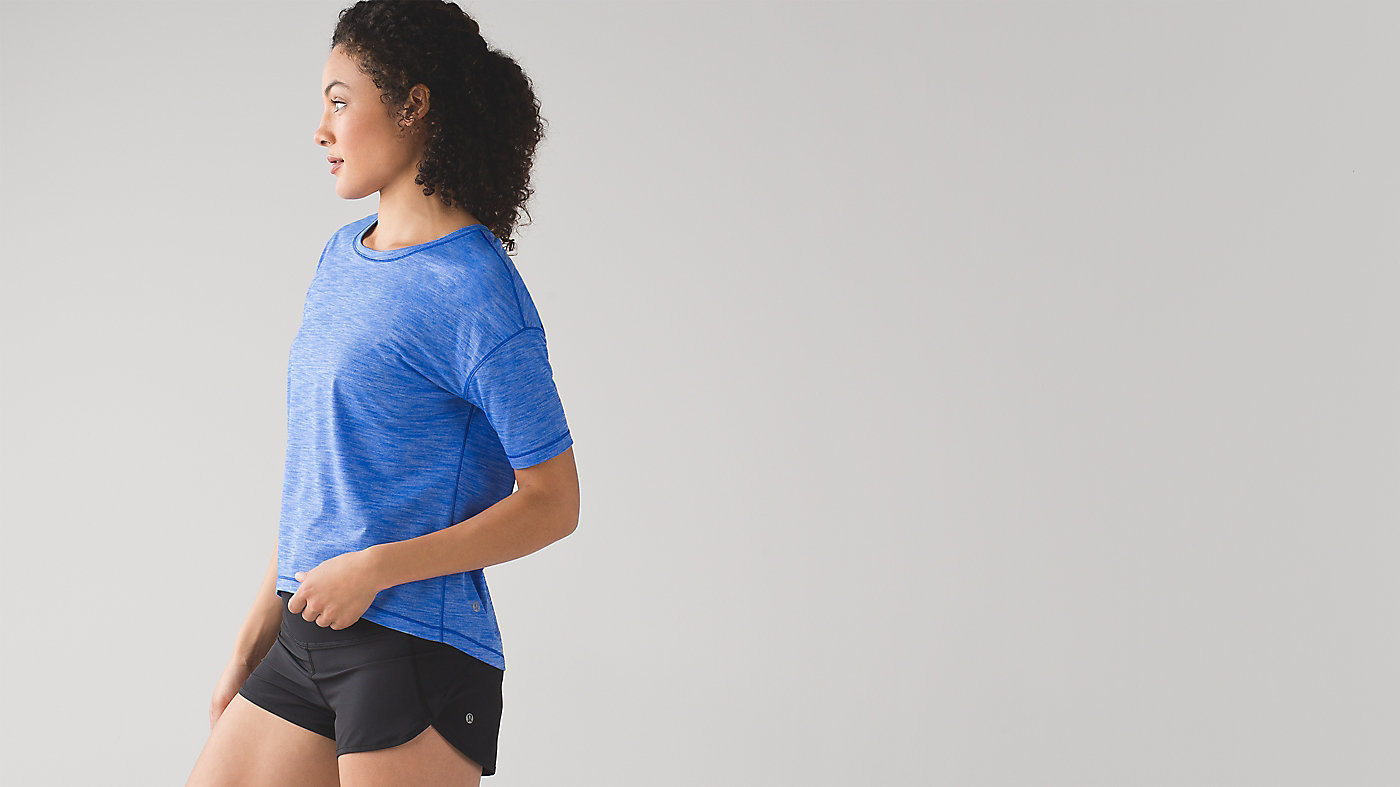 ---
lycra®
Added Lycra® fibre for stretch and shape retention
---
SILVERESCENT® TECHNOLOGY
Powered by X-STATIC®, it inhibits the growth of odour-causing bacteria on the garment
---
relaxed fit
Gives you room to move freely

Run It Out Tee
is rated out of
5
by
9
.
Rated

5

out of

5
by
MartialArtEnthusiast
from
Great Shirt!
This shirt is super light weight and breathable. I use this shirt mainly as a going to and leaving from working out. I love the fact that it lets me cool out quickly. Its also great while working out in it as well, and an awesome causual shirt to throw on when running errands. I have this shirt in both a size 4 and a size 6 and I like the fit of both. For sizing, it just depends if you want a bit of a more "fitted" shirt as its meant to be a loose fit. I love how it drapes on the body and looks quite flattering.
Date published: 2017-06-21
Rated

4

out of

5
by
Thehappyveggie
from
Awesome shirt but comes with an ingrained funky smell!
I bought online, this shirt in 2 colours, the blue & the tiger space dye. I love the fit/comfort/feel/function of this shirt.... except it SMELLS bad! It smelled bad out of the package & I didn't think it was a big deal because I figured it'd wash out. I've now washed each shirt 3 times (with 3 different liquid laundry soaps - FYI they wash up well so far) & the smell is not as strong but definitely still there. It's strong enough still that I notice it as soon as i put it on so I feel the need to give the shirt a couple-few squirts of body mist... I've got a sensitive nose so maybe some people wouldn't really notice...but it really takes away from an awesome shirt :( I'm trying to think of how to describe the smell...its yucky.....kind of like musty cardboard & with an underlying hint of garbage. I am hoping with a few more washing it disappears completely but I'm not holding my breath (actually I am when I smell the shirt lol). Maybe it's just the online shirts that have this odour? As for sizing, I usually go between 2 sizes & I picked the smaller size & it's still loose & relaxed fit but doesn't look boxy.
Date published: 2017-06-19
Rated

5

out of

5
by
olivegreen
from
Great shirts
I bought size 6 as my usual size 4 is sold out, and it was the best decision! So comfy and I can wear it outside of the gym/studio as well. I'm ordering my second one right now. Please keep making this shirts in various colours!! Love it!
Date published: 2017-05-24
Rated

5

out of

5
by
JL28
from
perfect!
Wish there are more colours! Love it, ordered my 2nd one!
Date published: 2017-05-17
Rated

2

out of

5
by
JPL94
from
weird fit
I wanted to love this shirt because initially the fit was great, not too baggy but not too loose either. When I wore it to work out, however, the wide cut of the neck along with the semi-tight sleeves just felt weird and uncomfortable to work out in. The fabric is nice but it was a really disappointing fit.
Date published: 2017-05-10
Rated

5

out of

5
by
ReneeB4
from
Comfy!
I ordered this shirt in the white tiger pattern. The fabric is a little heavier than the last few shirts I ordered, which I loved as I felt it would hold up better (the last shirt had small holes all over the front after wearing and washing one time--Lulu made it right, thankfully). This shirt is loose and with the front shorter it hangs nicely, not boxy looking. I loved the shirt so much I ordered it in the black pattern. It just arrived and to my surprise--and disappointment--the black is a completely different material. It's very lightweight and flimsy. I can't understand this. I thought it was my imagination but after holding the two shirts up to the light the black is definitely much more sheer. I'm going to keep it since I ordered it on sale but I'm concerned that it'll be the "holey" shirt all over again! I do not understand why the same style would be a different fabric. Quality control was really lacking on this. Anyway, the 5 stars is for the white shirt, which I do love. Was going to order it in the blue but decided against doing that in the event it's not the same fabric as the white.
Date published: 2017-04-21
Rated

5

out of

5
by
NathB
from
Perfect t-shirt
Like the previous review said, this t-shirt is not too long! it's comfy and has a little wiggle room It looks great, will buy another one!
Date published: 2017-02-23
Rated

5

out of

5
by
DogIsLove
from
Comfy and not too long!
This shirt is super comfy. It is not tight to the skin like many lulu items which i really appreciate. It also seems to be just the right length. I find a lot of lulu tops to be a bit long, which does not serve my shorter worse well. This does the trick. It also kept me pretty cool while i waled around disney all day with my 2 year old! would love this is more colors!
Date published: 2017-02-10
Rated

5

out of

5
by
momof5things
from
cute and comfortable
runs TTS I love that it has some wiggle room, hides my little belly. and its true, its anti-stink tee!!!
Date published: 2017-01-24