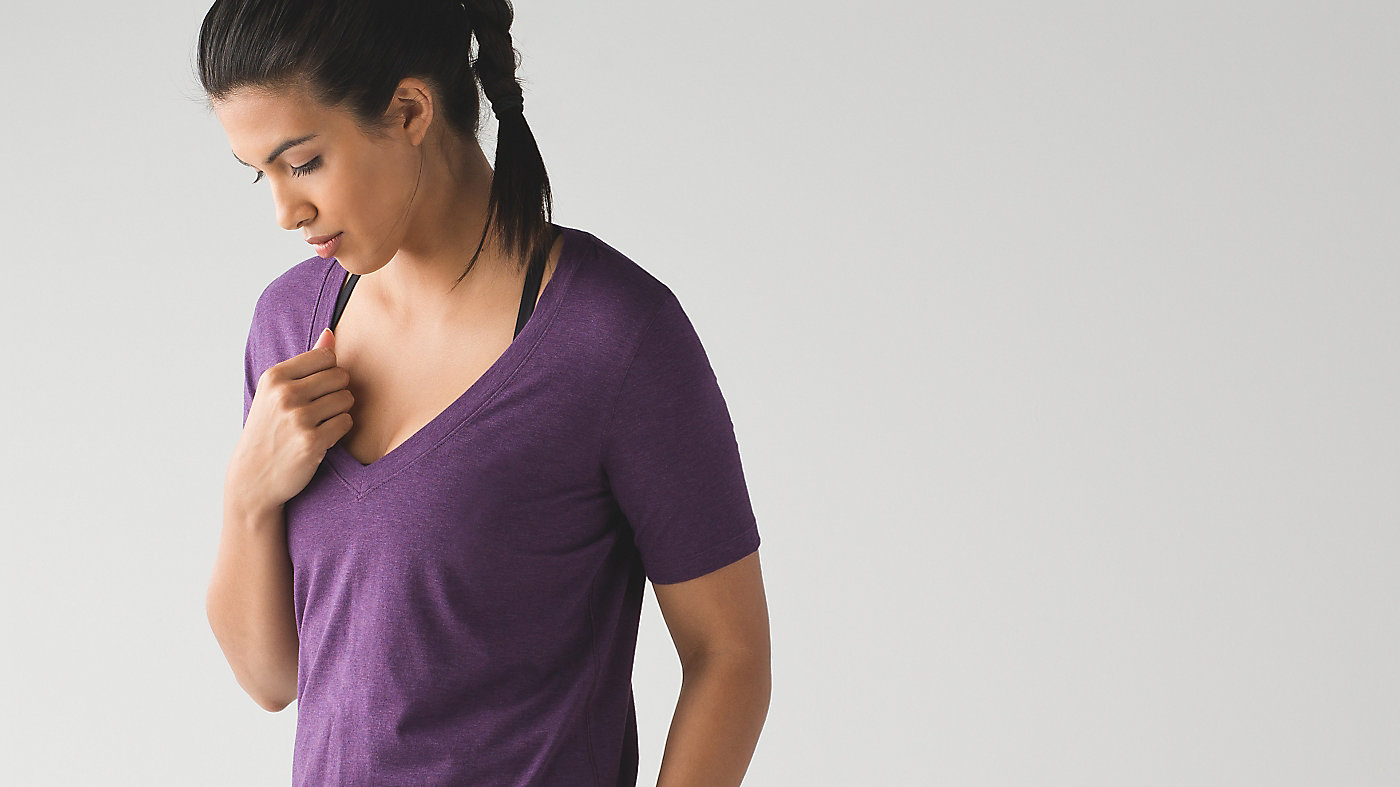 designed for
Yoga, to + from
---
loose fit
The ultimate in comfort
---
shaped hem
Gives you plenty of room to move freely
---
long length
For extra bum coverage

Love Tee III
is rated out of
5
by
75
.
Rated

5

out of

5
by
Malz
from
Loooooooove Tee
The name of the tee matches how I feel about this shirt. Seriously one of my new favorite shirts EVER. I wont lie, the price freaked me out. Especially because I imagined it to be like all my other tees after the first wash.- faded. Let me tell you, it's still so soft. I also like how its a loose fitted shirt. I can wear it to work, throw a blazer over it and BAM professional yet comfortable style. looking forward to get some more colors.
Date published: 2017-06-19
Rated

5

out of

5
by
sheenie09
from
Worth buying
This is one of my favorite tops from lulu-- it goes great with leggings or jeans. I have worn this to work and to the gym and feel great. I love the curved hem and that it covers my bum just enough (although I don't really care, but in certain environments I am sure other people do). The colors are great and I just want my whole closet to be filled with this tee!
Date published: 2017-05-31
Rated

1

out of

5
by
msndlb
from
Weird side stitching
I wanted a good tee for summer. I work with kids and I'm outside a lot. I decided to splurge and buy 2 Lululemon short sleeve tees. I was very disappointed when I got them because they felt like any other cotton tee shirt... I was expecting something a little more stretchy and breathable coming from Lulu. But the worst part is that both my teeshirts have uneven stitching on the sides. I can't fold it properly it's so crooked. I splurged and got very basic quality items... disappointing for the price.
Date published: 2017-05-31
Rated

5

out of

5
by
Deanne
from
LOVE LOVE LOVE
I absolutely love this shirt, eeek!! I cannot say enough good things about this shirt. it can be worn with jeans or with leggings, either way its a knock out! I love all the colours this shirt comes in, I in face have one in every colour!
Date published: 2017-04-14
Rated

1

out of

5
by
Amkessler
from
Dirty!
I have this shirt in literally all other colors other than white because I love them so much. I finally decided to order it in white before the love 3 disappears altogether, and it arrived COVERED in black dirt marks :( It looks like it fell on a dirty floor and someone with dirty on their fingers tried to wipe it off. This shirt is very white and the dirt definitely shows. I am so disappointed, as I have spent way more than I would like to admit on mine and my boyfriends lulu collection and have never had any issues with any of my pieces. I was a little shocked because normally I feel very well taken care of, but the shirt arrived also thrown into a mailing bag, with no other bag to protect it, which is probably how it got dirty in the first place. It came shipped separate from my order containing my other items, so I am not sure the problem. Great shirt, just beware you may get a dirty one...
Date published: 2017-03-21
Rated

2

out of

5
by
lzz32
from
Not as imagined
I bought this shirt from the store a week ago. I like the color and design. However, when I wore it to the gym, I feel like the fabric tends to scratch on my skin. I haven't worn the shirt again after that.
Date published: 2017-03-15
Rated

3

out of

5
by
Kd123
from
So-so
There are pro's and con's to this tee. The length of the sleeves is perfect, the cut of the shirt when its new is amazing and I love that its not tight. I would not recommend it however as it stretches out immensely during wearing and for the price, it is not worth it to me.
Date published: 2017-03-08
Rated

1

out of

5
by
collie989
from
The Worst
I really love showing off the logo, so when I buy anything from lulu, I would want it to show. So thought I get myself a nice v-neck. Wanted to love this. Hate everything about it. Probably the worst product I own from Lulu. There is extra space on my shoulders, the fit is very snug, the v is way too low and it just doesn't look right. From a few washes, olive is no longer olive. Most disappointing product.
Date published: 2017-03-05
Rated

4

out of

5
by
euphgal1
from
LOVE these Love Tees!
I finally found my Black Cherry Love Tee today and love it! Whether it's the V neck or crew neck version, these Tees are super versatile and for every day wear! I find they hug the body in all the right places! I've never had an issue with the twisting in the wash or anything! I own about 5 of these and love them all! The only thing is : besides keeping with the staple colours, please, please, please bring out some fun hues for spring! I'd love to see a spring green or a sky blue (maybe Angel Blue will make a comeback?). Thanks for these, Lulu! They are awesome!
Date published: 2017-02-28
Rated

5

out of

5
by
loveasunnyday
from
Love it!
I am 45+ so I don't like skin tight clothes. I'm not fat but the skin under bra straps, etc. certainly isn't the same as when I was in my 20s, so I avoid Lulu tops. They're always too tight and too clingy. OMG the tanks--yikes! On top of it I am large busted (32 DD) and Lulu tops simply are not made for chesty gals. So I don't even look at their tops. I live in their relaxed fit and naked fit pants and shorts though. But I was in the store and tried this top on and loved it. I am 5'2" 110 lbs and bought a 4, which was perfect. Surprisingly, it wasn't too long. When and if Lulu puts out a non clingy shirt, they always seem to be cut to land down around my knees--ridiculously long in length. This one is an oddity. It's the right length, it's cut slim but doesn't cling or show back fat or waistbands or any of that. It's a low V neck, which is the most flattering cut for larger bust sizes, but it's so low that the top of my bra shows. So I just bought a cute and colorful sports bra so it looks like it's intentionally layered and it works perfectly for me. I love this t-shirt. That said, $58 is just too much to pay for a t-shirt. I heard that they have it on WMTM for $49, but that's still even too high for a t-shirt. I love this one, but would probably not buy a second one unless it was below $40 because it really is just a t-shirt. I do love it though, and I'm glad I bought this one, but probably wouldn't get a drawer full.
Date published: 2017-02-22