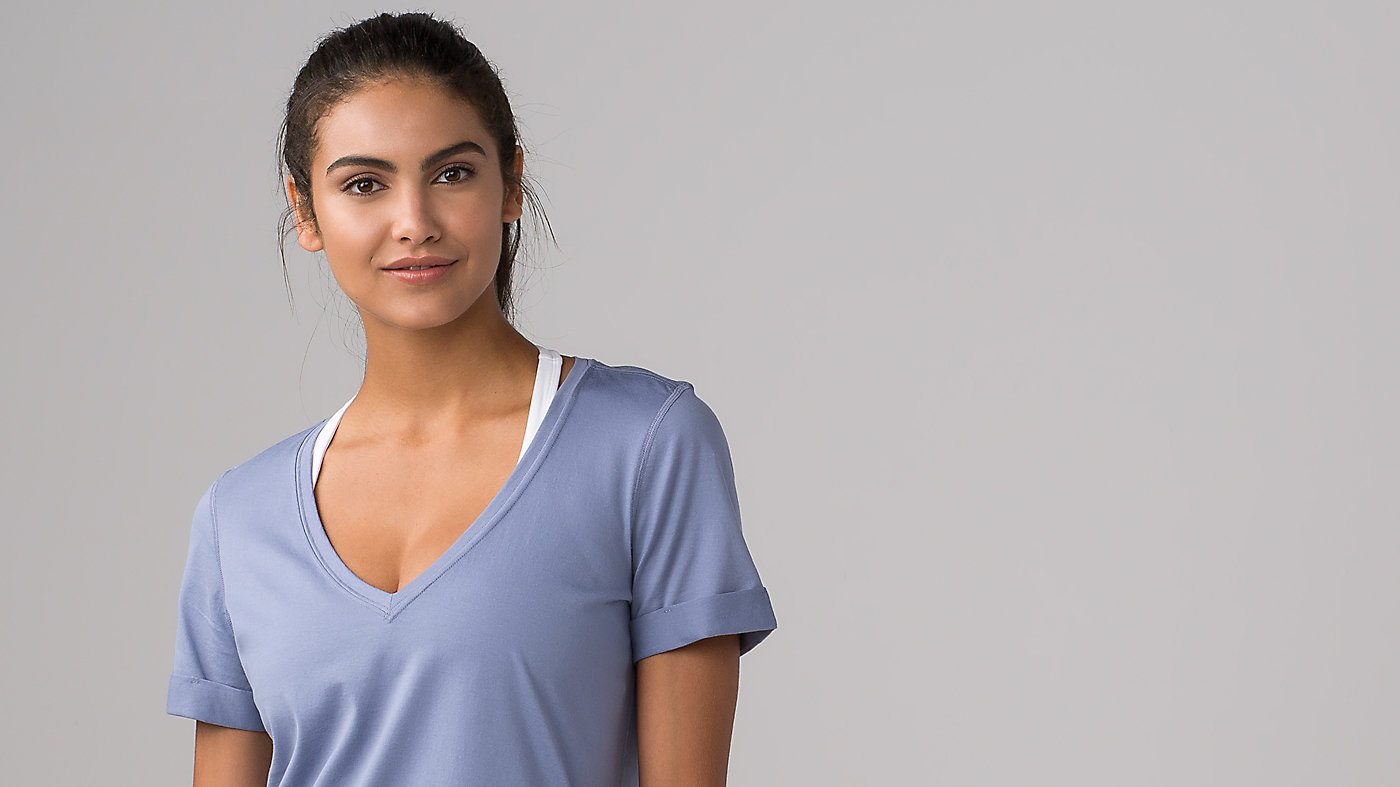 ---
RELAXED FIT, HIP LENGTH
Layers easily and gives you room to breathe

Love Tee II
is rated out of
5
by
85
.
Rated

5

out of

5
by
Fancyfancypants
from
My Favourite Tee
Version II of the Love Tee is my favourite design! I love the silhouette, the open neck, the loose sleeves and the curved hem. I did size down in this tee, especially for the more forgiving dark colours. Usually wear a 6 and the size 4s I've bought are not tight anywhere.
Date published: 2017-06-15
Rated

4

out of

5
by
SunnySofla
from
SIZE DOWN!!
I was visiting NYC, bike riding and got soaked! I just stopped by at the nearest LLL and grabbed sz4 shirt to change (all my LLL gears are sz4) without trying it on and it was big and too late I ripped all the tags off (habit). If you are going for the loose fit I guess get the size you always get but want a little tight fit, 1 size down. Other than the size, the fabric is so soft and the design is beautiful.
Date published: 2017-06-13
Rated

2

out of

5
by
Laura77
from
So sad about this top
I loved these T-shirts so I bought three! The best cut, so flattering and the softest cotton. Unfortunately the cotton is so thin that after a few wears and washes two of my shirts have little holes all over them. For the price I paid, I am so disappointed about this :( the best shirts but I will never buy this type of cotton from lulu again!
Date published: 2017-02-20
Rated

2

out of

5
by
Cocoma
from
Disappointed :(
I love LOVE the fit of this shirt so much I purchased it in white, grey, heathered maroon and a funky blue leopard-y print ( I can't remember the real names of the colours). After a few wears, the white one got a hole in the sleeve where the cuff is sewn and it became MEGA sheer. Now it just hangs in my closet. All the others developed holes in them as well, so I don't wear them. I used to work at lulu so I have a lot of items, and I definitely know how to care for my clothing, so I am baffled as to why every single Love II I own has holes in it. WHY?
Date published: 2017-01-08
Rated

5

out of

5
by
MarrJ
from
Size down item!
I bought this in a 2 and it fit perfectly (I normally buy 4 or 6) Love this version better than the 3! Very flattering with yoga pants or jeans. I wear for casual wear, no exercise. Would love to see a long sleeve version of exact same cut.
Date published: 2016-11-06
Rated

1

out of

5
by
Brittany1502
from
Awful quality..... So disappointed
I finally went through my closets and found my adorable Love Tee ii, I bought it back a couple months but wore it for the first time yesterday. I HAND-WASHED it last night, and HUNG DRY. Today, I went to put it away, and I noticed a hole in the sleeve. I only wore this tee arounds the house yesterday so I know I did not cause the whole. I am so disappointed I spent over $55 on a tee that now has a hole after the first wear/wash..... Lululemon has amazingly cute clothes but the quality of this tee makes me sad....
Date published: 2016-10-19
Rated

2

out of

5
by
Krai
from
Stretched out!!!!!
I bought 2 of these shirts and at first I loved them, but after wearing them one time and washing (according to instructions) one they both have completely stretched out and look terrible. I bought them so that they would be loose, but this is ridiculous!
Date published: 2016-10-03
Rated

5

out of

5
by
HITTYwoman
from
Best. Shirt. Ever.
I need this in a million different colors. I ended up buying the white, grey and black and navy polka dotted one because I loved the fit of it so much. It's loose but flattering, hides problem areas but still gives you shape. I scoffed at my gf for buying a t shirt for $60 but it's awesome. One of these can replace all the lame old navy ones you buy and replace a million times because they keep shrinking. ;)
Date published: 2016-06-11
Rated

5

out of

5
by
Wildandfree
from
The Best!!!
Love this tee!! More colours and sizes please!
Date published: 2016-05-30
Rated

3

out of

5
by
acon14
from
Perfect tee....but stretched out!!
I have this tee in 2 colors and LOVE IT!!! my only concern is that my newer tee (black) has only been worn and washed (following instructions) a few times and it has stretched out to the point where I can't wear it. My blue tee- has been washed and worn many many times and has lived up to the awesome quality. A little disappointed that they have worn so differently!!!
Date published: 2016-05-14