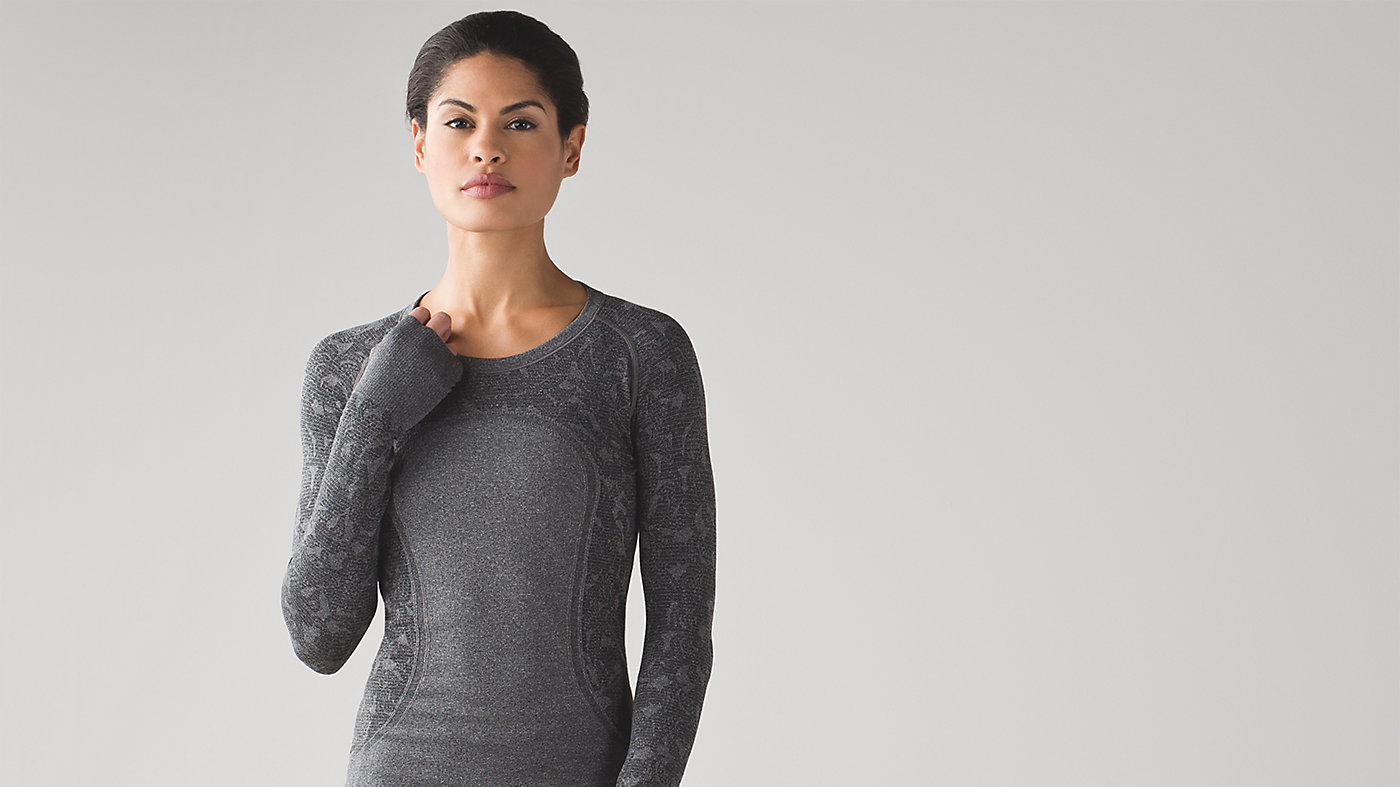 ---
No chafe
Seamless construction in the body minimizes chafing
---
thumbholes
Help keep your sleeves in place and hands warm
---
Silverescent® technology
Powered by X-STATIC®, it inhibits the growth of odour-causing bacteria on the top
---
SLIM FIT, HIP LENGTH
Slim fit hugs your body and wicks away sweat while you train

Swiftly Tech Long Sleeve Crew
is rated out of
5
by
467
.
Rated

2

out of

5
by
tyy2
from
Very Unfortunate Snagging
I bought the Royal Blue color because I loved it. I read the reviews about snagging but could not believe that would be the case. I have several other items that I have read negative reviews on and loved the product (align crop). I own about 8 of these tops, but this one after one wearing has several snags on it. I am not sure how they even got there - I wear and wash my lulu carefully.
Date published: 2017-06-16
Rated

3

out of

5
by
LaraH
from
It's ok
I bought 2 of these a while back because they're cute and comfortable only once I started wearing them and washing them (gentle wash, hang dry) they started losing their stretch and became very loose on me. I've never really experienced this with any lululemon products but I was kind of disappointed because they don't look good anymore.
Date published: 2017-06-16
Rated

1

out of

5
by
aboli
from
Holes in the shirt
I bought this top in the lululemon store and loved it. I wore it and washed and hung dried it like it says to do. The next time I went to wear it strings were coming out from the shirt and there were tiny holes in it. Overall terrible quality.
Date published: 2017-06-13
Rated

1

out of

5
by
KENZKENZ
from
Love this top but....
I have many of these tanks and long sleeves in the swiftly tech material that I LOVE .Unfortanley one that I recently bought has lost all its stretch. It is horrible to wear and very uncomfortable. Super disappointing considering how long I have been buying them for without every having a problem.
Date published: 2017-06-08
Rated

2

out of

5
by
Runner0217
from
Bummed out
I am in the middle of training for my second half marathon and had asked for two of these shirts as a birthday gift. In all honesty these two shirts are the only ones I feel comfortable wearing because of the light weight and anti-stench. When I run with these I don't feel grossed out with my arm pit sweat. But the pulling on these shirts is horrible, I wont even wear them anymore. If Lululemon could fix the issue this shirt would be an A+++++ with a 5 star rating, I would get one in every color! Until then... I am going to have to find something just a comfortable and just as durable. For reference: I am 5'1 106lbs and wore size 6
Date published: 2017-06-07
Rated

4

out of

5
by
Ralphie16
from
A Must Have
This one is a staple. Very comfortable and warm, without getting you too hot. Love the thumb-holes and length of the garment. I will agree that it snags pretty easily and is on the pricey side for my budget...but the new colors always reel me back for more.
Date published: 2017-06-06
Rated

4

out of

5
by
scismythe
from
Snaggles
Love this top, as it is great for layering yet light enough to be worn on its own. I do think the fabric is delegate causing small snags in the shirt. However, this will not deter me from purchasing this shirt again in the future. For reference, I am 5'5 and weigh 120 lbs. I purchased a size 6 in this shirt, but I am considering buying a size 4 next time.
Date published: 2017-05-29
Rated

5

out of

5
by
AnnWalker17
from
Favorite Shirt
This long sleeve shirt I recently purchased. This item has been by far my forgive thing yet. I wore the first day I got it and the nice thing about it is it is anti stink so you can wear it a couple days and it won't smell. It is very warm and comfortable. I wear it a lot around the night time as it starts to get cooler throughout the night. I highly recommend this piece from lulu.
Date published: 2017-05-25
Rated

2

out of

5
by
jennay
from
Poor quality
I bought two of these shirts, and they are both pilling. i only wear them to run in and i was not expecting them to do this. I spent a good amount of money on both of these shirts and I am disappointed with the quality. I would love to possibly order more again if lululemon is able to fix this problem.
Date published: 2017-05-17
Rated

3

out of

5
by
skinnylittlefatgirl
from
Wish this worked for me
Ok lets get some things out of the way. Does this top snag easily. Yes. As a matter of fact the one I received came snagged so I had to return it but with that aside. My goodness this top feels like silk on the skin. Few things to note. I get it lulu petite people don't make up the mass majority of your consumer but the sleeves on these were long enough for me to pull out and use as a straight jacket in a mental institution. Oh so so so sad about that. If you look at the models wearing these there is even a slight bit of bunching at the wrist. Now I wouldn't mind so much if these could be hemmed. Please. PLEASE lulu design team if you are listening. PLEASE design these so that they can be hemmed. You will reach a far larger demographic if you did. Something as simple as a seam at the cuff. Something. This is a staple in any lulu lovers wardrobe. I can wear this in white in 90 degree weather and protect my skin and not feel hot. I can also wear this as a laying piece in cold 50 degree weather and it will provide enough protection as a laying piece. Its versatile. Its a basic and I wish it would fit me better. I've pretty much been forced into the short sleeve version of this. Yes it is expensive but its because of the technical aspects of this shirt. Honestly surprises me when people complain about price. It's lululemon. If you compare other brands, the prices are very similar. Sure not every lulu item has met my expectation but neither has every item I've purchased at competing stores. If your looking for a very versatile long sleeve top all be it delicate this is it but for other petite gals expect an absurd amount of bunching at the wrist.
Date published: 2017-05-16