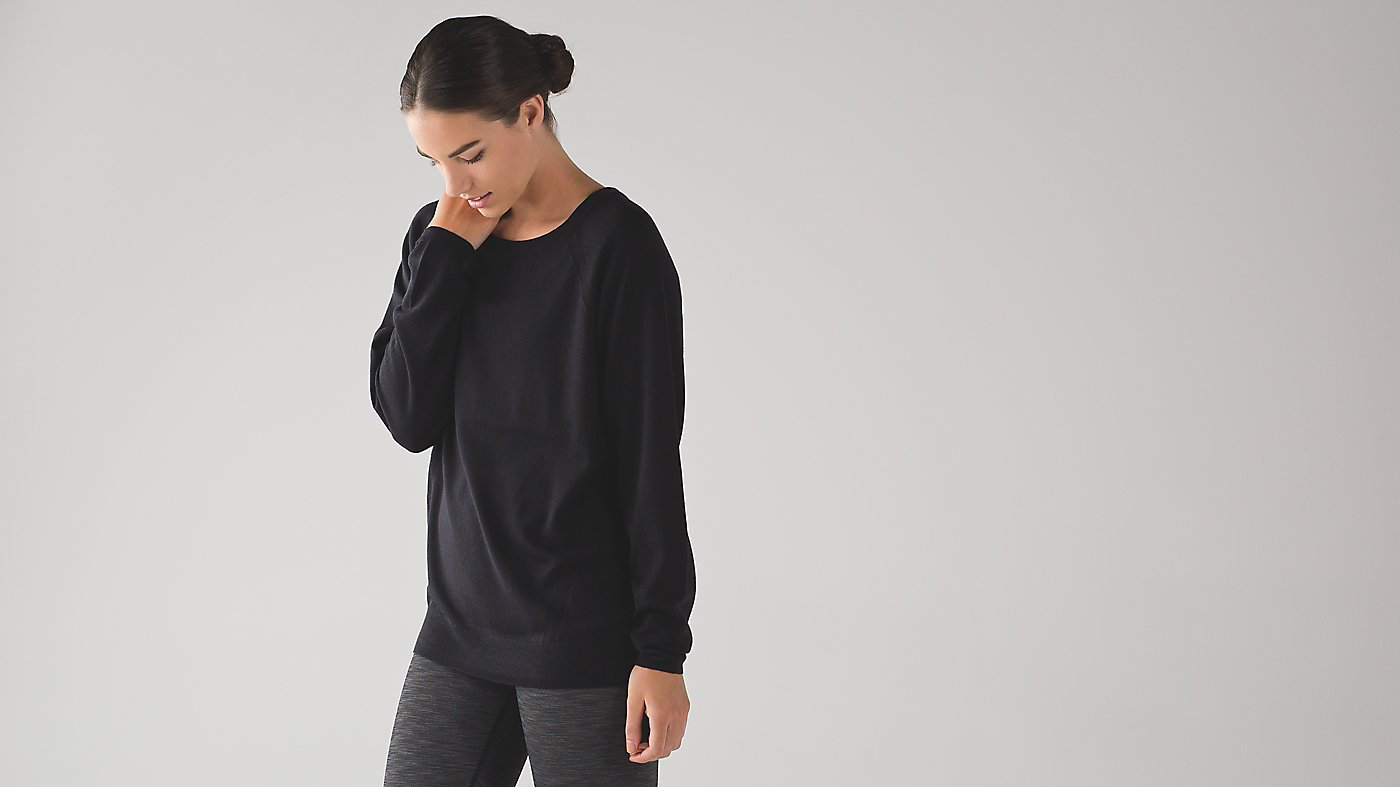 ---
breathability
Open hole structure helps to give you some air

Rising Salutation Sweater
is rated out of
5
by
41
.
Rated

1

out of

5
by
Runningontop
from
Rising Salutation Sweater
I can honestly can say that it was very comfortable, but very delicate. I was fine to spend $138, thinking that it was a good quality, but it was actually horrible. After one wear, the back of the top is all damaged. It made it seem like I worn the top at least 50 times. Thats how bad it looks. It was a waste of money, if I knew it was going to damage like that I would have not bought it.
Date published: 2017-05-09
Rated

1

out of

5
by
lkbry
from
Same as all the reviews - love that didn't last
In reading all the other reviews, I have to say the exact same things. Amazing, beautiful, comfy sweater that fit so perfectly I didn't even mind the price! I wore it once, and the next time I went to put in on I noticed that the threading had become to come lose - like a snag. The more I looked the more I realized it was covering the sweater completely! I couldn't even get 2 wears out of it before it was ruined and embarrassing to wear. I love all my lulu gear, so this was so so so disappointing.
Date published: 2017-05-05
Rated

1

out of

5
by
rockymountainyogi
from
DIsappointed
Sorry to say this sweater is disappointing in it's quality. I have several wonderful sweaters from Lulu, but this one does not hold it's shape after hand washing and laying flat to dry. I would not recommend buying this, even at the sale price. NOT WORTH IT
Date published: 2017-04-24
Rated

1

out of

5
by
Mstern
from
Impossible to wash
I bought this sweater in blue and loved it! It fit great and was so comfortable and I loved the colour. When I went to wash it I followed all of the washing instructions and I also put it in a garment bag for extra protection and it came out with at least 4 large holes in the front and arms of the sweater. It is completely ruined and I only got to wear it once. I own a lot of lululemon clothes and I have never had a problem with quality before. This is a big disappointment.
Date published: 2017-04-24
Rated

2

out of

5
by
MaryK
from
Love it until I had to wash it
I was in love with this sweater! So cute and looked dressy enough to wear to work. Then, I washed it in the hand wash cycle, laid flat to dry and the hems completely lost their shape. So disappointed. It no longer looks like a quality top.
Date published: 2017-04-22
Rated

1

out of

5
by
Lindsay4
from
So disappointing
This sweater was so beautiful I had to purchase it despite the reviews. I LOVED this sweater and wore it as many time as i possibly could before I had to wash it the first time.. I washed it ALONE, in cold water, delicate cycle, laid flat to dry. When it dried it had completely lost its shape & the bottom was all frayed. I haven't worn it since. It looks so terrible.
Date published: 2017-04-18
Rated

4

out of

5
by
Sadielib
from
I love this sweater!
i bought this sweater in black and i absolutely love it, so comfortable and flattering :) would recommend for sure!
Date published: 2017-04-06
Rated

2

out of

5
by
Luluaddict4924
from
Disappointed!
This sweater was a new favourite of mine when I first received it. After washing it the band at the bottom has shrivelled up and the whole sweater just looks frumpy and awful. I havent had any trouble with holes but that's probably because I only got a couple wears out of this sweater and probably won't wear it again. So disappointed that a sweater in this price point couldn't hold up more than a couple washes.
Date published: 2017-04-06
Rated

5

out of

5
by
dogmomof2
from
So good I bought 2!
I bought my first one (in grey) and I fell in love with it. So I had to go back and get another (blue). They are very light and airy. After I washed it and laid it out it did have some wrinkles, but nothing a steamer couldn't handle. It's a very flattering loose fit.
Date published: 2017-04-03
Rated

1

out of

5
by
TransplantedEastCoaster
from
The love didn't last
I loved this sweater when I tried it on... and for the first week of wearing it. It's light, fits great, and has a relaxed casual look that isn't frumpy. Unfortunately, just after I washed it, two small holes appeared at the top of the bottom band. It's really disappointing because I have a lot of lulu sweaters that have lasted really well. The sweaters aren't cheap, but because they last so well I don't usually mind spending that much. I expected the same from this sweater, but unfortunately it didn't deliver.
Date published: 2017-03-27