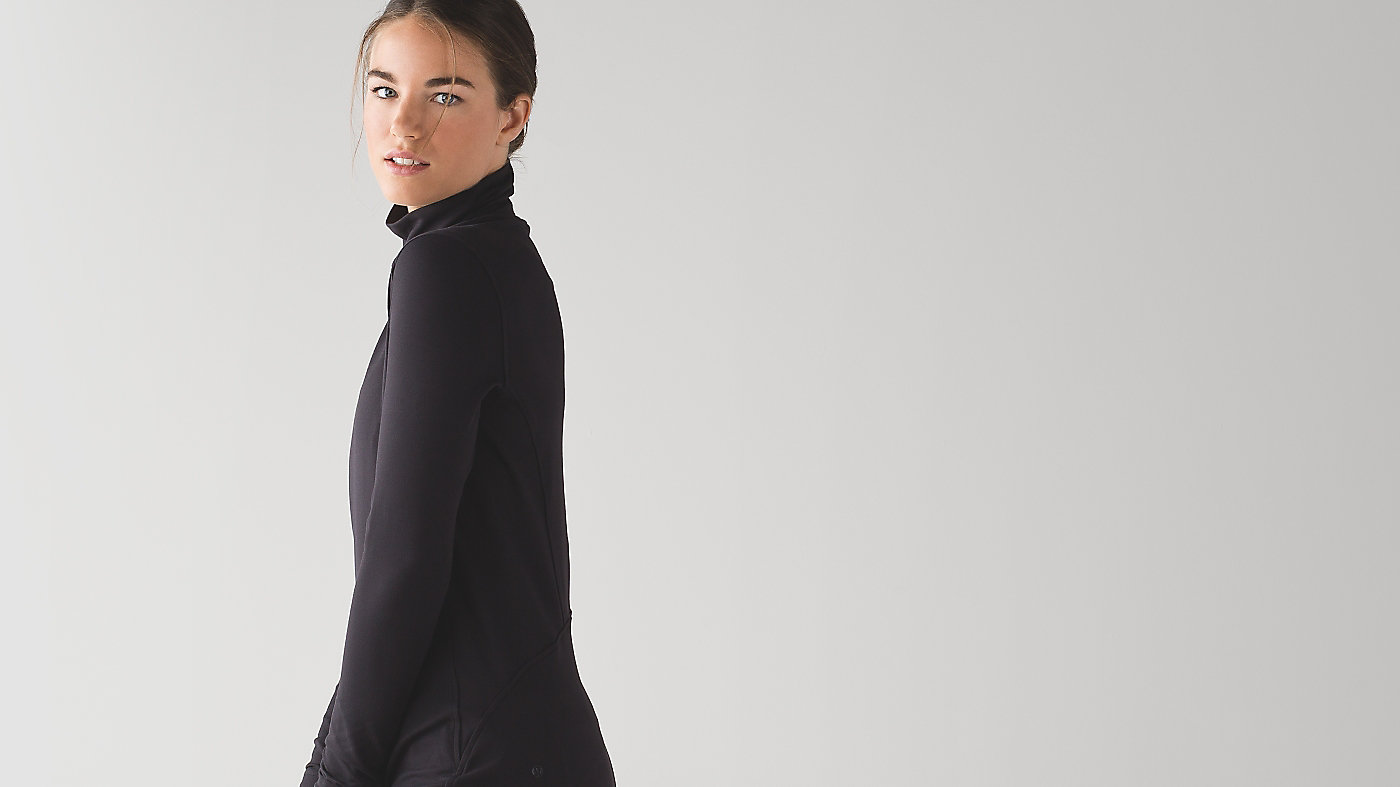 ---
lycra®
Added Lycra® fibre for stretch and shape retention
---
thumbholes
Help keep your sleeves in place and hands warm
---
slim fit
Makes layering easy and holds core heat close

Ready To Rulu Turtleneck
is rated out of
5
by
11
.
Rated

5

out of

5
by
liverbird
from
get it while you can
I love this top that I purchased on WMTM, don't know I'd pay full price though. I find the size 8 fits me perfectly 5'7" 145lbs and I'm getting tons of wear out of it.
Date published: 2017-01-09
Rated

4

out of

5
by
BavarianGirl
from
Rulu Mock Neck
One of my FEW purchases of Lulu this year - due to most new stuff is waaaay to short for me. This piece reminded me of Lulu in the past, long, lean streamlined, looks good from the back.... Soft movable, breathable fabric. This is outer layer winter gear for me here in Florida.. Will take to Europe as a layering piece. Lulu- please pay attention to what your customers are saying!! I am actually also R&D, you are still the leading manufacturer of workout wear in my book, there is plenty of competition out there, but no one gets it like you! You can make any size women look FABULOUS, due to your cuts !! I have noticed that the past year everything is so darn short... maybe that's what the ladies want, but I'm 5'10'' and its too short. Could you at least offer some longer tanks and jackets in between? Or offer tall on line. I have been wearing pretty much all Lulu for 8 some years, I miss some of your older shapes and lines, but your fabric has improved tremendously! Thanks!!
Date published: 2016-12-20
Rated

5

out of

5
by
houston1
from
Love love love this shirt
Bring on more colours. Such a great turtleneck. Fits true to size. Purchased in Black. Usual size small. Great for running errands. Wore it while shovelling snow and it kept me warm and kept the sweat away. Please keep this around and offer more colour options.
Date published: 2016-12-16
Rated

5

out of

5
by
leerex
from
So comfortable!
I don't have a long swan neck and I'm short which means I hate turtlenecks and though every instinct in me was to run away I caved at the mention of Rulu and I'm glad I did, as always a very warm and comfortable fabric that's so very soft. I bought this to wear to work and it stands up to my fairly physical job yet can be dressed up on the days I'm spending at the desk or in meetings. I do find I can overheat in this top if I wear another layer indoors which is too bad because it helps negate the turtleneck situation (did I mention I hate turtlenecks?). If you hate turtlenecks keep in mind the neck is loose and can be folded inwards keeping the lines of the top smooth and it gets it out of the way making the top look more like a mock neck, the comfort of the top in my opinion outweighs my style discomfort.
Date published: 2016-12-12
Rated

5

out of

5
by
Courtenay
from
Comfy, Warm turtleneck
This shirt is so comfortable, especially for a turtleneck. The fabric is soft, really soft. The fit is flattering so you can wear it with leggings if you want and not worry about it being skin tight which I like. It has some movement to it without being loose and sloppy. I really like it and will buy another one!
Date published: 2016-12-09
Rated

5

out of

5
by
kayjay
from
Soft mock turtleneck
I purchased this rulu mock turtleneck at full price. The turtleneck portion is not too high. The rulu is thick and warm. The styling is slender and flattering. I like the longer length and the added warmth for my hands with the thumbholes. Depending on the style, I fit a 4-6 in Lululemon tops. I purchased this one in size 4 (I do not have broad shoulders and I wear a 34A bra). I have worn this turtleneck to work and I have layered it over a tank top before and after my workouts. Even though this is listed as a to & from piece, I would wear it running in cooler weather. I wish this top came out in more plain solid colors. I bought another black one when I saw it at the local store for markdown price of $49.
Date published: 2016-12-07
Rated

4

out of

5
by
wowmom23
from
Soft and comfy
This MOCK-turtleneck just arrived today and I had to open it up. It is the softest material! I am a size 4 top usually and feel more comfy in a Lulu 6, especially because I lift weights, so I have some bulk in my shoulders. Anyway, I was worried about getting this in a 4 but it was on sale in WMTM - went for it and SO GLAD I DID. I like the longer length and just hope it holds up in the wash. I don't think I would have paid the original price for it but the sale price was more reasonable for such a basic top. I'm petite and I do think the arms are a but long, but that's ok by me.
Date published: 2016-12-06
Rated

3

out of

5
by
RiseAndShine
from
Not a Turtleneck - A Mock Neck
Tried this on in store today and found out it was a mock turtleneck, not a true turtleneck. You can see this in the pictures online, but it's not obvious (in my view). Nice TTS fit. I am between a 6 and an 8 and the 6 fit perfectly in a slim cut. Soft rulu is thin, but appropriately so for a piece you'll use for layering. Overall, a high quality, if basic, top. Original price was way too high, but current WMTM pricing is more reasonable. I found it cheaper in store and would have bought it, but I hate mock turtlenecks. I know they're making a comeback, but they still take me back to some of the worst fashion crimes of the '80s.
Date published: 2016-12-01
Rated

4

out of

5
by
leeaurac
from
Lovely and pricey
I love this top so much, it has a really smooth and buttery texture and I can't stop touching! It is also thick and snug, so its not sheer and will keep you warm. I like that the lulu logo is in black so it's not obvious that it's lulu. I love lulu, but hate how there's the logo all throughout my outfit sometimes so I have to mix and match other brands. I also find that this top doesn't look obviously sporty, so you can get away with wearing this top for other casual occasions. The top is also true to size and flatters my figure really well without being tight on me. The only complaint I have is the price. I understand that it is within the lululemon price range, but I feel like this top is really, really overpriced. It's a long sleeved tee, and doesn't have any special features or pockets, so just really basic... yet the price - not so basic. I am going to keep it and hope it lasts because I am addicted to it, but it's definitely not a necessity.
Date published: 2016-12-01
Rated

5

out of

5
by
Aimee12
from
Beautiful buttery soft turtle neck!
Love the material, so soft, fits TTS. Love the mock element in turtleneck so not as tight as regular turtlenecks. Will get lots of use from walks outside to day-to-day - I got the the jacquard white/black color and find it pretty and unique.
Date published: 2016-11-04