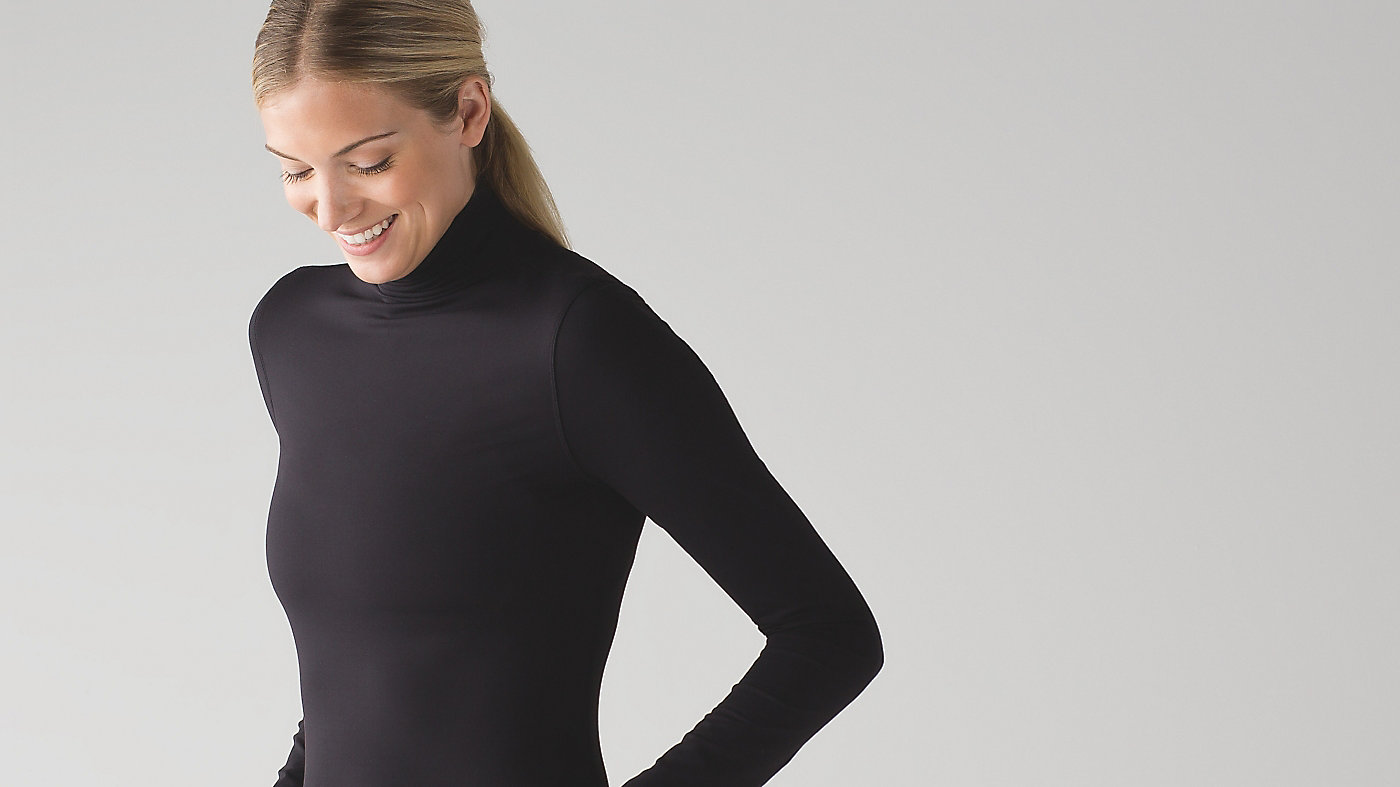 ---
---
slim fit
Makes layering easy and holds core heat close

Layer Me Turtleneck
is rated out of
5
by
8
.
Rated

5

out of

5
by
ToniS
from
The best turtleneck I've ever worn
This top runs true to size, like everything else lulu. fits snug, but doesn't feel tight. I usually don't care for turtlenecks as they feel constricting, but this one is so soft and light , it feels like another skin. Very flattering, shows off arm definition well! wear with vinyasa scarf, all the right places, and some cute uggs and you've got an outfit to go from yoga class out to dinner.
Date published: 2017-02-09
Rated

5

out of

5
by
runslikeagirl2
from
Terrific!
This is perhaps the perfect turtleneck...the neck is fitted without being too tight, super soft and no thumb holes! Was a bit concerned after reading the review regarding the material being too thin...it is the perfect weight to layer. The emperor blue is gorgeous.
Date published: 2017-02-04
Rated

4

out of

5
by
kittenpal1212
from
Happiness in a Turtleneck
So incredibly soft. The white was a little too sheer but the blue and black are great on their own, which is how I plan on wearing the one I purchased. It was a little painful spending the money but I have zero complaints and I think it will be worth it.
Date published: 2017-01-18
Rated

5

out of

5
by
DaisyLu
from
LOVE!!
A few seasons back Lulu made a turtleneck and I loved it, bought all 3 colors. But I was so happy to see a new better version come back this winter. And in all white!!! This turtleneck is snug, but not Swiftly snug. It is a perfect layering shirt. I love that its not bulky so I can wear it under the Define jacket. Also LOVE that there arent alot of seams. Some tops these days have so many panels, but that causes these big itchy seams that drive me nuts. Also sleeve length is NORMAL!!! So many Lulu tops have thumbholes (which I never use) and that results in extremely long sleeve lengths. I am so tired of this because I have to roll them, & the jacket, so then I have 4 layers of fabric around my wrist and I cant read my watch. Its too tight. But this top is perfect! Love the white, and that its a nice bright, clean looking white! Its a bit see thru, so you need to make sure your "covered" and it does show every inch of you, so you may want to try the next size up. I normally get an 8 in tops and a 10 in jackets, and I bought a 10 in this top. Material is super soft, and the neck area isnt real snug where it feels like its choking you. All in all I am thrilled I bought this, and that I found it on sale in store. On a side note...I am seeing alot of tops and bottoms go up in price and down in the quality of the fabric. Lulu needs to stop decreasing the quality of the fabrics or all us girls are going to go elsewhere. I just got a pair of unlined Studio pants that are so thin and cheap feeling, and they were $19 more than the older pair I had. Something has to be done!
Date published: 2017-01-12
Rated

5

out of

5
by
Padds
from
Perfect T-Neck
I love this top! I wear it with my "normal" clothes because it fits nicely, and it doesn't choke you! Wear it alone or layer it; it all works! I hope the perfect off-white color stays crisp for a long time.
Date published: 2016-12-30
Rated

5

out of

5
by
Run4Therapy
from
Layering Possibilities Are Endless....
Bought this to wear under the City Bound Turtleneck and am so glad I did! It is a perfect light layer that wears well with a Vinyasa Scarf or Wrap with jeans and boots.. I also like to layer it under the Insculpt Vest and the Getaway Crew. Have also worn the Vinyasa Wrap as a middle layer. It is a perfect fit with dress pants and the Vinyasa Scarf for more formal occasions as well. Definitely love it and am so glad I grabbed it when I stopped in!
Date published: 2016-11-22
Rated

4

out of

5
by
etaylor872015
from
Longer sleeves please!
I love that lulu is coming out with turtleneck products! I hope they continue to do so! I bought this shirt in emperor blue (beautiful color) and love the fit. I understand that some people don't like how thin the fabric is but honestly, it's nice to have some selection. I can't find nice looking turtleneck shirts in many stores anyway. So lulu is always my go-to! I would like to see longer sleeves! One of the reasons I love lulu so much is because of the thumb holes/ cuffins/ long sleeves... etc they usually have on their shirts. I was disappointed that I finally found a fitted turtleneck shirt but the sleeves weren't as long! More colors are a must. Angel wing, a light pink, emperor blue, deep indigo, iris flower... NO heathering and NO prints, just solid colors. Black and white aren't always necessary.
Date published: 2016-10-31
Rated

2

out of

5
by
Run4Paws
from
Too Basic for the Price
I was going to order the emperor blue one (gorgeous color!), but decided to visit my store to see it and try on in person. I'm glad I didn't jump the gun on this one. It is super basic, lacking any special Lulu details, too thin, and does not feel like Rulu light at all to me. I left it behind and not sure I'd pay more than $19 for it.
Date published: 2016-10-26