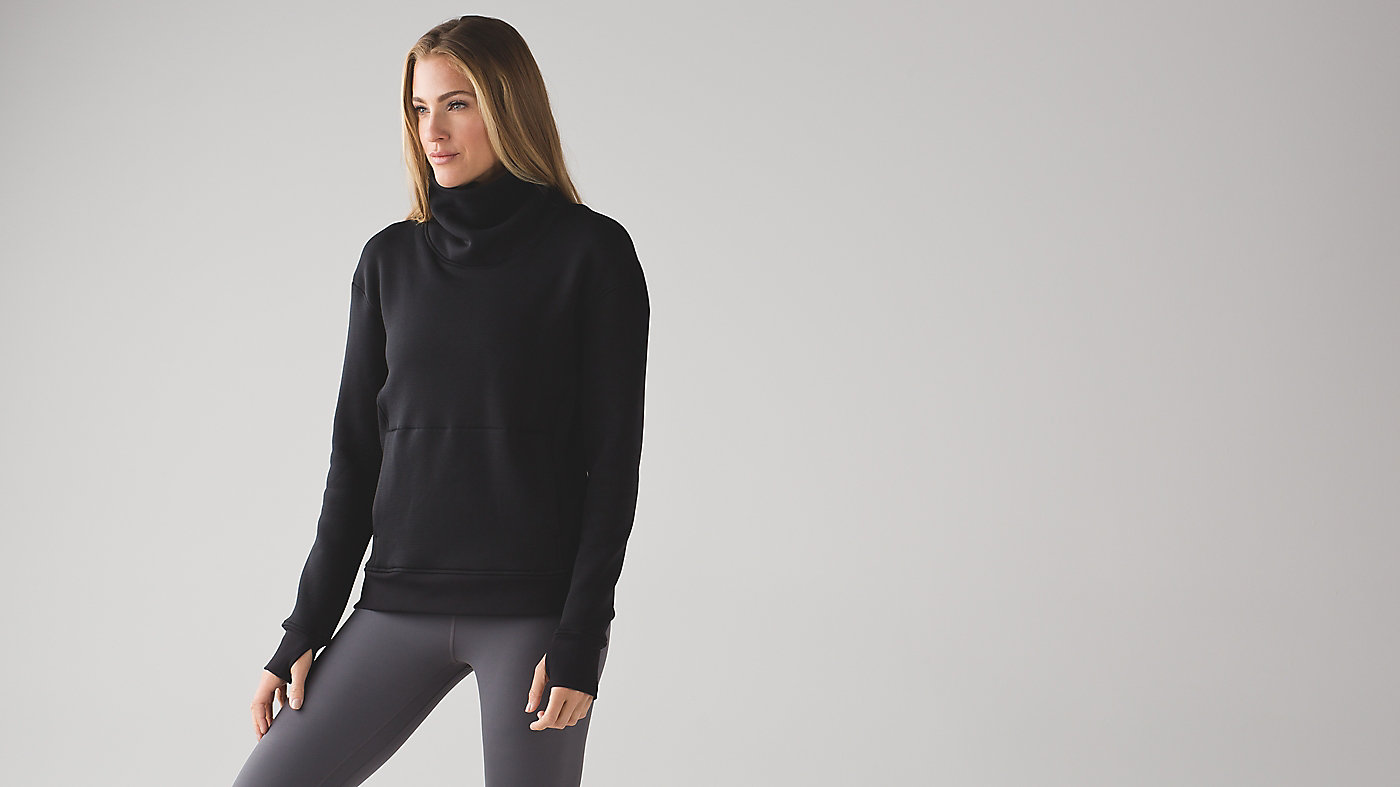 ---
thumbholes
Help keep your sleeves in place and hands warm
---
media pocket
Lets you keep your tunes on hand
---
Locker Loop
Locker loop makes for easy hanging

Kick The Cold Funnel Neck
is rated out of
5
by
39
.
Rated

1

out of

5
by
NotaLuluFan
from
disappointed again
I just ordered this and was so excited. I think it may be a bit big, despite ordering my usual top size but with the super relaxed fit I probably could have gone down a size. I had no idea I could not return items from the We Made Too Much section until reading these reviews. The lettering at the top of the page does not stand out in anyway, nor when I was checking out did it say Final Sale. I have not been too happy with any of the Lulu items I have gotten. I really don't see what all he hype is about and will likely never buy anything in the future.
Date published: 2017-05-26
Rated

3

out of

5
by
maddiea
from
great but snags
I love everything about this sweater except for the fact that it snags quite easily. Ive only had it for about 2-3 months and have not worn it heavily but have noticed that the material snags a lot . It is an awesome sweater, very warm and i love the style, but the snagging is a major let down for this piece.
Date published: 2017-05-12
Rated

4

out of

5
by
Gottabeanurse
from
Perfect For What I Need
Okay I never would have paid full price for this top and I don't think it's a fashion piece - but - I knew it would be perfect for layering under my motorcycle jacket when needed to keep the chill out. The neck meets the bottom of my helmet and the keyhole sleeves are extra protection under my gloves. It's comfortable and functional. The kangaroo pocket is really handy on long trips so I don't always have to be digging into my saddlebags for small items like my phone. I agree with other reviewers that the shoulders are weird but this topkeeps the wind and damp out and my neck warm, so I'm happy.
Date published: 2017-05-03
Rated

3

out of

5
by
GpMomma
from
Love it but what's with the shoulders??!!!
Other than the super awkward shoulders this would be a great sweater. I love the softness and how comfy it is ...again...shoulders are waaay off unless the 90s shoulder pads are making a comeback?
Date published: 2017-04-20
Rated

5

out of

5
by
Whennie
from
Comfy sweater for lounging or on the go
I love this sweater & it is exactly polar tech material. I understand how it may not fit well on some people. However, if you are long & lean (I'm 5'8" 135 lbs) the fit is great. I ordered size 6 & it's cozy & comfy, not tight. It also works well on my angular shoulders. The angled pocket inside the front pocket so my phone or iPod can't fall out is a great feature!
Date published: 2017-04-16
Rated

4

out of

5
by
rennrenn
from
Kick the Cold
This pullover is warm and roomy. I went with my regular size 6 and wouldn't recommend sizing up. There is a little something weird going on with the shoulders but overall it's a great buy on the WMTM page. I love that there are 2 pockets inside the kangaroo pocket; one is sewn on top of the other. The pockets are perfect for a cell phone and credit card.
Date published: 2017-04-13
Rated

1

out of

5
by
Allyd
from
Another Disapointment
I was hesitant to order because I haven't been happy with the last few items I've got. Truth be told I haven't wanted to buy any tops since they changed the scuba hoodie for a third time. I will not officially never order from We Made Too Much Again. The sweater is HUGE! It's nowhere near a size 10. The shoulders wouldn't fit a quarterback wearing full equipment. And the points make me feel like I'm wearing a space sweater. I really hope it's incredibly warm because the only purpose I will have for it will be to wear it under my jacket so no one can see it. Such a disappointment. I miss the old Lululemon.
Date published: 2017-03-07
Rated

1

out of

5
by
Newtololoo
from
Kick the cold not so much...
This was my 1st Lulu purchase and I was so excited to get it. While it is nice and cozy, the fit is very odd. The drop shoulders are sewn weirdly and they stick out at the seams making it look like you have wings. Because of the seam placement when you lift your arms the whole upper third of the sweater lifts with it. I ordered a 6 so i could have a LITTLE extra room....I should have stuck with a size 4. It's incredibly boxy for my 5.5' 125lb frame. Sadly, I am disappointed with my first purchase and can't exchange. If I buy another Lulu piece I think I'll stick to regular priced items and will buy in store to avoid buyers remorse. Good buy $60 :(
Date published: 2017-02-27
Rated

5

out of

5
by
MaddRunner
from
Amazing pullover!
I bought this a size larger than I normally do (8 instead of 6), based on the other reviews & I absolutely love the fit. It is very soft, warm and cozy and it fits a little loose - just how I would like a pullover to be. I am not sure that I will take it off! For reference I am 5'8" and about 155lbs. It is very lightweight & very warm.
Date published: 2017-02-24
Rated

5

out of

5
by
Jojojoto
from
Warm and Cozy!!!!
I just love this sweater! It is very warm and I love The funnel neck! It's like wearing a very warm scarf! Bought it in black and I wish I would have bought it in the navy and purple to!!
Date published: 2017-02-23