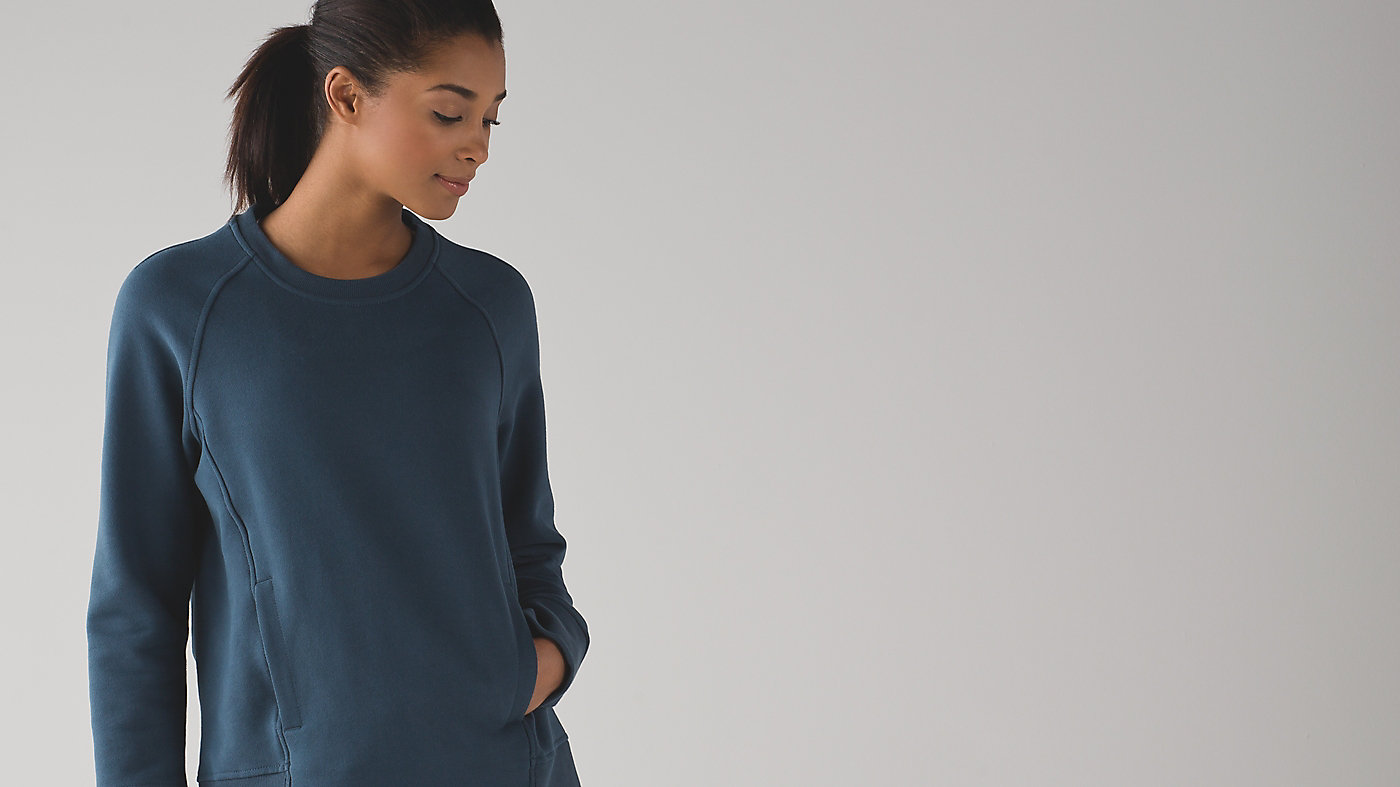 ---
kangaroo pocket
For easy access to your essentials
---
hidden pocket
Stash your essentials in the hidden pocket
---
Locker Loop
Locker loop makes for easy hanging
---
relaxed fit
Gives you room to move without restriction

Back To It Crew
is rated out of
5
by
19
.
Rated

2

out of

5
by
jillie23
from
weird/defective/awkward neck line
I have a ton of crew neck sweatshirts from lulu and I love them all. I tried this on in the store and the neck line stood straight up, away from my neck, without laying flat, for several inches. I didn't bother trying to size up because the rest of it fit nicely and it just seemed like there was an obvious design flaw. Obviously skipped it.
Date published: 2017-05-26
Rated

3

out of

5
by
Wrigs
from
Cozy but fades after washing
I bought this in the hero blue color and would agree with others that it is a cozy and comfy sweatshirt. I ordered a size up and had minimal issues with the strange neck/collar that is mentioned in other reviews. However, the color of the sweatshirt was beautiful when I got it but after just 2 or 3 cold water washes and only being hung to dry, the top has faded immensely and isn't near the same color as when I got it. Even though this WMTM is priced well, it is not worth what you will be left with after you wash it....I am very disappointed and wish I would have saved my money for something better!
Date published: 2017-05-15
Rated

2

out of

5
by
Coldrunnermontreal
from
Neckline design issues
I ordered this sweater on the WMTM and I chose to ignore the reviews about the weird neckline. Well I shouldn't have. It is true that the neckline does not sit on the neck and hangs 2 inches from its normal position. I have very narrow shouders and it feels as if the shoulders were designed too snug and then the neckline is just not sitting in its proper position. I think they probably pinned or sized up the sweater on the model because there is no way the neckline fits. I should have listened to the reviews. This sweater really does not look as advertised. Very disappointed :-(
Date published: 2017-04-14
Rated

2

out of

5
by
Peachgirl
from
/color quickly fades away
It soft and comfy but the color quickly fades away after a couple of washes. Also the neck line doesn't sit right on the neck, it rather stays upright.
Date published: 2017-04-11
Rated

5

out of

5
by
GpMomma
from
New Fave!
Was a little hesitant to purchase even at $59 but was totally surprised at how amazing it fits and cozy it feels! Love!!!! Love!!! Love!!!!
Date published: 2017-04-03
Rated

5

out of

5
by
HopeD
from
Amazing Crew
I love this crew! I was looking for a comfortable yet stylish crew to wear to and from yoga and out and about! I definitely found it with this crew! The fit is perfect!. If I had more money I would buy it in all the colors!
Date published: 2017-03-31
Rated

5

out of

5
by
sarahb358
from
The perfect layer
I literally wear it almost every day. Love that it's shorter on the torso and not too long on my arms. In my opinion, it is the perfect fit. Some have described it as "too tight" but it's not supposed to be a baggy sweatshirt. I would highly recommend.
Date published: 2017-03-26
Rated

2

out of

5
by
tfia
from
DEFECTIVE...
Welp... looks like I got a defective one... Really sucks because its great in every other way. What gives lulu? I know there aren't many women with massive traps buying these...
Date published: 2017-03-24
Rated

5

out of

5
by
RunningMamaPhD
from
Perfect Crewneck Sweatshirt!
So I tried this sweatshirt on in the store more than once, and I think this saved me from many of the problems recounted by others on here, but hopefully I can help by giving specifics here. And let me say, I had never bought a crewneck sweatshirt in all my 30+ years until this one. I bought the purple in a size 10 and then later the blue in a size 12, and I think I prefer the purple's torso fit better, but the extra inch or so of sleeve length is great on the blue despite its being a bit too loose around my middle. But I did not buy a sweatshirt to look cute, I bought it to keep me warm and offer a place to stick my hands/phone/subway card/tissues for toddler noses. I simply adore these sweatshirts, so much so I have to remind myself not to wear them everyday. I tend to get sweaty in the upper chest area when running for the bus, so I like scoop neck shirts, and with adjusting the shoulders forward a bit, this gives me that breathing room and a flattering mini-scoop neck. I also tend to have problems finding long enough sleeves for my very long arms, but with the blue they are long enough to keep my wrists warm, but I can fold up the large cuff for a bit of air if needed. And even the purple one's sleeves are a pretty good length, only pulling up a bit when I reach for something over shoulder height. I usually wear these over either one of the long sleeve swiftly tech shirts or a regular t-shirt and I feel comfortable despite having thicker upper arms. Yes, I definitely feel they are priced too high - in store, on sale they are listed at $69! So online the price is much better and more like what I felt the cost should be at $50. But, considering the convenient and well designed position of the kangaroo pocket, the softness of the interior's brushed surface, and the warm cozy feeling they give me, I still consider them the perfect crew neck sweatshirt. For size comparisons, I am about 162lbs, 5'8" tall, I wear 34DD, waist 30", average dress size 10, average t-shirt size large in women's fit, small if its a man's t-shirt, Levis skinny jeans 31 x 34. FYI: I thought I would want the black too, but it is a bit washed out looking in person, and I thought that at a cost of $69, the color might get worse with time and drive me crazy. The purple is a gorgeous rich color in person, and I call the blue a stormy ocean blue because that's what it evokes in person, very nice. Hope all this helps!
Date published: 2017-03-17
Rated

2

out of

5
by
hjane
from
Product is nothing like the model
Okay the models must have sized up or something because I am a 6 in all of their tops. 6 is seriously the perfect fit. However, I was so disappointed when I received this. I was wanting a baggy comfy crew neck. This was rather tight on my shoulders and chest. It was not a baggy/relaxed fit. If I sized up I probably would have loved it maybe, The fit was a perfect baggy around my waist and but little shorter than I liked. The sleeves were also incredibly short. When I raised my arm it went to half of my forearm. I do not recommend buying this online. Try this on in store if possible. I didn't have a weird neckline problem. Mine was just too tight on my shoulders and chest. Really sad this didnt work out.
Date published: 2017-03-12