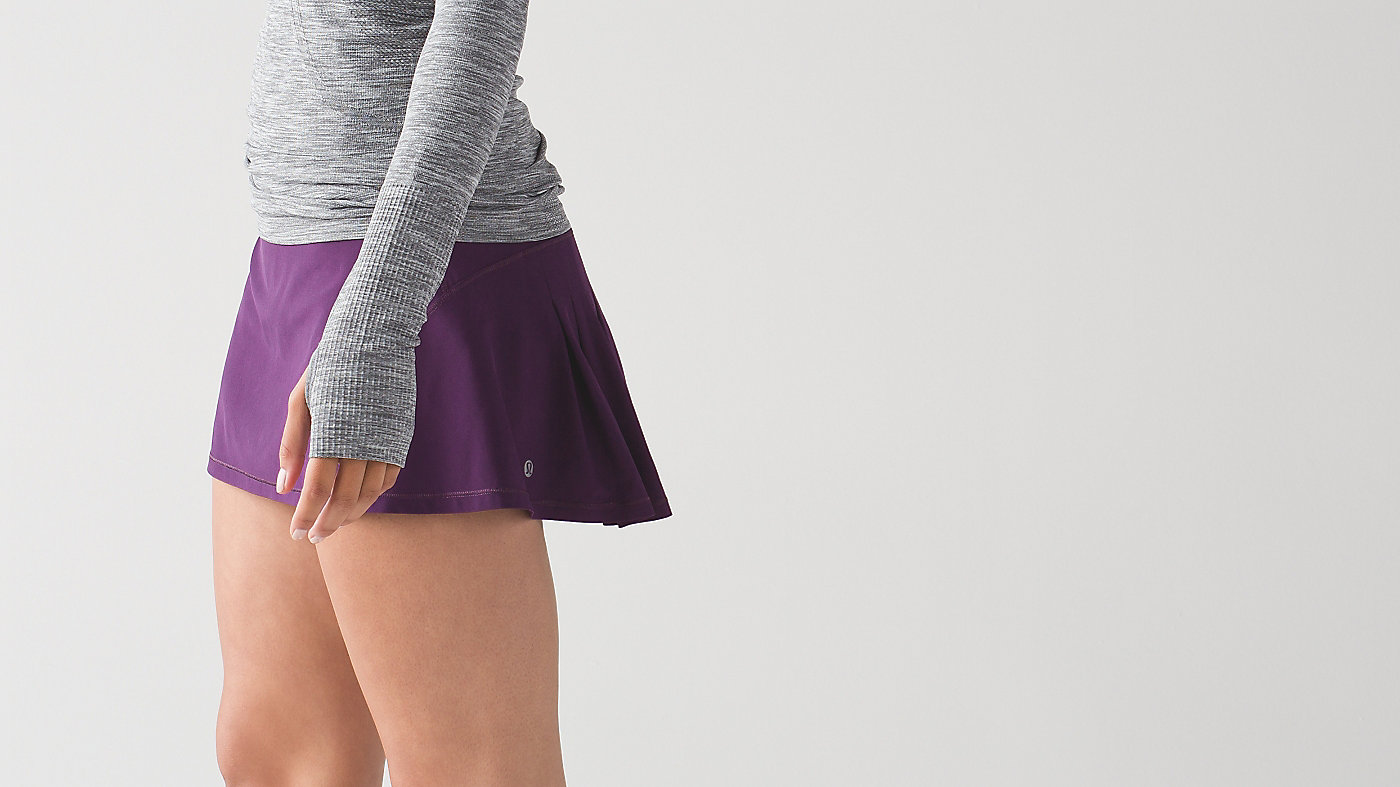 ---
above-knee length
Keeps you covered and comfortable
---
silicone grip
On the inside keeps it in place
---
lycra®
Added Lycra® fibre for stretch and shape retention
---
three-pocket waistband
Gives you plenty of storage options
---
medium-rise
For coverage and cool comfort
---
hugged sensation
Engineered to feel like a comfortable embrace throughout—it holds you close and moves with you
---

Circuit Breaker Skirt (Regular)
is rated out of
5
by
15
.
Rated

1

out of

5
by
lululoyalist1
from
Flimsy and Terrible FIt!!!
I was so excited to receive this to replace a lulu favorite, but was so disappointed in the quality :( The fabric was so flimsy and it wasn't even hemmed as shown on the website. I'm consistently a size 6, but this skirt made me look like I was jamming myself into one that was at least one size, if not two, too small. This was a definite return, no doubt about it! Lululemon - please offer more skirt choices!!
Date published: 2017-06-04
Rated

3

out of

5
by
lala73
from
Okay skirt, not for all body types
I really miss the Pace Rival Skirt. It was the perfect tennis skirt for every body. This skirt is too flimsy. If you have a tummy pooch, it is unforgiving in that area. Also, the leg grippers do not stay put. Please bring back the Pace Rival Skirt. : )
Date published: 2017-05-24
Rated

5

out of

5
by
Mamakat
from
Love this skirt
I love this skirt! Very light weight and comfortable. The shorts stay in place during the longest and hottest of matches!!
Date published: 2017-05-06
Rated

5

out of

5
by
Fitchic1960
from
Love
Love this skirt. I have it in every color. I use it to play tennis and run in. I'm 5'2 and the regular length is perfect. Very comfortable.
Date published: 2017-04-06
Rated

1

out of

5
by
DCLauren
from
Short grippers don't grip!
Shorts don't stay put! The grippers don't work and they ride up. I play team tennis and always looking for new skirts. Wore this one once and won't wear again b/c it doesn't function on the court. The skirt also flairs out on the sides instead of laying flat... not flattering.
Date published: 2017-04-01
Rated

4

out of

5
by
Himpie
from
Well Designed
I wear skorts for everything, esp for runs (over 13 yrs), golfing, and casual bike rides. I'm 5'0", 130 lbs, size 6. I love the fit and feel. Since I wear these around, I travel w/them. I've jogged in them, feel very dry, and wear them out sight-seeing, etc. The pleats in the back wrinkles but it's casual wear. The front does not get caught btwn the legs while in motion. It's one of those pieces that you put on, look cute, and feel comfortable and confident. The gripper on the legs do get tight but I turn them up when I'm not on a jog. This is a very important function to have because everything rides up my legs on a jog. My only complaint is that there are no side pockets on the legs. Otherwise, it's an almost perfect skort. Thank you.
Date published: 2017-03-19
Rated

2

out of

5
by
ARSeegert
from
Please bring back the Pace Setter!
I really want to love these, but they are not nearly as flattering as the Pace Setter was. I feel like this adds weight to my rear and hips. The Pace Setter laid better against my hips instead of sticking out like this does. I have this in multiple colors and all fit the same, the style just doesn't flatter my body.
Date published: 2017-02-20
Rated

1

out of

5
by
Watersport
from
NOT FLATTERING AND TOO MUCH MATERIAL
PLEASE MAKE THE HIT TO STRIDE AND PLEAT TO STREET II SKIRTS. THIS STYLE HAS TOO MUCH MATERIAL IN THE BEHIND AND THE SIDE SEAMS THAT EXTEND TO THE FRONT ARE EXTREMELY UNFLATTERING AND CREATE THE APPEARANCE OF LARGE HIPS AND THIGHS AND WITH SO MUCH MATERIAL BEHIND A LARGE BOTTOM.
Date published: 2017-02-10
Rated

3

out of

5
by
ABH2o
from
White + stitching on fornt of shorts = no thank you
After needing a new tennis skirt and the pace setter not being available I choose the circuit breaker. It fit a little less snug than the pace setter, shorts didn't ride or dig into my thighs, but not loose enough for it to be an issue. I also like that the front of the skirt lays flat and the flare is in the back :) BUT what I cannot get over is the seam for the shorts is right in front and you can see it plain as day under the skirt. I would feel self conscious if I kept this color.
Date published: 2017-01-11
Rated

5

out of

5
by
jafrizze
from
Great tennis skirt
Love the stretch in the material on this skirt. Fit isn't too tight and the front of the skirt lays really nicely. Pleats at the back add some extra room and add just a tad of length. They aren't quite as crisp as the old Pace Setter or Speed skirt, but I much prefer this design over the Pace Rival and other skirts. Gripper works well and skirt is really comfortable overall. I love the colors that they have come out with...only problem is which one to get! Nice nod back to the classic Pace Setter, which still is a fav.
Date published: 2016-11-21