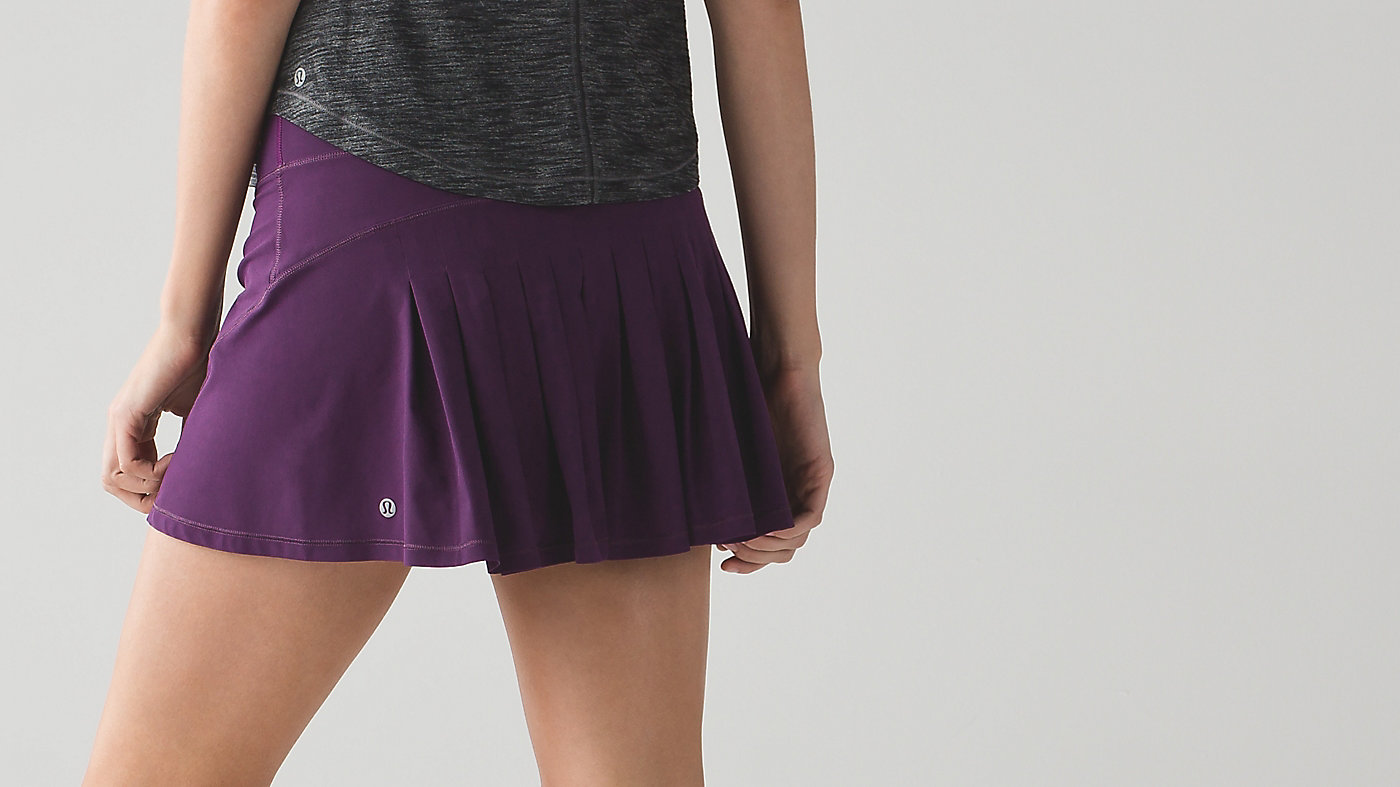 ---
above-knee length
Keeps you covered and comfortable
---
silicone grip
On the inside keeps it in place
---
lycra®
Added Lycra® fibre for stretch and shape retention
---
three-pocket waistband
Gives you plenty of storage options
---
medium-rise
For coverage and cool comfort
---
hugged sensation
Engineered to feel like a comfortable embrace throughout—it holds you close and moves with you
---

Circuit Breaker Skirt (Tall)
is rated out of
5
by
12
.
Rated

5

out of

5
by
AZtennisplayer
from
Why are you not making more ot these
I love Lulu skirts for tennis. I have tons of them in my closet.... Why aren't you making more prints like you used to. Those of us in the tennis community whom are loyal fans are missing your creativity...and are frustrated by the lack of new patterns. You had a winning formula.....what happened????? We are all looking for a new favorite. You are loosing brand loyalty......... Does that matter to you?????? Smarten up understand who your market is.
Date published: 2017-06-16
Rated

5

out of

5
by
fallingapart
from
Flirty, flattering running skirt
I'm 5"3 and have five Circuit Breaker Skirts in Regular and Tall. I now stick to the Tall version as it's less revealing (guys stare with the shorter length, which makes me uncomfortable), yet still fun and flirty with the pleats, so I can wear it out and not just for runs. The grippers are excellent and the liner shorts stay in place on runs as long as a half-marathon (but it was soaking wet in sweat after 21km at 82 deg F, so I wouldn't recommend it for such long runs at such temperatures). I went with my original size 6 at first, but the waist is slightly loose and I need to tighten the waistband strap, so I sized down to a 4 for my other skirts. Size 4 fits perfectly in the waist, but is a teeny bit tight around the belly. However, it doesn't fall during runs and a longer shirt covers any hint of a belly. I love the skirt so much I bought one for a running buddy. Would be perfect if there was a pocket for a phone on the side of the liner shorts, as I still have to use my FlipBelt to carry my phone.
Date published: 2017-05-16
Rated

5

out of

5
by
nandanapoli
from
sport chic for runners
Just finished running in the Paris Marathon in the circuit breaker skirt. It was perfect for a 75 degree run. The skirt stayed in place and was very comfortable the entire run. I wish the skirt came in more fun colors. If you love running in skirts , this skirt is for you.
Date published: 2017-04-12
Rated

2

out of

5
by
saguarohit
from
Inseam in TALL is 13" only, NOT 15". Disappointing!
I bought this skirt in Hero Blue color, in so-called TALL. After receiving I measured length. It turned out - this skirt is 13 inches long only (from waist to bottom) at the front and 14 inches long on the back. So, why it is named TALL? This skirt is labeled TALL which means - there is no wrong size was sent to me, no error. Why such inaccurate measurements? More than that, I had this same skirt in black&white print which I bought a few months ago and I compared to this latest skirt in Blue Hero. My old black&white skirt is an inch wider. I mean, it's not only about inseam inaccuracy, it's smaller in size as well. I could still wear this blue skirt, but it's not as comfortable as my skirt of older version. If this latest skirt would be true to size, as described 15" long- it will be significantly different. I'm sure Lulu would sell a lot more if they make slightly longer version of this skirt. Why not making in Petite, Regular and Tall length? I'm 5'4", 120 lbs, purchased this item in size 6.
Date published: 2017-02-09
Rated

5

out of

5
by
eseascaper7
from
Circuit Breaker skort
Love this...comfy and more discreet than just shorts...I use it for running and hiking too....
Date published: 2017-02-07
Rated

5

out of

5
by
gencourtney
from
Amazing for Golf!
Finally a skirt that rivals the PaceSetter! I'm a college golfer who loves lulu skirts. They're reliable, sweat-proof, and always look sharp. Ever since they stopped making the Pacesetter I've been looking for a repacement... and this is it! Feels great and looks great.
Date published: 2017-01-27
Rated

2

out of

5
by
trpltbl
from
This skort is not 15" as described.
This skirt is described as Tall and with a 15" inseam. Incorrect. The inseam is 13" not 15". I bought this skort for golf. Too bad. It's a cute skort but much too short for the club.
Date published: 2016-12-01
Rated

5

out of

5
by
NatCatTor
from
Perfect for Tennis
I love all the Tall Lulu skirts... the Pace Setter, Pace Rival, and now the Circuit Breaker. You can safely bend over to pick up a ball without exposing yourself! Great length. Nice, lightweight fabric and flattering posterior ruffles. Just wish there was more availability with patterns!!! Please make more patterns!!!
Date published: 2016-09-28
Rated

5

out of

5
by
MegD
from
Love this skirt!
I just received this skirt as a birthday present. I'm SO glad Lulu is making tall skirts. I'm about 5'9'' and the regular fit is too short on me but the tall is absolutely perfect. I wear this skirt to play tennis but also casually with the swifty tank when I'm out and about. I have a very athletic frame (small waist, stronger/thicker thighs) and found that my usual size 6 fits perfect.
Date published: 2016-09-04
Rated

4

out of

5
by
IronChrissy
from
LOVE!
I love this skirt, although I do use it more for casual wear than working out (running errands, training clients). It's very comfortable and runs true to size. I think it's super cute and I love running around in it! I do feel if I tried to run in it, the shorts portion would run up - doesn't feel like a secure fit to stay for an activity running.
Date published: 2016-08-29