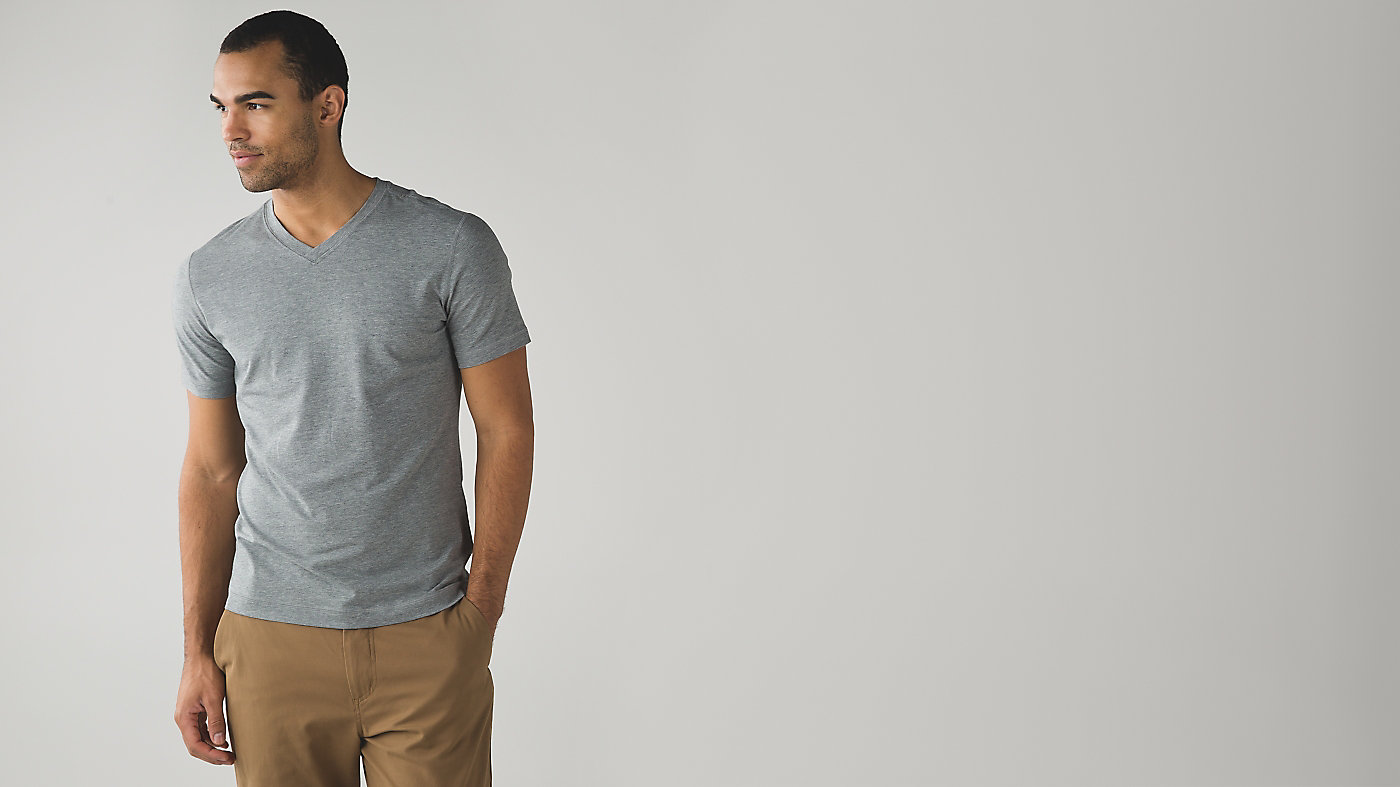 ---
lycra®
Added Lycra® fibre for stretch and shape retention

5 Year Basic V
is rated out of
5
by
81
.
Rated

1

out of

5
by
Walk
from
5 year...more like 5 weeks
Very disappointed - this was my favorite shirt until I washed it a few times (strictly following the instructions). It stretched and lost its shape, and definitely doesn't fit right. I was ready to buy more of these, but won't be doing so unless some serious quality control is put in place.
Date published: 2017-06-20
Rated

3

out of

5
by
Oysterking
from
Bring back the graphic designs
Love the "5 years Basic", but it's getting a bit boring after a while with only different color options. It would be great if you can bring back more graphic and pattern designs to this tee. It would be a great addition to the lineup. Please....
Date published: 2017-06-19
Rated

2

out of

5
by
carunner78
from
Great fabric, but faded after only two washes :-(
I am a hard core Lulu enthusiast, and was thrilled to find this shirt. The fabric is great & it transitions nicely to a casual afternoon. However, I was saddened when after only two washes the black color faded and no longer looked good with my black lulu pants. I never even used it for a workout - only wore it casually with shorts. Also, I only wash in cold and always hang dry to help my clothing look great longer, so this came as a shock. Hoping this can be improved as I really want to "love" this item and purchase a better version in the future.
Date published: 2017-06-07
Rated

1

out of

5
by
phamily
from
poor quality and losing shape, definitely not a 5yr tee
Bought 2 of these for my husband last year and they've completely lost their shape. We've cared for these shirts as instructed but now the neck and arm openings have overstretched so much and can no longer rebound. Its very disappointing, based on so many of the reviews that these shirts continue to have this problem. His other Lululemon shirts are still great. Confident to say that we will no longer be investing in anymore of these '5 year' tees.
Date published: 2017-06-01
Rated

1

out of

5
by
jhilde15
from
Not the quality they used to be
I fell in love with the 5 year V a few years back and bought several colors. I was very disappointed when I was no longer able to buy new ones a year later. These shirts are high quality and hold up the test of time and could easily justify the $60 price tag. However, LuLu came through and started selling the 5 year v again and I could not have been more happy. I recently bought two 5 year v's in the white color and the quality I came to love seems to no longer exist with this shirt. One of them has completely yellowed after two wears and the fabric has lost its shaping/quality. The second one, after one wear and wash has yellow spots all over it (I don't sweat that much and basic white t-shirts hold up better than this) and the fabric has seemed to have lost some of its stretch already. I wash these on gentle, in cold water and hang dry...would not expect this lack of quality in such an expensive project. Please go back to making these shirts like you used too....I still have several that are a few years old and have held up great and not yellowed.
Date published: 2017-05-30
Rated

1

out of

5
by
Jack0615
from
Bacon Neck
The Shirt is very soft and it is one of my favorite shirts when i first purchased it. now after a year both of my shirts necks are stretched out and look terrible. i can not wear these shirts just after a couple washes.
Date published: 2017-05-30
Rated

1

out of

5
by
FitnessDad
from
Wanted to love it, but definitely not a 5 year fit
When I initially bought this shirt, the fit and feel surpassed any t-shirt I had ever purchased - it became my go to shirt. After 1 year of ocassional wear (twice a month), the shirt stretched out in length and width. If that wasn't bad enough,, the neckline is mishapen and sloppy. It now sits on a shelf because I can't get myself to the point to throw out a $58 "t-shirt".
Date published: 2017-05-25
Rated

3

out of

5
by
Growwwll
from
Comfy T
It's simple, light and comfortable. No logos, understated.
Date published: 2017-05-25
Rated

1

out of

5
by
JoeSmith
from
Great at First-Stretches out later
This shirt was great at first, but after a few washes, it stretched out in the V -neck.. I've only worn mine about 6 times, and it looks sloppy around my neck. Advertised as a 5 year T but only lasted me about two months. For $64, I expect much better quality.
Date published: 2017-04-29
Rated

2

out of

5
by
Hotpotofcoffee
from
Great at First.
I really loved these shirts at first and purchased a couple of them last summer. Super comfortable. Now, it hasn't even been a year and with minimal use the shirt now covers below my butt (not my preference) because it has stretched out. I haven't had any issues with the collar as I've read on other reviews but the shirt is now 6 inches longer than when I bought it. I follow the laundry directions to a T with all my Lulu stuff and this one just doesn't seem to have the correct material blend I would guess to keep its shape. Other Lulu tees, no problem but different material and feel of course. I really wanted these to last 5 years because they were awesome....at first. Wrong name for the product in retrospect.
Date published: 2017-04-24