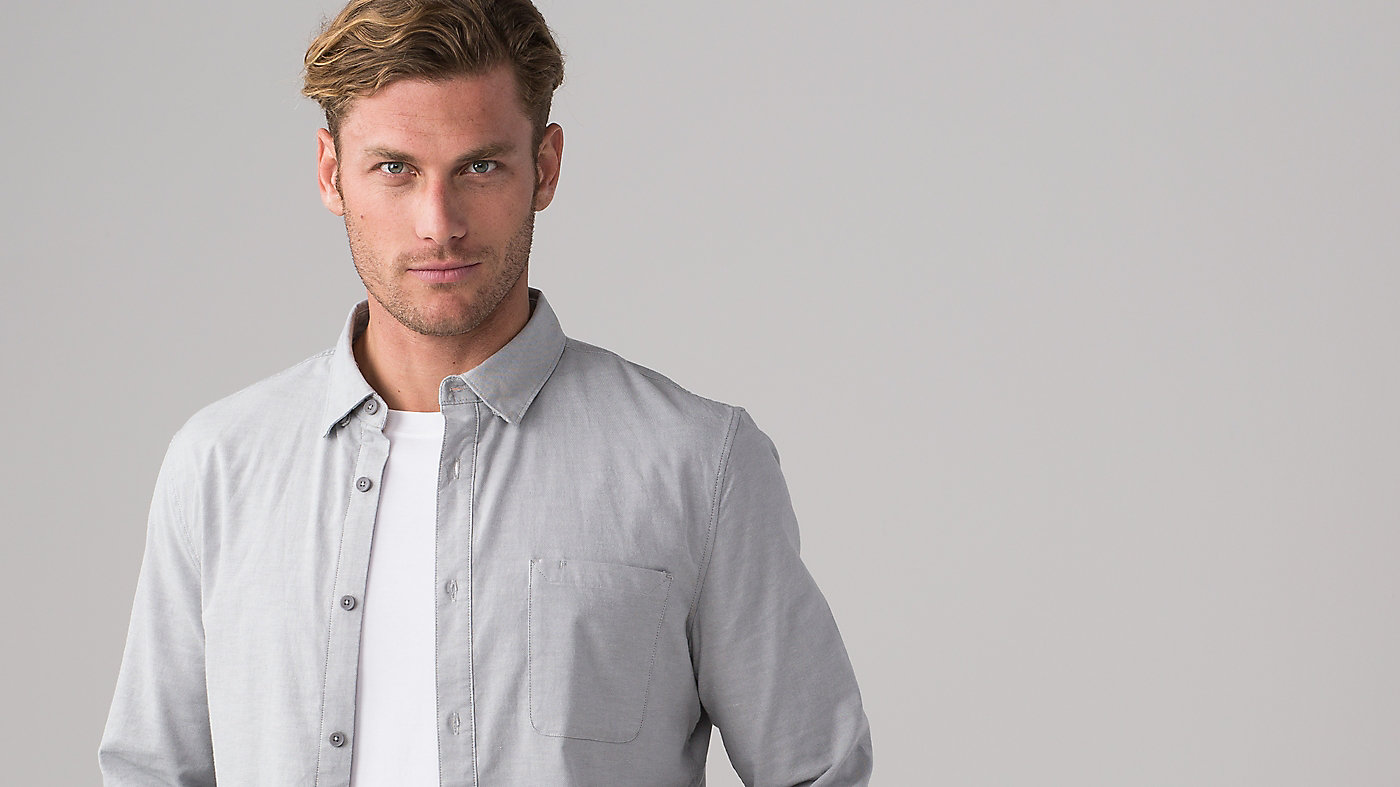 ---
lycra®
Added Lycra® fibre for stretch and shape retention
---
no-show buttons
Hidden buttons help to keep the collar in place

Commission Long Sleeve Button Down *Qwick Oxford
is rated out of
5
by
36
.
Rated

2

out of

5
by
Lscag
from
Great shirt, terrible buttons
I've had the same issue as many others - these are great shirts, except for the buttons. I have two of these shirts, along with the breezy button-down (similar shirt but has a mandarin collar), and ALL of them have had multiple buttons break in half. I literally just went to put on my most recently purchased commission LS buttondown and it had 3 buttons that broke in half. The shirt is roughly 6 months old and now its unwearable unless I have all the buttons replaced. Seems unacceptable for a $100+ shirt. If it wasn't for the issue with the buttons, I'd own more of these.
Date published: 2017-06-01
Rated

2

out of

5
by
blursd
from
Fantastic shirt, but buttons break easily (and quickly)
I have several of these shirts, and absolutely love them. They're often my go-to esemble when it's a casual day at work, or I'm headed out with friends. Very comfortable fabric, breathable, durable, and they fit my frame perfectly. Like most of the people who have left reviews here, the only downside to these shirts ... and it's a pretty big downside in my books ... is the buttons are exceptionally prone to becoming brittle after even minimal normal use - multiple buttons breaking in half after, sometimes, only one or two washings (even following the care and washing instructions). Because I purchased several of these shirts, and in different styles/colors ... I've learned the light grey/beige buttons, which are ubiquitous on ALL the current variations, are the ones that break easily. Some of the prevoious iterations of this shirt had two-tone white/dark grey buttons - none of the commission button down shirts I have with these buttons have had ANY button issues whatsoever - I've been wearing them regularly for well over a year, and washed them dozens, and dozens of times. The buttons hold up. These light grey/beige buttons, however - not a single shirt I've bought that has had them has lasted more than a month of careful, regular use without at least one of the buttons breaking. Most of them, however, had multiple buttons break within just a few (e.g. 3-4) washes. Lululemon is great in that they'll return or exchange the items no questions, and I ended up doing this a few times. However after the second or third time exchanging the shirt and having each subsequent one have the same issue with buttons breaking ... what's the point ...? I ended up, in the end, paying a local tailor to replace all the buttons on all my affected shirts with different ones. Moreover, I've been severely disappointed that every time I go in to my local Lululemon store and I see there are new shirts out ... first thing I notice is, they all are still using the same buttons that are prone to breaking, and I refuse to buy anything with those buttons on them. It's just too much of a pain to either buy a shirt and have to wonder when a button is going to break, and I have a non-wearable shirt, or ... I have to schlepp all the way to the store to do an exchange ... only to be in the exact same boat 2-6 weeks later, etc. OR ... I can shell out another $40 to have my tailor remove all the buttons, and replace them with ones that don't break - I really don't want to have to do that EVERY TIME I buy one of these shirts.
Date published: 2017-05-30
Rated

3

out of

5
by
chipwell
from
Great shirt, except...
Whether I'm traveling, going on a date, or just headed to the office, this is one of my go-to shirts. It's super comfortable, ultra versatile, fits well and looks good. Except for those pesky buttons. They're just too brittle and have ended up breaking or cracking, which means that one of my favorites stays on the hanger more often that it should, and I'm hesitant to buy another one or recommend. If LL can address that, I'd highly recommend this to anyone.
Date published: 2017-05-10
Rated

2

out of

5
by
icedcoffee
from
Disappointed - broken button
Loved this shirt until a button broke in half after only three washes. Very disappointed at the poor quality - looks like this is a common issue with this shirt.
Date published: 2017-04-19
Rated

4

out of

5
by
jvan24
from
Commission Long Sleeve Button Down *Qwick Oxford
This shirt overall is fantastic. I have it in all the current colors. It is great for a business casual work environment. The only downside is that I have had 3 buttons so far break in half on me. This is three buttons broken in half between 2 shirts. Other than the buttons breaking on me, great product!
Date published: 2017-03-28
Rated

4

out of

5
by
Athleisurewear
from
Best Fitting Shirt for Active Professional
I have two of these shirts and love them. These are the most comfortable shirts I have that are appropriate for work (business casual setting). The fit is sleek, the stitching and hemming is sporty and well done, and the shirt works well for work (tucked in), going out (un-tucked), and for formal use (with a tie and blazer). Only reason I'm not giving 5 stars is because the colors are limited. Please offer more colors and patterns!! I would wear a different color/pattern in this shirt every day if I could! Why offer a best-selling product that is limited by the number of colors / patterns available?
Date published: 2017-03-23
Rated

2

out of

5
by
Rusky
from
Defective Buttons
If the buttons didn't break this shirt would be 5-Stars! Fit and fabric are awesome. But who wants to pay money for something that is broken weeks after buying it?
Date published: 2017-03-19
Rated

3

out of

5
by
HockeyD
from
Great shirt, except those buttons
To echo a majority of the other reviews, I own two of these shirts and they're great. The only issue is that the buttons keep cracking. I've replaced 2 already with the provided replacements, but the third and fourth buttons just cracked, it seems to be a real problem. I'd say it's an exception to the norm when it comes to quality, but still disappointing!
Date published: 2017-02-20
Rated

1

out of

5
by
Mmadur
from
Great shirt until the buttons crack in half
Very breathable. Got one a few months ago for warmer summer nights. However, the buttons are starting to crack in half. Never had this happen with a shirt--let alone something at this price point. Very disappointing.
Date published: 2017-01-26
Rated

5

out of

5
by
kako
from
Great versatile button down
Purchased this for my husband in a M (5'11, 180lbs) and it fits like a glove. It is slim fit and he says the fabric has a little stretch which makes it more comfortable. The look is classy and easily can be worn to the office or over a pair of jeans for the weekend. What's great is that the material is sweat wicking giving an added benefit to office wear.
Date published: 2017-01-05