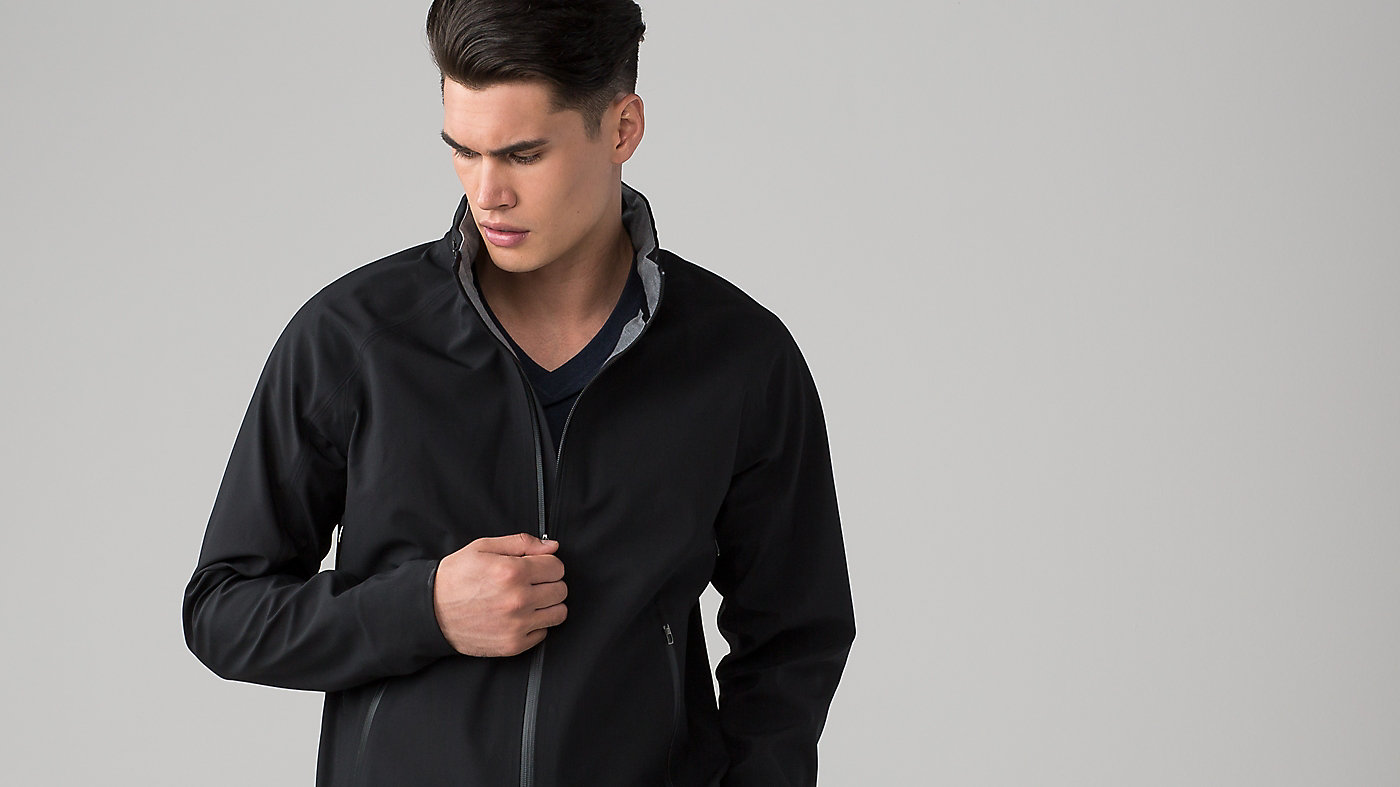 ---
zipper pocket
Store your stuff in the secure zippered pocket
---
mesh-lined vents
Mesh fabric-lined vents encourage airflow
---
STOWABLE HOOD
Pack the hood inside the collar when not in use
---
WARM CUFFS
Wrist cuffs keep chills out
Furtive Jacket
is rated out of
5
by
4
.
Rated

4

out of

5
by
besweden
from
Great fit and function
I loved the fit and look of this Jacket. It looks great when going out and offers good protection. The only thing is that I think they could have don't a little better on the comfort over all but regardless I like it. A Rulu inside liner would be cool for comfort and warmth but id prefer that as a separate version since the interior currently makes it easy for me to slide shirts in underneath. It tshirt soft on the inside without gripping my clothes.-
Date published: 2016-01-10
Rated

1

out of

5
by
namenick
from
More of a sponge than a waterproof jacket
I purchased this to use on a trip to Iceland, the most important part of the item being the waterproof nature of the fabric. Although I did not get the chance to test the waterproof nature of the jacket in the rain, I did get to spend time around the beautiful waterfalls. At the end of my hour or so visiting the falls, the mist from the falls had soaked through the jacket. My back and forearms were soaked. Overall I loved the fit and elasticity of the garment, but labelling this as a waterproof garment is deceptive at best. Even though I loved the fit of the jacket, I have to give this a single star rating due to the false advertising of this being a waterproof jacket.
Date published: 2015-10-01
Rated

3

out of

5
by
Kalvster
from
Technical Innovations vital to enhance performance
When the Furtive Jacket dropped online, I liked the way the design team came up with the color scheme; it looked Awsome. I decided to purchase the "Cool Cocoa" due to its uniqueness in color. I was quite pleased with the quality of the jacket. However, I found that the jacket needed some more improvements before it could be your go-to jacket. First off, the biggest issue I found with this jacket is the arm sleeves; they don't have adjustable wrist straps. Causing frustration when you have to take the jacket off and in the process of doing so your wrists get caught in the sleeve. Moreover, the material of the jacket is thin, so when you wear it, you feel cold. There is no capacity to wear a hoodie or sweater underneath because, the jacket is tight fitting. I'd wish if there was an inner lining made into the jacket so it could keep you warm in the rain. Lastly, I would have appreciated if the jacket had extra pockets instead of the two standard pockets it currently has. I would have preferred if the furtive jacket had inner pockets or a phone pocket/sleeve to stash your cell instead of having to rummage the side pocket to find it being mixed with your other belongings in the coat. I feel as if Lululemon jackets are made to be a fashion statement instead for it being intended to function for the consumer. In Comparison, an Arcteryx jacket that I bought was about $640 compared to the Furtive Jacket that was approximate $246. I buy Lululemon because, I like how durable their clothing is. I wouldn't have any problem paying more money for a Lululemon jacket if it added the features mentioned above and could serve to enhance the performance of the consumer. But for future interested buyers I would tell them so save their money and wait for a better jacket that could serve you better. (Ps. This is on Heylululemon.com)
Date published: 2015-09-01
Rated

2

out of

5
by
LuluAthlete
from
Excited at first, but very let down
Saw the Furtive Jacket online when it first came out and absolutely loved the way it looked. I was in need of a rain jacket as I frequent around University campus all the time and it does rain often (London, Ontario). Wanted a go-to rain jacket as it is a staple in any man's closet. First off, let me say when I received the jacket, I was amazed at how it looked (mind you I didn't try it on yet). I eventually slipped it on and was SUPER disappointed. All of the lulu items I own are extremely comfortable and I love them but this jacket was a no-go. The material is really uncomfortable - especially for Lululemon standards. I had lots of trouble moving my arms and I had lots of tension on my back area, specifically around my lats. As expected, it did look incredible on me but the comfort just wasn't there. Could not justify paying upwards of $250 for a jacket that is made of uncomfortable material. Secondly, the sizing chart is inaccurate AND I even got advice from live chat about sizing as well. I'm around 5'11-6ft, 160lbs - slender but athletic build. I measured my chest and everything and was debating on a small or a medium. Eventually went on the live chat to speak to an 'educator', where they told me a size S would be best. The size S that was recommended was tight around the chest, back, and arms. I really wish the jacket was on the same level of comfort as it is aesthetically. Not worth the large investment. This one is getting returned.
Date published: 2015-08-26