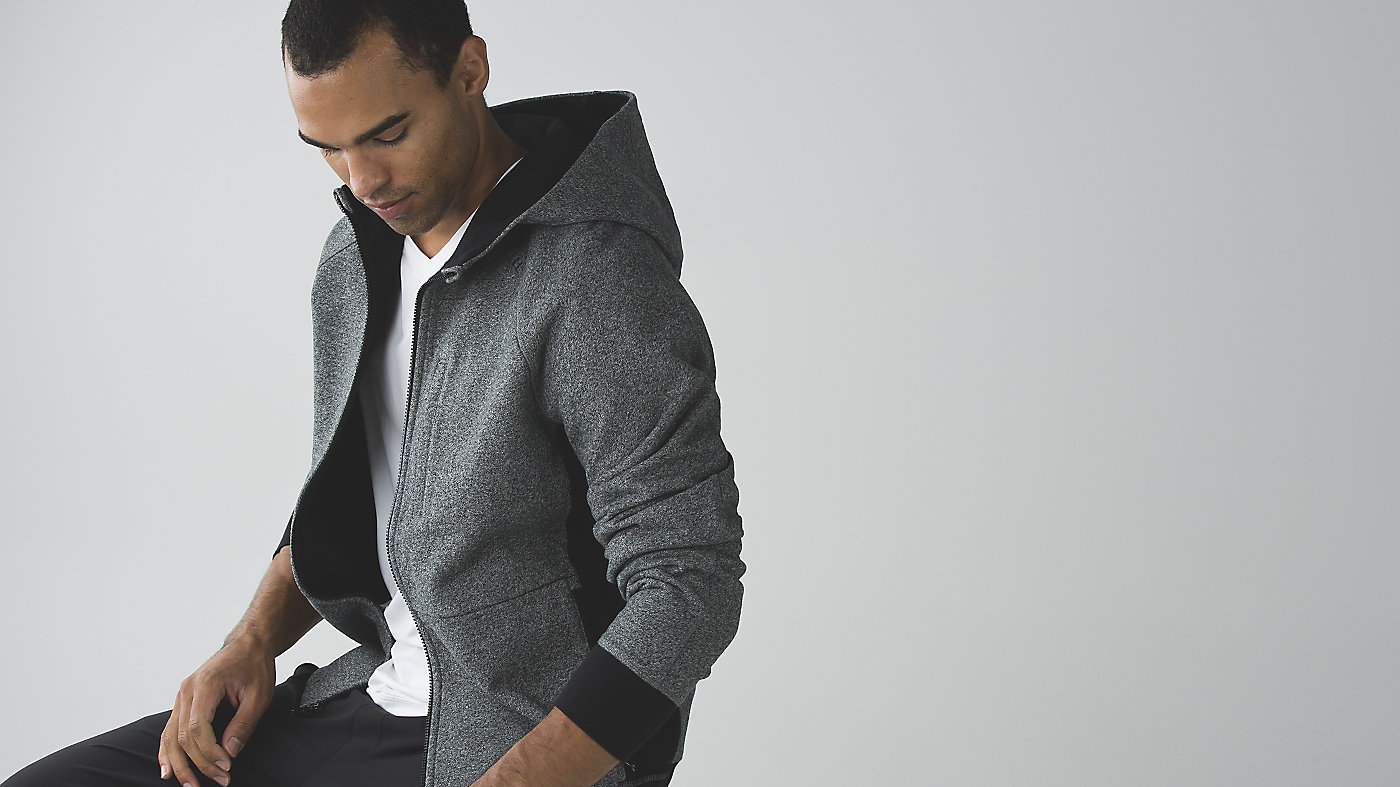 ---
mobility
Ribbed fabric strategically placed for stretch
---
hidden thumbholes
Help keep your sleeves in place and hands warm
---
slim fit
Makes layering easy and holds core heat close
Best Coast Hoodie
is rated out of
5
by
43
.
Rated

5

out of

5
by
Catalyst
from
Lululemon's Perfect Gateway Drug
The Best Coast Hoodie was the first piece of lululemon clothing I ever wore, given to me as a gift three years ago. This was the gateway drug that drew me down the path of slowly replacing items in my wardrobe with stuff from lululemon. The discrete logo placement and incredibly balanced choice of material/fit makes this a perfect hoodie for West Coast living. If there's one thing that makes the Best Coast hoodie truly stand out against other hoodies, it has to be the ultra-useful, zip-up, outer pocket on the left chest. The Best Coast Hoodie has been serving me as well as the go-to outerwear for evenings in the spring and summer seasons. Another good use has been for travel wear that doesn't need to be dressed up. If I were to note any problem I have with the Best Coast Hoodie, it would be that thickness of the material means it does not layer well or pack easily. I can see this hoodie serving well for another three or four years of regular wear before it is worn out. Not bad!
Date published: 2017-04-02
Rated

5

out of

5
by
aquajeffery
from
love it
i got this for $39 rather than pay the full $118. it was great deal, and i think i got a great bargain. its material as very well made and thick enough that i only need to wear a light t-shirt under and i still don't feel the wind going through the hoody.
Date published: 2017-03-09
Rated

4

out of

5
by
Quez
from
If you want a sweater, you'll get one!
Quality is pure. It is thick and well made. go for it! No complaints.
Date published: 2017-03-09
Rated

1

out of

5
by
Raincover
from
Not like previous generations of the best coast hoodie... they changed the fit
I have most of the previous generation of the best coast hoodie. They all fit great until this one. The sleeve is short and the body is wide. All my best coast hoodie was Medium and when I bought this one I purchased the same size but it fits like i lost 40lbs. It doesn't hug the body like all other before it. I was very disappointed in this hoodie and I hope they can make similar cutting of the best coast hoodie in the future or I can't buy lululemon anymore. This year I made to switch to arcteryx.
Date published: 2017-02-20
Rated

5

out of

5
by
Gretch
from
Gorgeous hoodie for husband - even better customer service experience
I was wary of the Urban Leopard color when I ordered this hoodie for my husband for Valentine's day; wasn't sure if he'd like it but when it arrived the colors were much richer and brighter than they appeared on screen - it's a really nice sweater. There were a few mishaps along the way with this order, without going into detail they involved a damaged item, a full refund and an expedited replacement; calling into the Guest Education Center was a pleasant experience both times I called (once for the original issue and once for an update/insight on tracking info) and they really did go out of their way to make things right for me. Very much appreciated.
Date published: 2017-02-14
Rated

3

out of

5
by
JerGold
from
Super comfortable, but not durable
I bought this hoodie earlier in the year, and was very pleased with it for a while. It's super comfortable. My issue with the hoodie is that parts of it started to develop holes... the material used for the cuffs and the side accents. I have holes developing in both spots. I asked to have it repaired at my local stores, and the associate said it couldn't be repaired but that they would replace it. The problem is that they had nothing in stock to replace it with, so they said to try back in a few weeks. Well, I've tried back multiple times for about three months now, and they still have nothing comparable in stock. Is this item discontinued? I don't want to be stuck with a discontinued hoodie that's falling apart.
Date published: 2016-12-09
Rated

4

out of

5
by
tennisguy15
from
Great but one issue
I love this hoodie except for a hole developed in one arm after about 8 months of use. I have many Lulu garments and love all of them and take great care of them so I'm very disappointed that the elbow wore through this quickly. I was expecting better quality for sure. It's an extremely comfortable hoodie- I wear it to work, around the house, very versatile all around but disappointed with the durability of it.
Date published: 2016-03-29
Rated

5

out of

5
by
johnJHD
from
Best Hoodie...... EVER!
I am a guy who likes to be warm. I like hoodies. I bought this thing for between home and the gym. And then I started wearing it on weekends. And then I started wearing it to work....... It just worked its way into my every day it seems. Ultra-comfortable, wears quite well. I am very very glad I purchased this hoodie.
Date published: 2016-03-22
Rated

3

out of

5
by
YogaJacq
from
Disappointed in quality, but hubs still likes it
I bought this as a gift for my husband, he would never spend the money on something for himself so I thought it would be a nice surprise for him. He wore it for a few times without any problems at all - thrilled in fact with the fit, how cozy it is, etc - but then the zipper pull came off when I washed it. I have a hard time finding sweaters that are long enough in the arms so I'm hoping that Lulu has a solution because he really loves this sweater. The quality, aside from the zipper pull, is great. Fit is great - lots of length in the body and arms. Material is holding up really well, stitching is great. Talk to me about the zipper though, Lulu. Help me find the love again.
Date published: 2016-03-17
Rated

5

out of

5
by
GaryCFE
from
Great Heavy Hoodie
Awesome fitting Hoodie. It is heavy so no go on the workout. But for casual wear this thing looks great and will keep you warm!
Date published: 2016-02-22