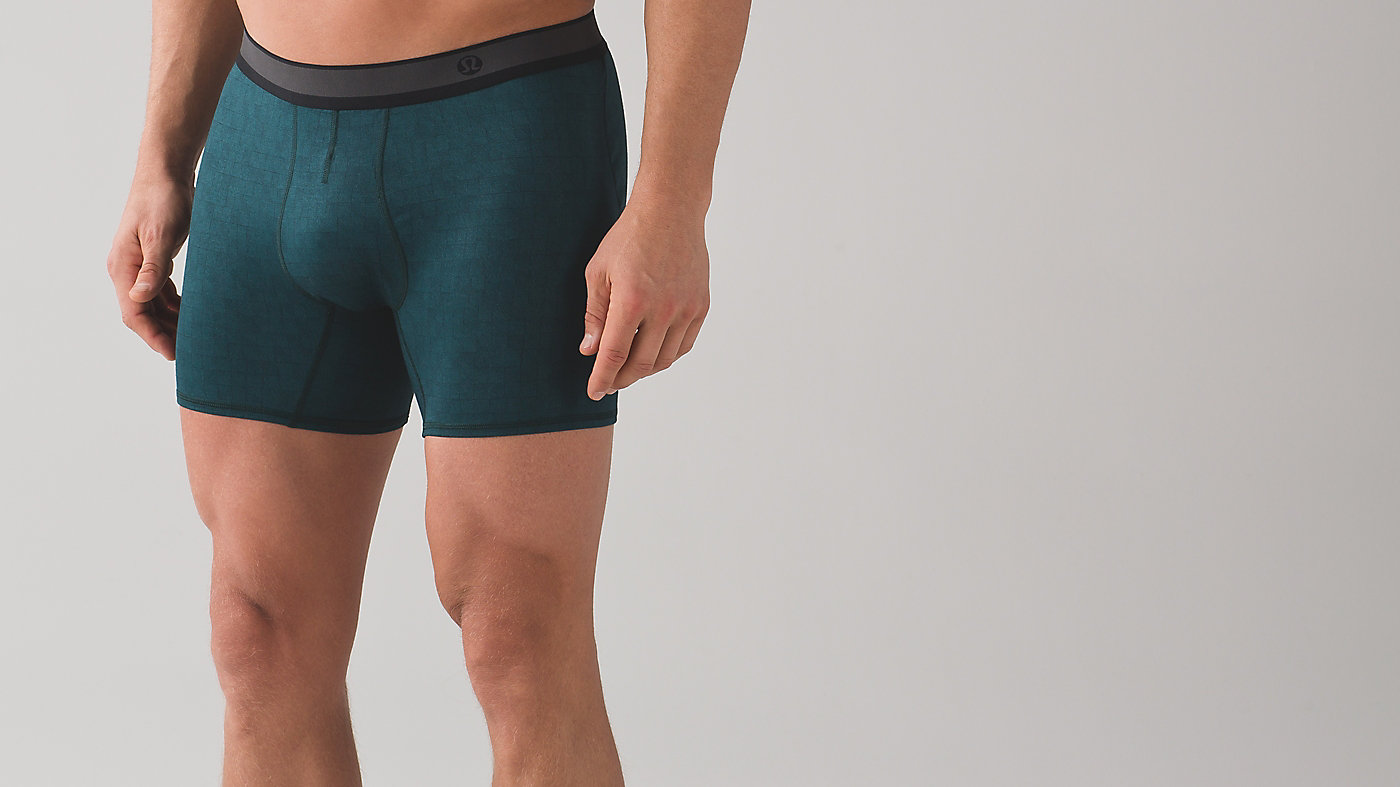 ---
support
Shaped pouch helps keep the boys supported
---
fit
Designed for an athletic build
---

No Boxer Boxer (The Long One)
is rated out of
5
by
118
.
Rated

2

out of

5
by
RyanG
from
Short Life but amazing comfort
Started with one pair, they were quite comfortable. Bought 10 more. Within a few months they all start to wear out. Great comfort, but not sure it's worth the $300 every 3 months. Gone are the days of old, when your Lulu would really last 5 years.
Date published: 2017-04-20
Rated

5

out of

5
by
VA291
from
My favorite boxers.
I'm a huge fan of these boxers. I got my first pair something like 2 years ago and now have 12 pairs or perhaps more. I continue to buy a pair every couple months primarily because of the overall quality and durability. I completely disregard Lulu's care instructions and use warm water/medium heat and have had no issues with any shrinkage or waistband-warping. They still feel as good as they did on the first wear. The other reason I have an abundance of these boxers is because I am worried they will eventually be discontinued or changed in some way. I understand almost every other review on these boxers seems to contradict everything I just said but until I encounter some of the issues that are being brought up, I will continue to add more to my collection.
Date published: 2017-04-11
Rated

3

out of

5
by
Stefan
from
Comfort: Incredible. Quality: Improvable
Similar experience as in other postings: Incredible comfort, poor quality. The best underwear I have ever had but the durability is not at the same level as the price. I have 8 "No Boxer Boxer (The Long One)" and all show the same problem: the wristband loses its tautness and shows a curling effect which makes it uncomfortable at the wristband. I would love to buy more of these boxers if the quality was improved.
Date published: 2017-03-12
Rated

2

out of

5
by
JackD
from
Feel great, not durable though.
I have about 4 pairs of these, and all of them have started to rip after one or two months of usage, so expect to buy more fairly frequently.
Date published: 2017-03-05
Rated

1

out of

5
by
LeeJ
from
Worst Product Lululemon Makes!
This product has a great look and feel, until about 6 months in. I have 3 different pair that have all wore thin and eventually tore in the crotch. I have been very pleased with all my Lululemon gear except for this product. Would rather buy Under Armour when it comes to athletic underwear.. For the cost, I expected a much better quality.
Date published: 2017-02-24
Rated

1

out of

5
by
Renlo
from
Very Comfortable, BUT HORRIBLE QUALITY
I have been a long time loyal customer of the 'Game On' boxer brief. Arguably, the most comfortable pair of boxer briefs I have worn. Unfortunately, this product is no longer around and was replaced with the 'No Boxer' boxer. I made the assumption that this product would be just as good or maybe even better, so I dove in strong and bought several pairs (7). Just a $170 investment in underwear. To my surprise, the quality of these new boxers are absolutely AWFUL. Within just a month or so, the fabric has started to pill, some seams are coming undone, the elastic waistband starts to tear (little white elastic strings break and become visible to the eye) and lastly holes on the inside portion of the leg have been created. Look I am 6'1 180lbs, athletic build, I would think the fabric rubbing together should not tear within a month or so. Great evidence that this product is not durable. I would advise anyone and everyone who does not want to budget in $170 a month for boxers to stay away. Hopefully Lululemon will make some changes and listen to their customers as it appears I am not the only one to have this type of experience.
Date published: 2017-02-12
Rated

4

out of

5
by
Juds
from
Cautiously Optimistic
I purchased my first pair of these about 4 months ago. So far I have been very happy and have not experienced some of the issues others have highlighted in their reviews. Giving this 4 stars for now as I want to wait and see if they continue to withstand the test of time. I have an athletic build and larger thighs so finding a good pair of underwear that is comfortable and functional is difficult. These don't ride up and so far have been pretty durable. I wear them for running, yoga and weight lifting on a regular basis. I have tried other, more expensive brands that have essentially shredded apart in a matter of weeks. I have since purchased additional pairs and would purchase again if they continue to last.
Date published: 2017-02-10
Rated

1

out of

5
by
themanintheyellowhat
from
Stay away
My wife picked me up a pair of these about a year ago. About halfway through the first day of wear I was in love and thought I had found the answer to my underwear problems. I decided to bite the bullet and bought 6 more pair, justifying the $150 purchase because they were so comfy and high quality…Wow, was I wrong about the quality! All of them had pilling issues, one pair was losing the seam and the bottom of the left leg hole, both issue that while disappointing, I could have lived with. What made these unwearable was the waistband. The waistbands stretched out so much they lost all elastic stretch and made them completely unwearable, and they are now all in the trash. I am a freak about washing my clothes and always make sure to follow the instructions and am super carful so I know what was not the issue, the waistband is just junk! I'm really disappointed, that a $24 pair of underwear did not last more than a year is ridiculous. I would definitely think twice before buying.
Date published: 2017-01-19
Rated

2

out of

5
by
AndrewB
from
5 Stars for Fit and Comfort but 0 for Durability
I have to agree with many of the comments on here regarding durability. I've owned four pairs of the No Boxers Long and one pair of the No Boxers regular length over the past few years. The fit and comfort of these boxers are second to none,;however, the durability just isn't there. My estimate is that they only last about 1/3 to 1/2 as long as the other boxer brands in my drawer. Makes it a hard decision to keep buying them as you love the comfort but you know you'll get very limited usage out of them before, at least in my case, they develop huge holes in the crotch and have to be thrown out.
Date published: 2017-01-16
Rated

1

out of

5
by
airjoshb
from
Just received: Disappointing fit and fabric
This was my first Lululemon purchase, bought based on many people saying these are the best underwear in the world. Not only did they not meet those high praises, the overly synthetic fabric feel combined with the unfortunate fitting make them my least favorite pair of what would be considered "high-end" underwear.. I am about 160 pounds, athletic as a cyclist and yoga practitioner and found the small size to sag in the butt. The non-natural poly/lycra fabric choice makes them a bit uncomfortable after a full day of wearing and feel that the company should be a bit more transparent in their fabric description, rather than "soft, lightweight fabric". If I knew they were poly, I would likely have passed and saved the money. Also unreturnable.
Date published: 2017-01-08