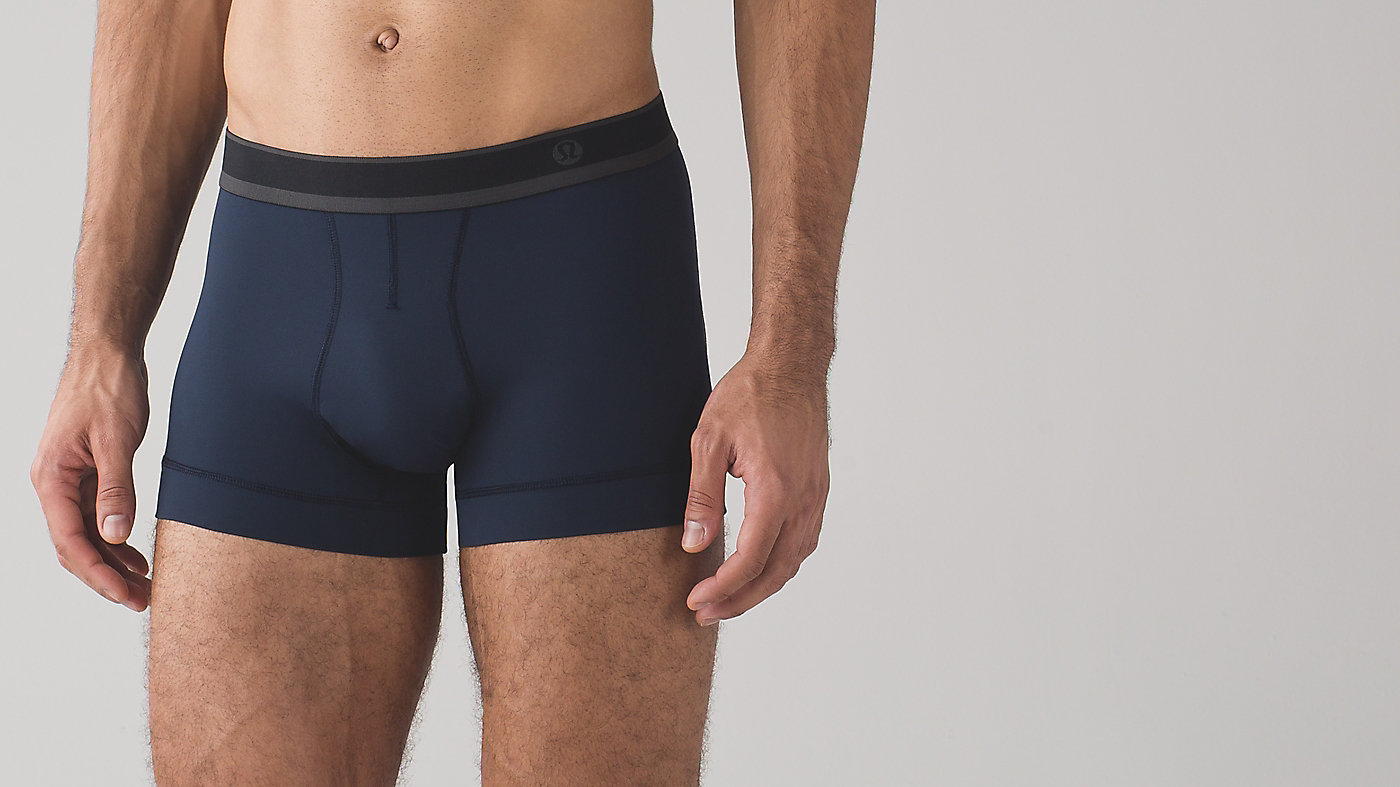 ---
support
Snug fit and shaped pouch helps keep the boys supported
---
fit
Designed for an athletic build
---

Lock 'Em Down Trunk
is rated out of
5
by
22
.
Rated

5

out of

5
by
fmabdul
from
Most Comfortable Underwear Ever!
Comfort: I love these trunks so much that I look forward to the days that I get to wear them. The fabric combination breathes incredibly well. The trunks also do a phenomenal job of keeping everything down there intact. I never have to *readjust* when I'm wearing these, as we all so often must do with other trunks. Style: They make your butt look great (not that you needed any help). They also work well with shorts with short inseams. I wear shorts with a 7" inseam, and I've never had to worry about my trunks showing when I sit down. That's a huge problem with a lot of other compression/wicking trunks, so I'm thankful that Lululemon made a trunk that works for those of us that show a bit more thigh. Sizing: Some of the other reviews say that the sizing is off, but that hasn't been the case for me. I wear either a medium or a large in most other trunks/boxers. I have a 32 waist, but my butt is pretty big. I bought a medium for these, and they fit super well. If you're worried about sizing, take a chance. Worst case scenario, you have to rely on Lululemon's excellent customer service (both in store, and online). I've had to process a few exchanges for other items, and they've been really helpful. Hope that helps! Durability: They've retained their shape through dozens of washes. They've been my go-to underwear for every sort of occasion, from basketball at the rec center, to my mother's wedding (yes, I wore *more* than Lululemon underwear to the wedding - come on). These trunks can't be beat. I've had one of my pairs for just over a year, and they show no signs of slowing down. They feel the exact same as the day I bought them (if anything, they've gotten stronger, for having to deal with me on a frequent basis). Quality: Again, the fabric combination is super nice. These trunks are worth *way* more than what we pay for them. If you live near a Lululemon store, I encourage you to stop by and feel the fabric. If you don't (I no longer do, so I feel your pain), you should still give them a chance. The only thing keeping me from buying 10 pairs of these is my measly budget. We can all dream though. TL;DR - Best trunks ever. Won't regret buying them. Butt will look *amazing*.
Date published: 2017-04-22
Rated

2

out of

5
by
bstine
from
Size Up!!!
I have numerous pair of "no boxer boxers" size medium. I purchased a pair of "lock em down" trunks size medium for workouts. They are too tight around my waist, and Extremely too tight around my legs. I was told by others that I cannot return boxers, which is understandable, but it was basically a waste of money because I can't wear them.
Date published: 2017-03-14
Rated

1

out of

5
by
metriccentury
from
Not the same
I purchased the trunk style Lock'em Down boxers after happily wearing the longer style for a while. However, I have found that after not having an issue with the legs creeping upwards on the traditional style, the trunk boxers are constantly bunching. I now have multiple pairs that won't be worn due to the discomfort and constant need to tug the trunk legs downward after every movement. Stick with the longer length...
Date published: 2017-02-23
Rated

5

out of

5
by
Rfurgason
from
THEE F'IN BEST
I considered my self an underwear snob. These are hands down THEEE best mens underwear you could ever own. Its all I wear. Lulu DO NOT discontinue these, or ill come down there and slap someone. thanks =)
Date published: 2017-01-18
Rated

1

out of

5
by
ltfbootcampguy
from
Not a comfortable fit for the guys
Read some of the reviews before purchasing and to say the least, I'm very disappointed with the fit. My guys were being squeezed during my workout and wow the chaffing was awful. For the price and definitely the fit I would not recommend. I'm not sure the body frame or the package of the other reviewers, but I can't imagine these work for a lot of guys.
Date published: 2017-01-04
Rated

5

out of

5
by
dogs
from
best mens underwear ever .....but !
i love these underwear and my husband loves these underwear .......there is nothing to complain about at all, the only thing is getting the size and colour we want. That is a big issue ! i can't stress enough about lulu needing to replenish the colours cranberry and rulu red ....they sell out in two days and are never replenished . Not even in the stores. please please please lulu , replenish these colours again. I really want more for my husband.
Date published: 2016-10-15
Rated

5

out of

5
by
PolarisIrondog
from
Excellent athletic skivies
These are really the most comfortable active/athletic shorts i've worn. They hold their position without ever having to adjust em under intense activity and workouts. The outer texture of the shorts allows them to move slide freely and independently against outer layers. They also breathe very well and wick body sweat very well. I can't find anything bad to say about them other than the colors I currently want are sold out!
Date published: 2016-10-12
Rated

5

out of

5
by
RunLiftBike
from
Best Active Underwear!
True to their name, these trunks provide excellent support which makes them perfect for running, lifting, biking, or just about any other activity. They are by far the most comfortable active underwear I've worn. The leg openings have a wider band and don't bunch up like other trunks. They work great with running tights as well - unlike most other men's active underwear, these do not show visible seams when worn under tights. While I'm not a fan of the red stripe on the elastic waistband, I do wish Lululemon would start making these trunks in more colors.
Date published: 2016-09-25
Rated

4

out of

5
by
STNY
from
Great product, but recent purchase not as good
I owned two pair (blue and red) and these were very comfortable and breathable, wore them for more than just working out. Bought a new pair (in black) and the band around the thigh seems slightly smaller. As a result, the new one ride up and bunch. Too bad, love the fabric feel and support of the older ones.
Date published: 2016-07-13
Rated

4

out of

5
by
DinotheBoxer
from
Best Pair for the Pair
Very comfy for all attire and activity. If you have any type of meat, front or back, order the next size up. The next larger size will accommodated all, including muscular thighs. I'm in the process of ordering more of these trunks to replace my older Lulu's. Wish they would come in more colors.
Date published: 2015-12-18