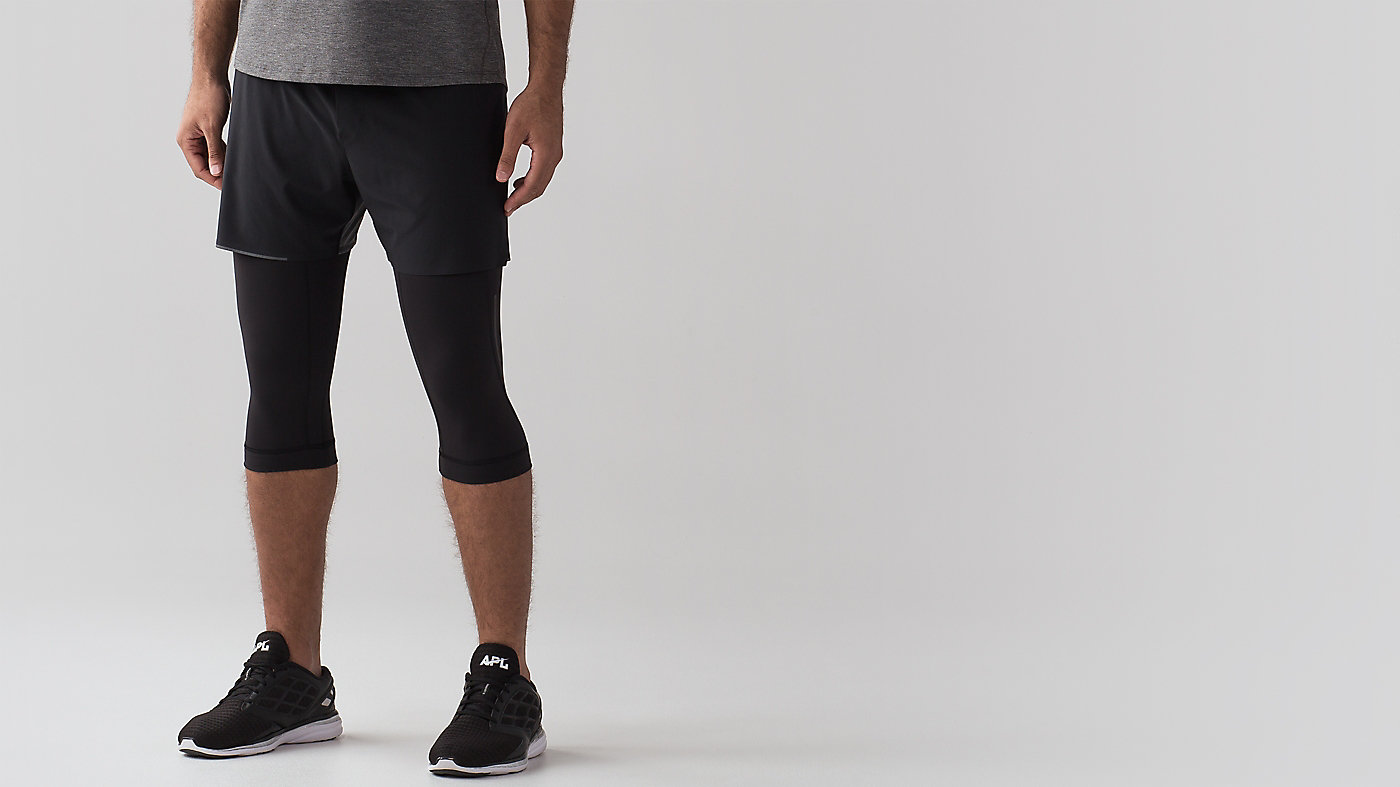 ---
flat seams
Help prevent chafing on sensitive skin
---
fit
These pants are designed to sit at the waist
---

Tight Stuff 1/2 Tight
is rated out of
5
by
19
.
Rated

3

out of

5
by
CBnyc12
from
Good and Bad parts
6'1", 175lbs. Athletic build The Good: The fabric is SO comfortable. I love working out with long compression/tights. Felt unrestricted in hot yoga practice, and enjoy the way they feel while cross training too. Length and waist all are great for me (size Medium) I'm a fan of the pockets as a lot of the gym shorts I wear over them don't have a place for a phone. The Bad: Not sure if washing them created these problems, as they didn't seem to exist in my first couple of workouts before washing (washed cold, dried low). BUT SINCE, The butt/crotch seems to sit a little too low. Would be nice if that were a little higher/less saggy. Maybe not as tight as a true compression pant, but less baggage would be great. The sticky part inside the bottom part of the leg seems to be slipping, and the bottom will slowly ride up and sit just below the knee and wrinkle up a bit. Ideally, I'd like them to sit a little lower and stay there. Hoping the stickiness didn't wear off due to washing once (would find that hard to believe). I have to keep pulling them down throughout my workouts now. When I stretch them down the length is perfect (about 3-4" below the calf)
Date published: 2017-06-20
Rated

4

out of

5
by
Christian
from
Overall Solid Tights
Everyone seemed to have mixed feelings about them I kind of do as well. For reference I am 5'8 just under 150lbs.. Good: - Material of all Lulu tights in my opinion are the BEST (better than Nike and Underamour compressions hands down) - Fit is good (for me it wasn't big around the crotch or butt area like other people in their review) Bad: - Sits slightly below my knee I know that when I workout doing squats or if I am jumping they will slowly rise so the it will sit just below my patella practically. I wish it would be a bit lower - Bunches up at the bottom kind of annoying when working out Some people complained about the drawstrings as well not being in front of the tights which doesn't really bother me that much i just let it hang on the outside and their out of the way. Its a little uncomfortable i guess if you don't tie them up or they sit in the pants in the wrong areas for sure. I love them but Lulu is very expensive like these tights not really ideal for a student or the average person, something you have to save up for really. It is top quality 100% but wish the prices would be a bit more affordable. I would say that the material and everything else outweighs the bad, they are definitely solid tights. I hope that Lulu reads everyones reviews and adjusts from there for future products!
Date published: 2017-05-08
Rated

3

out of

5
by
RogueStatusYogi
from
Older Ones Better, Band Around Calf Slips
I have the older version and tried this years release. You can tell by the Calf older version had sticky band for Calf (printed Lululemon athletica with emblem on inside) this Years would not hold in place. I use these for Hot Power Yoga, Ashtanga and have just released Tight Stuff Tight 3/4 (highly Recommend) & Surge Tight Light 3/4 (could use better Design as well, material too stretchy). I also use this at the Boxing, Running and Oly Lifting
Date published: 2017-04-02
Rated

5

out of

5
by
iguru
from
Awesome Tight!!
Love this tight. 31% Lycra make it awesome. Modest cut and wears well by itself. I'll wear it under a short, as I think most will? I would love to see LULU also make a product with a more flattering cut with additional support.... until then, Ill keep buying this tight.
Date published: 2017-04-01
Rated

4

out of

5
by
seanrandal
from
Comfortable but needs improvement
I had high hopes for these pants but they fell a little short. They are the perfect length for someone who has short legs, but there is way too much space in the crotch/butt. It almost looks like I have diaper butt and that makes me constantly check them and pull them up during my workout. They need to have a slightly better fit in that area and then they'd be perfect.
Date published: 2017-03-07
Rated

3

out of

5
by
AGlenn
from
Awesome pants but stitching could be better
I purchased a few sets of these pants and have been happy with them. I am currently recovering from a sports injury and the excellent level of compession helps with pain relief. I found that the stitching on upper thigh has come undone after just a few wears on one of the pairs which is frustrating and could use improvement... Overall however great for recovery and yoga.
Date published: 2016-07-17
Rated

3

out of

5
by
tscottpatterson
from
Had high hopes, but....
I wear tights a lot for my workouts and was excited about adding these into the rotation. I've used this for weigh-lifting, running, biking, rowing and other functional movements (ala crossfit). At 5'7", 160 and an athletic build (especially the legs), these would be a good over knee option. The good: 1. Length was good for me. These came just over the knee and above the calf. 2. The material, weight and compression were fantastic. I actually like the thicker material and the overall feel of these, especially once on. The bad: 1. The fit. The crotch, butt, waist is just terrible. It is WAY too long/high-waisted, which leads to a major gap of material below the crotch area. Rolling them works a little, but becomes difficult because of the drawstring and inner pockets 2. Drawstring and inner pockets.... Look, I get some people wear these without something over top. I don't. Therefore, all this extra material and stuff in the waist is unnecessary and just becomes irritating, especially due to the issues stated above. If I could keep the weight/compression/material and have the whole waist issue fixed, I'd completely recommend these. However, with the issues I'd be hard pressed to recommend them without trying them on and really moving around in them to see how they adjust and fall. I'll be honest, when I tried them on, I was fine with them at first. It was only after moving through them at the gym that the issues really started to surface.
Date published: 2016-03-02
Rated

3

out of

5
by
bigred
from
Mixed results
When I saw these last fall (2014) I was exited to see a men's full length tight and crop form Lulu. I really wanted to love both of these but it wasn't meant to be. I found the full length version to be too short for me (6'4" and 170 lbs). Also the crop version was a little short but stayed below my knees. In addition to the length issues, I had a few other things that I really didn't like (in order of most importance): 1) The high waist. It's at least 4 inches too high. 2) Uni-butt, I'm not a fan. A seem down the middle in the back is the way to go with tights. 3) The exterior drawstring. I don't even know why it needs one, but if it does, put it on the inside and use the loop type. At the time I was mainly looking for a pair of tights (full or crop) length to wear to yoga as the weather got colder. As I said, I really wanted to like one of these and ultimately I decided to give the crops a try. I did this in part, because I wanted to encourage Lulu to make more options this year and I was hoping that I'd like them more once I used them. In the end, I used the crops for yoga a few times before relegating them to the back of the drawer; the high waste, uni-butt, and drawstring issues were just too much. This fall I've found that I've picked up running on a routine basis (feels great) and I don't have enough running shorts to get through the week without doing laundry every other day. I came across these crops in my drawer again and gave them a try. I've found that they are less bothersome for running than yoga and I am at least getting some use out of them. That said I still won't buy another pair of men's Lulu tights unless they figure out how to make tights for men that look good, fit right, and work.
Date published: 2015-09-24
Rated

3

out of

5
by
dls360
from
Too Much Compression Around the Calf Cuff
The leg opening around the calf is too tight and the material that lines the inner boarder of the cuff is similar to what a wide receiver gloves are made from. This material is 'sticky' and increase friction so it's not comfortable if you have hair on your legs and are doing dynamic movements. Maybe if the opening wasn't so tight the material wouldn't be an issue for me. Other than that, I like the 1/2 tight style. I would like to see more colors but without the high friction tightness around the calf.
Date published: 2015-07-08
Rated

4

out of

5
by
tpepper
from
Almost a great run crop
The bottom half of these are perfect for running. The gripper cuff is great. The fabric and compression level are great. The inner leg seams are situated to minimize potential chafing. The top half a little less so. Could use a zipper pocket for run, though I recognize that's often less desirable in a gym/training tight. And something's missing in the back in terms of cut and/or seams in the rear so the fit is a little looser there which is slightly odd and you feel it while running.
Date published: 2015-06-24