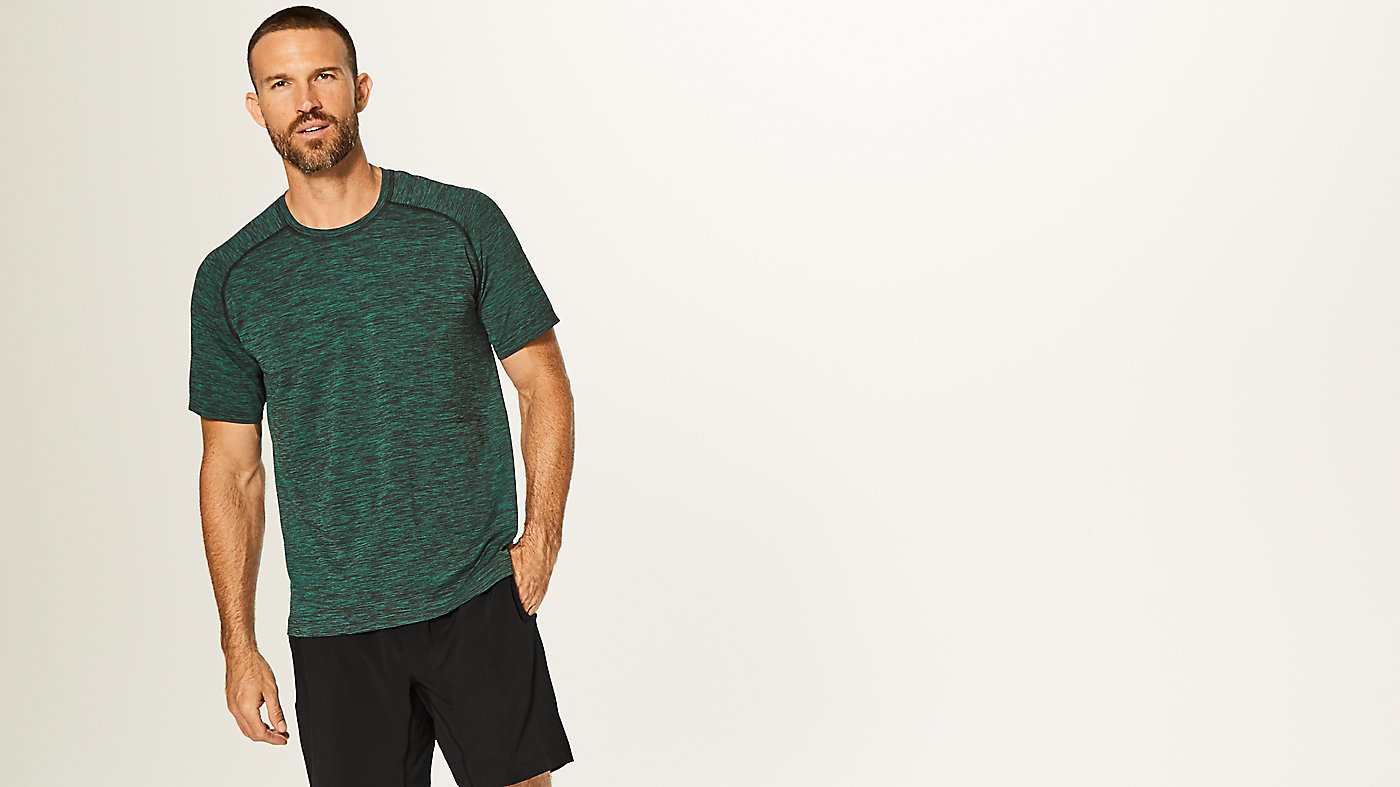 ---
lycra®
Added Lycra® fibre for stretch and shape retention
---
Silverescent® technology
Powered by X-STATIC®, it inhibits the growth of odour-causing bacteria on the top

Metal Vent Tech Short Sleeve
is rated out of
5
by
122
.
Rated

1

out of

5
by
SashaPatricia
from
unfortunately not like the women's line
I read the reviews before purchasing. I ignored them in hopes that it would work out and I could finally get my boyfriend some articles of clothing from LL.. he always dogs me for spending so much money on my clothing and in this instance this shirt fell thru for me. Poor construction.
Date published: 2017-08-16
Rated

2

out of

5
by
SteveATX
from
Something's not right
The shirt looks nice and fits well but start to pill even after a few proper washes. Additionally, I'm not sure what's wrong the metal vent shirts but they give off a strange odor that has a metallic smell after sweating. It's definitely not body odor, but it has a strong, distinct stench to it.
Date published: 2017-08-10
Rated

5

out of

5
by
somedude
from
Perfect fit for between Medium and Large
I'm 5'10, 160 lbs with a 40.5 inch chest. What this means is that I am perfectly in between a medium and a large size, though I'm a large with 90% of the Lulu products (Medium everywhere else).You have to be careful if you're someone like me there are certain certain of this model which vary by size, and choosing a Large will look baggy and unruly, while choosing Medium would be uncomfortably tight and awkward looking. Lulu's always been good about returns and exchanges when I have got the wrong size online however, so nbd if you make the wrong choice. Bottom line, they are my go to every day shirt, and hold up nicely over the years. I generally put my performance shirts though the works but I still have 3 year old vent techs sitting in my closet.
Date published: 2017-07-30
Rated

5

out of

5
by
CBmedic
from
Crossfit Traveler
I was traveling in Europe and did not have the chance to change my shirt for several days. By the time I got home I was expecting my clothes to stink but both my ABC pants and this shirt were ready to keep traveling.
Date published: 2017-07-26
Rated

2

out of

5
by
ecleland
from
Deteriorating quality
I've been a high volume consumer of Lulu clothing for a few years now. The Metal Vent Tech t-shirts and Polos sold me on the brand. The new version seem to be an attempt to maximize profit by reducing quality. The design seems to have been simplified by removing the back side technical pattern which gave the shirt a more high end appearance and provided better breathability for workout hot spots. They also don't seem to be holding up as well either. They seem to stretch and sag a bit more as well as pilling. I sincerely hope Lulu chooses to drive loyalty and repeat sales by improving quality rather than pursue short sighted cost cutting to raise margins. I have always loved them for the innovative high quality materials and construction so please don't change that.
Date published: 2017-07-20
Rated

2

out of

5
by
Bucknati
from
Great Comfortable shirt - defective stitching
At first I loved this shirt, very comfortable material and a great fit! The stitching then on the side just came completely unattached - just from wearing a few times (not even working out or snagging!) I understand product is sometimes defective, but it seems they didn't sew the attachments properly - it just opened wide up after a few wears. Love the shirt, but not worth the money if I can only wear it once or twice!
Date published: 2017-07-19
Rated

2

out of

5
by
ActiveGuy
from
Love these shirts at first but disappointed in quality
I own many metal tech shirts from Lulu and I love how light, breathable, and stylish the shirts are. With that said, I do not know if I will be purchasing any more of these from Lulu as there is noticeable pilling on the shirt and the neckline on one of my shirts became stretched after just two washes. I now just wear it as my lounging at home shirt. Very disappointing for the price.
Date published: 2017-07-19
Rated

1

out of

5
by
lequaner
from
Pilling and Pulling
I have many of your old t shirts that fit amazing and had great quality, but I am disappointed in your new ones. After one use there is already pilling and when wearing it, it pull unevenly! For $68 dollars I was expecting a high quality product but that is not what I received! I cannot return this product to receive a credit as I have worn it already and I am not satisfied with this product!
Date published: 2017-07-19
Rated

2

out of

5
by
Brett47
from
Odd fold marks?
I usually love this shirt but one of them has a crease acoss the bottom. i never had work it and I was bought from the store. After months of washing and trying to get the crease out there has been no luck and im super disapointed
Date published: 2017-07-13
Rated

1

out of

5
by
thomasjames
from
Nice Shirt, Poor Durability
I bought the Metal Vent Tech Short Sleeve in black along with a couple other items yesterday, and this by far was my favorite of the bunch. I love the look, fit, and feel of the shirt. Unfortunately, after wearing it yesterday during my workout I noticed it had already started piling in a couple areas. This is extremely disappointing as it was only my first time using the shirt, and I am now afraid to see what it will look like after washing and repeated use. I am very nitpicky about flaws, so for this shirt to already start piling is definitely frustrating.
Date published: 2017-07-01