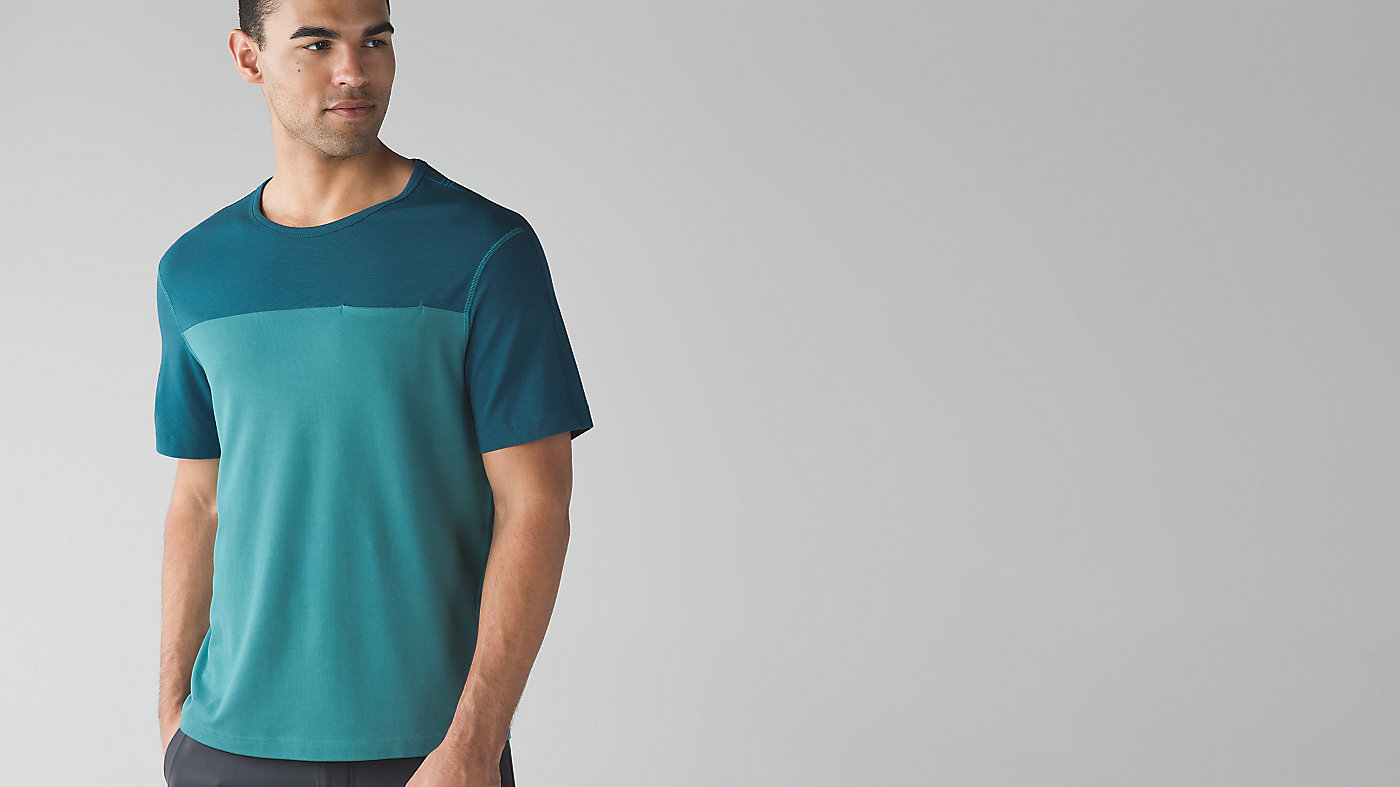 ---
front pocket
For stashing your valuables

In Your Element Short Sleeve
is rated out of
5
by
12
.
Rated

1

out of

5
by
HarryNotPotter
from
Frustrating
Despite the previous reviews, I decided to give this shirt a try mainly because I've heard tons of good things about the vitasea fabric. Sadly, the reviews turned out right -- the neck did stretch out after a few wears!!! Actually, the whole shirt stretches out if it is hung to dry. You have to treat it like an ancient manuscript and gently put it flat on a towel to dry. Seriously????? The pocket is another weak spot - it bunches up because it is not sewn on the inside and it looks ugly. The shirt would have been better without that pocket. Such a shame because the fabric and color combination I got (turquoise sea/desert teal) are pretty good. I cringe every time I wear it and pass by a mirror. Worst of all, I got it on markdown and can't return it. Lulu, do you take back clothing that simply doesn't work for people?
Date published: 2017-05-25
Rated

1

out of

5
by
Alekzandr
from
A Comfortable Let Down
Grabbed this great looking shirt for its comfortable yet casual look. The shirt is made of incredibly comfortable material and seemed like a no brainer purchase. However the shirts fit in the shoulders and collar is way off, making it uncomfortable to wear, and even worse it then looks terrible when you wear it. The neck seems to just be continually stretched out to the point it won't fit correctly. I hope they fix this. As a big lulu fan who has never been disappointed before this product is a big let down.. I wish I could I could go back and fix it.
Date published: 2017-01-13
Rated

1

out of

5
by
Aleksrad
from
Sad to say but lulu fell short on this tee...
First off this is the first and only bad review I have had on any Lulu products. I have literally purchased almost every item made for the mens line the past few years.... But unfortunately this tee really disappointed my expectations! I was able to get over the collar stretching out from normal day to day dressing, but every single one I purchased seemed to almost become unwearable after the first wash. I'm sure they will correct this issue moving forward, but in the mean time buyer beware purchasing these!
Date published: 2016-12-29
Rated

1

out of

5
by
crymer001
from
Issues with shirt Quality
I am a very die- hard Lululemon fan and I am sad to say that this was the first product that I became disappointed with. When the shirt came in the mail, the fit was almost superb, like all Lululemon items, except around the neckline. After the first wash, the shirt became extremely loose and I cannot where the shirt anymore because of this. The neck of the shirt became extremely loose and I do not like it whatsoever.
Date published: 2016-11-15
Rated

1

out of

5
by
AppleMonster
from
Poor fit--not for broader shoulders
Bought this shirt for my boyfriend, assuming it would fit similar to the other t-shirts, but the fit was really off, mainly in the shoulders (bummer, was final sale). I think he has relatively normal shoulders, so it's either 1) the shirt is just meant for men with very slanted shoulders, or 2) I'm wrong and my boyfriend actually has very broad shoulders, or 3) a mixture of 1 and 2. Don't buy without trying on in store first.
Date published: 2016-11-11
Rated

1

out of

5
by
WilsonZ
from
Become very loose after first wash
A bit disappointed of becoming super loose after washing for the first time. Original it's pretty nice but looks like the fabric is too soft to keep its textile during wash. It'/ not worth even at current discounted price since it would only able to wear very limited occurances.
Date published: 2016-11-03
Rated

1

out of

5
by
ELULU91
from
Don't buy, weird fit.. waste of money!
I always buy Lululemon Small... this item fits horrible. The neckline is huge. The shoulders fit weird. The actual shirt fits boxy. I am not sure why this shirt fits so weird. I am now out $29 on a shirt that DOES not fit like a normal Lululemon Small. I can't even wear this.
Date published: 2016-10-23
Rated

1

out of

5
by
rcotto
from
Poor design = Poor fit
I'm a huge Lululemon fan with a closet bursting with your clothing. I read the cautionary reviews on this shirt a decided give it a shot. Almost every review mentioned the poor fitting neck and as a former bodybuilder with a fairly muscular build, I had hoped I would fill it out. That was not the case. As vfitfam mentioned the neckline does look as if it's stretched out due to the excess of material. There is really no way to get the neckline to lay flat and true. Lululemon should pull this item as it's not representative of Lululemon quality. Four months of poor reviews should be enough. I really wish I could return this item and purchase a different shirt.
Date published: 2016-10-21
Rated

1

out of

5
by
BAHN
from
Not worth ordering
The sizing on this particular item is very off. The size small was too big for a man 6'2" and 180lbs. The shirt is very baggy and looks nothing like what the model is wearing.
Date published: 2016-07-08
Rated

2

out of

5
by
vfitfam
from
Pre-worn?
Just received this in the mail that I bought for my boyfriend. Just when I took it out, the neckline of the shirt looked a little weird... When the boyfriend tried it on, the neckline looked like it had been stretched out by maybe the previous owner? But it was wrinkly like someone tried to stretch it out and it wasn't able to return back to its normal shape. The shoulders and everything else fit fine but because of the neckline.. I would not recommend this shirt.
Date published: 2016-07-01