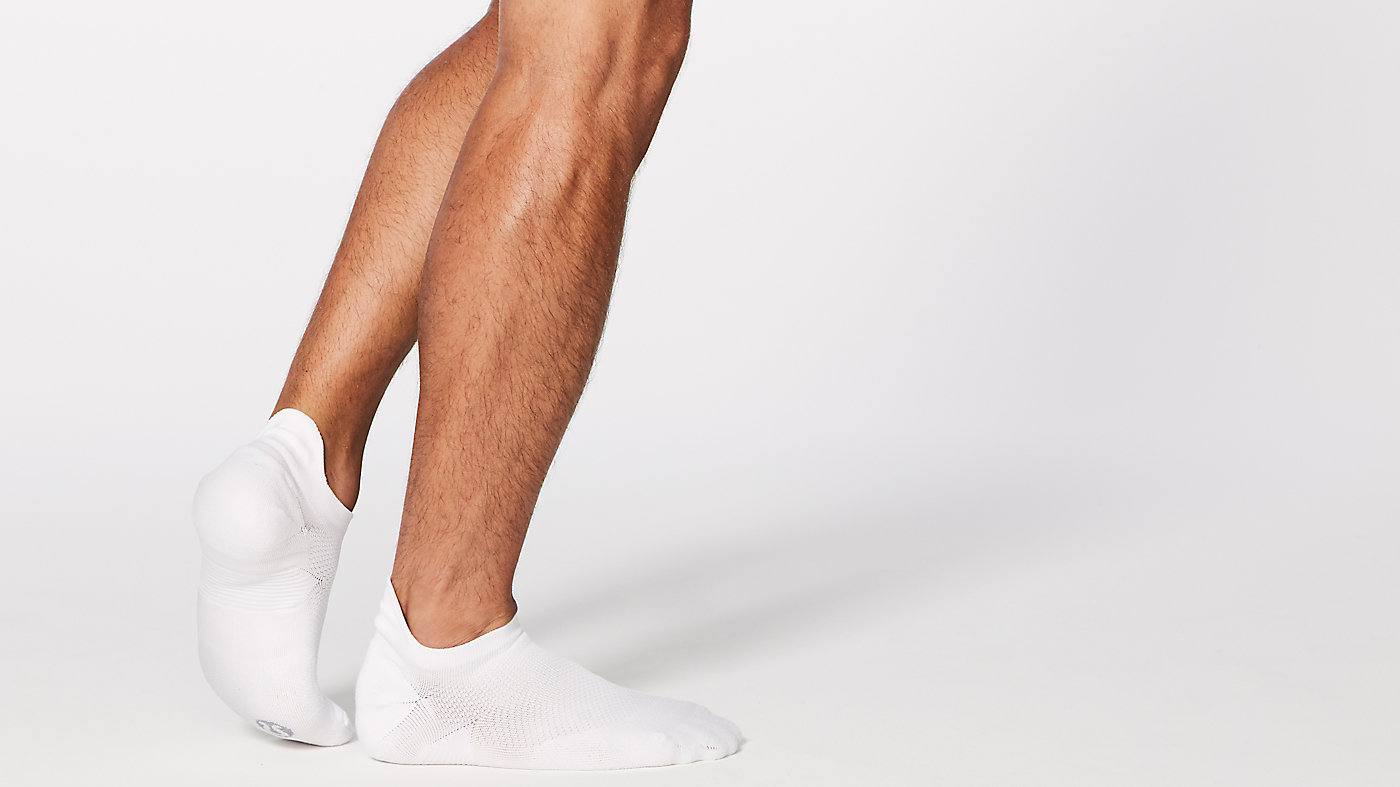 ---
Silverescent® technology
Powered by X-STATIC®, it inhibits the growth of odour-causing bacteria on the socks
---
micro-cushioning
In heel and toe for added comfort and support
---
stay dry
Sweat-wicking yarns and a mesh construction help your feet breathe
---
support
ActiveArch™ arch support
---
ergotoes™
Foot-specific design
---
seamless construction
At the toe designed to reduce bulk
---
FOOT-SPECIFIC DESIGN
Right and left foot-specific ErgoToes™ design for a bulk-free fit
T.H.E. Sock *Silver
is rated out of
5
by
13
.
Rated

5

out of

5
by
vancouverkiwi
from
Best socks EVER
I've lost count of how many pairs of these socks I own. Will never purchase any other brand, these are just perfect. Please bring out more crazy color combos!! The fit and cushioning is amazing. I tried the surge sock also, but prefer these.
Date published: 2017-04-28
Rated

3

out of

5
by
lljosh
from
Disappointed with Lulu Socks
I love pretty much everything Lulu does, but I was disappointed with their socks. Sizing is limited and the Silverescent technology doesn't really do much with this product. I thought I would be able to wear these socks more than once per laundry cycle, with a rinse and dry in-between, but the socks still smell. I'm recommend looking elsewhere for socks.
Date published: 2017-04-23
Rated

3

out of

5
by
kgdf
from
Inconsistent sizing
Just had two pair of these sent to me as a gift (Both L/XL). The first set fit perfect, however, the second set fits way too large...not sure how this happened as they're both the same model and size of sock. If you are buying these online beware there may be sizing inconsistency, as I can see the size difference between the two sets.
Date published: 2017-02-21
Rated

2

out of

5
by
kecso
from
Disappointed
These socks seem to be really great, but after just 2 washes they pill up like crazy. For a pricey sock, it shouldn't pill up as much as they do. I feel like the quality here is just not up to Lululemon's usual standards and am completely disappointed. Now I have all these pairs of socks that are completely pilled up.
Date published: 2017-01-23
Rated

4

out of

5
by
Ericsf7
from
Great product flawed by inconsistency in sizing
So I now have about 15 pairs of T.H.E. Sock. When they fit right, they are as comfortable, supportive and absorptive as any sock I have worn. I love the design colors, patterns and fabrics. The issue I have is that it seems like no two designs are cut exactly the same. I have bought pairs at the same location of the same seasonal style and one will fit either perfectly or loosely, while the other will be tight. When they are tight it usually is in length, so there is a constriction on the toes that becomes uncomfortable after awhile. Also, my shoe/sock size is 10.5. So I should fit comfortably in the L/XL. Considering how tight some of these are, I can't imagine guys with feet size over 11 being comfortable .
Date published: 2016-12-29
Rated

1

out of

5
by
misterLLFan
from
Socks fall short
These socks look very nice. However these socks were too tight around the bridge of the foot. Maybe make these socks with a softer material that stretches more. I was unable to wear these socks because my feet start to hurt after an hour or so. Wish they made these same socks without the tightness around the bridge of the foot. There are other brands that seem to fit much better. I really wanted to like these but are unusable to me.
Date published: 2016-12-19
Rated

3

out of

5
by
Sarabond
from
Socks good
Aaah, where to begin with these socks... For one thing, the socks are flawed. I want to give these socks a perfect review, as they are not bad, but there are many issues I have had with them. The socks, I thought they would be 'no slip' socks, but I learned the hard way that they are not.
Date published: 2016-10-08
Rated

3

out of

5
by
PalmBeachFlorida
from
I love these socks but...
These are my favorite socks and I have six pair. Two pair that I bought in December 2015 are worn through on bottom where the Lulu logo is. When I took them to the store with the receipt, the store replaced one pair as a courtesy. I told rep that for $18 I expect socks to last for more that 8 months. She told me that is normal wear and tear and I don't agree. The socks come apart where the Lulu logo is and I think Lulu should look at that. I won't continue to buy these even though I love them. Too expensive to not last at least a year.
Date published: 2016-08-07
Rated

5

out of

5
by
lustydusty
from
Great socks
I bought a pair of these socks a week ago, and loved them so much I ordered 3 more pairs a day later. I wear a size 12 shoe so I got the L/XL and they fit perfectly. I don't like how they label the sizes on these; I wish they'd use a typical sizing system on them, or at the very least show on the label what shoe size the sock size corresponds to. Also, they seem to run out of the L/XL much quicker than the smaller size (at least in the colors I wanted to order).
Date published: 2016-05-07
Rated

4

out of

5
by
TO25
from
good socks
I purchased a few pairs of these socks and I like them.. They don't roll down, they fit good and are still looking good after multiple washes.
Date published: 2015-12-30