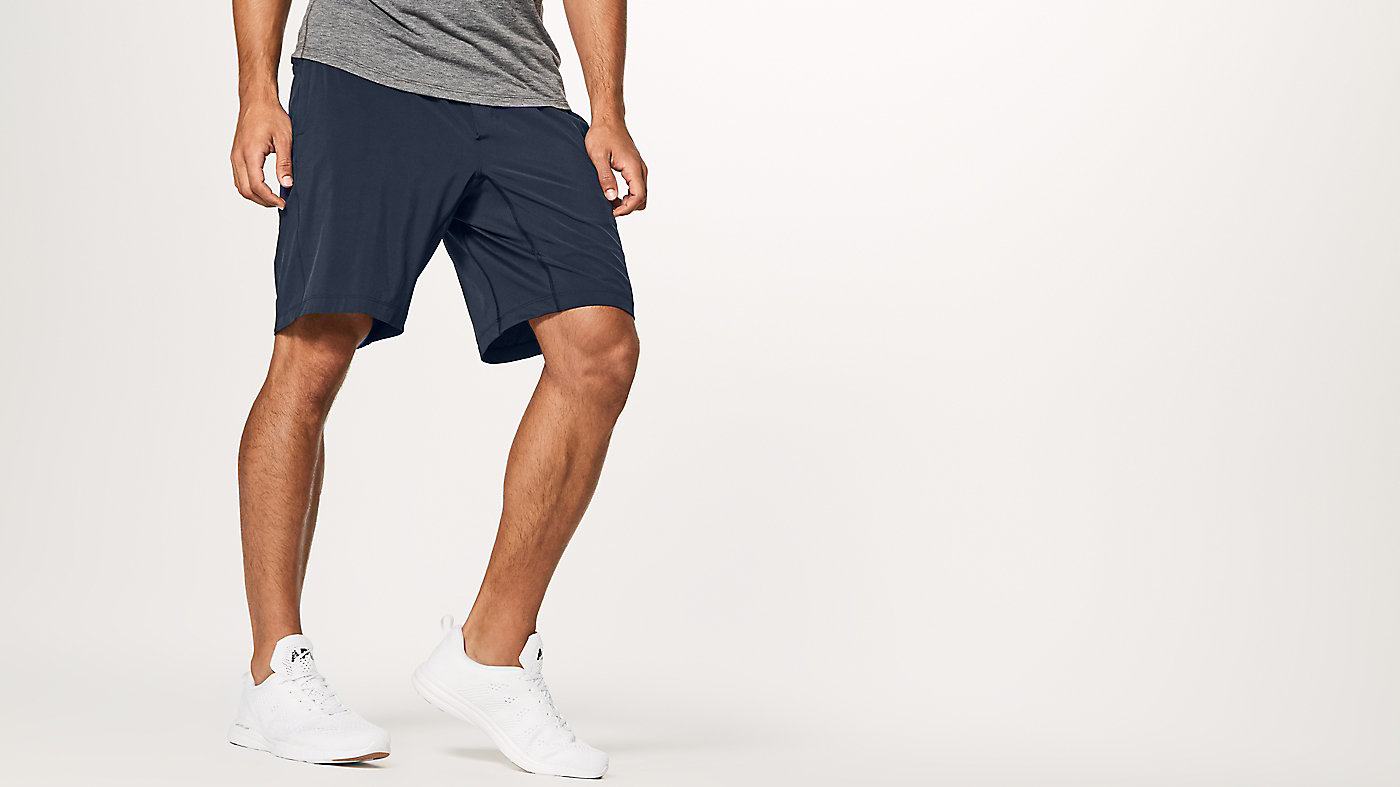 ---
lycra®
Added Lycra® fibre for stretch and shape retention
---
generous cut
For room through the butt and quads
---
---
BUILT-IN LINER
Light Luxtreme® liner is sweat-wicking and four-way stretch
---
HIDDEN POCKETS
Hidden media and coin pockets
---
GUSSET
Sweat-wicking, breathable fabric in the gusset helps keep you cool

T.H.E. Short 9" *Luxtreme Liner
is rated out of
5
by
28
.
Rated

5

out of

5
by
emrnz
from
Perfect running shorts
These shorts are amazing. The pocket on the liner fits an iPhone 7plus; keeping it snug against your thigh so you wouldn't know it is there on a run. There's also regular slit pockets and a zip pocket that's perfect for keys, cash, etc. The liner is pretty heavy-weight fabric so maybe not the ideal shorts for a super hot run. But for my purposes these are nearly perfect.
Date published: 2017-06-18
Rated

5

out of

5
by
jtai
from
Awesome
I recently purchased this short because I foolishly lost my pace breaker's with the luxtreme liner from 2015. These shorts are amazing, I've used them from 5k's to Half Marathon's absolutely love them.
Date published: 2017-04-06
Rated

1

out of

5
by
Boeing747
from
Unfortunate Chafing and lack of Breathe-ability
Let me start off by saying I strictly only wear lululemon shorts to the gym due to their comfort, durability and extreme sense of style. Because of my quality past experiences I did not hesitate to purchase this short in three colors- black, blue and red. However after my first wear it was clear that these shorts did not lift up to the comfort, breathe-ability and performance as some of their other shorts. I was very disappointed at the chafing which took place on the inner thy and how hot they made me during only a moderate workout. Like I said I'm a huge fan of Lululemon but these shorts do not live up to the same quality and comfort of their other shorts.
Date published: 2017-02-09
Rated

5

out of

5
by
TimF
from
New favorites
I've been wearing Lulu stuff for many years now, and have had just about every model of exercise/workout short. These are, by far, my favorite running shorts. The new sizing is right on and the fit of these is excellent. I'm 6', 210, fairly muscular.... a regular sized dude. I have 3 pairs now, and will add a couple more. How about some more colors? Purging the other running shorts out of my drawer. Great job!
Date published: 2017-02-01
Rated

4

out of

5
by
MrBeefcake609
from
My favorite shorts, but threading is coming undone.
These shorts are one of my favorites, especially during the winter time. The luxtreme material is very comfortable and keeps you warm during the cold. The outer material is also very light, soft, and comfortable. I've owned a pair for approximately two months and I've notice that the stitching for the luxtreme liner has become undone. I wash them with my other lulu shorts on cold and hang to dry. However, there are multiple areas in which the stitching have become undone or have loosened. This one is pretty bad, but I'm sure it's probably just a defective pair of pants.
Date published: 2017-01-05
Rated

5

out of

5
by
mitpdub
from
Great shorts -want more colors!
Great shorts for HIIT & lifting. The liner is excellent. I didn't know until recently visiting the stores that the length could be adjusted. In the past there were other similar shorts with the compression liner at different lengths, but it looks like Lulu is going with this 1 style now, so get it adjusted based on your height and preference and its good. Would really like to see more color options.
Date published: 2016-11-22
Rated

5

out of

5
by
NateG
from
This is what Thor feels like with his hammer
1 wear deep, thought I'd give these a review. First of all, Lululemon has new sizing in effect. Many notifications of that were available on their website and it turns out I needed to go from a medium to a large. Trying on a large in store, this is accurate. I have a theory that many of the people having trouble with the durability have purchased a size too small and their legs are popping out like sausage casing. The large is extremely comfortable. The luxtreme liner does feel a little chafy. However, I think after a nice cold wash and air dry- they will settle in fine. I did some Crossfit work (behind the neck push press) and then Grace. And I actually did quite well. Not sure if it's a placebo effect or what. But I found these to be pretty comfortable. I like the 2 pockets + the cellphone pocket + the liner cellphone pocket. One thing I will miss on these vs the pace breaker luxtreme is the silverescent. However I wash after each workout so it's no big deal. These don't drag down the way the pace breaker does (that's a good thing). Again I think this was a size issue. I was always bordering between medium-large and with the new sizing in effect this confirms I need a large. Will see how these hold up. Will most likely purchase more at this inseam/liner point.
Date published: 2016-11-15
Rated

2

out of

5
by
Jack60806
from
Excitement turns to disappointment
I was extremely pumped to workout in these shorts, which are my first pair of Lululemon shorts. Like many of the reviewers here, I was hesitant to spend so much on workout shorts but I thought the quality would be worth it. After hemming these to my liking (which is a great offering, thank you), I was ready to go. I wore these to the gym yesterday and they worked great. They were very comfortable and I was able to use the pockets during and after my workout. However, like many others here, I'm sure, I sweat a lot. 24 hours later, I'm ready for my next workout and these are still not dry. I must say I've never had this problem with other, cheaper, gym shorts before. I usually hang up my shorts to dry and can use them again the next day. I don't have time to wash these everyday, and I am definitely in no position to buy 5-7 pair of $78 shorts for my daily workouts while I wait for the others to dry. I know I'm not the only one with this problem so I hope this review helps someone else. If you sweat a lot, go with something cheaper.
Date published: 2016-11-01
Rated

1

out of

5
by
BobsYourUncle
from
Life Chafing Shorts
If it weren't for the liner, these would easily be a 4 or 5 star pair of shorts. Unfortunately, just trying these on in the store and walking around the chafes my upper thigh. I can't imagine attempting any kind of workout in these, let alone an actual run. Forget it. For the price, I expect bells and whistles, not the worst pair of shorts I've ever tried on.
Date published: 2016-09-30
Rated

2

out of

5
by
ElioSanchez
from
Very Comfortable disappointed on the durability
i literally just purchased these shorts, and on the first wear. while coaching i felt something weird on the bottom of the short and it was peeling off.. very disappointed do to i paid almost 80$ for these shorts.. i wish i could get it brand new and i already sweated on them..
Date published: 2016-09-20