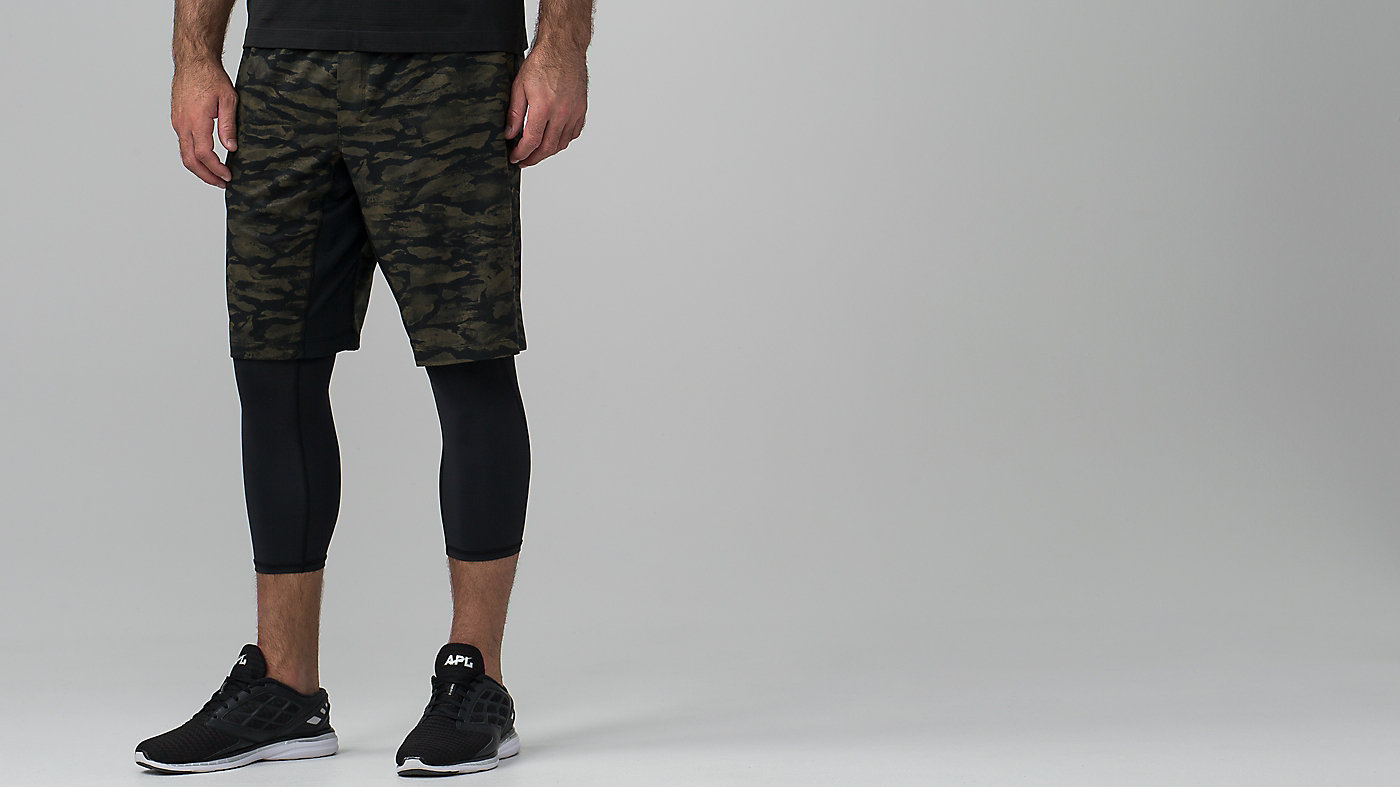 ---
lycra®
Added Lycra® fibre for stretch and shape retention
---
generous cut
For room through the butt and quads
---
---
LUXTREME® WAISTBAND
Sweat-wicking and four-way stretch waistband provides a secure fit
---
STORAGE
Secure pocket for your essentials with an interior media pocket
---
GUSSET
Sweat-wicking, breathable fabric in the gusset helps keep you cool

T.H.E. Short 11" *Linerless
is rated out of
5
by
26
.
Rated

5

out of

5
by
FB123
from
excellent quality
Not exactly sure why so many have had poor experiences with the quality but I'm glad that hasn't been my experience. I own 2 pairs and neither has faded or has threading issues. Excellent for casual and gym use. The thick waist band is ideal and a size S ends just above my knee (5'9").
Date published: 2017-06-19
Rated

1

out of

5
by
Satori
from
Epic Fail
I have used the Core Shorts and the Early version of the T.H.E. shorts in 11 in. Over the years I have used them from training to running marathons. The new version pales in comparison to the other shorts. The material is sub-standard for Lululemon. I bought a pair in store, wore them for a half day and promptly returned them. They moved poorly and the seams on the gussets rubbed and were uncomfortable. At one point you produced a heavy duty 11 inch trail short that were incredible. Please return to your roots and return to the high quality, functional products you once offered.
Date published: 2017-06-13
Rated

1

out of

5
by
RxTyler6
from
Disappointing quality!!
I own more Lulu than I care to admit, but I have now had TWO pairs of these shorts rip! This is so disappointing because I love these shorts, but this drives me crazy! This never happened in any of my CORE shorts that are years old. I love Lulu but enough is enough with these shorts.
Date published: 2017-05-22
Rated

1

out of

5
by
LuluMack
from
Very Poor Quality
I loved these shorts so much that over a few months I've bought three pair, but the third pair is absolutely horrible. The mercury deep coal have been unraveling since day one! I can stick two fingers through a unraveled hole in the waistband. If you notice any unraveling, take it to a GEC and hope you can get another pair. The butt of these pill have pilled much more than the other ones despite being owned the least amount of time
Date published: 2017-05-19
Rated

2

out of

5
by
ADAZCO
from
Inconsistent and cheap looking
I loved my first pair of these, all black. These were considerably different. The "sweat-wicking, breathable fabric in gusset helps keep 'em cool" looks CHEAP. The new waistband is inconsistent with the last pair that I purchased and they're noticeably tighter in the waist and hip. I would not buy another pair of these unless something changed with the overall design. And would not recommend them to my friends.
Date published: 2017-05-09
Rated

3

out of

5
by
jpu24
from
Quality Control issue it seems.
Wore these to work and showed them to a coworker and they thought they looked odd. After further inspection you can notice that the right pocket is sticking a very noticable amount while the left pocket sits flush as it should. I'm guessing somebody at the factory measured or sticthed the pocket wrong and I'm sure I can exchange it but its a hassel I'd rather not have. I think lululemon needs to stop trying to make everything and anything and going back to making a smaller range of products that were at least hight quality. Now it seems like they are just trying to push out more and more types of clothing or designs to compete with the likes of under armour and 75% of it is awful imo.
Date published: 2017-04-25
Rated

2

out of

5
by
KDJ1
from
Poor
I bought these shorts and after washing them twice the laces were coming apart and the threads of the shorts on the back were undone so they looked really poor. Disappointed in how poorly they were made! Guess I just got the wrong one out of the bunch because Lulu is usually amazing!
Date published: 2017-04-16
Rated

5

out of

5
by
rgk88
from
My favorite
I bought one pair to test out, ended up purchasing three more. These are my go-to's - I wear them for working out, yard work, lounging, everything. Light & breezy, love them.
Date published: 2017-04-13
Rated

2

out of

5
by
Henry15
from
Ok quality
These shorts were amazing out of the store. After just a few washes, the lacing started to become undone and loose and I couldn't wear them anymore. Disappointed with the purchase.
Date published: 2017-04-10
Rated

5

out of

5
by
Armyguy03
from
I'm Pretty Impressed
About a year and a half ago I started wearing board short style shorts during exercise. I Crossfit primarily, 5-7 days a week. I'm 6'2' and weight over 210 pounds and have an athletic build. Since I began CrossFit (2009) the ladies would always rave about the comfort of Lululemon, but I scoffed at the prices. Fast forward to 2016 and I decide to give Lululemon a try at a sale event in D.C. I picked up a few athletic pants and t-shirts. It was all down hill from there. I won't bore you with the details, but all I only wear is Lululemon, athletic and casual. It was time to replace the board shorts of the past, and upon inspection I discovered that their price increased to a comparable range of T.H.E. Short R&D price. I read customer reviews and just decided to go with the same number of shorts I was replacing, to save on wear and tear. Due to the price I really wanted to see if these shorts were worth it so I wore them around the apt and did an hour long mobility session the day of purchase. I was immediately impressed with the freedom of movement. Today I wore them to the "box" and completed the WOD, which included heavy deadlifts (21 @ 225, 15 @ 275, 9 @ 295#). Getting in to a solid base position wasn't an issue, and I was really surprised that I didn't feel the shorts during any movement. I also noticed how much faster the shorts dried from sweat. As noted earlier, I replaced the entire set of board shorts, 6 in total. I wear T.H.E. Short(s) 2 days in a row, then wash on delicate cycle, and low dry with No fabric softer. I launder the shorts with compression tights that I wear under T.H.E. Short (different brand), and possibly a t-shirt or two. I found that rotating the shorts on this schedule saves on wear and tear, and is easier on laundry duty. Comfort is key gents. To close, I highly recommend wearing 3/4 compression tights during exercise. If you hate when your boxer briefs require adjusting because they ride-up, 3/4 compression tights are your friend. It's 100% set-and-go (no adjusting required throughout the workout). It changes the entire experience of *comfort*. As a student, my dress requirement is pretty relaxed so I wear 3/4 tights the majority of the time. They work well under the ABC and Sojourn pants, and all of the athletic pants manufactured by Lululemon.
Date published: 2017-04-04