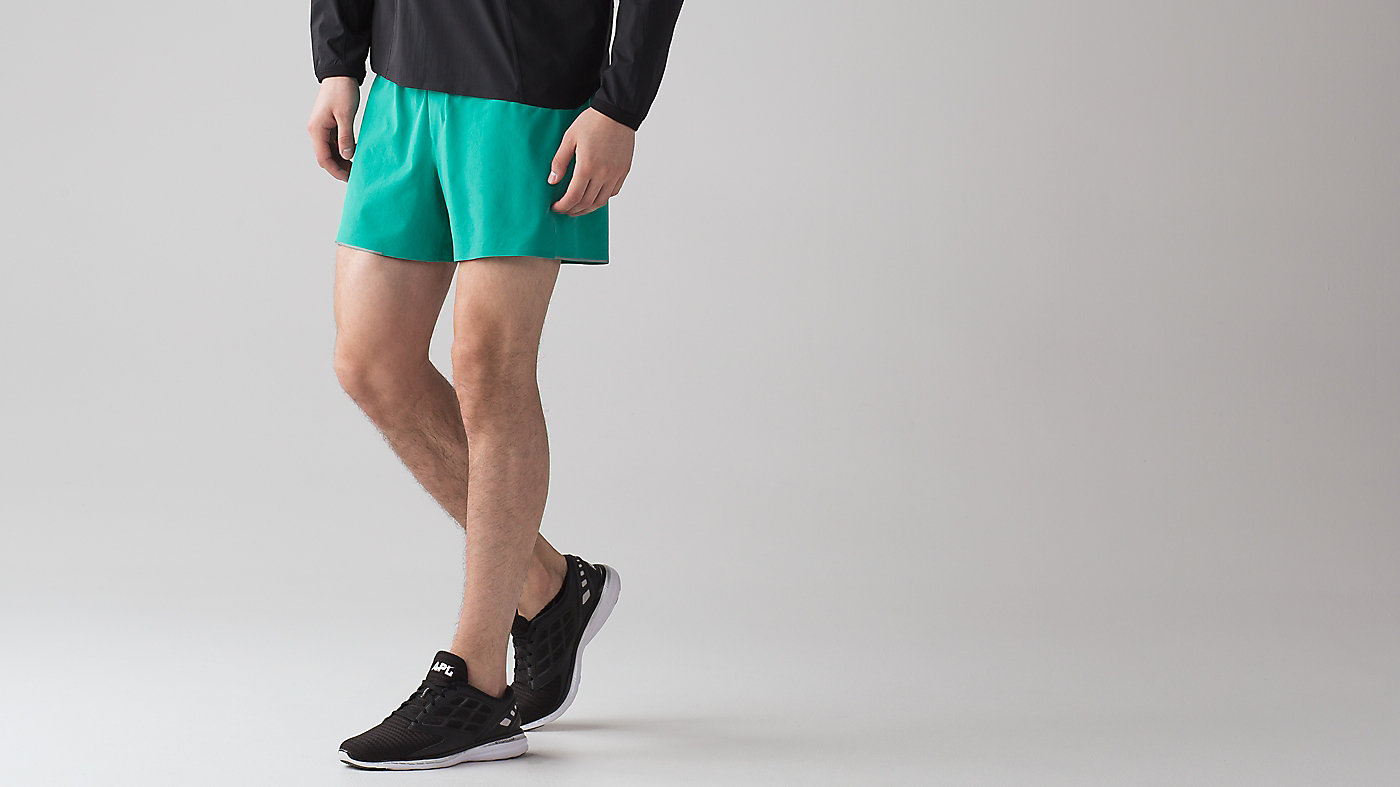 ---
lycra®
Added Lycra® fibre for stretch and shape retention
---
waistband loop
Holds your shirt when your workout heats up
---
back pocket
Holds your essentials
---
generous cut
For room through the butt and quads
---
---
BUILT-IN LINER
Fabric lining is soft and sweat-wicking

Surge Short 5"
is rated out of
5
by
38
.
Rated

3

out of

5
by
Philip
from
Color in other short styles
I absolutely love the viridian green color of these shorts, but I am very disappointed that this color is only available in the 5" surge shorts and not available in other surge shorts lengths. I definitely would purchase these for my boyfriend if they were in the 9" or 11" style and not the 5". I keep checking the site constantly to see if the color option is available in other short styles but sadly it has not happened. Please make that color available in more short style options :)!
Date published: 2017-05-24
Rated

5

out of

5
by
LoganLee
from
My new favorite shorts
These are by far the best shorts lululemon makes. They're light, fit perfectly, not too tight, dry fast, and breathe really well. The 5" is a perfect length for long runs as well as casual wear.
Date published: 2017-05-12
Rated

5

out of

5
by
CrossFitBear
from
Shorter please
These shorts are great. I picked up both the 5" and 3" shorts in Australia. I was happy that we have the 5" online in the USA too. I wish the 3" were available here. Overall they move well and are very comfortable. Great for working out or just lounging around.
Date published: 2017-03-21
Rated

3

out of

5
by
HockeyAthlete
from
My fav shorts
These are my favorite lulu shorts. They fit my hockey legs really well, and are light and stay dry very well too. My only issue is that the pocket where the zipper comes off like a month after my purchase. So I have to wear core shorts under my Lulu Surge Shorts so that nobody can see my skin underneath. Also, the pocket flapping around is a bit annoying now. I would 100% buy these again, I can never seem to find my size and colour in stores but I would recommend these for sure. I have about 6-7 pairs of shorts from lulu and the surge 5' is my favourite! 5/5 product 3/5 durability
Date published: 2017-03-14
Rated

5

out of

5
by
SuperBigGulp
from
My favorite running shorts - Best Surge yet
I have a few different versions of Surge 5" shorts and these are the best iteration yet. The fit is great , pocket in the back so weight is distributed evenly, and the current version (Spring 17, apparently) has two internal gel-sized pockets that I personally don't use but I know some people like and seems to have been missing from previous versions. Also really like the kinetic green multi color (I'm tired of gray and black), and the length is great for running,. Hope Lulu keeps making these and keeps coming out with non-boring colors.
Date published: 2017-02-26
Rated

5

out of

5
by
NotUnimaginativeBlack
from
ColorVoid
I love these shorts. Was planning on getting a couple more. Thankfully, I snagged a pair before Lulu went ninja. Why no more colors? It seems like the company is no longer catering to runners; running shorts are definitely on the backburner.
Date published: 2016-07-01
Rated

2

out of

5
by
Airpuffy
from
Unfortunately Lululemon doesn't make great running shorts
So I was looking for a good length running short and thought Lululemon would have considered everything in their design. First of all, these are a good length for regular training, I run about 35-45 mpw and these are a cooler design (temperature wise). Now the bad news. The placement of the pocket is on the side, so if you place your keys in the key pocket, it is constantly rubbing during a run. Nike and most other manufacturers place this on the backside so there's no rubbing. First problem is that you feel the key the entire run. Secondly, this wears through the material. The liner is also not the most comfortable out there. For the money, you can get 2-3 pairs of Nike or UA shorts for the same price and probably 70% of the comfort with more longevity. Sad, as I really wanted to like these shorts.
Date published: 2016-06-10
Rated

5

out of

5
by
lambardi
from
Best shorts ever
I feel bad... I wear these all the time..too much in fact. Summer, winter, no matter. I wear them all the time. Oh and I run in them too. Waiting for XL to come in stock so I can order a 3rd set.
Date published: 2016-06-10
Rated

5

out of

5
by
TC2491
from
Awesome Shorts
This is my first pair of lululemon shorts because I had never seen anything shorter than 7 inches in the stores. I'm glad I found these online. They're great all around, good quality and comfortable for long runs. Wish they sold these in different color variations and in stores!
Date published: 2016-06-06
Rated

4

out of

5
by
DaveLL
from
Awesome running shorts....but
first off, i have three pairs of the 5" Surge short. I have spent many laps on the track in them and run many marathons in them - they are a great short. I went in to buy another pair this afternoon, and was sad to see that the two gel pockets on the inside front part of the short are no longer there. For marathons and long training runs, in the absence of these pockets make the shorts unsuitable. Too bad...please put the pockets back in them!!!
Date published: 2016-05-26