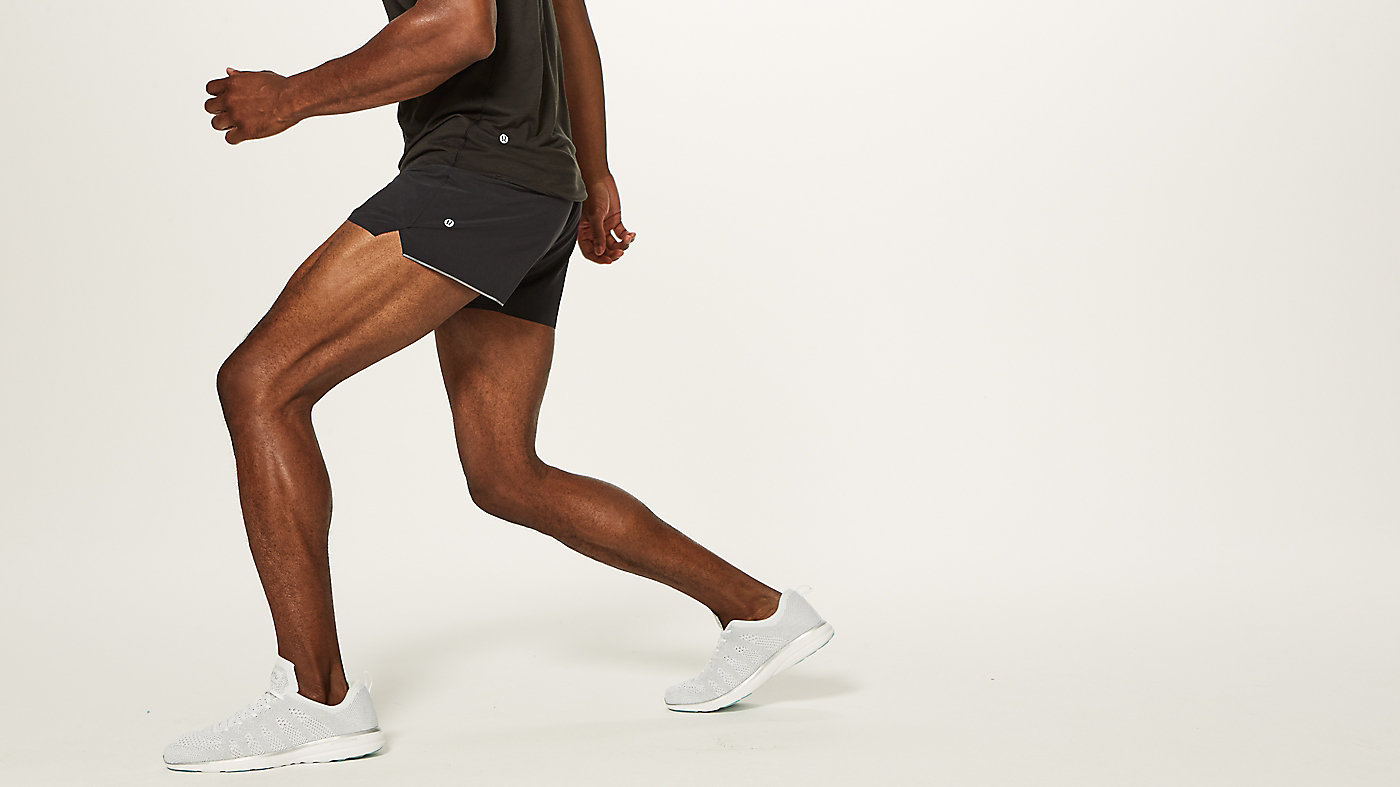 ---
lycra®
Added Lycra® fibre for stretch and shape retention
---
waistband loop
Holds your shirt when your workout heats up
---
Shine-bright
Reflective detail helps keep you on the radar in low light
---
generous cut
For room through the butt and quads
---
---
BUILT-IN LINER
Fabric lining is soft and sweat-wicking
---
STORAGE
Secure back pocket to store your essentials

Surge Short 3"
is rated out of
5
by
7
.
Rated

2

out of

5
by
christianareas
from
Great shorts, uncomfortable liner, no option to exchange or return
I love the shorts, but the liner is too loose, and rides up where it shouldnt -- especially when you're pushing it. Would love to see the 3" without a liner, or with a boxer brief style liner. Two stars for not standing behind the fit and offering an exchange or refund.
Date published: 2017-06-04
Rated

5

out of

5
by
RomanArch
from
Great shorts!
Great fabric that feels amazing. Length is perfect, particularly as I am a shorter man, and most other available shorts are way too long, and look like baggy droopy skirt. I do have to disagree with a few of the other reviews. I think a side split and/or shorter length, while a good option for some, would need to be an entirely different product. This product is fine as it is. More color and more inventory needed.
Date published: 2017-01-13
Rated

2

out of

5
by
TRIGUY
from
Shorts w/ minimal insight from actual runners
At first I thought Lululemon FINALLY DID IT - they made a short that is shorter than a pair of what you would see on any casual gym enthusiast. Welded seams, lightweight and breathable material what more could a runner desire? Length was perfect however attempting to have efficient leg turnover was hindered by the snug fit of these shorts. A simple solution to that would be making these a split short with 1.5" to 2" inseam. The internal underwear was a tad loose as well, making those 10+ mile runs extremely uncomfortable during and following. Please Lululemon simply change the design to a split short! This short would be appealing to a larger audience, especially tapping into the active running scene.
Date published: 2016-11-30
Rated

5

out of

5
by
GopherDoc
from
FINALLY!!!!
Finally a short for runners. I've always loved the 5 inch, but the length is too long for distance running. The 3 inch is perfect for long distance and marathon. High quality, great fit!!!
Date published: 2016-11-16
Rated

3

out of

5
by
realrunner
from
Designed for the non-runner, with the runner in mind
Lulu made a decent attempt to manufacture a running short, unfortunately they did not consult enough individuals who do a lot of running. I give them props for going with a traditional black color with a couple new age reflective properties. I haven't utilized the band to tuck the shirt in, which I guess is a nice concept or one could just ditch the shirt in the first place. I'm assuming the fabric for the inaccessible fly is just for looks, for those that feel conscientious wearing running shorts in public places after a run...not me. My two biggest rubs with the shorts is 1) the overall cut of the shorts and 2) the liner width. The cut is a shade on the snug side, given the 3'' length. This could be easily remedied by going to a split design, 1.5 or 2'' in length, or just decreasing the overall length to 2.5'' length. The liner is where Lulu needs to make some serious modifications, however. The liner is way too narrow, it feels like wearing a banana hammock. Because of this I would not utilize this pair of shorts on any run lasting over an hour.
Date published: 2016-10-27
Rated

5

out of

5
by
ClubSoda
from
Best workout shorts yet!
These shorts are the perfect balance of light, short, and unrestrictive, while also being modest and not exposing TOO much and making you feel like some sort of predator. I have been a long time (luke warm) fan of the Surge Short 5". My complaint has always been that they are a little too bulky in the waste band and have too many pockets and just extra material/stuff going on in general that weighs them down. I don't have the longest legs in the world so the whole board shorts trend that WON'T SEEM TO DIE is monumentally irritating to me as it limits my options for shorts. When I workout I like a very minimalist short that is not restrictive and not cumbersome. The obvious choice for me would just be to suck it up and wear running split shorts, but those are just a little TOO much, and are a bit awkward if you wear them anywhere but the gym/exercising. I hope you will continue to keep these shorts in your regular year round line up. I have no idea how popular they will be currently, but things will have to turn around soon, the board short trend will finally die the death that it deserves, and you will be on the forefront of the next generation of shorts when that finally happens. Hang tough and don't send these to the scrapyard Lulu! You have a winner!
Date published: 2016-10-09
Rated

4

out of

5
by
fitnavyguy
from
If you like REALLY short...
shorts, then this is for you. I have the 5 and 7 inch surge shorts. I thought they were already short to begin with. Out of curiousity, I tried them on. Unless you want to look like someone wearing boxers while out there running looking like you're about to shL0ng someone, by all means. 4 stars were given because of the fabric quality. Well, its lulu of course the fabric is awesome
Date published: 2016-09-30