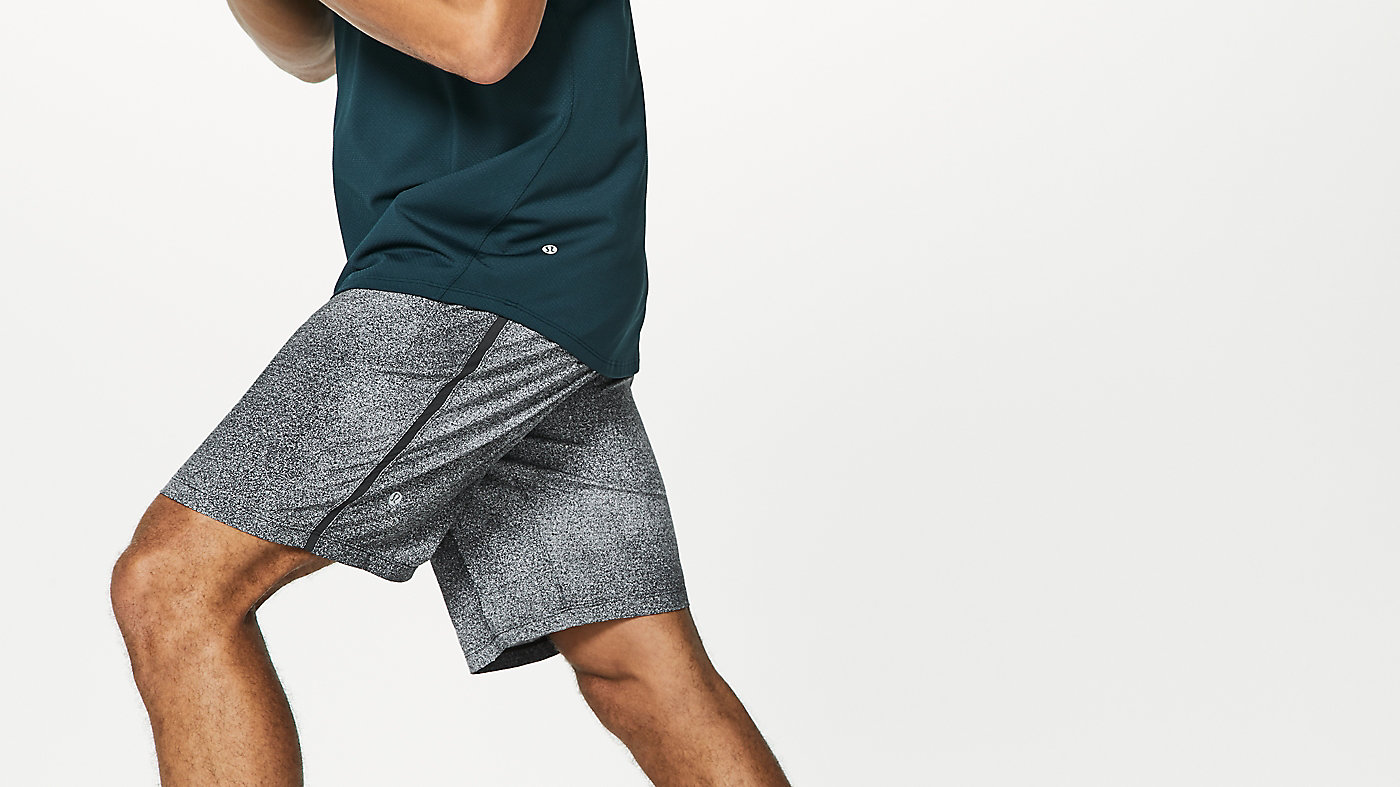 ---
lycra®
Added Lycra® fibre for stretch and shape retention
---
media pocket
For quick access to your phone
---
fit
These shorts are designed to sit at the waist
---
generous cut
For room through the butt and quads
---
---
MOBILITY
Gusset is placed to allow increased mobility

Pace Breaker Short *Linerless
is rated out of
5
by
20
.
Rated

1

out of

5
by
kyle245
from
barely lasted a week
I bought these shorts because I've seen so many other men wearing these kind of shorts but unfortunately these really suck. The pockets are really big and get caught on a lot of things. They got caught on my weights and ripped a little. Then the waist band doesn't look good anymore. The fabric is bumpy now and no longer smooth.
Date published: 2017-08-16
Rated

5

out of

5
by
Robb425672
from
Awesome shorts. Absolutely love them
The quality on these is great. I love the design, color and fit. Only thing that would make these better is if they had a zip pocket but I knew this before purchase. Highly recommend.
Date published: 2017-08-13
Rated

2

out of

5
by
jacobus20
from
Poor design
Not sure how these shorts made it out of the design phase. The side pockets flare out, making it very easy to catch your fingers, weights, etc. on them when training. Overall fit was good, though the quality of materials seems lower than past shorts I've purchased/own from Lululemon. I immediately returned these and fear this brand may be a lost cause.
Date published: 2017-07-29
Rated

5

out of

5
by
ddmark
from
First time going Linerless and I love it
I own 6 pairs of the Pace Breaker with Liner. Since it was on sale online, I thought I would give this Linerless version a try and boy....am I happy I did,. My boys are looser and free (but not too loose!). I love it. Fit is perfect (bought a small....5' 9" and 170 lbs).
Date published: 2017-07-29
Rated

5

out of

5
by
JPPP
from
Best Short I Own
Great pair of shorts. I've had them for about a year and have had no problems. Thinking of pulling the trigger on another pair.
Date published: 2017-05-20
Rated

4

out of

5
by
PeteMig
from
Happy the linerless is back...but...
These are my favorite shorts Lulu makes, so I was happy to see them make a comeback. My only complaint is that these cost the same as the version with the liner. If it doesn't have the extra material, and it doesn't take the extra cost to create them, why aren't they cheaper than the version with the liner? The crotch area also has a different cut than the previous versions. The material sits a little weird... Kinda lame.
Date published: 2017-05-09
Rated

3

out of

5
by
ChipperJones
from
Fit and Styles not as good as in the past
I own numerous pairs of the Pace Breaker shorts and love them, but it's been several years since I bought a new pair mainly because the designers of the shorts only offer these patterns and weird prints with boring and dull colors now. Why does the design team no longer offer just solid colors in the Pace Breaker Short???? Y'all have basically phased me out as a loyal customer due to only offering the shorts in weird patterns and prints and picking only dull colors. Please Go back to your roots and start offering some options that have just solid colors, as I would like to purchase some new shorts but ones that are on the more conservative side. Thanks
Date published: 2017-05-03
Rated

5

out of

5
by
hockeyplayer9
from
A Good Four Years
These shorts are fantastic!! I've been wearing the same five or six pairs to the gym and casually almost daily for the last 3-4 years. They are extremely comfortable and the built in liner doesn't ride up and is just right. Other than the metal vent shirts these are my favorite lululemon product. I've played ice hockey my whole life so my legs are pretty big and the larges are perfect. Unfortunately after 3-4 years all of the liners are starting to tear pretty bad and some of the older pairs are starting to rip on the seams. Wonderful product though, I have seen the small tweaks in these shorts over the last few years and they just keep increasing in quality.
Date published: 2017-04-13
Rated

1

out of

5
by
AZKZ
from
Sizing off
I have 7 pair of the lined Pace Breaker shorts and are happy with the fit. Saw a linerless pair on sale so I ordered them in my usual size. Tried them on, and they fit a size larger than the lined version. Really LULU!! Now I'm stuck with shorts too big to wear. If you can't get your sizing consistent then you need to rethink the final sale policy. Have had a similar size issue with the mvt shirts as well. An associate in my local store said the same shirt will fit differently based on the color.
Date published: 2016-04-28
Rated

5

out of

5
by
sidthekid
from
Great shorts need more colors
These are probably the best shorts i own. I love the way they fit without the liner and i have a pair that i wear all the time. The one issue I have is the lack of different colors. As soon as lulu brings back the all black ones i will be purchasing them right away. If they made the linerless pace breaker in all the same colors as the regular pace breaker, I would probably own 5 or 6 pairs.
Date published: 2016-04-14