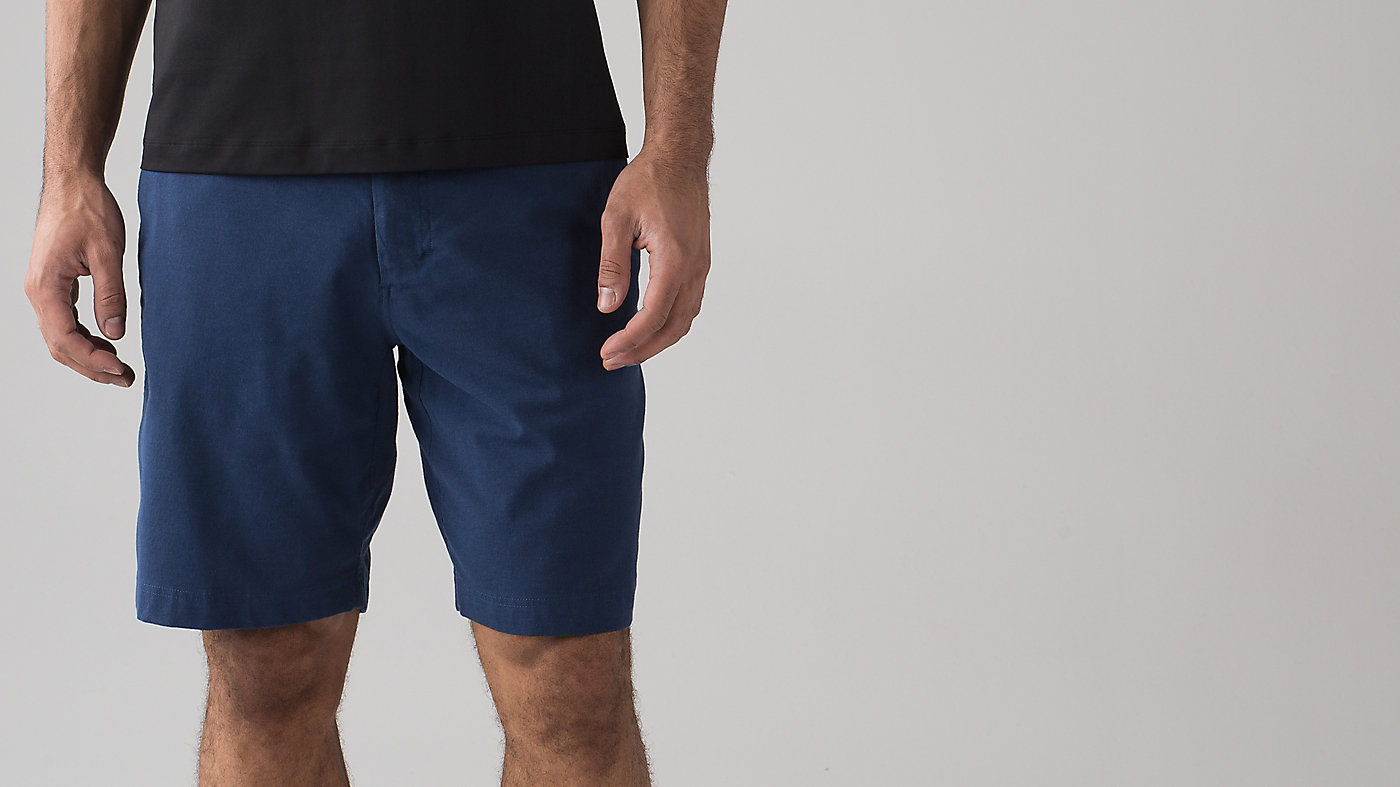 support
ABC (anti-ball crushing) design gives the boys some room
---
---
zippered pocket
Helps keep your essentials secure on the go
---
gusset
Gives the family jewels room to move
---
fit
These shorts are designed to sit at the waist
---

Commission Short 9" *Qwick Oxford
is rated out of
5
by
42
.
Rated

2

out of

5
by
MiddleAmerica
from
Loved...until washed
I just had received these shorts via mail a few weeks back. It took a while until I finally took the tags off and wore them out the first time. I absolutely loved everything about them!...until I just washed them for the first time. I have NEVER had a single problem with any of my Lulu clothes going through the wash (e.g., pilling, fading, etc.). After I was ready to fold them up to put away I noticed several blotches or rather just unfavorably looking marks near the top. As aforementioned, I've never had a problem washing Lulu clothes and washed these as I do all the others (I own a couple other pairs of similar shorts, for reference). I would rate these 5 stars had this not happened. I basically got one wear out of a $90 pair of shorts. I love Lulu and own tons of different styles of their clothing because they're worth the money. However, I cannot get only one wear out of something before it's ruined and continue to spend that kind of money on clothing. I am pretty bummed, as I loved the shorts the one day I wore them.
Date published: 2017-06-20
Rated

1

out of

5
by
JohnnyG
from
Disappointed in These shorts
I have been a customer for almost 2 years and have never been disappointed. I bought these shorts in black in store and after I have washed them three times the color has faded terribly and they now look brown. I followed the correct washing method and was shocked to see how quickly these shorts have faded. I recommend trying to find other shorts that will last longer than 2 months.
Date published: 2017-06-19
Rated

5

out of

5
by
OJUT
from
Dynamite Pair of Shorts
Comfortable and stylish. A really great pair of shorts. I own several duplicates, and several different colors. They run somewhat snug - fitted as per current style trends. I had to order up in waist size to make them comfortable around the thigh and butt. But I'm what Lulu refer to as athletic with a hockey butt. The slight stretch in the fabric helps keep them comfortable and practical.
Date published: 2017-06-16
Rated

1

out of

5
by
JoeSmith
from
Shorts Stretch Out
Bought these shorts for my go to summer shorts. Wore them once and they stretched out in the waist at least one size. I tried a belt but they still hang off me. I'm bummed as I can no longer wear them.
Date published: 2017-06-13
Rated

1

out of

5
by
as17
from
Material wore out in one wear
Used these shorts once, the material wore out between my legs from walking. They are now almost ripping. Its sad because the shorts are not cheap and I was excited to use them for the summer.
Date published: 2017-06-07
Rated

3

out of

5
by
Camm83
from
Good shorts, concerned about quality
I have mixed feelings about these shorts. On the positive side the have the right stretch, the perfect fit and they are very comfortable. they are very versatile for a day out in the city or just lounging around the house. Unfortunately just after 3 washes I have noticed some pilling/fuzz on the fabric which is making it lose its sharpness. I am very careful on how I watch clothes so I am sure that is not the issue. In summary, nice shorts but the fabric quality is not worth the extra $$$ so will probably not be buying these again.
Date published: 2017-06-07
Rated

3

out of

5
by
Cjss
from
Stretched out
My husband was so excited to try these shorts on in store and love them. "The perfect short" as he says about all his lulu shorts (and other items). We were told they wouldn't stretch (I was worried they may). He bought a 34 and it was a perfect fit in store. He has worn them once; out for dinner and walk with our newborn. They are unfortunately so stretched out that he says he may not be able to wear them again :( Wish we had known they would stretch and he would have sized down. I would recommend doing so! We love our lulu gear, but have to think twice after spending $90 on a pair of shorts that we were told would fit true to size and instead stretched :(
Date published: 2017-05-27
Rated

3

out of

5
by
Louie256
from
Just an Ok short, unsure worth the cost
This was my first time trying out Lulu men clothing. I was so excited for these shorts when I bought them, they fit nice in the dressing room, love the material, and they looked good. After wearing them maybe twice, pilling started to form and after the wash it only got worse. These shorts look great the moment you put them on, but after spending a afternoon in them they become baggy throughout and tend to just look sloppy. My plan was to try out the first pair then go back and buy all the colors, after this experience I may just go back to Bonobos.
Date published: 2017-05-17
Rated

2

out of

5
by
JaJo
from
BRING BACK THE ABC SHORTS!!!!
I bought a pair of these (khaki color) because salesperson said they were the new/replacement for the ABC Shorts - would perform the same/better. Fabric wrinkles easily and pills withing 2-3 washes - NOT a nice look for anything but very casual. They're OK for the beach; bike rides; etc. - but not a backyard party, casual meal in town, etc. PLEASE - BRING BACK THE ABC SHORTS!!!! They were the best - by FAR!!!! I never write with exclamation points; but feel like you guys need this customer feedback.
Date published: 2017-05-15
Rated

2

out of

5
by
beetbeets
from
Great in many ways, disappointed with the fabric
I went back and forth about whether to give this 2 or 3 stars. I think they hit the mark of being the perfect casual short for me in many ways, but the fabric brings them down. The fit is good, length is perfect, and they work well with a button down or a t shirt. I brought them on vacation and they have been versatile enough to be my only pair of shorts. The zippered rear pocket gives me peace of mind that my wallet and passport aren't going anywhere. They don't repel water, but they do dry pretty quickly. Unfortunately, after about a week of constant wear with 2 washes, they are starting to pill/fuzz and show some wear. Pilling isn't actually the right term, but the surface of the shorts has a slight fuzz over them. They definitely do not feel very robust. I have been wearing them casually and would be nervous to do anything too active in them. I think the overall design of the shorts is perfect, but they are really let down by the fabric. A better fabric with more durability and a DWR treatment, and these would be the perfect short. They are currently the only Lululemon item I own that I would not buy again nor recommend to a friend.
Date published: 2017-04-28