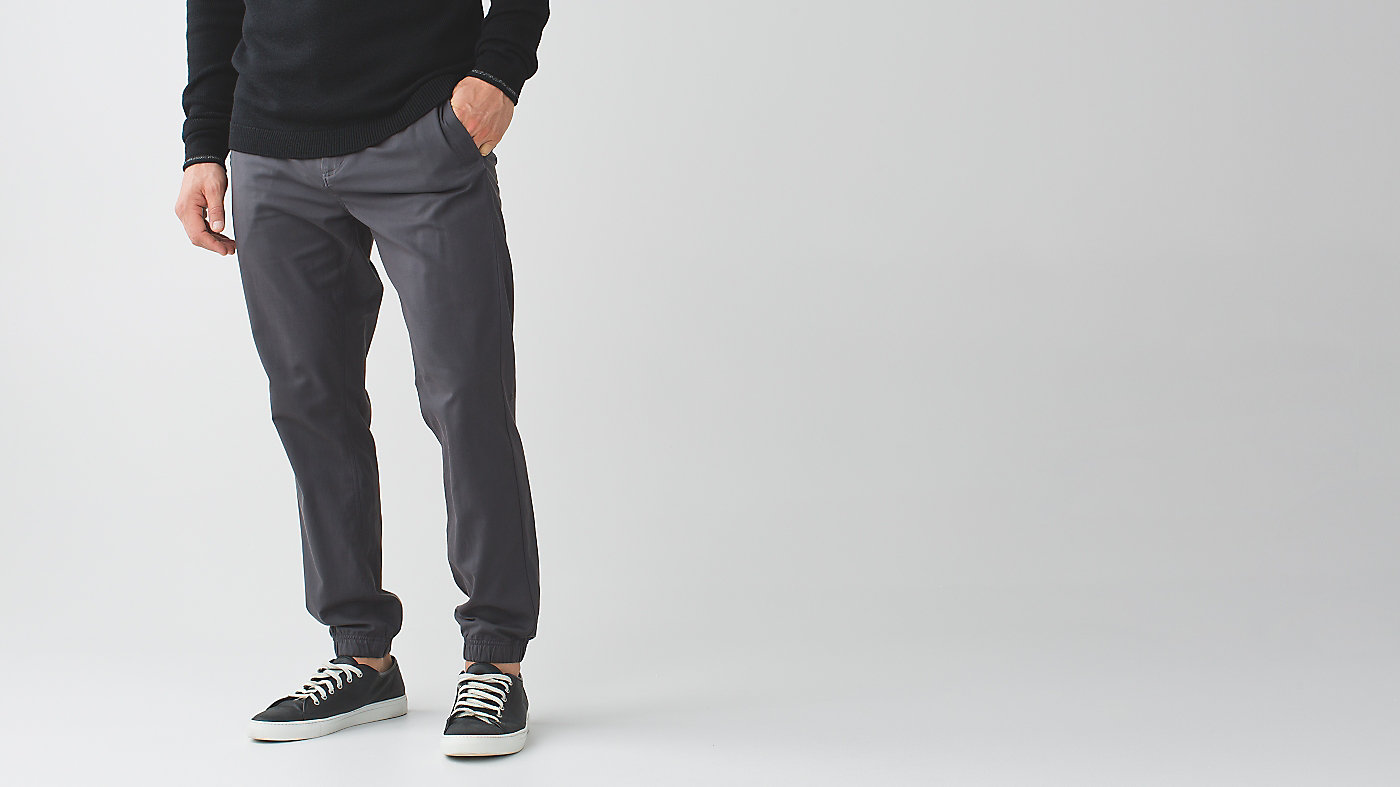 ---
zipper pocket
Store your stuff in the secure zippered pocket
---
fit
These pants are designed to sit at the hip
---
streamlined fit
Narrows from knee to cuff

What The Cuff Pant
is rated out of
5
by
16
.
Rated

2

out of

5
by
FirstTee
from
What Cuff?
First time purchasing a pair of Lululemon pants and needless to say it did not go as planned. Purchased 'what the cuff' pants hoping they would be a true jogger with the feel of a chino. The cuff on the bottom was extremely loose and felt more like a typical pair of straight-leg pants. There was no "hold" in the cuff around the calf, let along the ankle, despite having an athletic build with which typical cuffs are rather tight.
Date published: 2016-05-19
Rated

5

out of

5
by
daddadoc
from
everythingproof
love these pants. wanted the bespoke pant, but not made anymore, so bought these as a close second. Not disappointed. Climb/boulder 4-5 times a week usually for 2 weeks at a time before rotating out for clean ones. After a year or so, these pants still look and perform like new. No holes, no shredding, no fading. Light weight, breathable, with absolute freedom of movement. Will buy again.
Date published: 2016-05-09
Rated

1

out of

5
by
SeattleMike
from
Sizing + probably got used/returned product
I ordered these pants and tried them on at the store prior to doing so. With this particular style, I had to order a size up since the 34 isn't truly a 34 (I wear 34 normally). When I got it, the sizing was completely off AND I received it in a bag where the tag was already taken off. When I tried it on, the waist was fine but the length of the pant seemed like it was meant as a Tall size, even though I ordered a regular one (I own a lot of Lulu pants so I know tall vs regular) and it was unusually baggy, unlike the one I tried on at the store. The cuff also was pretty large and combined with not having an attached tag, I can assume that this was a return or used. This is the first bad experience I had w/Lululemon and I hope someone can help me with this. I don't want to be out 100 bucks for something I can't wear or a defective product.
Date published: 2016-03-09
Rated

2

out of

5
by
johnJHD
from
Not your usual Lululemon Pant
I was initially excited to get these, but that excitement quickly wore off. I bought them online so I did not realize the material they are made if is.....bad. Feels harsh and scratchy and wears ridiculously fast. Color is super dull and they just look dumpy. I wouldn't recommend these pants.
Date published: 2016-03-06
Rated

5

out of

5
by
kstud
from
The Best Pants
I highly recommend these pants, especially for ordering online. I'm roughly a 34-36/30 in pants, and these are great because I don't have to worry about hemming them when receiving them - both because the inseam is approximately right for me and they have an elastic cuff. I have pretty big quads, and most times lulu pants will fit a bit tight higher up, but these have a nice, relaxed fit, and I can put stuff in my pockets without making things bulge out. I bought a pair and they pretty much became my favourite pair of pants, so I ended up getting two more sets.
Date published: 2016-02-24
Rated

5

out of

5
by
Buffaloyogi
from
So cool!!
Please make these in more colors..and can you please start making MORE in the smaller sizes so they don't sell out so fast. These pants are awesome!!
Date published: 2016-02-23
Rated

5

out of

5
by
JaySimpson
from
Best Travel- Anytime of the Day Pants
Bought these with no idea what I was getting into. Now I know that I'm obsessed. I would say I wear these once a week, light weight and can be worn dress down or to go to dinner. The cuff at the bottom actually looks pretty nice with boots or vans. I went a size up on my order, I'm a crossfitter with some thighs. (5'11"/ #205) Great style of pants and definitely more of a dressier look to them.
Date published: 2016-02-20
Rated

5

out of

5
by
LuluGolfer
from
Great Pants
At first I was a little hesitant to buy these based on the just ok reviews. I ordered both my normal size and one size up. I kept the one size up because they fit perfect and after one wash, fit even better. I have athletic thighs and these aren't too tight. The Olive green is a great color as well.
Date published: 2016-02-16
Rated

4

out of

5
by
CJAGymNinja
from
Great Everyday Pants - Awesome for Travel
Super comfortable, but try on before you buy!!! Awesome for travel, and everyday technical wear. Take these from the office to the beach and back again! Lululemon PLEASE MAKE THESE IN BLACK!
Date published: 2016-02-05
Rated

4

out of

5
by
ScottyD
from
Need more colors! Some cuts have been off
First and foremost I LOVE Lulu lifestyle gear and own basically ever polo and ABC pants. I recently fell in love with these what the cuff pants, but noticed some of them have had different cuts and feel. One pair is tight around the waste and the other seems like the inseam is longer than the same size pair that I have. could just be bad luck.But if you can continue to make these in different colors. The jogger pant is so popular right now.
Date published: 2016-02-05