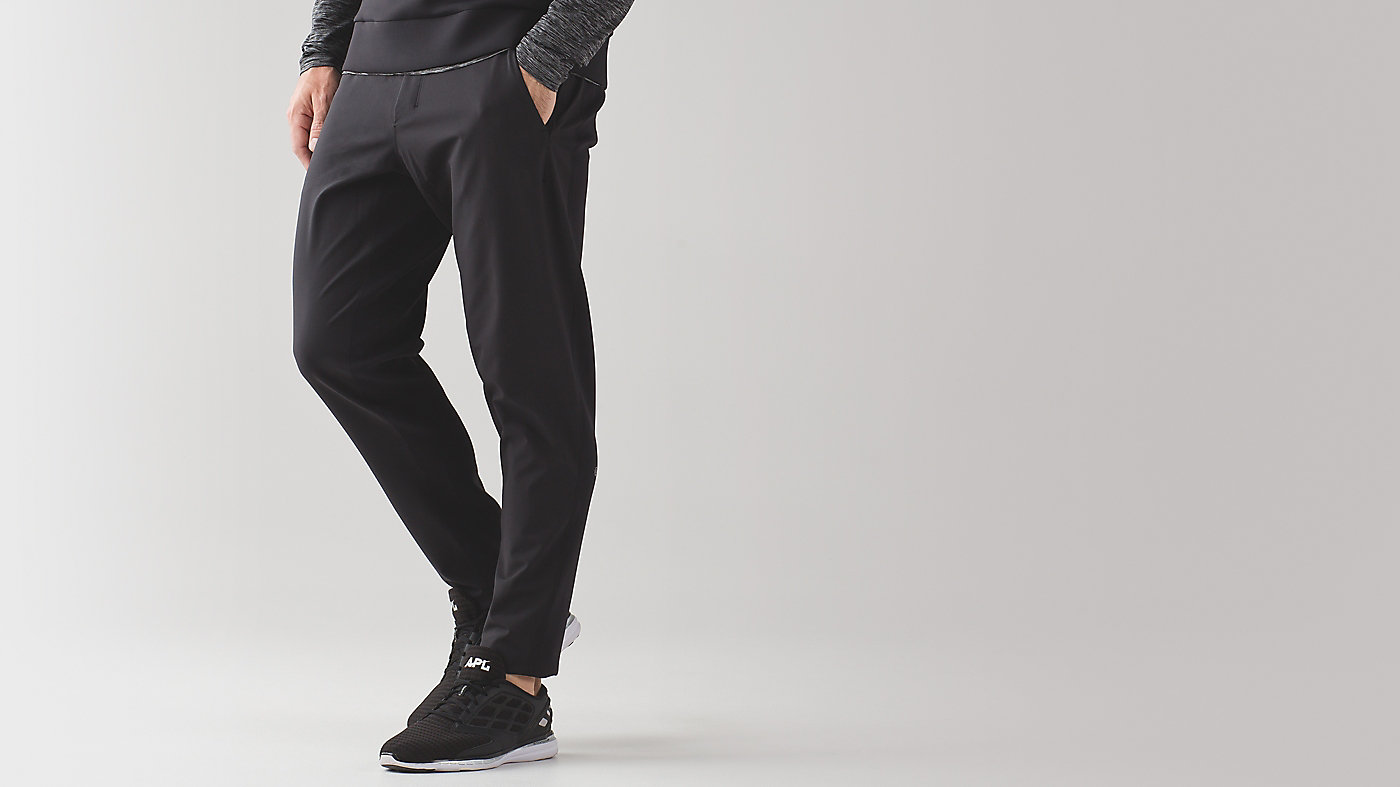 ---
Abrasion-Resistant
Panels are engineered to resist barbell abrasion

License To Train Pant
is rated out of
5
by
30
.
Rated

4

out of

5
by
tifts
from
Love them but weary of their durability
I bought 1 pair and loved them so much, I ordered a second. I've worn them sparingly but have noticed the "pilling" effect around the waist area of one. Now I'm concerned about wearing/washing them too much to exaggerate the damage. Too bad because I could live in these pants ... definitely not the quality that I'm used to from Lululemon.
Date published: 2017-06-15
Rated

2

out of

5
by
BillyBlaze
from
Comfy pants but black fades
I have two pairs of these pants black & grey. The grey are great, the black I've washed once and the fabric above the knees is already fading. I like the material and they're really comfortable but the black is a big problem for colour.
Date published: 2017-05-23
Rated

5

out of

5
by
jtheninja
from
imo best pants they've made
Over 1 month later of daily usage and I'm married to these. I'm not sure if I got a different production run, but have no issues with the fabric pilling or running like others have said. I think Lulu should make these a permanent style. These are the only Lulu pants I haven't returned (I have lots of shorts). I'm pretty picky and don't blink to drop deniro on VALUE & QUALITY so don't take the following lightly: It's roomy, breezy, and lightweight, stylish and uses good fabrics. From daily beach runs to long haul-flights- they're perfect. The front fabric is thin, so in windy weather you'll feel the chill. I'd only be wary of the length, but that's easily fixed.
Date published: 2017-04-22
Rated

4

out of

5
by
SFmate
from
Good pants with great fit
I bought these in grey and fit is really good, if you like slim fitting. Colors don't match b/w front and back of the pants as they are different material, could have done a better job but it works. I wear them both at gym and casual when out and about. Hope they improve the quality a little and bring them out in more colors.
Date published: 2017-04-17
Rated

2

out of

5
by
PattyB
from
Great fit, very poor resistance to
I bought a pair a few months ago. I needed a pair of pants that is tough and resistant. I absolutely love lululemon products because they are durable and extremely comfortable, but I was very disapointed with that pair. There are now a few small scratches on the front of my pants as well as two big tears on one of the knees. These pants were supposed to be "abrasion-resistant", but they are damaged already. I absolutely lov the fit, but I am very dissapointed with the quality of the product! All my other lulu clothes are holding up great, but this one just doesn't seem to be on the same level!
Date published: 2017-04-15
Rated

2

out of

5
by
gcracker
from
Nice Fit, Poor Durability
I decided to try these pants out because of a "we made too much" sale. My first impressions were "WOW" because the fit was tapered and the material felt nice. To put it in perspective I normally wear Nike Tech Fleece. However, I barely wear these pants (~once a week - had them for ~two months). These pants have suffered from some small spots of piling on the backside. Since these have been barely worn I am concerned about what will come later down the line. After buying these pants, I was initially sold on the brand and would probably move into buying shirts. However, after reading reviews, it seems as the shirts also have piling issues and are prone to stretching. Since this is my first Lulu purchase I want to try to give the benefit of the doubt to Lululemon, but it is hard when all these reviews on their products say the same thing.
Date published: 2017-04-05
Rated

1

out of

5
by
htb99
from
Surprisingly Low-Quality. TRIED TWO PAIRS!
I have quite a few sweatpants from lululemon, and I've always been pleased with the quality of them; however, these particular sweatpants are disappointingly low-quality. I owned a grey pair a little while ago and they quickly got many pulls and "plucks" on the back of them after only a few casual wears. The pants soon looked very ratty and worn after only a few wears. I got rid of them shortly thereafter. Months later, ironically, I received them as a gift. Thinking perhaps the first pair were just an exception, I wore the second pair in a similar fashion (casually) only to experience the same results! I'm very shocked because lululemon typically provides excellent quality! Haven't purchased lululemon as frequently as I used to for fear of decreasing quality! Also, just an FYI, although the material on the front of the pants appears to be water-resistant, IT IS NOT!!! Water soaks in, DOES NOT BEAD.
Date published: 2017-04-03
Rated

2

out of

5
by
lpg123
from
Easily frayed and stained
The fit and look is great, but the front fabric just is not durable. One, after a couple washes the material has started to fray. Two, they stain very easily and a little dirt has not come out after multiple washes.
Date published: 2017-03-30
Rated

1

out of

5
by
Johno94m
from
First Wash pilled the back of my pants
I had 2 friends suggest these pants to me because they had nothing but awesome things to say. I bought them and wore them for a week, probably the most comfortable pants I have ever worn. Then I washed the pants with all my lulu items on a delicate cycle, air dried them only to find the back of the pants pilled and some parts of the fabric had stringed out. Very disappointing considering I followed the proper lululemon wash protocol.
Date published: 2017-03-28
Rated

3

out of

5
by
Willy15
from
Great for Lifting, not for sweat
Bought these pants with high expectations for olympic lifting and warming up at the gym and rink. The pants fit great, as a hockey player some pants are too tight in the butt and too loose in the waist, these pants are snug in all the right places and allow me to move very well. The front of the pant has done its part and has held up with a lot of barbell friction. Two problems... if you do more than lift in them and involve a metcon or cardio you may sweat through the knees. Two, and a big one for me because I own the grey colored pant is how easily the material on the front stains. Even with a cold wash following directions and using a stain remover (thought why not, can't get much worse) the stains still have not come out. The only thing I can remember spilling on the pants was some protein shake. A few poorly located stains in the front are the only problem with the pants.
Date published: 2017-03-26