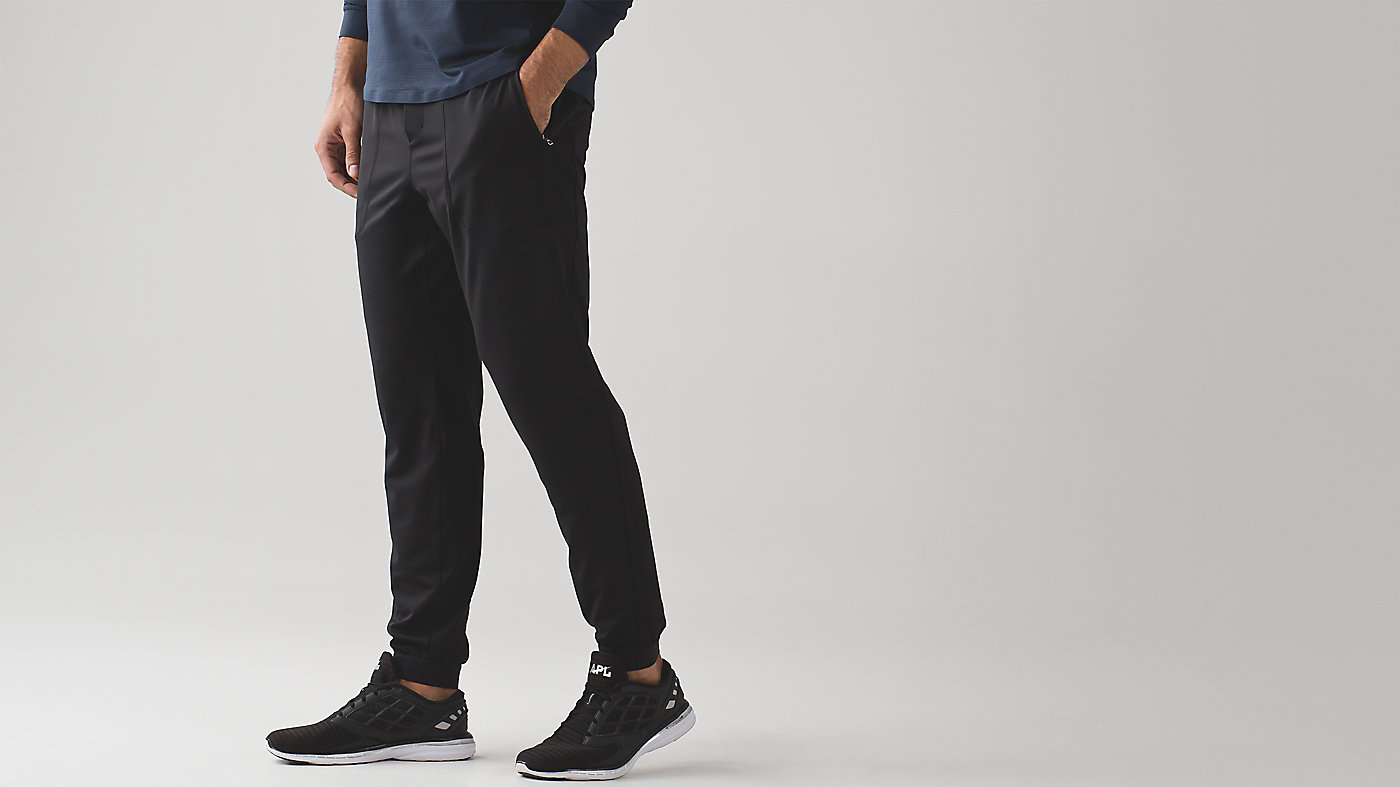 ---
fit
These pants are designed to sit at the waist
---
Drawcord with options
Wear the drawcord inside or outside to reduce bulk
---

Future Classics Jogger
is rated out of
5
by
6
.
Rated

3

out of

5
by
DrewBrance
from
LOVE THEM BUT!!!!!
LOVE THESE JOGGERS... Bought them 2 weeks ago but..... they are piling like crazy and I have only wore them twice what can i do? I am very disappointed and I need a replacement pair
Date published: 2017-08-08
Rated

1

out of

5
by
BradAB
from
Not Impressed
this was the first lululemon purchase i've made, and was excited to see what all the hype was about, and I am very happy with the fit but my first day wearing them in the gym the stitching started to unravel within 45 mins. I wasn't even doing anything that involved legs either. for something that cost $130, I'm not impressed.
Date published: 2017-07-23
Rated

5

out of

5
by
CASUALTRAVELLER
from
Most comfortable Joggers I've owned
I rarely review clothing, but I feel I have to share my experiences with these pants. By far, these are the most comfortable jogger pants I've owned. I got them from a sale rack in a store, and they had both Medium and Small. I usually wear Medium waist (31-32 waist), though I'm only 5'6". The medium felt like Hammer-time pants (very loose legs), so I opted for the Small size...legs fit better, and the waist line is just fine for me (plus, all this working out with it is only bound to make this fit better). I appreciate the elastic cuffs for us not tall guys, so I don't need to alter them, and they hide under the material once i have them on...even when the they show, they don't look bad. I travel with it, I go to the grocery with it, I go to the gym with it. Feels great on too...they're not hot on when the weather is warm, and they're not too thin for when it gets cold...Just a tip: they do trigger most metal detectors through airport customs because of the zipper. Also, because of the soft silky fabric, putting heavy stuff in the pockets would cause it to sag, and outlines the contents of the pocket...and outlines any other stuff in your pants, so i don't recommend going commando with these on...plus the soft fabric is going to cause some uncalled-for phenomenon when the fabric rubs. It has gone through many wash cycles and the color, fit and fabric have held up!! I would definitely buy some more of these, but I've already spent way too much money on ABC pants (because I love them, too), that I might wait until I find them on sale again.
Date published: 2017-07-17
Rated

5

out of

5
by
Champion
from
Best Joggers I've ever had
The pants are great and look good!
Date published: 2017-06-01
Rated

5

out of

5
by
ThatJCCTrainer
from
New go too pant for everything
A couple of details before I get into my review to try and be as transparent as I can: 1) Before buying my girlfriend leggings for Christmas I didn't know they made men's clothing 2) I am registered in the RnD program and do receive a discount 3) I now own 4 pairs of these pants and one pair of the intent pants, which I will compare too I want to start off by saying I absolutely love this product. Being 6'4" and lanky means I have a strange body type and its hard to get fitted clothes but these are perfect. As a personal trainer I was looking for a pant that looks professional but also shows off the booty a little. I would class them as a in between a loose fitting pant (intent, which I own as well) and tights/spandex, which was what I was looking for. Material is super comfortable and has enough stretch for me to complete my workouts in them. All this being said it gets pretty cold where I live so if you're looking to use these for working out outside in winter I'd look for a thermal pair. Before trying out Lulu products myself I never understood what the hype was about but now I'm hooked. These pants have replaced my $150 Nike Sphere Max's as my go too pant for work and leisure. Once you stop gasping for air after looking at the price tag, gather yourself and get yourself a pair amigos.
Date published: 2017-01-20
Rated

4

out of

5
by
NewEnglandPatriot
from
Nice joggers, but I prefer the Warpcity and City Sweat joggers.
I ordered 3 different pairs of lululemon joggers- future classics, warpcity, and city sweat. This future classics jogger fits true to size, though it's slightly slimmer than the fit of the warpcity jogger or city sweat jogger. The front pockets are zippered and have sub-pockets that fit small items like coins and keys. Unlike the warpcity and city sweat, this jogger has no rear pockets though. The fit is comfortable and the material is soft. But in the end, I decided to keep the warpcity and city sweat, and return the future classics. It's just a matter of preference on material type. I don't care for luxtreme fabric as much as the warpstreme or terry fabric. It's a little too thin and has too much of a shine for me. But as long as you like luxtreme, you will be happy with the future classic joggers.
Date published: 2016-12-16