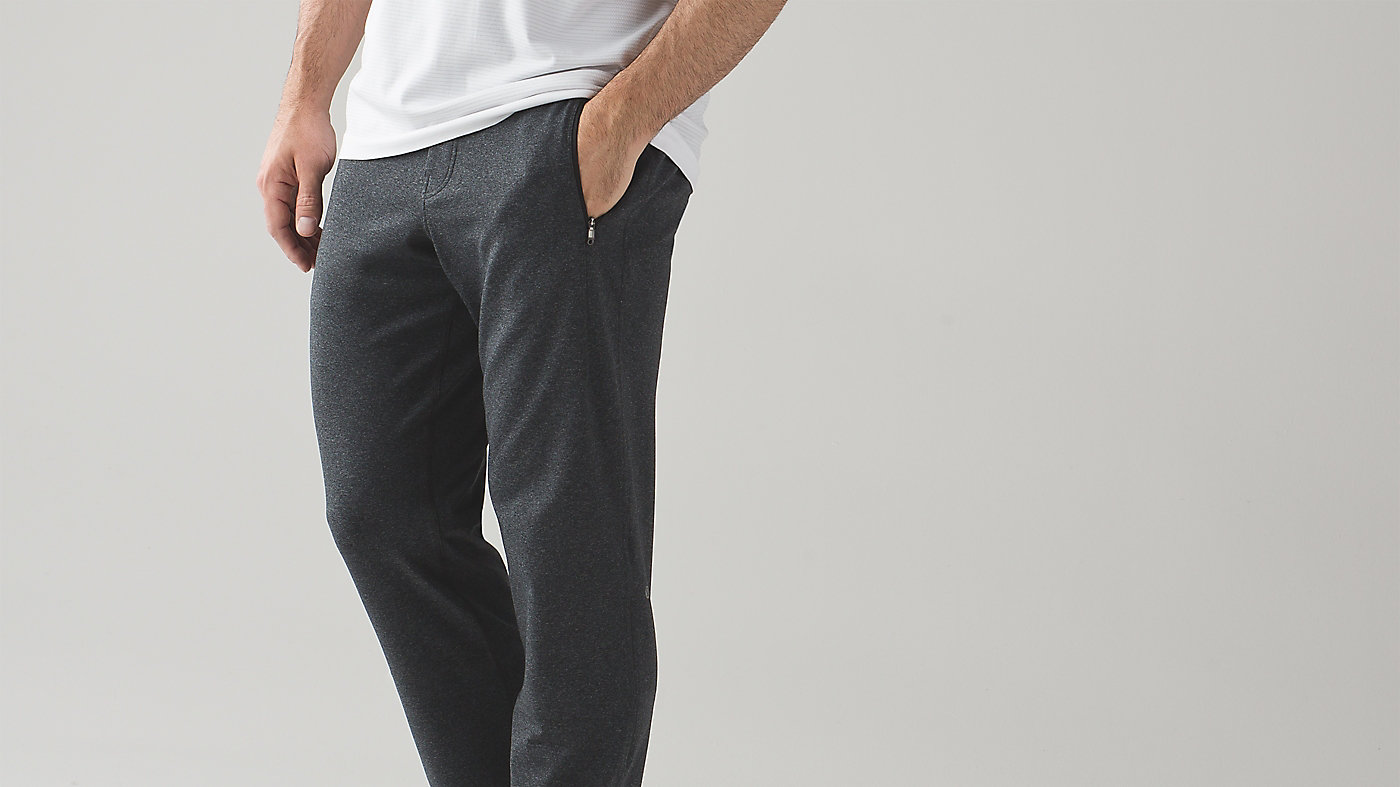 designed for
To + from, train
---
lycra®
Added Lycra® fibre for stretch and shape retention
---
Shine-bright
Reflective detail helps keep you on the radar in low light
---
front pockets
Specially designed front pockets hold your essentials
---

Discipline Pant (Tall)
is rated out of
5
by
11
.
Rated

2

out of

5
by
GeoffDawe
from
Discipline Tall pilling
At 6'5 these were the only choice for length. I only wore them to gym for an hour some days over winter. Also have the grey ones. My wife has a complete collection of lulu and knows how to wash them. Pilling really takes the clean look off a $118 exercise pant. I have a pair or Mondetta gym shorts from Costco similar material for five years $20 and NO pilling. Love the fit but the pilling makes them terrible. They actually attract lint, doesn't look so good on a black pant.
Date published: 2017-05-16
Rated

3

out of

5
by
JJNew
from
Really wanted to love these pants
I bought the earlier version of these pants just before Xmas. I'm a 6"4 guy, and was ecstatic to find a pair of comfortable pants that fit me. However, after wearing them for a few times, the back pockets are starting to sag, even though I've never put anything in them. I own a LOT of Lulu, and I'm pretty sad about these.
Date published: 2017-05-06
Rated

3

out of

5
by
Benzo
from
I really like the pants BUT pilling
These are my favorite pants, there soft and comfy and I'm a tall guy and its a perfect fit but for how much they cost its piling way too fast.
Date published: 2017-03-31
Rated

2

out of

5
by
performancewearlover
from
I wish I read the reviews before buying
I instantly fell in love with these pants in the store, they feel nice and comfy, just as any other product I own from lulu. I am always hesitant to buy anything from lulu, as is not the cheapest stuff, but I feel the quality usually justifies it, and I love anything I had previously gotten from lulu, it feels and looks great! However, similarly to some other buyers these pants started piling very quickly and after spending over $100 on them it is not the quality I would expect. I am not sure whether it is a problem of this particular material, but with many new performance wear brands popping up I might try something else the next time.
Date published: 2017-03-26
Rated

2

out of

5
by
GuelphTallNinja
from
Disappointing or Disappointed
I helped my wife pick out these as one of my Christmas presents and was excited to get them as I am 6'6" and it is super hard to find anything with length. All of my jeans are 36x36 so we ordered the XL tall. I opened them on Christmas morning and tried them on. First off they were nut hugger tight, almost like spandex. Second they were only 35 inch inseam, not 37 inch as stated that the new tall length is. So we went online and ordered the XXL tall and had them shipped to the house and took the ones that don't fit to the store to return. I got XXL in the mail today and tried them on they are closer to tight than loose and I have pretty skinny legs. Also, they are 36 inch inseam, not 37 inch as stated they should be. This is my first Lululemon purchase and it is pretty disappointing. TO pay $118 plus taxes for a pair of essentially track pants and the quality control is that horrible is what makes me disappointed. If you are going to advertise 37 inch inseam, make sure they are 37 inch inseam!!!!! And just so you understand the tight fit, I had a pair of the tall 36 inch inseam commission pant on in store and they fit fine, so I am not a fat kid complaining.
Date published: 2017-01-05
Rated

3

out of

5
by
AT11
from
Well Engineered pant, except for the fabric
These pants are very well designed, the fit is great for a tall, lean frame and zippered pockets keeps things secure. The only (big) negative is that the fabric pills after a short period of time, I had hoped it would be minimal because I follow the care instructions carefully, but the pilling has continued to get worse over time. The Discipline pant would be perfect if the fabric were resistant to pilling.
Date published: 2017-01-02
Rated

5

out of

5
by
brettmichael
from
Perfect pants for the tall athlete!
This is the first pair of sweat pants I've been able to wear in ten years. It's almost impossible to find a brand that suits a taller frame (I'm 6ft8) athletic, and slender build, and a Large Tall is the perfect size. I haven't had any issues with the quality of the fabric as I choose not to dry any of my Lulu products. I'd recommend these pants to anyone-- I just wish there were more options for colors in the tall category.
Date published: 2017-01-01
Rated

4

out of

5
by
Oh12
from
Favorite pants but they pill...
I absolutely love these pants and they are my go to but they have pilled between the legs more than I hoped for after spending over $100. Wish there was a fix...
Date published: 2016-12-20
Rated

2

out of

5
by
Jase
from
More Pilling.
everything about these pants is on point. EXCEPT, that after a few washes they will start to pill like crazy. Other than that I love the zippered pockets and the adjustable waistband. Must be the problem is with the material used..
Date published: 2016-12-12
Rated

2

out of

5
by
jcsaints
from
Disappointment
First off, I am an avid lulu lover, I basically live in my lulu wardrobe every day. EVERYTHING I have ever purchased has been wonderful quality, my friends refer to me as a "walking lulu advertisement" since I am always encouraging my lulu addiction on to others :). However, when purchasing the black Discipline pant in a medium tall, i soon learned these would be least favorite purchase. They fit wonderfully and are just about the most comfortable pants i have. Unfortunately, after only 2 to 3 washes (they were only washed with other lulu clothing, under the strict washing guidelines), the quality was zapped from these pants. i have never had so much pilling on one item of clothing. Now the pants are faded and constantly covered in cotton balls. While they are still just as comfortable, i only use them as pajamas now.. Not at all what i wanted from a $100+ pair of pants. Of course i am still an avid lulu lover but these pants have affected how i purchase here. I was about to purchase the "city sweat joggers" which i was so excited about, but i saw the reviews state the same pilling and cheap look problems
Date published: 2016-11-19