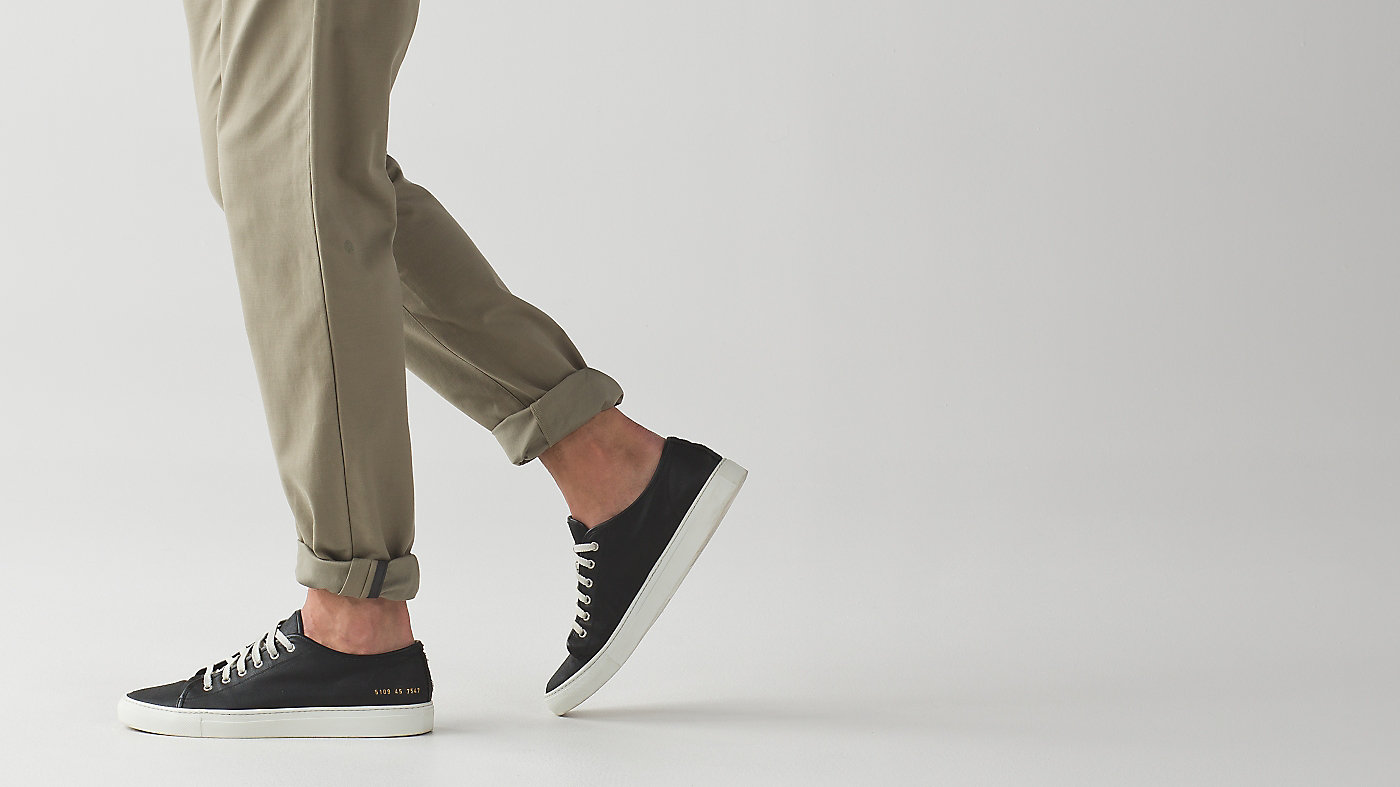 ---
lycra®
Added Lycra® fibre for stretch and shape retention
---
Reflectivity
Flip up the cuffs to expose reflective details
---
SECURE POCKET
Hidden zippered pocket fits a passport
---
STREAMLINED FIT
Designed to sit at the waist, streamlined fit through the butt and quads, narrow from knee to cuff
---

Commission Pant *Qwick Chino
is rated out of
5
by
55
.
Rated

3

out of

5
by
Alec25
from
Eh
Bought these a while ago and loved them so i bought 2 more pairs. After using them at work for a few days they started to... unravel. Disappointing because they looked and fit so well leaving the store, now they're a different pair of pants. Wouldn't recommend. Stick to the shorts. :(
Date published: 2017-06-23
Rated

2

out of

5
by
DrSweets
from
One and Done
Perfect fit at first, within 2 wears got way too loose and baggy. Super excited and then let down. I wanted to love them, and did at first, but they quickly went from my favourite pants to my least favourite because of how stretched out they became.
Date published: 2017-06-23
Rated

2

out of

5
by
ActiveInATL
from
The Disappointed Optimist
I originally purchased these pants as a do all chino that I could wear to work as well as the golf course. Even the sales rep mentioned how he'd worn a pair to a recent wedding. The styling (initially) was on point and the slimmer cut was complemented by well by the two-way stretch. The material is nice and light which is always welcome in the South. Then I read the reviews… fading color and stretching. I thought this was potentially due to poor care/washing, but after 3 washes (following garment guidelines – cold water, tumble dry low, no iron, no dry clean, no bleach) on mine I am said to confirm this appears to be a quality/fabric issue. The thighs have become baggy, pockets hang loose and the color is now faded. It's a shame such a great looking pair of chinos can't hold up to normal use, especially at this price point.
Date published: 2017-06-21
Rated

2

out of

5
by
jtdavis2
from
Diminished quality + sizing issues
I purchased 2 pairs of these pants after trying on a pair at the store. They initially fit well and were true to size, super comfortable as well. After wearing them 3-4x each, the color and material started to fade. There are actually small little lines in the pants. Additionally, they became very baggy and look like 90s style suit pants. I don't really wear these in public anymore and I don't recommend them.
Date published: 2017-06-19
Rated

2

out of

5
by
TrailRunnr
from
Too Precious
Bought these pants for office/travel/general recreation. Initially very happy with fit and color, but the durability leaves a lot to be desired. Fabric on thigh snagged within a few weeks of purchase. Also, despite following care instructions to the letter, the fit is much looser than when purchased. A lot of money for a pair of pants that can't stand up to a typical weekend day without literally coming to pieces.
Date published: 2017-06-12
Rated

2

out of

5
by
SteveNeu
from
Great at first but then a huge letdown
When I bought these pants about 3 weeks ago, I wore them a few times a week and loved them. Unfortunately, a couple of issues arose fairly quickly. First, the color began to fade and did not resemble the original charcoal color at all. The pants had streaks in them and didn't look nearly as sharp as when I purchased them. Secondly, the material became loose and wrinkly. I was unable to wear them to work anymore because they looked so ragged. If these pants held up the quality that they had when I bought them, they would be my favorite pants. Unfortunately they are now fairly unwearable.
Date published: 2017-06-09
Rated

1

out of

5
by
DreTrain
from
Material Issue
Decided to buy a few pairs of these for work after practically wearing my Chinos On a Mission into the ground. After a few washes (as per the washing instructions) these pants went from slightly fitted to overly baggy. The color on the Deep Coal and Navy also have also slightly faded over time. These pants are definitely a letdown
Date published: 2017-06-07
Rated

1

out of

5
by
Diego
from
Heed the Advice
I love the way these look and when I initially tried them on, they fit great. It was relaxed fit which was exactly what I was looking for. A formal technical pant that I could wear to work and meetings. Within a couple days of wear, these pants went from a casual fit to very baggy. They look like the oversized suit pants basketball players used to wear in the 90's. I usually recommend all things lulu, however, I recommend reading through these comments before purchasing.
Date published: 2017-06-05
Rated

2

out of

5
by
Workoutaholic1
from
Great Pants For Work ... however ..
First off, I love these pants. I was looking for a pair of pants that could be casual yet comfortable. Working in tech, I could pull off something like this which would be considered "formal" for my work as they look like dress pants! but, feel amazing like sweat pants. After wearing them for only a month, i've noticed the back pockets starting to get white due to sitting and rubbing of the pants to chair. At first, i thought it was the chair, it was not the chair. You have to be very careful with this material, it's not made for hard and rough wear like jeans.. treat them like dress pants. Sadly, I'd wish Lulu would make a dress pants with more of a durable, stronger, fabric. This type of issue would happen with a cheaper brand, Target, or Old Navy pants, sad to see them on a high end brand. I own many of their shorts and thought i would try one of their pants. And not to mention, the plastic on the drawstring came off after one wash an dry. I wish to see improvement in these.
Date published: 2017-05-31
Rated

2

out of

5
by
eerick1234
from
Not what i had expected from Lululemon
These pants were disappointing. I own the commission shorts and love them. The pants never seemed to fit right like the shorts or retain their fit like the ABC pants. They stretched out and never regained their original shape.
Date published: 2017-05-30