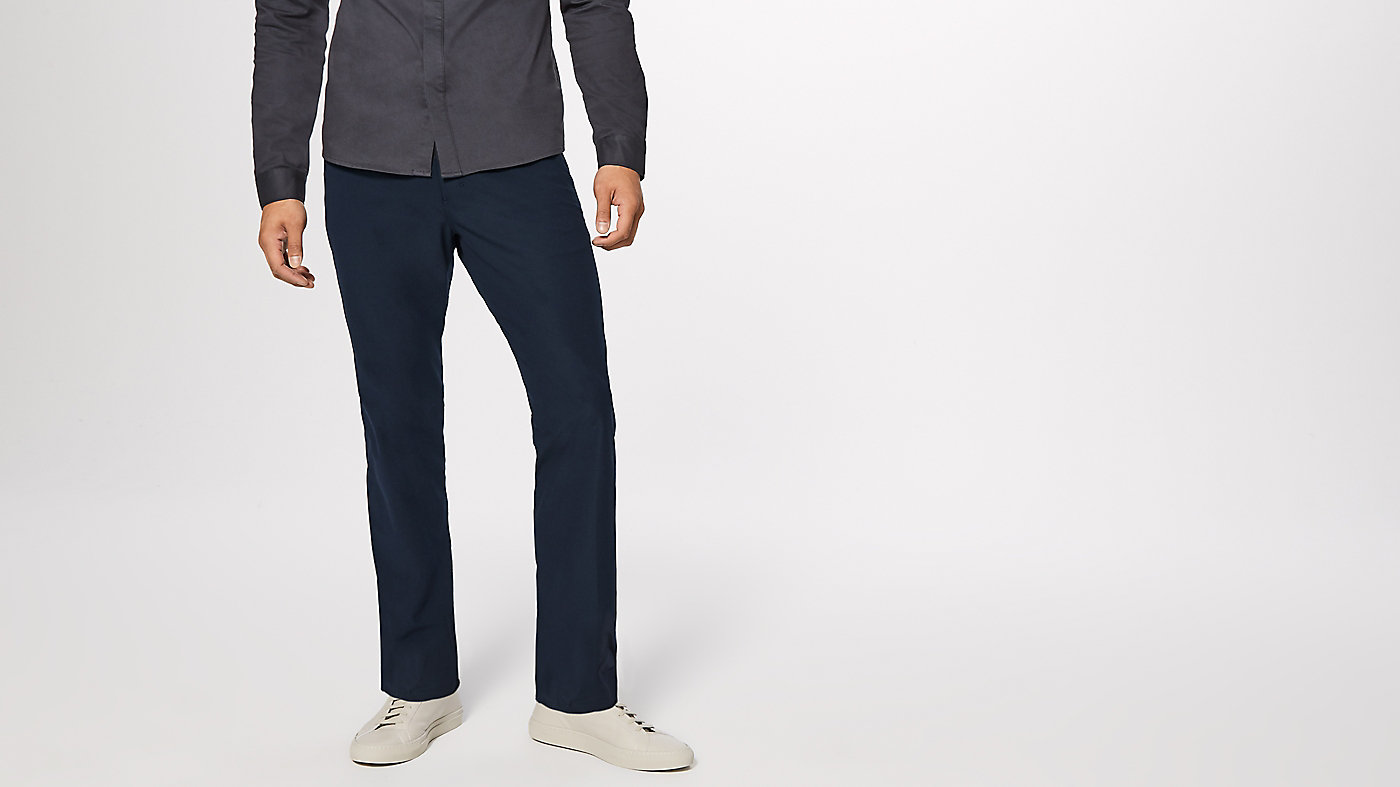 ---
support
ABC (anti-ball crushing) design gives the boys some room
---
Reflectivity
Flip up the cuffs to expose reflective details
---
SECURE POCKET
Hidden zippered pocket fits a passport
---
STREAMLINED FIT
Sits at the hip, streamlined through the butt and quads, falls straight from the knee
---

ABC Pant (Regular)
is rated out of
5
by
162
.
Rated

5

out of

5
by
OakleyOC
from
Cold water ...gentle wash
I have almost all the colors of the ABC Pant and I make these my go-to pants for casual wear when I want to "upgrade" from jeans, but don't want to get too formal. What guy can object to the ABC technology?!?! I don't have any issues of the material wearing out after washing, but I make sure I wash in cold water, gentle cycle (no fabric softener), and hang to dry. The ABC pants fit nicely and are great for wearing all day/night, while looking good!
Date published: 2017-07-12
Rated

1

out of

5
by
HeyJWC
from
Disappointing purchase
I bought few pairs of these, I like how the fact they are very easy maintain but after few washes using the recommended instructions, the crotch area of the pant became worn and the seams are torned. I have other lululemon tops and bottoms that are durable and seems to last forever but these pants are an exception.
Date published: 2017-07-10
Rated

1

out of

5
by
Uptown
from
newest version is disappointing
I have the olive green version of these pants, this new version got super baggy in the legs after a wash and don't have the same fit as my older ABC pants did, very disappointed :(
Date published: 2017-07-03
Rated

2

out of

5
by
MO123
from
Not exactly what I was hoping for
These pants were great on the first wear. I actually bought two pairs since I enjoyed how comfortable they were. After washing once (as directed in cold water with other Lululemon products - I only washed these pants together) they came out shorter than when they went in. Unfortunately, this left them unwearable since the length was already cutting it close but now these hardly reach past my ankles. I am stuck with two pairs and am not sure what to do with them and I would say I would buy more but the $130 investment is a bit too much for me.
Date published: 2017-06-30
Rated

2

out of

5
by
PatrickMcGillicuddy
from
Great pants that don't last
I have two pairs and want to basically reiterate what everyone else has said - when I first got these I thought about redoing my entire wardrobe so I could wear these everyday. However, after a couple wears they started to get a little baggy, and after a couple washes they started to fade pretty badly. My navy pants now look pretty washed out and faded. Hoping they can fix the color issues!
Date published: 2017-06-28
Rated

1

out of

5
by
jamess
from
Great at first then got really bad
When I first got these pants, I loved them. I wore them for about 2 days and then washed them. From washing them they got completely loose and the material didn't look good again. I'm very surprised that these are such cheap quality pants for the price.
Date published: 2017-06-27
Rated

5

out of

5
by
IronMike7
from
must own pants!
These pants are absolute game changers. If you work in an office, play golf, or attend a semi-dressy event these pants are the go-to. they look exactly chino's, or slacks but are as comfortable as sweatpants. can wear w/ sneakers or dress shoes. i sit at a desk all day and don;t feel the usual bunching dress pants normally give me or tightness on my quads. i own these in multiple colors. can't say enough about these pants. if you care for them properly, cold water, gentle wash, air dry, and don't wash w/ harsh cotton items, they will stay perfect. also, save tons on money by not having to dry clean these pants as you would with other dress pants.
Date published: 2017-06-22
Rated

2

out of

5
by
VINC
from
Great to wear the first time
These pants were great the first time I wore then - very comfortable and looked great. After the send wear and wash, the legs are very baggy now and are not flattering at all. They stretched out way to much - not a normal amount of give.
Date published: 2017-06-19
Rated

2

out of

5
by
sm3k
from
Great pants out of the store - stretch out ALOT in a few wears
I bought these pants (grey 36) for the intended use of work and play. I've worn to a wedding and I've also worn them to the beach. Unfortunately, after wearing and washing three times they have become so baggy that I cannot wear them anymore. I followed washing/drying instructions each time exactly. After paying $130 for these pants I have become disappointed in the quality of them. The idea of these pants are great and if they ever fixed this issue I would buy again. D.
Date published: 2017-06-14
Rated

3

out of

5
by
jaydee92
from
Great pants until they faded
Have these in grey and another in black. the grey are still okay but the black ones are more faded than weezy on a saturday night.
Date published: 2017-06-13