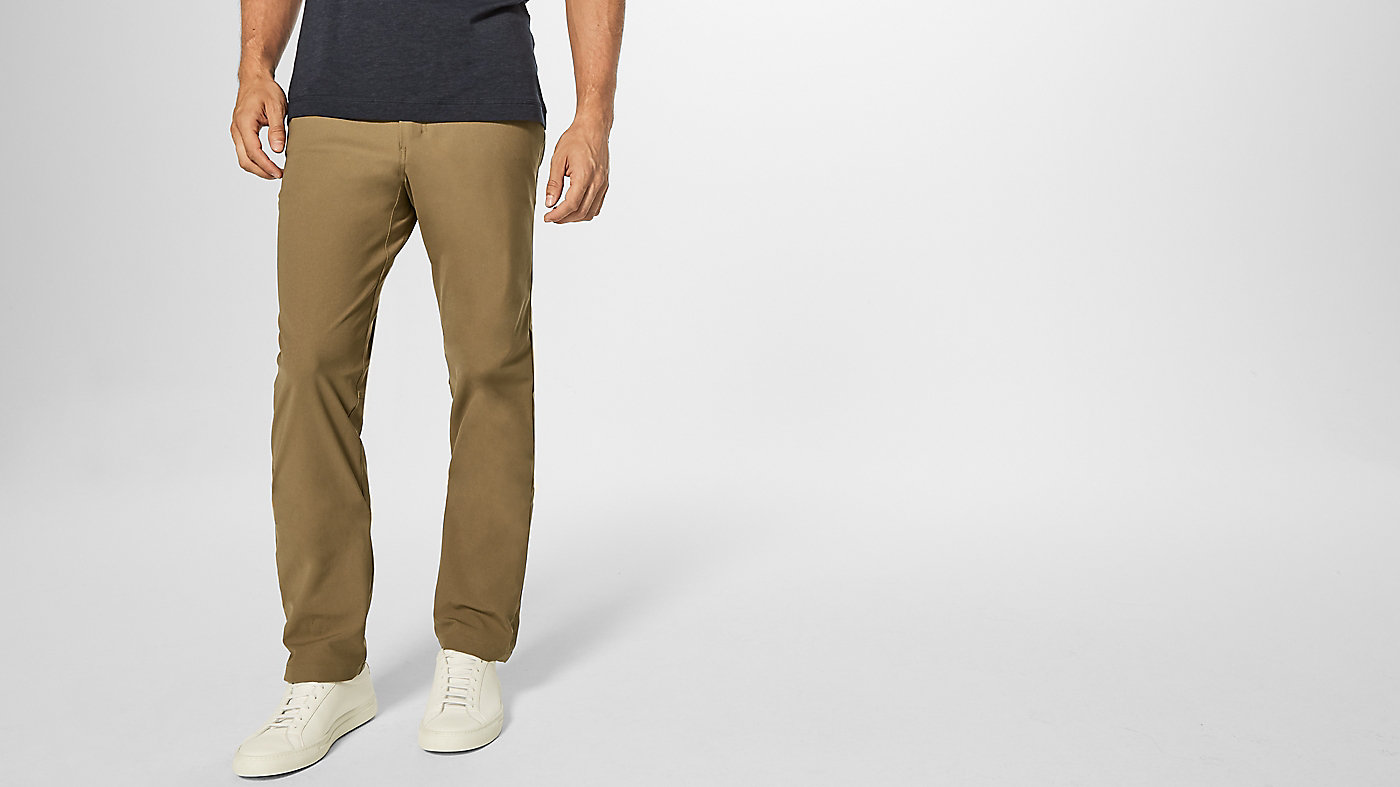 ---
support
ABC (anti-ball crushing) design gives the boys some room
---
Reflectivity
Flip up the cuffs to expose reflective details
---
SECURE POCKET
Hidden zippered pocket fits a passport
---
STREAMLINED FIT
Sits at the hip, streamlined through the butt and quads, falls straight from the knee
---

ABC Pant (Tall)
is rated out of
5
by
26
.
Rated

4

out of

5
by
ckfalls
from
ABC pant - tall
So, overall I have been happy with these pants. I am a physical therapist and teach in the gym, so mobility while looking professional is so important to me. Had a lulu rep recommend these to me. Overall: Have LOVED them. Expensive? Yes. But not sure who else even makes a pant close to the look, feel and flexibility of these, so right now worth it. Old style: I actually didn't like the old style as much. Waistband not as comfortable, fit not as true as the new ABC's IMO. Pretty sure I only have the black in the old ABC style. I will say these black pants seem to show every little stain, dirt, mark, etc. Might just be a black color thing, not sure, but that does really bother me. New style: Have in grey, charcoal and khaki. Love all these colors, fits. Recommend them to everyone. I'm very concerned by all the color fading and fit changing comments on this website. Hasn't been my experience yet, but I will just now start using them very aggressively for work, so I'll keep everyone posted. I will say this; it has been my experience that lulu customer support is VERY supportive if an issue arises with their pants. We pay quite a bit for these items, but I think it reflects in their support when issues creep up. So, I wouldn't hesitate to reach out to them. Always helpful and have fair resolutions in my experience.
Date published: 2017-06-17
Rated

5

out of

5
by
Robbb
from
game changing pants
These pants have made all the other pants in my wardrobe obsolete. They are dressy enough to wear to work, they stretch when you sit which prevent the cuffs from riding high when sitting, they are light and airy, and they seem to maintain their original shape and condition very well. They are outstanding in comfort. I have 2 pairs, same size on the tag but they fit differently. The slimmer fitting pair are my preferred but seem to be out of circulation now. Eventually I will get more of these pants and ditch all others. $130 well spent, its actually a decent bargain when you discover the quality of the pants.
Date published: 2017-06-01
Rated

4

out of

5
by
Ledako
from
Perfect Pant - Minus Sizing Inconsistencies
I have worn nothing but these pants for the past ~3 years. I sweat a-lot (even when I'm not working out) and these pants are the only pants that I feel awesome in. They also last forever! I usually have 5 of them in rotation and switch each day, I still wear the first ones I bought in my initial batch over 3 years ago. I wash in cold water and always hang to dry...seems to really increase longevity and these pants don't feel weird like other pants when you air-dry them. People make fun of me for spending ~$140 on these pants...but I don't see their pants lasting as long and being worn as much. This line of pants (ABC) has gone through its up and downs over the years. A few years ago, when I first started wearing them, they were awesome. Then they felt radically cheaper/different in the past couple years. The current version (may 2017) is their best iteration yet -in my opinion. Seems to have a renewed focus on fit and quality. So get them before they go a different direction! ;) Beware of sizing inconstancies! 2 pairs of the exact same pants can have a huge variance in how they fit. This is true with almost all the LuluLemon products I own. I recommend trying multiple versions of the same item in store and picking the one that fits best. You're rolling the dice when you order online...unless you already know how a certain item should fit you.
Date published: 2017-06-01
Rated

5

out of

5
by
JBow
from
BEST PANTS I'VE EVER OWNED!
This all started when I made a wager with my wife that they wouldn't have any pants in my size that fit. I am 6'7" tall and a slender guy. Boy was I wrong. As soon as I tried on the ABC pants they felt amazing! The only way to describe them is like Men's dress yoga pants. Needless to say I ended up buying two pairs and now I don't want to wear my jeans, I'd rather wear these. Worth every penny spent, and even worth losing the bet with my wife. Thanks Lulu
Date published: 2017-05-24
Rated

3

out of

5
by
Rexx
from
Bring back the key/coin pocket
The fit and the technical build of these pants is great. I have recommended these for 3 years to guy friends who didn't know lululemon sold male athletic wear, because if you find your size properly, they are extremely comfortable under many conditions. They clean up well and can handle a regular athletic lifestyle while letting you appear as if you were wearing normal pants. They're great, BUT... I'm writing here because I *really* liked the old key/coin pocket inside the left front pocket. I never thought I would be annoyed enough by something so small to write one of these, but I only realized they changed the pocket type after I purchased a new pair(#4, by the way). That old pocket is sorely missed in the new model. It held my keys snugly at a good level where they weren't stabbing my jewels or shredding the bottom seam in the standard pockets when I did anything athletic -- which I actually do in these pants. That's the point, right? The new (iPhone? techbro-friendly?) pocket seems designed for athleisure types -- people who should just buy "slacks" because they have never changed a tire or split a log, anyhow. I'll have to sew it in half so it's useful again.
Date published: 2017-05-09
Rated

5

out of

5
by
JeffStandley
from
Best pants I've ever owned hands down
I bought a pair of these almost two years ago and they are easily the best pants I have ever owned. I will never switch from these. I was more than a little apprehensive about spending this much on pants but now I realize this is a steal. I am not ashamed to admit that I wear these multiple times a week an and I use the heck out of them. I work in IT so I needed some nice looking pants to run in and out of professional settings and lived for casual Friday's when I could finally wear comfortable pants and these solved both issue. They are extremely nice looking and the comfort destroys any jeans I thought were comfortable before. They are durable as heck too! I spend about half my week crawling on floors fixing and moving PC's and these pants have not worn in a single spot. I have had jeans that had spots on the knees after a couple months and these pants still look perfect! Cannot speak highly enough about these. I wear nothing else unless I am forced too now.
Date published: 2017-05-02
Rated

5

out of

5
by
LookinFly
from
More Inventory Needed
I bought a pair of the ABC Tall pants and wanted to buy another one in Navy, but can't seem to find a pair anywhere in the country! The pants look and fit great. However, I don't have enough experience yet to talk about durability and quality. I have heard great things about the pants and wanted to buy more but it looks like they are out of stock!
Date published: 2017-04-14
Rated

2

out of

5
by
tmike1990
from
Very quick fading
Very quick fading, bad quality fabrick
Date published: 2017-04-06
Rated

5

out of

5
by
grimalal
from
Perfect Pants
These pants are simply perfect. They fit well, look great, and the stretch makes them so comfortable. I've had a pair for a few years now and wear them to work almost daily. Oh and did I mention breathability, yeah that's very nice too, never get too hot and uncomfortable in these. Literally can't say enough good things about them. Just buy yourself a pair and you'll be glad you did. Oh and I'm 6'3" so the tall size was a must and the length is perfect!
Date published: 2017-03-21
Rated

5

out of

5
by
Hawkfan206
from
My Go-to Pants
I'm up to four pairs of the ABC (Tall) pants and will likely add another soon to replace my original pair from a few years ago that is ready to be retired. I love that these pants are nice enough to wear with a dress shirt or sweater at the office, but comfortable enough to do something somewhat active after work (walk the dogs, go for a bike ride, play a round of golf, etc.). I'm 6'7' and about 250 lbs. In the old sizing I had to get a 40 waist but now a 38 is perfect (I typically wear either a 36 or 38 waist and 36 inseam in other brands of pants). They sit somewhat low on the waist, but not too low. I have never experienced any fading in any of the three colors I have and the pants have held up very well considering I wear each pair once per week. They are super convenient since I don't need to dry clean or iron them. Also, these are excellent for traveling (they fold down small, unpack looking great and the zippered hidden back pocket is great for securely carrying a small wallet and/or passport).
Date published: 2017-03-11