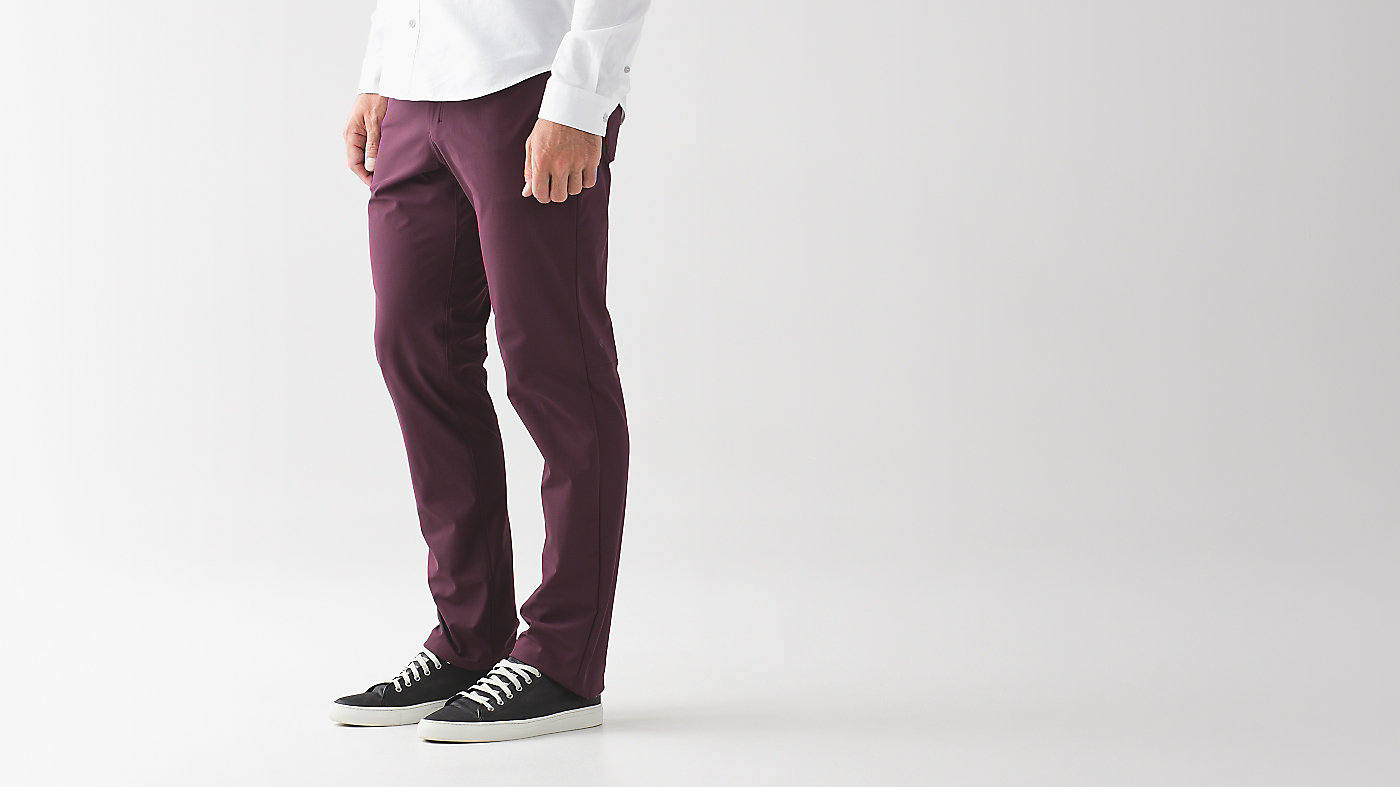 ---
support
ABC (anti-ball crushing) design gives the boys some room
---
Reflectivity
Flip up the cuffs to expose reflective details
---
SECURE POCKET
Hidden zippered pocket fits a passport
---
STREAMLINED FIT
Sits at the hip, streamlined through the butt and quads, falls straight from the knee
---

ABC Pant (Regular)
is rated out of
5
by
196
.
Rated

4

out of

5
by
RAP976
from
First time ABC pants
Excellent comfort. I generally wear a 32 in jeans, so given that it was Lululemon, I ordered a 33. The 32 would have been a better fit through the waist, but the 33 fit great through the legs.
Date published: 2017-04-29
Rated

1

out of

5
by
Zzzz1234
from
sizing not quite right
Wow, I found lululemon's sizing really is quite inconsistent. I used to have a 33 and it fit great but this one is way too big~~~
Date published: 2017-04-28
Rated

1

out of

5
by
Traviss
from
Sizing info not adequate
Used the sizing chart for the ABC's and got a pair that is way to big. Would not recommend buying these on final sale if you have never purchased any before. Heard that they can fit tight so I sized up and its basically 2 sizes too big somehow. Im a big lulu advocate in most areas, but very disappointed in this regard.
Date published: 2017-04-11
Rated

2

out of

5
by
JJ07
from
New sizing
I just received the abc pant I purchased online from the made too much.. I have owned more than 6 pairs of these pants so I ordered the size I had been wearing consistently for the last few years. I was surprised when they fit so large and then I noticed on the tag it said the sizing had changed. They are too large and I wish I had known about the new sizing so I could have ordered the appropriate size. Overall I wear this style of pant 4 to 5 times a week so I still love the pant...just wish they fit the same.
Date published: 2017-02-10
Rated

3

out of

5
by
OldMike
from
Amazingly comfortable but...
The ABC pant is amazingly comfortable, and I started to wear this even to work. You can totally tell the difference when you wear it sitting down either in front of your desk or driving your car. However, I was very disappointed that only after one week of wearing the inside button where you help secure the pant in addition to the main button fell off already. I can still wear it but becomes a nuisance to have the inside loop kind of hanging there. I can see the main button is reinforced, but surprised that there is no reinforcement built-in on the inside button on an active pant like this..
Date published: 2016-08-02
Rated

3

out of

5
by
Aiden
from
what happened to the ICONIC LOGO??
I love the ABC pants and I was really excited in purchasing a new pair but it seems like the newer design has a logo that is barely noticeable due to how the Lululemon symbol is colored.... I really love Lululemon and want everyone to know about Lulu I just don't understand why the designers have chosen to hide the logo?
Date published: 2016-07-31
Rated

5

out of

5
by
Kev1989
from
Gamechanger
These are single handedly the best pants I own. I purchased a pair last year because I was working in Hong Kong and the heat there is killer. These were a staple for me at least 4 days a week. I got a second pair in the black, I refuse to wear anything else. Unfortunately, in my first pair it seems that the belt loop at the back is wearing through and is just hangin on by a thread. I think it is from rubbing on my chair but who knows. Once I rip right through I will see if there are any options to replace them.
Date published: 2016-07-23
Rated

5

out of

5
by
Acl67
from
Best pair of casual pants I've owned
Truly the most comfortable pair of pants I've owned. No more jeans for me. Slim but not too tight. Well constructed. Love the stretch fabric and sweat wicking. Cool even in hot weather.
Date published: 2016-07-21
Rated

4

out of

5
by
DGabc
from
ABC Pants
Sizing is definitely an issue with these and tends to be color based. Normally a 34, and the grey and blue 36's fit well. However, the khaki 36's were significantly bigger. Tried on a couple different pairs just to be sure. Would recommend being cognizant of potential sizing issues when you move between colors, even though they are all the same pants.
Date published: 2016-07-10
Rated

1

out of

5
by
Today
from
Pants may not stink but the policy does
The pants are inconsistent in sizing. I own several pair and all of the sudden, something is nowhere close to the right fit. The pair I just received had the plastic taped shut (not sealed) which means to me they were previously returned by somewhere else - these pants are on tour. I didn't get around to returning them for a couple weeks and the website wouldn't let me return them...said nothing, just acted like it wasn't working. So, I chatted online and they said I only had 14 days to return them. I'm a guy shopping at a woman's store! I shop only online and all places (great places) that sell exclusively to men offer free shipping both ways, often a 365 day no-hassle, easy as pie return policy...just generally seem appreciative that I'm buying my pants there! I don't even get close to that feeling with lulu, feel like they think I should be honored to be their customer. Well, plenty of places to buy pants.
Date published: 2016-07-09