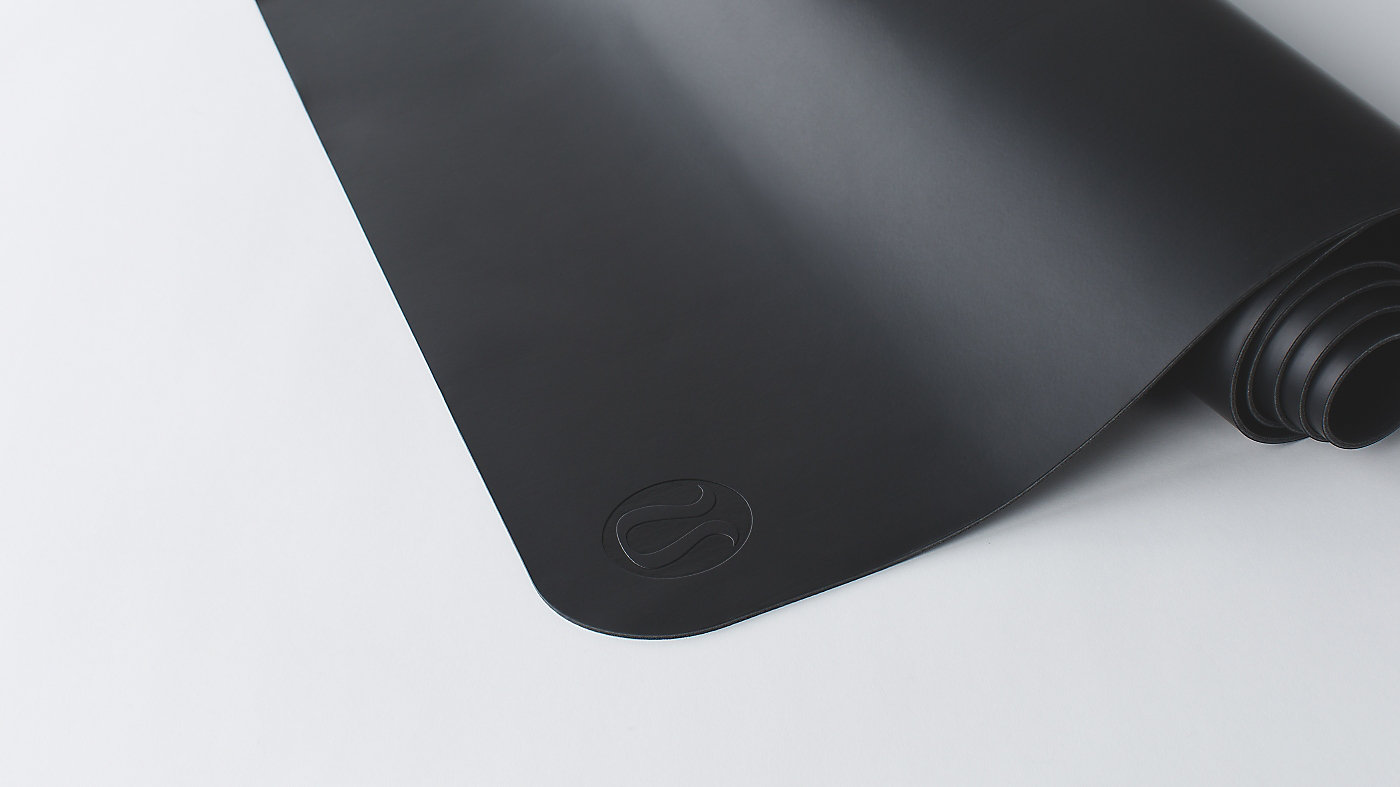 ---
antimicrobial additive
An antimicrobial additive helps prevent mould and mildew on the mat
---
reversible design
Lets you practice the power of choice
---
dimensions
71" x 26" (180cm x 66cm)
---

The Mat 3mm
is rated out of
5
by
73
.
Rated

1

out of

5
by
betawavebabe
from
Dangerously slippery.
This mat is complete garbage! Don't waste your money. I was really excited about this mat, after hearing so much praise about lulu mats at my studio (hot vinyasa). I couldn't have been so disappointed. It is more slippery than any $8.00 mat I've ever used. No grip in down dog, my hands slide all over the place. When I'm in warrior 2, my back foot slips so much that I have to actually stop and skip that part of the flow. When I flow through chaturanga, the mat lifts up and buckles underneath me. I can't focus on my movement or breath or intention because I'm just trying not to injure myself from sliding along over. This mat has made my practice unenjoyable, it's actually better to use no mat at all. I'd like to get rid of this piece of trash but not sure on return policy for used mats. What a waste of almost $60.00..makes me sick.
Date published: 2017-02-02
Rated

5

out of

5
by
Lrunner
from
Awesome for hot yoga
This is an awesome mat for the price. Its thin, so there is definitely a little less padding than I was used to, but I commute to work and didn't want an extra 7+ pounds on my bike. I practice hot yoga and this mat handles sweat and slip wonderfully without a towel. Excellent purchase.
Date published: 2016-12-21
Rated

1

out of

5
by
Ottawayogi
from
Disgusting smell on a slippery, useless mat.
This mat is a complete waste of money. You're better off with a 10$ mat from Canadian Tire--Lululemon, you should be ashamed of yourselves for the way your quality is slipping. Like others, I have tried everything to get rid of the smell on this mat. It's still there and I accept that it's not going away, What is even worse is that the mat is so slippery and it bunches up and moves around every time I use it. Yesterday I actually rolled it up and did my class on my skid proof towel in the studio. It's bad enough that my hands and feet slip all over the place--if that were the only problem, I could resolve it by putting my towel on top of the mat. But the entire mat is a slippery, wrinkled mess within 2 minutes of the class starting. I tried to bring it back but was told that the smell would lessen over time--it hasn't--and that slipperiness can't be helped on a mat this thin. How Lululemon can communicate these messages is beyond me. On top of selling a lousy product, Lulu apparently still thinks It can ignore valid complaints. This really explains why its competitors (like Liquido and Liforme) are making such inroads in Canada. Don't waste your money on this mat. There are other options out there and I strongly suggest you look into those options before forking out any money for this infuriatingly substandard mat. Lululemon, you are burning through my goodwill really quickly,
Date published: 2016-11-06
Rated

1

out of

5
by
phxsky
from
this mat is too thin to practice yoga on, it slides around under your feet, buckles up, and is hard on your joints. Tried to return but wasnt able to.
Date published: 2016-05-06
Rated

3

out of

5
by
UKWildcats2010
from
Great functionality but smell lingers forever
I have had this mat for 3-4 years now and practice yoga semi regularly. It's great for both hot and non hot yoga, but the rubber smell does not go away. I have tried wiping it down many times, airing it out, everything, and the smell will not go away. Childs pose always smells like rubber. Also, I have one that is a light green color and it gets dark markings on it very easily, which I mind less than the rubber smell.
Date published: 2016-05-04
Rated

4

out of

5
by
FunkyCold
from
I love this mat... for hot yoga
This is my second mat from Lululemon (I replaced my old 5mm with the 3mm), and I could sing The Mat's praises all day for hot yoga. I never slip out on it, it's noticeably lighter in weight compared to the 5mm version, and offers a good connection to the ground will still being somewhat cushy. However, for non heated classes, I use the Manduka Black Mat Pro - I find The Mat gets its stickiness from being wet which is perfect for hot yoga, but for non heated classes, just doesn't cut it. My skin is quite dry - if you have naturally clammier hands and feet, this mat may be perfect.
Date published: 2016-04-08
Rated

5

out of

5
by
creativeyogini
from
Pleasant Surprise
I am a yoga instructor and am obsessed with hot vinyasa. I have been trying to find a mat that I don't slip on for years! I have the Manduka Pro and I have tried Jade mats and I still need a towel with them when I practice. I went to a hot yoga class with the Lulu mat was was extremely impressed! I was sweating like crazy and not once did my hands or feet slip. I felt extremely grounded and wish I had bought this mat sooner! I bought the 3mm because I live in NYC and was looking for a light mat to travel with.
Date published: 2016-04-01
Rated

3

out of

5
by
Berkles
from
Odor?
I have had my mat for over a year and originally cleaned it with water and tried the "bath" in dawn liquid. For the most part it has been great! I don't slide or slip and I practice 3-4 times a week. There are a few warn marks where hands and feet go often, but no biggie. So lately, the mat has smelled gross - kinda dirty gym sock left in the workout bag for a few weeks! I've tried to clean it and let it air out but the smell does not seem to go away. I didn't use it for a few weeks and still no change. So, i took it into the store and the manager told me to spray it with Lysol to get the smell to go away. That has kinda worked, but now the mat has a filmy feel to it that is not going away even after numerous washings. Any suggestions? Has anyone else had this issue? i did not see anything in the other review. Help :>
Date published: 2016-02-05
Rated

5

out of

5
by
shaktiraks
from
It Sticks and I Love it!
Perfect for hot yoga. Yes it gets marks on it and it does have a slight smell but its totally worth it. I sweat buckets and I do not slip at all. I'm 5'1, 200lbs and I stick. Love it! Love it! Love it! I read a lot of reviews on other mats as well. For the price I decided to try this one first and I am so glad I did. No need to look any further.
Date published: 2016-01-20
Rated

3

out of

5
by
Leti
from
So absorbent it would never dry out.. and smells
I teach and practice both heated and non heated vinyasa and was truly looking for a Mat where could practice without the hassle of an extra layer (towel) I found in Lululemon's mat the prefect grip to excel my practice even under the puddles of sweat I create on my mat. This is such an absorbent mat that it doesn't dry out over night and I teach heated till 9pm and non heated at 6am back to back. I ended up buying a second Lulu mat for non heated classes (more money down for this) just because my mat wouldn't dry not even after wipe it out with water as recommended, over time it became my 'forever damp' mat since I teach and practice everyday and it started to mold and smell. At the beginning I took advantage of Lulu's warranty and went change my mat every 3 mos but not only the hassle of it, the people at the store who know me very well would start suspecting I was just taking advantage of them. Long story short, in a year I have bought 5 mats besides 2 mat replacements at the store. If you want a good grip, this is your best option if you do hot or power yoga every day stick to a less porous material for you mat, it would save you some money
Date published: 2016-01-18