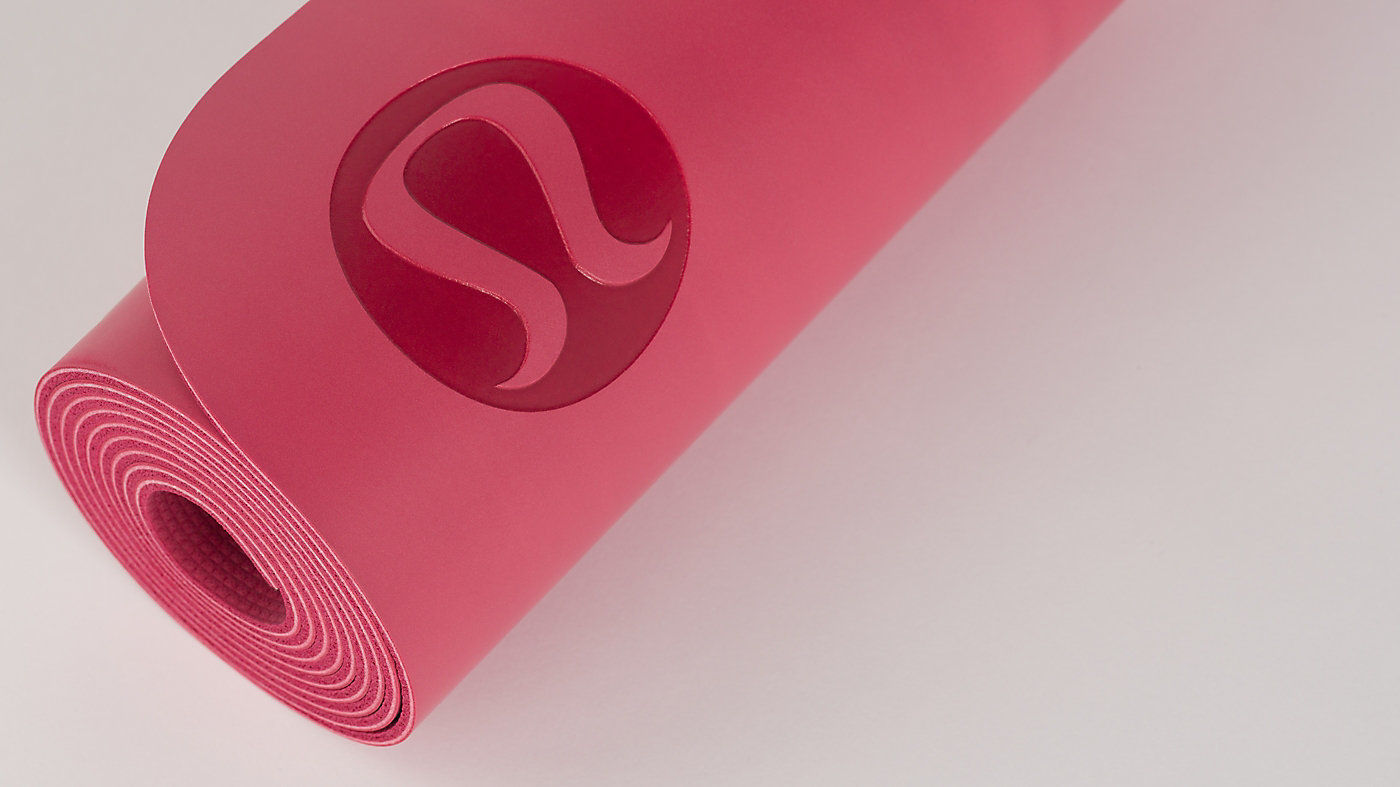 ---
CUSHIONING AND GRIP
Natural rubber base gives you cushioning and grip in low-sweat classes
---
antimicrobial additive
An antimicrobial additive helps prevent mould and mildew on the mat
---
CARE INSTRUCTIONS
Clean this mat after practice with warm, soapy water and hang it to dry
---
Air it Out
Natural rubber has a slight smell that fades over time
---
---
DIMENSIONS
66cm x 180cm (26" x 71"), 1.5mm (0.12")

The Reversible Mat 3mm
is rated out of
5
by
108
.
Rated

3

out of

5
by
sea912
from
Disappointing
I want to love this mat. I don't slide, it's lightweight, and the smell goes away quickly. However, it doesn't seem to hold up to the frequency of my hot yoga classes. I've had it about 6 months but it's already breaking down. I clean it only with warm soapy water, as the instructions say to, however after class, I have black residue all over my feet. The mat is super worn already in places. For mats that are supposed to last YEARS, this is disappointing.
Date published: 2017-06-15
Rated

2

out of

5
by
Kel20
from
Disappointing Mat
I spent a lot of time researching yoga mats and decided to go with this one partially because I love all lululemon gear! But this mat let me down. The mat doesn't stay still for me in yoga at all and I am slipping all over the place. I've tried using every towel combo with it and it still slides all over. Also, part of the reason I purchased it was that it was lightweight and easy to carry around, it is really thin and uncomfortable for me. I'd recommend going with the heavier mat!
Date published: 2017-06-10
Rated

1

out of

5
by
Jessowlet
from
Not helping the Zen
I want to love this mat because it's so pretty I hava a nice teal green one, and I love Lululemon! Unfortunately after washing it, it's very slippery, and if it does stick to anything, it sticks to my feet or legs. In a heated class I literally have to pull my legs slowly of the mat in order to not hurt my skin! I'm always adjusting it because it get stuck to my feet!
Date published: 2017-05-23
Rated

2

out of

5
by
AJZK
from
Great mat til you wash it
I bought this mat and loved it instantly, it lived up to its non-slippery potential...until I washed it. I've read the reviews about how after washing it, it never fully dried and became incredibly slippery. I washed it according to the directions written in Lululemon's responses to those reviews. Practicing hot and non-heated yoga has become a dangerous endeavor since then.
Date published: 2017-05-19
Rated

4

out of

5
by
LuvinMyLulusAsh
from
Great for hot yoga!
I bought this mat about 3 months ago now and I absolutely love it! I sweat buckets but no slip, great support, and it's thicker so you feel like you are doing yoga on a cushy floor - which my knees love! I want to make purchasers aware however that when you first receive the mat - it smells awful!! (However LuluLemon clearly states that both in the package and on the site) I found I had to wash it with warm soapy water, and literally leave it out side for 4 days. Yes... 4 days!!! After that I've never had a problem with that smell. You also need to be aware that this mat is heavy. Not like a ton heavy, but I walk or bus around... and it can be quite a load to carry if you also have your gym bag and other things. It also will absorb some of the sweat you have if you rest on the mat - this temporarily leaves an imprint which fades as it dries. This mat also needs to be washed after EVERY class. A mat like this you want to maintain... so if your looking for something with low maintenance then this mat may not be your thing. Love mine though!!
Date published: 2017-05-14
Rated

2

out of

5
by
RuTru
from
very disappointed
I bought this because I wanted a mat that wouldn't make me slip. I was told that this is the best mat for that exact reason. Unfortunately, I slip on it a lot, even when I am not doing hot yoga. I exchanged it for a new one thinking that maybe it was just that particular mat but the same thing happened. I am really sorry I bought this mat.
Date published: 2017-05-14
Rated

2

out of

5
by
MY33
from
Not grippy + shows your sweat!
While I heard good reviews from yoga teachers, I have 2 big problems with this mat. The first is the fact that it doesn't grip the floor. While I'm changing poses, the mat starts to bunch up at my feet, so I have to keep adjusting it. It's really frustrating. The second is how much it shows your sweat. I I have the light purple color, and the sweat shows SO much during hot yoga (the outline of my body if I lie down). It's super embarrassing (and pretty unpleasant to look at).. Even if you get the mat, I definitely don't recommend any of the light colors!
Date published: 2017-05-12
Rated

2

out of

5
by
KV10
from
Bunches Up
I just started practicing yoga frequently, and I was so excited when my mat was delivered. After a few practices, however, I began to notice the mat frequently bunched up and came off the floor. This has become dangerous for me to practice with and had I known this would happen, I would have definitely purchased the 5mm mat instead. Very disappointed.
Date published: 2017-05-06
Rated

4

out of

5
by
GlitterAndYoga
from
Amazing Mat... But I wish it could withstand my practice schedule!
The Good - I love the 3mm mat because it's so portable. The rubber smell is a very small sacrifice for a week or 2... in return, you can practice in all your sweaty glory and feel confident you won't slip and fall on your face. I never spray it with mat spray, just rinse off in my shower and let hang dry. Not needing a towel is a HUGE plus. The Not So Good - Unfortunately, the stickiness is fading, and I've had the mat less than six months! I teach hot vinyasa yoga 4-5 times per week, and I practice in hot studios daily. I suppose these mats have a short lifetime if you use them often, which is super disappointing. Overall, this is my top choice for a mat as a teacher and student.
Date published: 2017-05-06
Rated

3

out of

5
by
Veroo
from
It's alright
I bought this back in December, I practice hot yoga everyday. The grip on the mat is still pretty good, I don't always need a towel. The smell went away after a few weeks. I have one with polka dots, I noticed they are starting to peel in areas I touch a lot. The one thing I dislike about the mat is that it slides on the floor very easily, going from one postition to another it would frequently crumple. I've had a lululemon mat before and I never had that problem.
Date published: 2017-05-01