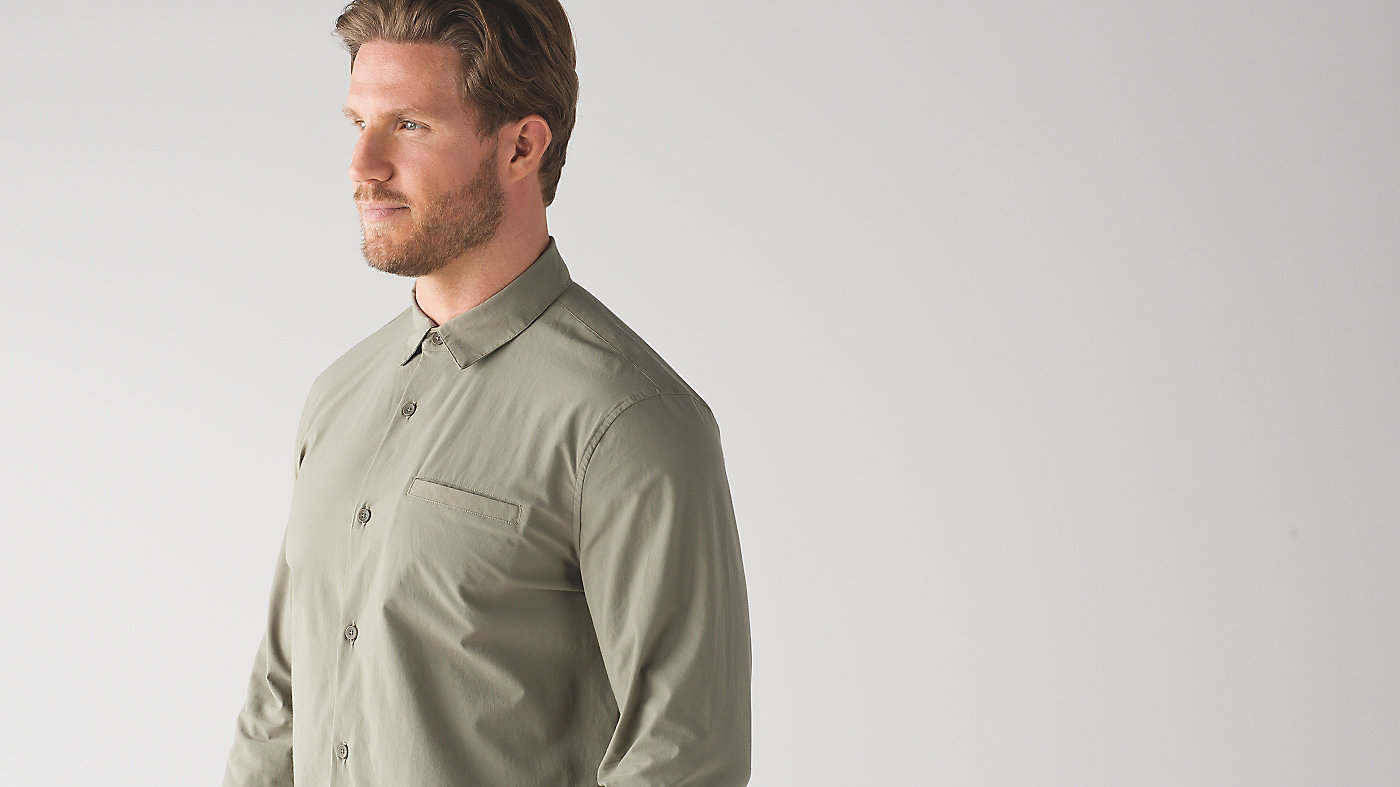 ---
reflectivity
Helps to keep you visible

Off The Chain Buttondown
is rated out of
5
by
10
.
Rated

2

out of

5
by
Catalyst
from
Great Fit, Questionable Material Quality
I bought three Off The Chain Buttondown shirts while they were on sale $69 each. These are the first button down shirts I've purchased from lululemon. What worked for this product: - The cut is excellent for a regular sized guy (5'11", 180 lbs, athletic without a strict diet) as an untucked shirt. - The material is stretchy and feels great on the skin - it transitions well between officewear and minor athletic use (jog, bike) as advertised. Where it falls short: - Far too short to be something that can be tucked in (I even have a shorter torso than regular) - Material shrinks an insane amount (i.e. it started with great sleeve length, but now it's 1.5 inches short after 1 tumble dry) - The material wrinkles and it's surprisingly difficult to remove the wrinkles by steaming the shirt. Note: am saying this as someone who has traveled for work for 6 years and very accustomed to ironing/steaming clothes. - The biggest issue of all is that the material fades in color quickly and captures a strange layer of dust (???) after a wash. At random points on the (black) shirts, I will find large and haphazardly shaped grey/brown patches. These go away with a few hard wipes from a wet cloth, but they appear frequently without a clear cause (dust in the air? lint on a chair??). Overall, not a purchase I'm super pleased with and not a product I would recommend. The discoloration, wrinkling, and inability to tuck are major issues which prevent me from being able to wear these shirts professionally.
Date published: 2017-05-12
Rated

1

out of

5
by
buttonmadness
from
ENOUGH WITH THE BROKEN BUTTONS!
I have this shirt in multiple colors and all of them have problems with the buttons snapping in half. I've repaired some, but I've run out of available buttons and patience. Don't buy these shirts unless you only plan to wear them once.
Date published: 2017-04-27
Rated

4

out of

5
by
Beastling
from
Great shirt but inconsistent production
Tried this shirt on in Lululemon and it fit great, looked even better in size large. It was on sale so I purchased a second one since it was such a great deal. However despite being the same size the two shirts are very different. One fits perfectly and the other is too small in the chest completely and the sleeves are 1/2 inch different. Unsure why this is but I will have to donate the second one as it does not fit but clearly says Large.
Date published: 2017-03-03
Rated

5

out of

5
by
Lulufanedmonton1973
from
Maroon color shirt on sale
Got this for my husband even though he already has another shirt from lulu in this same color, but totally worth it as the fit is slimmer in the same size, yet the stretch still allows for movement.... Breathable not see they fabric makes it the top shirt of his closet at the moment....still would say tts ....length isn't super long, so, if you love old fashioned way tuck in plus you have a long torso, you may be in trouble...overall though- I am surprised that on sale it is still available..... every guy should have this shirt!
Date published: 2017-02-01
Rated

5

out of

5
by
RunnerrYogi
from
LOVE IT!!!
Love the Off the Chain Shirt. This is soooo... much better than the Commission button down. The material is extremely comfortable, stretches and great for throwing on when heading to the office after a hard work out. It's just like wearing a wicking shirt, but perfect for the office or casual over the weekend. Please keep this line coming for years to come!
Date published: 2017-01-23
Rated

5

out of

5
by
Dmitriy
from
Great fabric, very comfortable
Very comfortable shirt, I love the stretch fabric of it. I wish you could make add more colors including white, light blue and navy.
Date published: 2016-12-04
Rated

4

out of

5
by
Objectivegiant
from
Looks great and is very comfortable
I was skeptical of this shirt because I wasn't thrilled about the reflective back panel and the pocket in the front, but I changed my mind after I tried it on. The material is very comfortable and it looks really sharp for wearing to work in a relaxed office. Me being 5'9" and a primary use being cycling makes it a bit longer on my torso than I would like, but the comfort/style wins out. Anxious to see how well it holds up after a few washes.
Date published: 2016-11-14
Rated

5

out of

5
by
SnowMan
from
Super Relaxed Semi-Dress Shirt
I bought this shirt in black and after wearing it once, went back to Lulu the next day and bought the olive color. Its a great looking shirt and its very comfortable being made of the silkey wicking style material. Best of all you can dress it up or dress it down, wear it tucked or hanging out. The collar has the small under collar button downs, so the collar sits perfectly while hiding the buttons for a super clean look. Everytime I wear it, I get many compliments, I highly recommend.
Date published: 2016-10-31
Rated

5

out of

5
by
CoppensYoga
from
Unbelievable fit
Compared to the Commision button down shirt this one fits way better. Much better fit through the torso, and the flexible material makes the movement in the shoulders feel much better as well! I would absolutely love to see this shirt in pure white as to replace my normal dress shirts since the fit is actually that good! If you are looking for an active dress shirt that fits snug, and has good stretch allowing for natural feeling movement, look no further!
Date published: 2016-10-29
Rated

5

out of

5
by
fitnavyguy
from
GREAT button down
My favorite work shirt for work. I got the 2 colors and cannot wait to get more! It just sits right below the belt line so no need to tuck it in. it looks great and feels even better. Just enough room on the shoulders, arm pit and waist. I highly recommend this product. More colors please! Navy blue *wink*
Date published: 2016-09-30