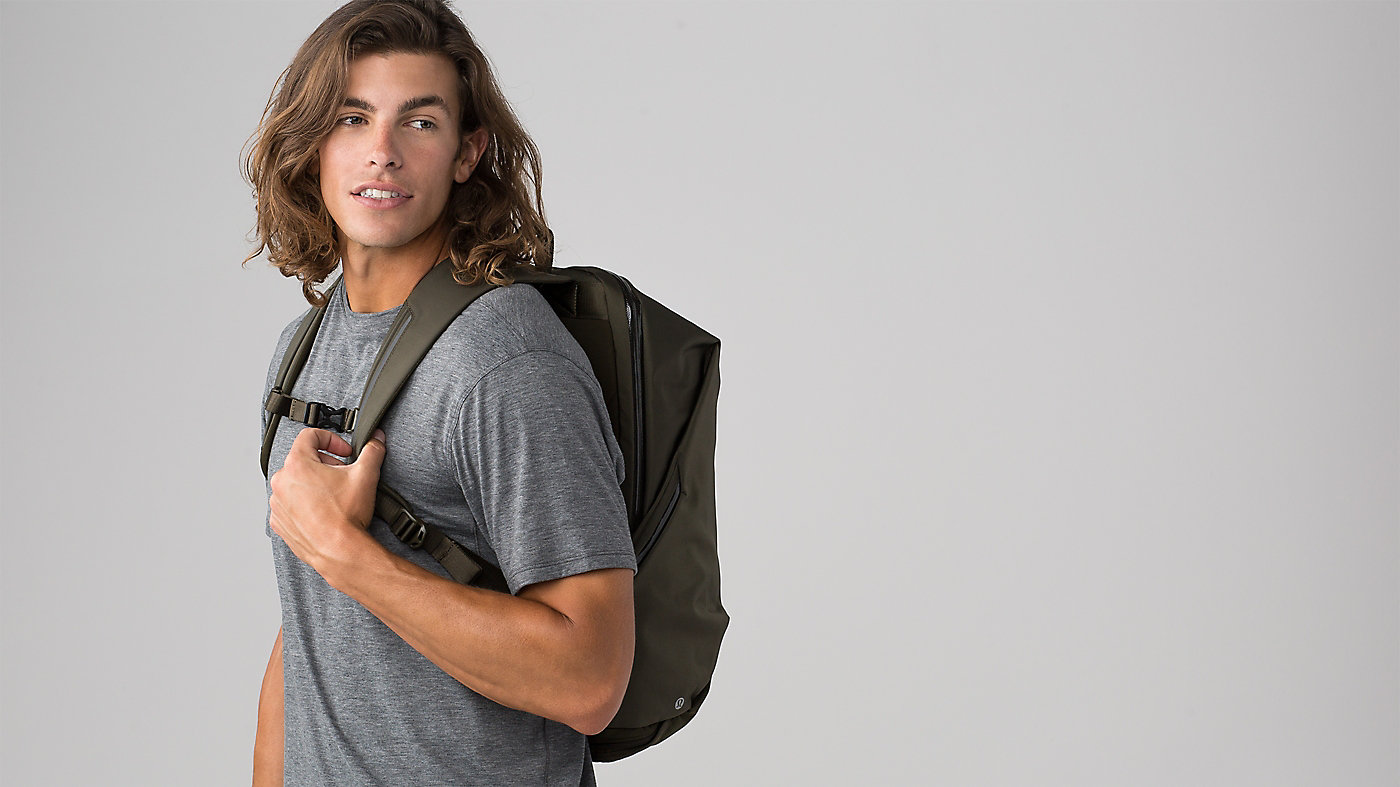 ---
STORAGE
Soft lined pocket for your sunglasses and phone
---
WATER BOTTLE POCKET
Quick-access exterior pocket fits a water bottle
---
Tech storage
Padded pocket helps to protect your laptop or tablet
---
Gear storage
Separate pockets fit shoes and sweaty gear
---
reflective details
Intentionally placed for visibility in low light
---
DIMENSIONS
28cm x 20cm x 49cm (11"x 8"x 19")

Para Backpack
is rated out of
5
by
24
.
Rated

2

out of

5
by
DeDeDe
from
Design issue
I bought this bag from the retail store early this year, it's a beautiful bag, the material is very good. The problem is during the hot summer days, when I walk for about 10 mins with basically nothing but my umbrella and lunch bag in it, back of my shirt is full of sweats, this is due to not having the mesh layer for the good airflow. This is something that should have studied when designing the back pack. However, the padding is really nice, it has the light molded texture for added comfort, altho I want the next version of this backpack has bit thicker and more back friendly molded padding near the upper section. I am really not sure what to do with this backpack, I wish I knew about this issue earlier so I can return it but I am stuck with the backpack with full of sweat and BO. I guess I have to shop for a new backpack with the mesh back panel. :(
Date published: 2017-06-21
Rated

2

out of

5
by
neomeze21
from
Beautiful backpack but zipper problem
At first look the bag looks very nice and appealing. The visual inspection got me very excited however when I started opening the bag by using the zipper a few times, it got stuck on the shinning black lining. The zippers are very hard to open and now its stuck, i didnt wanna force it to open since I was afraid I will destroy it. I was really disappointed.
Date published: 2017-06-08
Rated

1

out of

5
by
TrueNorth
from
Looks great, but quality doesn't hold up
I bought the bag with the intention of using it as my go bag while travelling in NYC. The bag not only looks great but has a very functional design. However, the bag has serious quality issues. The zippers are incredibly frustrating to use and consistently get caught on the shiny black material on the outside of the zippers. While traveling the plastic piece that lets you adjust the straps also broke. Basically rendering the bag useless. I ultimately had to buy another backpack while in New York for my daily use, I was really disappointed and had higher quality expectations from a Lululemon product.
Date published: 2017-06-07
Rated

3

out of

5
by
infive
from
Straps too short
My last bag, I think it was the cruiser, was pretty awesome. I wanted to try this new bag but the straps are too short, even though there is a neat elastic band for the extra slack.
Date published: 2017-05-31
Rated

4

out of

5
by
ProjectMayhem
from
Good pack but room for improvement
I bought this bag for gym/work purposes. I've been using it for about a month. Overall, I'm quite satisfied but I'll provide a few constructive criticisms that can be considered for future improvement. Straps: The shortest straps I've encountered on a backpack. Even at the maximum adjustable length, they just barely fit. Why limit adjustability? A few more inches of strap length would be nice. Shoe compartment: Could use one or two grommeted vent holes on the bottom for damp training shoes/gear etc. My main issue is that it isn't truly a separate compartment, but a floppy pouch that extends up into the main zippered area. If the pack is full and you remove your shoes, the rest of your gear settles to the bottom to fill the void. This makes it hard to return the shoes to the compartment. I've often had to unload the bag just so I can repack my shoes. Zippers: A bit on the stiff side. Probably because they're taped for waterproofing purposes so likely a necessary trade-off. A bigger pulling surface would help. Top loop handle: Could be a bit sturdier. Beefier material and additional reinforcement here would be nice. Would like to hang the pack with confidence. Back and strap pads: Would benefit from more venting/breathability. Be it through additional channeling or mesh etc. All that said, I've otherwise enjoyed the pack. It looks great and the compartments are well thought out. I definitely recommend this pack, but I hope the designers consider the points above for future models. Thanks!
Date published: 2017-04-22
Rated

2

out of

5
by
goodsker
from
Pay for the brand
I'm not at all impressed with this bag. Aesthetically, it looks very nice. But I just took it on a trip and wish I hadn't because I would return it. First, the zippers are not fluid and difficult to close, the straps fully extended are not long enough (I'm 6', 185) and the material on the bottom of the straps are not smooth and end up dragging your clothing with it when it moves (shirt arms get pulled up). I'm only going to use it for the gym/work as it's advertised to be and not for any type of travel. You definitely are paying for the brand. I will say that I have enjoyed their clothing line, but for the price, I don't recommend it to anyone.
Date published: 2017-04-19
Rated

5

out of

5
by
Gnarlyteenager
from
Greatest pack I ever owned
Had this thing for about four months, its great. Big enough to carry everything for school and the gym, really robust, great water resistance, reflective strip is very visible at night (I've been told so by drivers), comfy, and plenty of pockets inside. Just buy it.
Date published: 2017-04-10
Rated

5

out of

5
by
TallHiker
from
If James Bond wore a backpack...
I love this backpack. It was definitely an impulse purchase- I thought it looked sleek, and I thought it could be a replacement for my gym bag. I love the shoe pocket; I love the side pockets (each side has a drink sleeve and a zipper pocket). Above all, I like how it looks. If James Bond wore a backpack around, this would be it. This pack strikes me as a great pack to take to work (it can hold a computer, papers, change of clothes, athletic shoes). I would love to see a slightly larger size of this bag- it would be perfect for air travel. I also wish the shoulder straps had a little more length.
Date published: 2017-03-30
Rated

5

out of

5
by
mukluk
from
Unreal Backpack
I bought this backpack on a whim after the non-lulu backpack that I had been using for the last 7 years fell apart on me. After having this pack for about 6 months, I can testify that this pack has been a higher quality version of my old one, and has been built to last. I use this backpack for everything from going to the gym to taking my laptop out with me. I really couldn't recommend this backpack enough.
Date published: 2017-03-17
Rated

2

out of

5
by
TheLion
from
Stylish Bag Poor Material Quality
So i love the style of this bag, absolutely love it! And i am the type of person who takes very good care of his things, especially my Lululemon stuff. This is my second backpack by them, and also bought another style of backpack for my mother which she loves. But, and heres the big but!! Ive only had this bag for 5 weeks and the reflective materiel has started to peel and it kills me because the bag doesn't look new anymore. If you're the type of guy who likes everything to look as new as possible for the longest amount of time this isn't the bag i'd suggest for you.
Date published: 2017-03-07