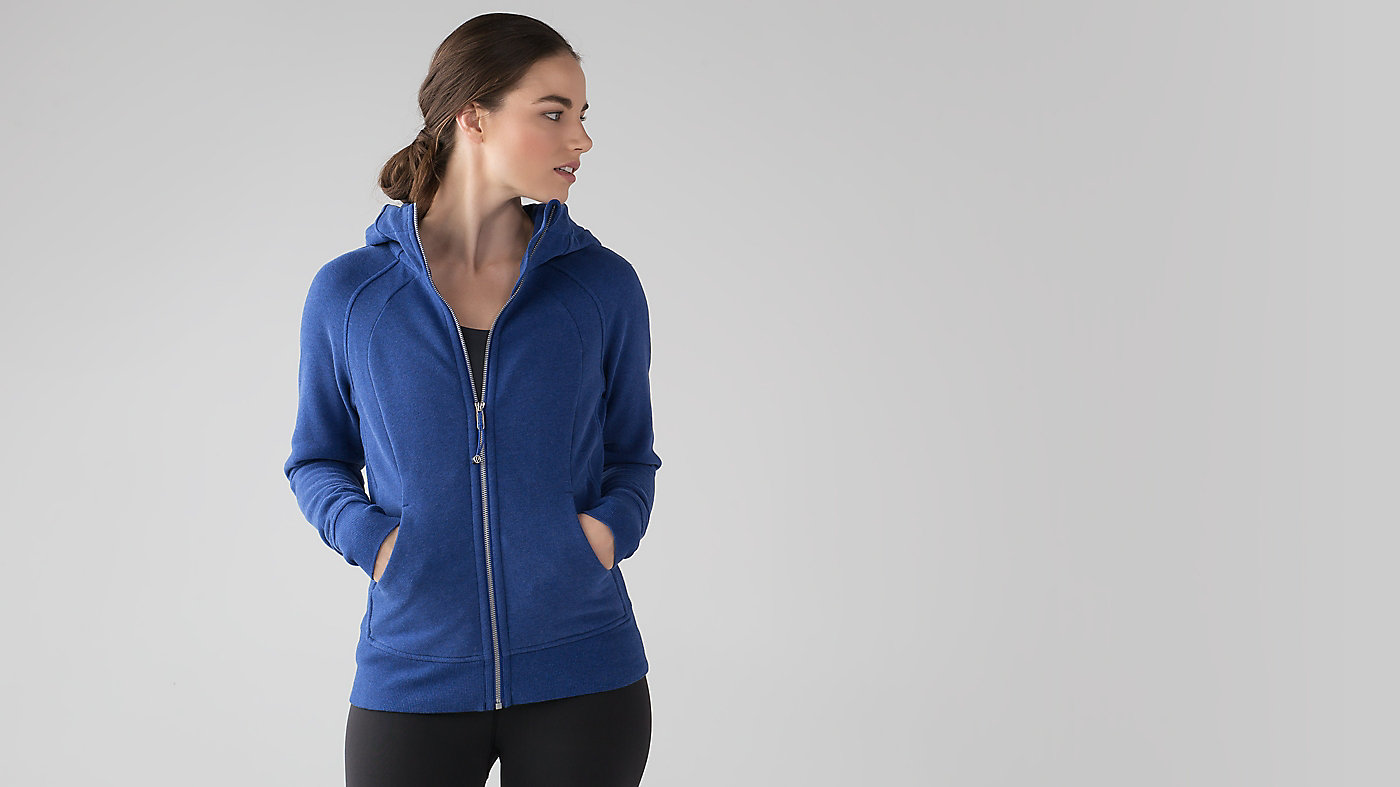 ---
thumbholes
Help keep your sleeves in place and hands warm
---
emergency hair tie
Elastic zipper pull doubles as an emergency hair tie
---
warmth
Large hood keeps your post-sweat hair under wraps
---
RELAXED FIT, HIP LENGTH
Layers easily and gives you room to breathe
---
MEDIA POCKET
Hidden media pocket with cord exit lets you keep your tunes close
Scuba Hoodie Iv
is rated out of
5
by
144
.
Rated

2

out of

5
by
Jkim855
from
Not worth the money
it felt like it made of very cheap fabric and I was very disappointed. It's rather reminded me of some hoodies from forever 21 or cheap brands but Lulu.... Fit is kinda funny too. arms are short but waist is way too long... Sorry it didn't work our for me.
Date published: 2017-06-23
Rated

1

out of

5
by
kitchenninja
from
Not your classic Scuba!
I have 3 previous Scubas, this is not comparable. This was loose, soft, stretchy, thin material that gives when you wear it. It has very little in common with the classic scubas. I highly recommend that the old fabrics be returned to this classic staple item.
Date published: 2017-06-15
Rated

5

out of

5
by
GrandmaK
from
Sweet change
I LOVE the new fabric and length of the Scuba Hoodie IV. The lighter fabric is not bulky like the old hoodie's and this new nice length covers my lower back when getting in the vehicle or sitting in the Bleachers watching grandkids at their events. Inside is soft and cozy and the thumb holes are great to keep the sleeves over my hands when it's cool. I ordered an 8 but could wear a 6, and that is what I am going to do right now, is get another one in a different color.. Thank you for redesigning this remarkable hoodie., Cheers.
Date published: 2017-06-14
Rated

2

out of

5
by
Erica93
from
Poor Quality
I bought this sweater in the dark green colour a couple of weeks ago, and only wore it a handful of times. In the armpit area the material is already pilling/balling, and I feel if I wash it anymore it's going to continue to get worse. I bought this sweater and my Going Places Hoodie at the same time and the quality of both is the same, very disappointed. I have never had any issues with all of my lulu purchases over the years, until the last few I have had horrible luck!
Date published: 2017-06-12
Rated

3

out of

5
by
TNNP
from
Not my favorite jacket!
A friend of mine had a black Scuba that I had been in love with for so long so I finally bought one. I didn't want mine to fit too snug so I returned the one I ordered to the store and ended up buying a 12, yet I have a 4 in another Lululemon jacket, therefore I thought the sizing was a little off. I wish the material was stretchier so that the jacket would be more comfy and maybe even a couple inches longer on the waist. I feel like you can see all my shirts coming out from underneath and I have to wear high waisted leggings with it. I still do love it, just some minor things that I wish were different about it!
Date published: 2017-06-06
Rated

2

out of

5
by
rkorz
from
Love it...but disapointed with quality
I wanted this hoodie for so long, and then finally my mom got it for me as a birthday present. It is so comfy and cozy and I love that I can just curl up inside of it. It is also perfect for that post workout sweat to cover up so that you don't get too cold. However after roughly one or two months of having it and using it occasionally, around the elbow area the hoodie started to wear away and now there is a whole. The hoodie is loose around my elbows and not at all tight enough there to have caused it to wear away this quickly but it did which is very odd. I'm very disappointed about this considering how expensive it was and then how quickly it wore away. I thought that for sure it would last longer. Other than the elbows wearing away I really love it I just wish it was a little more durable, I feel as though this should not have happened considering how much money was spent on it.
Date published: 2017-06-05
Rated

4

out of

5
by
ChristineLouise8
from
Perfect Pre and Post Workout
This hoodie is roomy and I like the long sleeves. I do wish it was just a bit longer. I am long wasted and a hoodie just a bit longer would be so appreciated. I love the warmth and breathability of the product.
Date published: 2017-06-02
Rated

1

out of

5
by
yogiipandaabear
from
Fail
The ribbed material on the side panel has failed, there are tons of white visible threads sticking out. I've only worn the hoodie a few times. For some reason I can't leave a review from my mobile or I would post pics. This material is much more delicate than the rest of the hoodie. The fit of this hoodie is a step up from version III, but this material needs to be fixed and I would definitely NOT recommend this to anyone.
Date published: 2017-06-02
Rated

5

out of

5
by
Nutnut
from
Pleasantly surprised!
Just received my Scuba Hoodie III and had to return as it was significantly thinner than the older ones I have on hand, While I was at a store for return, I tried on the Scuba Hoodie IV and was pleasantly surprised! Didn't think I was going to love it cos it's the same weight as Scuba Hoodie III, but somehow it hugs my body better. I also love that the inside is the same color as the outside. For Scuba Hoodie III, showing the white inside if you don't unzip the jacket right to the top is a deal breaker for me. Anyway, I understand that many of you don't like the new Scuba Hoodies being lighter, they are actually more comfortable and do not restrict movement like the older ones. Just my thoughts though.
Date published: 2017-05-24
Rated

2

out of

5
by
Runner1157
from
Weird Fit
This was my first scuba hoodie purchase. I needed a hoodie and as a Lulu addict this was the first place I stopped. I'm usually a 4 or a 6 in tops/jackets depending on the fit I'm looking for. The 4 was so small that I couldn't lift my arms past my chest. I ended up purchasing a 6. It isn't the most flattering sweatshirt I've ever worn but I'm not going for style as much as utility. Unfortunately I'm not getting much of that either, because the more I wear it the more I realize that this hoodie isn't just made small, it has a very strange fit. I tried to make it work for a long time, but at the end of the day this hoodie is uncomfortable and tight in the arms, even after sizing up. I wear it very infrequently now. Wish I would have given it a little more consideration before spending so much. Would like to see a slightly lighter hoodie with a more reasonable fit from Lulu.
Date published: 2017-05-24