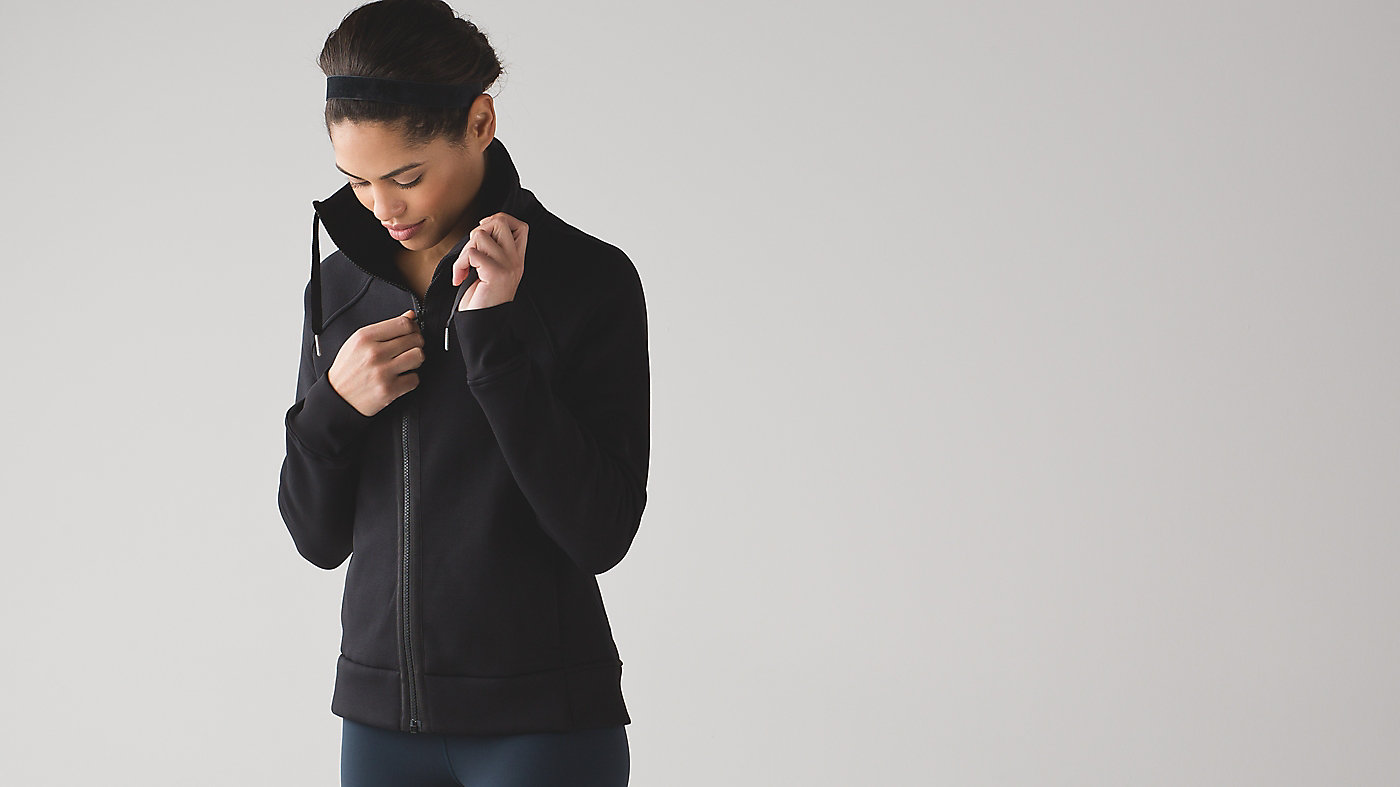 ---
media pocket
Lets you keep your tunes on hand
---
Locker Loop
Locker loop makes for easy hanging
---
zipper garage
Helps protect your chin from uncomfortable chafe
Kick The Cold Jacket
is rated out of
5
by
19
.
Rated

5

out of

5
by
CaligirlKatie
from
Love!!!
I absolutely love this jacket and the hoodie version also! They have worn really well and are so warm. They were great this last raining season too. I just bought it in black and already have it in a pretty purple color. I have navy in the hoodie style. I have gotten many complements on both. I am 5'9 with an athletic/curvy hourglass shape so I chose Size 12 and they fit perfect! I have plenty of room to layer which you usually need to do in California. I am careful with washing. I use woolite on gentle and I hang dry. It has worked great.
Date published: 2017-06-18
Rated

4

out of

5
by
runofthedog
from
In Love With Polartec!
After purchasing and absolutely loving the Kick the Cold Funnel Neck, I knew I had to have the Jacket too! This item I purchased as more of a casual piece to throw on when I'm cold. Polartec is soft and thick and stretchy without the extra weight. The arms are long enough for me. I am pleased with the length hitting mid-bum in the back. It is a relaxed fit that layers easily over other long sleeves. I love that it zips high up the neck to keep out the cold. The zippered pockets are a nice surprise. I took away one star because of the drawstring. It is too short and has no stretch. I think an elastic drawcord with toggles to tighten it and no loose ends would be a more useful feature. The jacket could then double as a "run" piece instead of only "to-and-from". I can see myself just removing it altogether. (Though I do already own the Kick the Cold Funnel Neck that works great on those cold winter runs!) In all, this is a steal on WMTM for $69. No regrets!!
Date published: 2017-03-21
Rated

5

out of

5
by
Francis7
from
Amazing Jacket
Great Jacket! Absolutely love the material, warm and light, perfect for before and after the gym or just running errands. Fits really well I find, I got mine in a size 4. I can fit in a 2, but it was too snug for me as like my jackets with a little bit more room, specially around the shoulders. The only thing that wasn't quiet right for me were the drawstrings which bothered me a bit as the metal tips would hit my face when I have it zipped up all the way. Maybe changing them with plastic ends, like the one on the discipline pants? Just a thought, anyways, I ended up taking them out, and problem solved! haha. I think I like it better without as it looks a little bit more tailored.
Date published: 2017-03-20
Rated

3

out of

5
by
CrossfitSister
from
Not bad, but weird material
This jacket fits well, I'll wear it to and from the classes I go to. I didn't realize when I ordered it what the fabric would feel like, The material is really strange and lightweight, and the neck is huge. It would look better with a hood I think. I wouldn't have bought this if I'd seen it in person but I ordered it online. It's nice that it had long enough sleeves for me, that is something I don't always find!
Date published: 2017-03-08
Rated

3

out of

5
by
trailrnrgrl
from
OK jacket
This jacket was my first lululemon purchase. Perhaps I should have went with something else. While it's a great, warm, multi-use jacket, it's very basic. I also thought (although it is not advertised this way), that it would have thumbholes. It's not something I would spend so much on again. I will be getting use out of it though.
Date published: 2017-03-05
Rated

5

out of

5
by
BeeMo
from
Love it but not worth full price
I love this jacket! I got it on sale for 79$. I wouldn't pay the full price for it though. A little too steep for me. Very comfortable and wonderful material. Most of my Lulu jackets are size 6, but I decided to up to an 8 for a little more room. Definitely my new favourite go to :)
Date published: 2017-02-27
Rated

5

out of

5
by
DJDulc
from
Warm, versatile jacket
I love this jacket. I wear it everywhere I go. It is very warm and stretchy. I have the navy color and it goes well with all my outfits. I wear it to the studio as well as school or around the house. I am usually a 10/12 and i got this jacket in a 10 and it fits great!
Date published: 2017-02-19
Rated

3

out of

5
by
CNTee
from
Kick The Cold Jacket
First off, this jacket is warm and thats one of the reasons why I bought it. I needed something light and warm, after working out. It fits the bill!. I could have sized down, as it is a relaxed fit. I got a 10, and am normally an 8. However, this should not be a problem, as I will most likely wear it to and from errands, or workouts. It is BASIC ! I have a similar jacket from The North Face, but that one has a few more "bells and whistles", and was about 30 dollars cheaper, For this price, I guess I was hoping for something more aesthetically pleasing. It is functional in that it will keep you warm. That's it. I would not recommend it unless the price goes WAYYY down.
Date published: 2017-02-07
Rated

4

out of

5
by
Sara9467
from
Super warm!
I purchased this jacket for my mom (50's) and myself (30's). We both have different body shapes; she is very petite (5'1" @ 105 lbs, size 4 in this jacket) with a slim frame while I am average height (5'4" @ 130 lbs, size 6 in this jacket) with a curvy frame. We both absolutely LOVE this jacket! She never wants to take hers off! This jacket is super toasty, very stretchy, and my all-time favorite purchase so far. My only dislike is that it holds odor. I've washed this jacket (according to Lulu specs) but I can still smell my post-workout sweat. I do not sweat heavily nor do I have a strong smell, but I'll have to try another detergent to mask or get rid of body odor from this jacket.
Date published: 2017-01-31
Rated

5

out of

5
by
sunnybunny
from
Warm and cozy
Super soft and cozy. Looks high quality and well finished. Like the relaxed fit and not super snug.
Date published: 2017-01-29