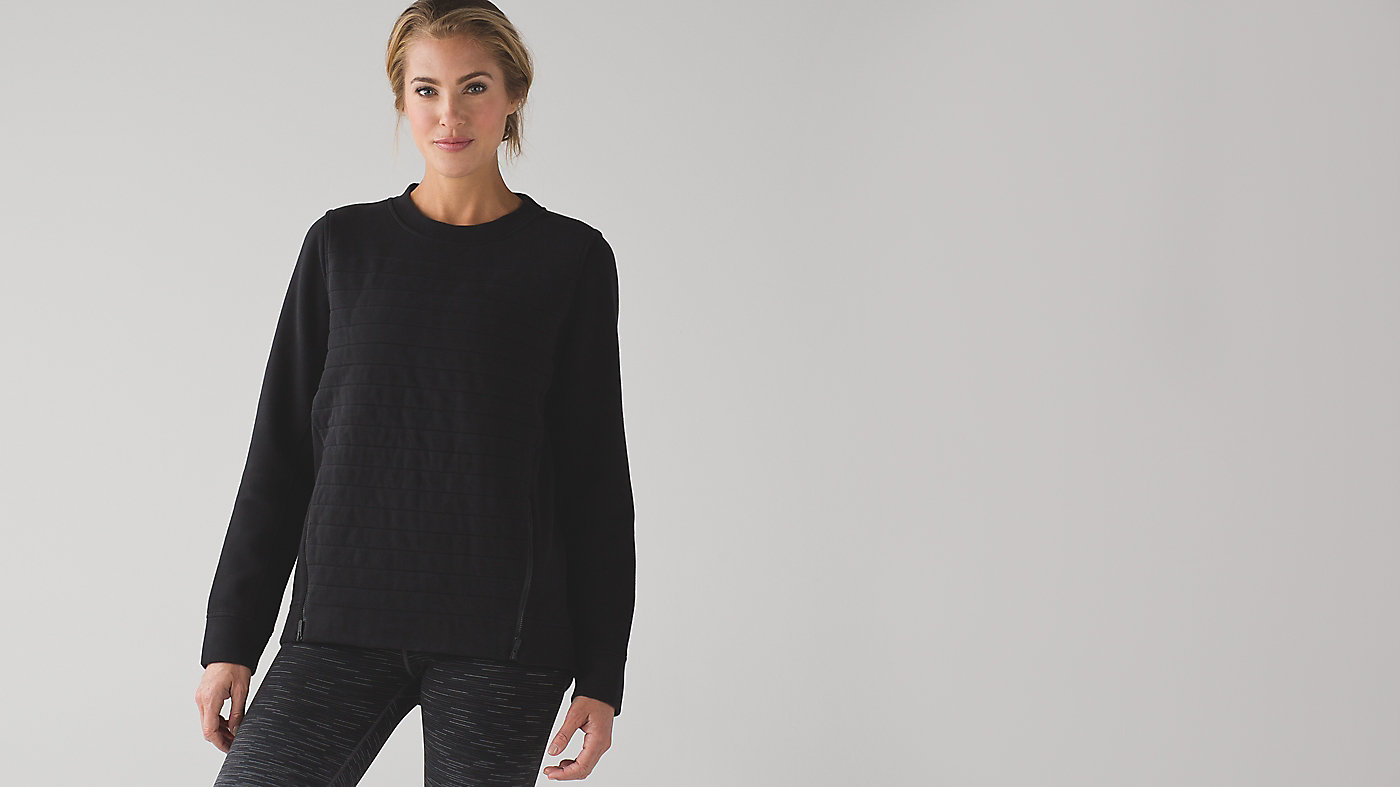 ---
kangaroo pocket
For easy access to your essentials
---
Locker Loop
Locker loop makes for easy hanging
---
media pocket
Gives you quick phone access
Fleece Be True Crew
is rated out of
5
by
32
.
Rated

1

out of

5
by
DressedThePart
from
Super cute, super small
Despite sizing up, it is very fitted. And it washed terribly despite cold water, delicate wash detergent, and line dry. I had nearly forgotten about it since I only got to wear it once before it was forced to retire to the back of the closet.
Date published: 2017-06-13
Rated

2

out of

5
by
adanpry
from
Tight tight and then it shrunked
This is beautiful looking sweatshirt and very dressy looking as well. I am normally size 4 in Lulu but wanted to be comfy and dress with room to spare on this so I sized up! Wow, look great but there no give in this fabric. The size 6 decently fit but can't even pull up the sleeves since there is no stretch in the fabric, making it very uncomfortable to wear this. Finall issue is that after one wash it even got smaller!! Now it has been sitting on my dresser just looking pretty, so very disappointed this Lululemon fleece!!!
Date published: 2017-05-04
Rated

3

out of

5
by
SwedishYogaRina
from
5 stars for style, 2 stars for fit...So torn on this one!
I LOVE this sweatshirt. 5 stars for designing an interesting, textured but not bulky, roomy but streamlined crew with some cool details like the bottom zippers...Which brings me to my issue with the top. I am a solid 4 in Lulu and a 0/2 in street clothes, 25x35 in jeans, 5'9 or 5'10" and 110-115 lbs. I am NARROW. I have wide shoulders and boyscout hips and very beanpole-ish figure. I got a 4 and the shoulders were tight, the body big, and the bottom TIGHT. Like downright TIGHT. The material has ZERO GIVE, meaning it DOES NOT STRETCH, so I can't really just make it work. UNLESS...I unzip the zippers a bit. So: it's amazingly comfortable. I have the hoody and it's great in the same size. I would buy more of this in different colors in a size 6 or even an 8 if I wanted more of a loose, billowy top. I have layered it over Power Ys and CRBs and it's a great layer. It's thickish, so it's not comfortable under my Fluff off or Fluff the cold jackets but it's nice under a roomier vest like Down for It. Great look, great fabric, high quality, as others mentioned - it does look a bit faded but I like that, and I like the length. BUT...SIZE UP!
Date published: 2017-04-20
Rated

2

out of

5
by
elleame
from
Poor Quality
I bought the Fleece Be True Jacket and it is the same material, do not buy! After I washed this once in cold water it totally faded. It looks like I have had this jacket for 10 years. The fabric is comfy but if you want it to look nice, and for the money you are spending beware of the fading.
Date published: 2017-03-29
Rated

2

out of

5
by
yoginurse234
from
Love everything about this sweater...except for the WRINKLED look!
I couldn't wait to get this sweater and unfortunately it is still sitting in my closet with the tags attached. I love the idea of the sweater, fit is what was described and it's warm, but the center of the sweater looks completely wrinkled. The arms are perfect, the collar line is perfect and then you start to look at the center of the sweater and it looks like there was a big knot tied in the front of it prior to shipping. This to me is not flattering at all, in fact I find it to look very sloppy like it's been sitting in a pile of laundry for a week. It's unfortunate because this could have been a great sweater but I'm sure the moment I wash it, the wrinkling will look 10 times worse.
Date published: 2017-03-17
Rated

5

out of

5
by
Nicole05
from
Best Sweater Yet
Absolutely adore this sweater! My first impression was that it was super soft, then I started wearing it and thought the zippers on the side were an awesome addition! As I wore it a few more times, I felt a little disappointed because my lulu tights didn't have a pocket and the sweater didn't either... Well, little did I know, the sweater gets even better, and actually does have a pocket on the inside when you unzip the zippers! I am 115lbs and 5"2'. 10/10 recommend.
Date published: 2017-03-10
Rated

4

out of

5
by
Daisy98
from
Super warm and cozy
For reference I am 5'8" and weigh 143 and the 8 fits great. I bought this on a whim because it is on sale. I don't think it is super flattering but it is so war, and cozy so that makes up for it. It's thick fleece/sweatshirt material. Glad I made the purchase overall.
Date published: 2017-02-15
Rated

5

out of

5
by
allluluallthetime
from
Great Fancy Sweatshirt
Love this item. Decided to write because the reviews helped me to decide. I sized down and could have stayed tts; depends on the fit you want. Love the zip detail and the soft fabric. When I read FLEECE, I tend to think boxy and without style......not true...the detail here makes this a great item for to and from the gym and over my shirt anytime. Got this on WMTM and feel it was a real value.
Date published: 2017-02-12
Rated

4

out of

5
by
RclaireS
from
Order a size up
I bought this top in my normal size 6 and it was fine everywhere except the hips where it hits on me. It's an easy fix to move the zippers up 1/2" but at the same time probably should have ordered a size up. It's a great top, received tons of compliments on it and it's a nice thick material.
Date published: 2017-02-08
Rated

1

out of

5
by
Cecelle
from
Such a mistake
I have two regrets: the first, that I didn't trust the reviews on this, and the second; that I bought this on WMTM and I can't return it. It's the most awkwardly fitting item I've ever purchased from Lululemon, and I'm certain I will never wear it. The shoulders literally stand away from the body. It looks fine only if I never, ever move my arms. As soon as I do the whole thing seems to shoot up to my ears. As well, arms are oddly roomy through the forearms. It's just a bad mistake. I've bought tons of Lulu over the years, and I've never been so disappointed. What's worse, is that it looks cute, lying on my bed. It's soft. It would probably be warm. It's just....wrong.
Date published: 2017-02-04